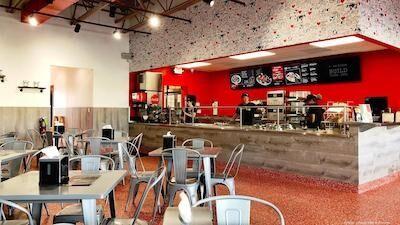 Some franchisees are lodging complaints against I Heart Mac & Cheese, beginning with a lawsuit filed by Genevieve Prieto, a former four-store Domino's operator who was the second franchisee to buy into the Florida-based brand, in late 2017. She claims illegal financial performance representations, among other allegations, in the lawsuit.
"We started construction in January 2018 and opened on April 16 of 2018" in Yukon, Oklahoma, she said, with the cost of buildout totaling "$373,476.22, so well over the high point of their FDD." Its first corporate restaurant was on track to do $700,000 in 2017, Prieto said she was told by Chef Michael Blum, who helped to start the brand. Actual gross revenue was $262,054, a document shows. 
Prieto's restaurant posted declining sales every week except for five in the eight months it was open, she said. "My first week I did $31,000. My second week was $25,000, and by the time I closed I did $5,000 that week. I closed down December 31. From the week I opened to the week I closed, it was an 85 percent drop in sales," she said.
On September 14, 2020, I Heart Mac & Cheese said in a press release it had sold more than 100 locations. Prieto said there are four corporate locations and eight franchisee locations open, and seven restaurants total have closed since franchising began in 2017. Franchisees in Georgia, New York, Florida and Montana are among those raising complaints. 
"The more people they sign up, the more I'm like, something has to be done. Stop taking people's money," Prieto said.
Gary Phillips of Phillips, Cantor & Shalek, the attorney representing the brand and its executives, debunked Prieto's claims and criticized her skills as an operator. "Let me tell you what's going on so you understand," he said, adding in a deposition for the case, she testified that none of her pizza places were successful.  "She didn't make any money from any of them," he said. "She filed bankruptcy, and in her bankruptcy testimony, and we have the taped testimony…she said that her lawsuit was a shot in the dark, and she didn't expect it to be much, so the trustee couldn't count on the fact that there'd be any money out of it."
He acknowledged in the beginning she got an FDD that "did have certain deficiencies," he said, and the in-house counsel sent her a letter in March 2018 "offering the opportunity to rescind the agreement and get her money back, or she could be bound by the new FDD. She waived the opportunity to rescind, and said no, I want to keep my store operating. And after that, she signed an agreement to open four more stores." 
Speaking more generally about the chain's franchisees, Phillips said he spoke to corporate executives after Franchise Times' interview request earlier this week. "They have people who communicate with all their franchisees, and according to corporate, they spoke to them and were very happy with the assistance they've received and had no complaints," he said. He was not certain about the number of open restaurants, which Prieto said was 12, but said he thought the number was closer to 19.
In the September 14 press release, CEO Steve Giordanella said, "We are expanding our brand during a time where competitors in the space are downsizing, and in some cases, closing their doors. This unprecedented momentum across our growing franchisee community validates our hypothesis that consumers want something different from the traditional fast food model, and we are able to deliver that to them."
Adam Wasch, attorney with Wasch Raines LLP in Boca Raton, Florida, represents G5 Services, an I Heart Mac & Cheese franchisee in Athens, Georgia, as well as a client in New York, "and I've spoken to a few others in the same boat," he said.
"The common thread is, make the sale at any cost. Rules don't matter," he said about the brand's executives, including Giordanella, Joseph Amodio, VP of sales, and Delia Valles, VP of finance, who are named as defendants in the lawsuit. "They're going after people who don't have the experience or the capital to make a good system work, let alone this system, which is for lack of a better term, dog sh*t."
"The guys running it can't make their own units work. So how is someone who's never heard of this brand in some town in Montana going to make it work? It's not proven, it's a loser, and these guys are good at selling it, I guess," Wasch said.
Phillips, the attorney for I Heart Mac & Cheese, called Wasch's assertions "just ridiculous. I don't know how he could say that. I don't know what qualifications you need. If someone wants to open a franchise, they're trained on how to operate it, they have a training system in place." 
According to Prieto, the Oklahoma operator, one culprit in the chain's problems is the "bland" cheese sauce, she said, which was often called out in online reviews. Customers said, "We don't want to pay these prices for something that tastes like Kraft Mac & Cheese you can make at home for 89 cents," she said, adding her restaurant attracted many new customers but they didn't come back.
In her lawsuit, being pressed by Alejandro Brito of Zarco Law, she claims total damages of $1.16 million, and a net operating loss of $318,400. "I really didn't have a way to speak out before because they hadn't grown to the point where stores had to close and lose money. And now that they have, I'm not alone," Prieto said, noting her lawsuit was filed in December 2018 and just last Friday, October 2, she received a "cease and desist" letter from the franchisor, saying she was defaming the brand.
"Before when it's just me, they can pass it off as, 'Oh, she's a terrible operator.' But now, you're going to say we're all terrible operators?"
Read more about the dispute in an upcoming print edition of Franchise Times.