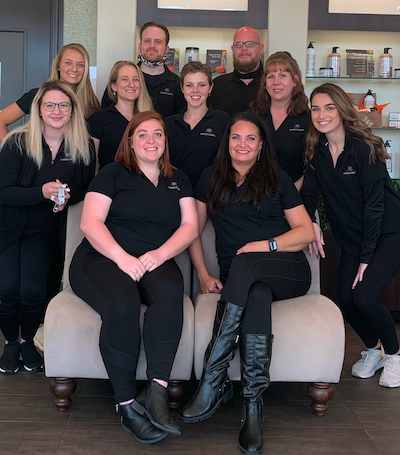 Tracy Welsh says "never in a million years" would she have expected to own a massage and facial businesses—or any business, for that matter—but ultimately one feeling pushed her to take the plunge.
"I didn't want any regrets," said Welsh, who in March took over ownership of the Massage Heights location in Cedar Rapids, Iowa, after the previous franchisee announced she wouldn't reopen following a coronavirus-related closure. "Amid so much chaos, I just decided, I'm going to do it.
"I'm either incredibly stupid or really smart. It's either one or the other."
Welsh, of course, is betting on the latter. Previously the retreat director of the Cedar Rapids location and another in nearby Coralville (which the same franchisee permanently closed), Welsh knew the ins and outs of operating Massage Heights and says her love for the brand was another factor in the decision to sign a 10-year franchise agreement.
"For me, growing up in Iowa, massage was considered a luxury," she says. Massage Heights not only brings the therapeutic benefits of massage to the area, "it's affordable. So I wanted to bring that to more people." A basic monthly membership is $65, and as the only Massage Heights in southeast Iowa and one of only seven in the state Welsh is in "full throttle" marketing mode to build more awareness and let customers know the location is back open.
And that's back open for the second time, she points out. "I bought a business before you could even be open," she says, noting her location first reopened July 13 after being closed since March. "We were just getting our feet off the ground and then August 10 we had an on-land hurricane."
Welsh is referring to the derecho, a swath of storms with straight-line winds exceeding 100 miles per hour, that hit the area and caused massive damage. Without power, Welsh had to shut her retreat down for another week and she still doesn't have new signage after winds ripped the metal lettering from her storefront.
"It was quite the ordeal," she says. "Some of my staff were without power for almost a month; I had staff doing laundry at my house."
Optimistic despite the unforeseen challenges, Welsh says the membership level is increasing and support from San Antonio-based Massage Heights has been "fantastic." Her boyfriend, Todd Kramer, is also her business partner, and Welsh's daughters Alex and Tori help with the business, working the front desk and as a spa attendant, respectively.
"I hope this article will inspire people to follow their dreams," said Welsh. "It sounds so cheesy, so cheesy … but there's other retreat directors out there, other people who maybe are thinking about making that leap.
"I know I've learned never to say never."