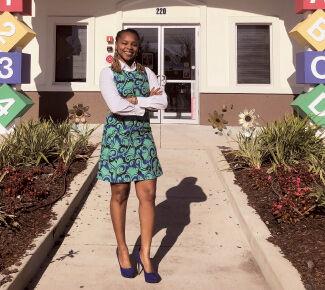 Grace Huxtable-Mount's journey to becoming a franchisee of The Learning Experience jumps all over the place, from being born in the Bahamas to teaching children of U.S. military personnel in Japan. But at the heart of it all lies her passion for working with kids and families.
Born into a "huge Jamaican family," with her number of cousins reaching the double digits, Huxtable-Mount was raised in a small town in central Florida by her aunt and uncle, who didn't have the chance to complete their education. (Her aunt finished eighth grade, while her uncle stopped going to elementary school to take care of his younger siblings after his mother died.)
Huxtable-Mount grew up hearing that "education is the key to success in this country," and if she ever got off track, her family quickly reminded her. "The expectation was there that I needed to do better than what they were able to do," she said.
When she eventually started teaching—a decision her family "was not excited about" because it didn't earn a high salary—she said she never envisioned becoming an entrepreneur. But, she continued, "I realized that I have to do something I'm passionate about and can connect with. Helping children and teaching them to learn how to read, and helping other teachers are things I was passionate about."
A tutoring business was next, which Huxtable-Mount launched with her husband. She wrote the curriculum and taught while her husband helped with marketing and technology.
"It was a lot of work, and definitely worth it, but I decided for our next venture, I didn't want to start something from scratch," Huxtable-Mount said, which led to franchises. "I thought having the systems in place already would be helpful, and I wanted to be a part of a bigger team so it's not all just on me to create everything, and I did a lot of research on childcare franchises."
After narrowing it down to her top three brands and visiting their headquarters, Huxtable-Mount chose The Learning Experience, a Florida-based brand with more than 260 units. She opened her first franchise in 2009, in Jacksonville.
"When I met the Weissman family, I just felt an instant connection," Huxtable-Mount said of the founders. "Of all the childcare franchises, they understood that the quality of education and a child's interactions and experiences with us were just as important as the business, and I just loved that balance." She was also drawn to the brand's proprietary curriculum, which was fun, colorful and involved learning through play—a novel teaching method at the time which many other brands didn't offer, she said, making The Learning Experience a leader in the space.
Another bend in Huxtable-Mount's path came in 2012, after she earned her doctorate in educational leadership from the University of Florida and took a celebratory trip to Europe to visit friends. There she discovered the opportunity to teach for the U.S. military in different countries. One of the benefits of The Learning Experience, Huxtable-Mount added, is having the option to run her business semi-absentee once she got her team in place—which allowed her to teach at a middle school in Okinawa, Japan.
"I can't believe I did all of that. It was a 13-hour time difference, so I would get up early and stay up late to check in with our center's managers back in Jacksonville before I went to my teaching position," Huxtable-Mount said. "I still managed the business and came back on school holidays. It was an amazing experience; I was definitely pushing myself to the limits there. I also become pregnant with my second child and my son was born in Japan."
She's since grown her Learning Experience portfolio to five locations and said her biggest challenge has been balancing her empathy for struggling parents with valuing her program for what it's worth.
"You have to have heart and care about your customers and what they need, and adjust with the times in order to survive any crisis," Huxtable-Mount said. "I grew very rapidly, and it took me awhile to get pricing right, but eventually I did, because I realized we have an excellent program…maintaining trust with families and building up teachers gave me the ability to charge what I needed to charge, because ultimately this is a business, and you need to operate it in a way it will continue to grow and thrive."
The total investment to open a Learning Experience franchise ranges from $493,549 to $3.6 million.