At my age, pizza for breakfast is a rarity, but when it's put together by a sleek robot, it's impossible to pass up. On opening morning of the massive Consumer Electronics Show, I was able to do just that, chowing down on a surprisingly delicious slice made by Picnic, the automated pizza assembly device. 
The device got an exceptional amount of coverage from tech blogs out there heralding the new pizza robot as the best thing since, well, human-made pizza. But this isn't one of the weird prototype gizmos that are frequently the hot topic at CES; it's maybe an ideal solution for big pizza franchisees. 
Basically, the device is a few modular boxes that come together as an automated pizza assembly line that sits between dough preparation and the oven. Why not do it all? Well, CEO Clayton Wood said he had gotten used to that question, and they've tried it out, but most of their target market has other needs. 
"Our market is new installations but also retrofit, and everyone in that market already has an oven," said Wood, pictured right.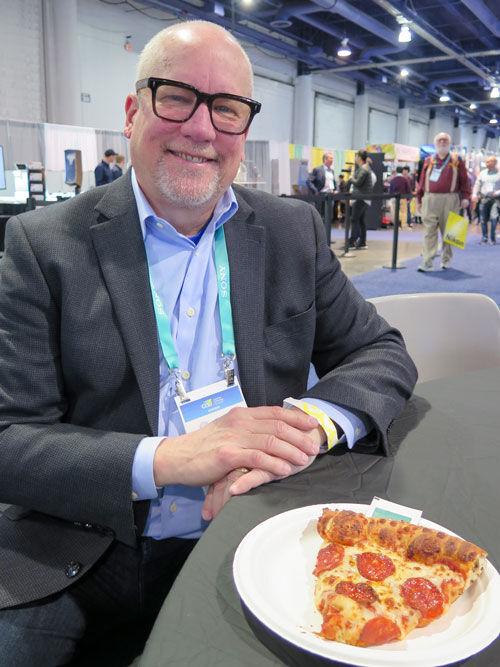 That market also has intense labor pressures, and it's especially pronounced in that key assembly spot. 
"What happens is the people who are good are moving up, and a lot of times the person assembling the pizza is an entry-level worker. It's hard for them to make a consistent pizza. If you can't make a consistent pizza, you can't keep up your brand standards," said Wood. "The training cycle is very short, it's very simple to operate." 
He said a normal restaurant making 250 pizzas a day can be run with one person who preps the dough, feeds it into the Picnic device and puts it in the oven at the end. The precision assembly being done by the device means that employee can keep preparing dough, re-stocking the bot, which happens every couple hours, or slicing, boxing and running the register. He said the key dinner hour is a sweet spot for Picnic. 
"One of the primary advantages for a pizza operation is help managing a rush hour, that's when they have to bring on additional staff, but nobody wants to work a two-hour shift so you have this shoulder shift. Or you prep it in advance, which degrades the pizza, or the customer waits, and that degrades the experience," said Wood. 
When using the device, the biggest bottleneck is the oven. With the potential for 300 pizzas an hour, a concept would need a seriously large oven to keep up. The oven at CES was a 5-foot wide conveyor belt. Wood said it would take a three-level oven of that size to keep up. 
Wood also said the device isn't only for fast-paced pizza operations. Under the RAAS model, he said restaurants making as few as 100 pizzas a day would be able to afford the device. 
Picnic will continue to test and tweak the modules through the year. Wood said the company should be ready to scale up by the end of 2020. After that, they'll explore other food options like bowls, salads and sandwiches, "whatever needs to be assembled," said Wood. 
Check out a video of the device in action below.