Still actively leading the restaurant company he founded 34 years ago, Pizza Guys CEO Shahpour Nejad said he's never seriously considered selling the brand because he loves the freedom of being an entrepreneur.
"My destiny is up to me, not anybody else," said Nejad who started Pizza Guys in 1986 after moving to California from Cleveland, Ohio, where he'd worked in a pizza shop while earning a degree in mechanical engineering. "The passion for the business keeps me going."
Nejad looks for that same passion in his franchisees, who are largely single-unit owners and have helped grow Pizza Guys to 70 locations in three states, all but eight of them franchised.
Based in Rancho Cordova, the takeout- and delivery-focused brand is pushing into Southern California and looking to widen its footprint in Oregon and Nevada, where it has two and three stores, respectively. It's an opportunity, said Nejad, for people with an owner-operator mindset to get into a pizza segment that's benefited from heightened interest and increased sales, both of which were accelerated by the COVID-19 pandemic.
"Early in 2020, in January, before the pandemic, we identified this expansion push as a focus," said Nejad. "Of course, now, people are seeing how resilient pizza is."
Systemwide sales at Pizza Guys are up 30 percent over last year, noted Nejad, with some restaurants seeing same-store sales jump as much as 80 percent.
Major chains such as Domino's and Pizza Hut, with more than $27 billion in sales and 13,000 units in the U.S. between the two of them, aren't as accessible to franchisees new to the pizza segment or to restaurants altogether, noted Nejad, which is where Pizza Guys comes in.
"We are not looking for franchisees who look at this business as an ATM machine," said Nejad, in reference to large multi-unit and multi-brand operators that have continued to grow across the restaurant industry. "They have to have that passion, be hands-on. I want people like me, who don't just think of this as an investment."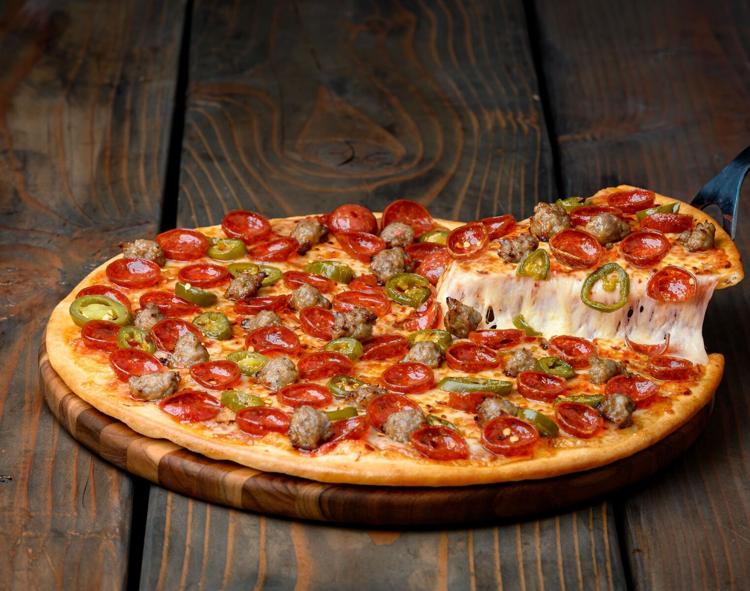 A recent store opening in Santa Clarita by franchisees Lucky and Manjit Singh is one example of new owners finding success, said Nejad. "We had people lined up and waiting for us on the first day we opened," he said, and the restaurant was so busy he pulled seven "A-list crew members" from corporate stores to lend a hand and give the Singhs extra support.
Having the autonomy to make that decision is yet another reason why he's remained the company's owner, Nejad said, and he's had the ability to step in in other ways during the pandemic.
"I, from my pocket and not just for company stores, compensated franchisees for paying $1 more an hour for hazard pay" for front line workers, he said. He said the company also covered the expenses to allow every employee to take a large pizza home at the end of every shift, something it's still doing and that is indicative of the culture at Pizza Guys. And like many restaurants during the early weeks and months of the pandemic, Pizza Guys provided food to hospital workers, serving more than 16,000 pizzas to workers at 32 hospitals in three states.
"All in all, this pandemic really put us on the map and we got a lot of media attention," said Nejad.
He's followed that up with an intense focus on customer service at the store level, with franchisees getting additional training as they rolled out contactless service. Already with a built-in delivery model and technology such as text updates for orders, Pizza Guys was well-positioned to handle increased sales, but because its units were seeing an influx of new customers, Nejad said they focused on the overall experience.
"Whoever takes care of them, they're going to come back to you after this pandemic," is what Nejad said he told franchisees.  
Average gross sales at franchised Pizza Guys stores were $833,871 in 2019. The total cost to open a Pizza Guys franchise ranges from $78,300 to $262,500, including a $25,000 franchise fee.