Sami Siddiqui is the new brand president of Popeyes Louisiana Kitchen, Restaurant Brands International announced this week. Siddiqui moves into the role after overseeing RBI's Asia-Pacific region for Popeyes, Burger King and Tim Hortons, and he takes over for Felipe Athayde, who on September 8 was named CEO of the Minneapolis-based beauty salon operator Regis Corp.
Athayde and Siddiqui "will work together to smoothly transition the role throughout September," RBI said in its announcement.
Siddiqui, who's been at Restaurant Brands International since 2013 and served as Burger King's CFO and president of Tim Hortons Canada, moves to lead a Popeyes brand experiencing major growth since introducing its chicken sandwich last summer. In the fourth quarter, sales rose $393 million, a 42 percent surge, and Popeyes permanently added the sandwich to the menu in November. Sales have remained strong during the pandemic.
"Popeyes is a brand with a well-known heritage and more recently has demonstrated unprecedented growth through exceptional menu innovation in our iconic chicken sandwich," said Jose Cil, RBI's CEO, in a statement. "Sami has an excellent track record working with our franchisees to drive our brand and restaurant expansion."
Over at Regis Corp., franchisor of hair salon concepts such as Supercuts, SmartStyle and Cost Cutters, Athayde (pictured below) makes the move from restaurants to take over as president and CEO for Hugh Sawyer, who will retire October 5.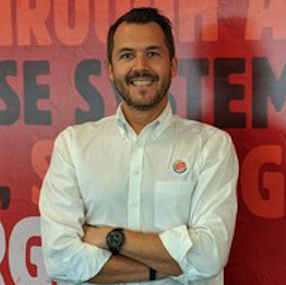 He arrives at a time of transition for Regis Corp., which last year began a refranchising push to sell nearly all its company-owned salons to franchisees. That road to an asset-light model has been rocky, including a deal that came undone between Regis Corp. and franchisee The Beautiful Group.
In a statement, Virginia Gambale, Regis Corp.'s lead independent director, said the company has "substantially completed" its refranchising effort and has realigned its portfolio "to focus on our core brands." It's also invested in technology, upgraded marketing and digital education programs, eliminated nonessential costs and "successfully amended our revolving credit facility to provide the long-term flexibility needed to navigate the uncertainties caused by the COVID-19 pandemic," said Gambale.
She noted Athayde's "proven track record of growing franchised businesses and a demonstrated ability to execute strategic change," and called him the "ideal person to assume this role at a pivotal time for Regis."
The company's board of directors also elected Daniel Beltzman, current Regis director, as chairman of the board effective upon Sawyer's retirement.