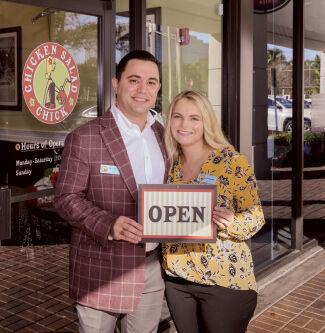 When she signed on with Chicken Salad Chick, Claibourne "Clay" Rogers jumped from working in franchising to working on her franchise business.
Clay, who was a senior account executive at franchise-focused public relations firm Fish Consulting, said she learned a lot about the industry in her former life, including where she wanted to go next. She and her husband, Nick, were thinking about a family business, but her work ultimately guided them to franchising.
"When I joined Fish, I knew nothing about franchising. I got to talk with a lot of franchisees about their passions and success," said Clay. "Nick and I always wanted to own our own business and franchising started to seem like a great option."
She said Chicken Salad Chick stood out to her as soon as she began working with the brand on grand opening strategies and marketing the then 40-location concept. It's since grown to 175-plus restaurants, and in February announced it was moving its headquarters from Auburn, Alabama, to Atlanta.
"I think one of my favorite experiences was when I met the Chicken Salad Chick team. I was part of that first team. I got to go up for the immersion with the rest of the Fish team. During that period, we got to meet the executive team, and during that, Stacy actually dove us around for several hours around Auburn, Alabama, to not just tell the story but show us," said Clay, referring to CSC founder Stacy Brown. "At the end of the tour she invited us into her house for lunch. I had never had a client do that before, but that was her special way of treating people."
Nick, who handles the books and brings a healthcare finance background to the operation, said the concept's numbers looked good, but it was some smuggled chicken salad that really grabbed his interest.
"I remember pretty vividly the time Clay brought some chicken salad home, she smuggled it in a cooler through the airport all the way to South Florida," he said. "It was one of the best chicken salads I had ever tasted at the time. It was a short time after we fell in love with the brand and made the decision to pursue the brand."
Quality time with the executive team also helped. "I'm always interested in numbers, and the amount of time Jim Thompson has spent just with me educating me on the operations piece is something that I never would have expected from an organization this size," said Nick of working with the brand's chief operating officer.
Both said the brand's mission to "spread joy" was also important. "Who doesn't want to spread joy? It makes you feel good and makes the customer feel good," said Clay. The focus on community connection also had them eager to get involved and share locally, they said.
Clay's PR background has been a big help with marketing, and the old job gave her a leg up in hiring, too. "Actually, finding our general manager was a funny story. I had asked our other team members at Fish if anyone knew someone in Coral Springs that would be open to the opportunity," said Clay. "One of the team, Chelsea, knew the mayor of Coral Springs, who recommended our GM. She has significant restaurant experience, which we don't, so that was a perfect fit for us."
The duo opened their first location in January 2020, in Coral Springs, Florida, and within weeks the COVID-19 pandemic meant things had to change a little bit. Dine-in traffic was restricted, as was the big grand opening process Clay helped create. Typically, customers line up for a year's worth of free chicken salad. Instead of the big, busy line, she said there was a simple sign up for their first location. She's hoping their next grand opening in a couple years will bring back the chicken salad party atmosphere. Even without a big celebration, customers have been eager to pick up food.
"We got a very warm welcome from the Coral Springs community. We've been pleasantly surprised with the number of people that know the brand in South Florida, especially because the next closest location is in Orlando, three hours north," said Clay. "Every day in the restaurant, I'm still talking to people that are so excited."