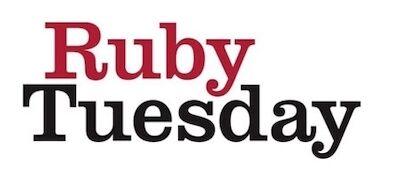 Ruby Tuesday filed for Chapter 11 bankruptcy protection October 7, blaming the pandemic for major difficulties as the company was already navigating a turnaround. 
Despite plugging in ghost kitchens, offering more delivery and off-premises options, and closing many restaurants during COVID-19, CEO Shawn Lederman said the decision was necessary to "reposition the company."
"This announcement does not mean 'Goodbye, Ruby Tuesday.' Today's actions will allow us an opportunity to reposition the company for long-term stability as we recover from the unprecedented impact of COVID-19," said Lederman in a statement announcing the filing. "Our restructuring demonstrates a commitment to Ruby Tuesday's future viability as we work to preserve thousands of team member jobs."
The company put a lot of effort into saying this is not "goodbye," referencing the Rolling Stones song that inspired the name, but "'Hello,' to a stronger Ruby Tuesday." 
It is likely goodbye to a lot of Ruby Tuesday locations, however, and potentially more to come. Since the COVID-19 pandemic hit the United States in March, the company has shuttered nearly 200 locations with no apparent plan to reopen them. 
Ruby Tuesday CMO Jenifer Boyd Harmon reiterated that despite the bankruptcy, existing restaurants would continue to operate as they have been. 
"It is important to understand that filing for Chapter 11 does not mean that Ruby Tuesday is going out of business. Rather, we intend to use this process to position the business for future success and complete the operational turnaround that we initiated in 2017," said Harmon. "I want to assure you that Ruby Tuesday will be operating in a 'business as usual' mode during this transition. We will continue to conduct normal restaurant operations with the most important focus on our guests and employees." 
For a restaurant that derives 90 percent of sales via dine-in business, the pandemic put a major roadblock in the recovery that started when NRD Capital acquired the concept in 2017. A major ghost-kitchen initiative brought new offerings to the kitchen as well as other brands who plugged into Ruby Tuesday locations as a way to do delivery-only kitchens. While innovative, the revenue from a reported 450 percent growth in off-premises sales clearly couldn't match up with rent and other costs in the large-format locations. 
In the documents, the company reported 236 company-owned locations in operation and it does not plan to reopen the 185 locations that have been closed since March, when the company had 421 locations. 
As for assets, the company reported $4 million in cash, a few parcels of land (most real estate was unloaded in a 2017 sale-leaseback) and liquor licenses valued at about $14 million. As for liabilities, there were several credit facilities, but the main "prepetition credit facility" amounted to a $42.7 million liability. The company also owes landlords, utilities, employees, vendors and tax authorities $18.8 million, according to documents. There is also a $10 million Paycheck Protection Program loan on the books that "is repayable through 18 payments of $562,774, the first of which is due December 12, 2020." According to the filing, 100 percent of that is "subject to forgiveness."
The company has signed on a broad mix of advisers to help it through, including Pachulski Stang Ziehl & Jones LLP as legal counsel, CR3 Partners as financial advisors and FocalPoint Securities as an investment banker. And to tackle those leases, the company signed on Hilco Real Estate to help restructure the real estate portfolio.