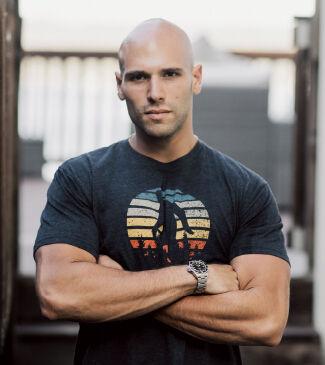 Sasquatch Strength founder Isaac Vaisberg is no stranger to adaptation. The Venezuelan-born 28-year-old grew up between his native country and Miami, went to school in Massachusetts and dropped out of law school to pursue a career in fitness.
All the twists and turns that led to launching fitness franchise Sasquatch Strength may have prepared him and the concept for 2020. The first franchise unit opened, gyms were locked down and the company bought out its private equity investors all in the last several months.
Vaisberg said none of the success of 2020 would have been possible without Sasquatch Strength being a different kind of gym, neither big box nor studio. At one end, the big boxes "have a super large membership base and they don't care if you attend the gym or not. The rate of attendance is 7 to 13 percent, that's really, really low," said Vaisberg. "When they're selling a membership, you're getting a 7 to 13 percent chance you'll get anything out of this."
As for studio or boutique gyms, they're built on having a lot of people in a class, so, "they don't have the ability to create this one-to-one relationship and they simplified it to be easy for everyone," said Vaisberg.
He doesn't think either end of the fitness spectrum provides long-term positive outcomes. Members either lose motivation to do it themselves or they get bored of the big classes. He built the concept with some limits in a standard studio footprint to find the balance.
"Once we hit 300, we don't allow any more members. We 100 percent require our staff to know every one of our members and their family names. We go through a lot of training about how to interact with our members and build meaningful relationships and specifically knowing their 'why,'" said Vaisberg. "We don't believe in an individual that wakes up and decided that they need to be in a gym. They have to have a driving force and we take the time to find out what that is."
Classes have 12 to 14 people, allowing for more direct interaction. And the communication is intense, as if your personal trainer was paid by the goals you hit. That keeps people coming, if not because they're motivated then to avoid an awkward phone call.
"We boast a 98 percent attendance rate. That's because if someone stops going to the gym, within three days, you're already getting phone calls and emails because we want you here, we have no intention of selling a membership and it sitting there not being used," said Vaisberg.
Vaisberg said membership prices vary by market and are between $150 and $250 a month. Sasquatch Strength has three corporate locations and one franchised gym, with two franchisees in search of space. The first franchise, opened in August, is even growing membership, though 2020 was no picnic.
"At great risk to ourselves, we made this decision, we made three promises: We're going to take care of our people, we're not furloughing anybody, we're not cutting any pay," said Vaisberg. "No. 2, we're going to scale our digital to keep you guys motivated, happy and taken care of so you can get that fitness education we promised you. No. 3, we'll be here when you get back, we're going to be ready to open at 100 percent scale as soon as this stupid thing passes."
The investment cost for a new gym ranges from $182,000 to $281,000.
If it weren't enough to survive as a gym during COVID-19, the c-suite also bought out the concept's private equity investors. In December, the company announced it was buying back ownership from Franchise Founders, an incubator of novel franchises that invests early in concepts.
"We made an offer to buy them out, they were very receptive and very happy to get us to a point where we are. We got them a great return for their investors. It was a success for everyone involved," said Vaisberg. "Finalized that deal in October and it's been a wild ride in the last couple months. We're very excited for 2021. I think we'll have some exponential growth and some of our franchisees who aren't even opened are talking about adding more."