As other restaurants shuttered or "were afraid to take the risk," franchisee JJ Ramsey decided to remodel 10 of his Schlotzsky's restaurants last year, a move indicative of his belief in the brand and its future. That perseverance continued this year as Ramsey, who with wife Hortencia operates 20 Schlotzsky's units, opened the first location of the brand's new Design 1800 prototype, in Derby, Kansas.
"I was very scared, obviously, but I decided to stay true to my spirit and risk it," said Ramsey of his decision to invest in the updates of half of his restaurants in the middle of a pandemic. "My worst nightmare had already occurred" with "terrible" sales following the initial wave of dining room closures and stay-at-home orders.
Ramsey, whose locations are in Arkansas, Kansas, Missouri and Texas, said he found a small community bank in Kansas and funded the remodels with SBA loans. The restaurants, which he started acquiring in 2015, were 10 to 20 years old and in need of a refresh. The investment is paying off.
"We saw a massive uptick in sales, we were seeing huge numbers," said Ramsey, and performance kept improving as he reopened indoor areas and saw drive-thru and delivery sales increase. "Our stores do 10 percent delivery … DoorDash has blown up. That's continued to grow."  
His new restaurant in Derby, which opened August 12, is the second in a four-store development deal. The Design 1800 model is one of two new prototypes Schlotzsky's created in an effort to expand its off-premises business and reduce the real estate needed. Ramsey's unit, as its name suggests, is 1,800 square feet, down from the typical 3,500-square-foot footprint, with a single drive-thru and seating for 35 customers. The Design 1000 is slightly smaller, with two drive-thrus, one on each side of the restaurant, and space for a curbside pickup window. 
Emphasizing efficiency
When Ramsey considered the new design options, his focus wasn't necessarily to cut development costs. "It wasn't like, I can do this for cheap. It was more the unit-level economics," he said. "We're utilizing every square inch of the building."
Tory Bartlett, chief brand officer at Schlotzsky's, said the 1000 and 1800 models feature a redesigned kitchen aimed at improving the flow of the line "so the food lands closer to the drive-thru."
While it's a seemingly small change, operators know every step counts.
"It's less steps—if I have to walk 20 steps to the drive-thru, it's not good," noted Ramsey. "Overall, it's just more efficient all around."
The prototypes also leverage technology, said Bartlett, from a new equipment package with a Rational combi oven "that's basically doing the work of three pieces of equipment," to the implementation of digital kitchen displays at each station, a change from paper tickets.
Efficiency also came into play as Schlotzsky's tackled the menu update it rolled out in March, which involved trimming what was a list of 27 unique sandwiches down to 12.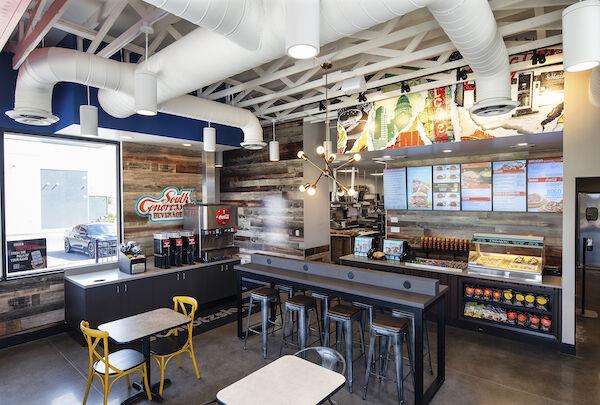 "It was a painstaking process, to be honest with you," said Bartlett as the brand sought to reduce inventory, free up space on the line and simplify the training process. It tested the first iteration of the new menu in Austin, Texas.
"The first couple weeks were pretty rocky because it was a pretty drastic change," continued Bartlett, and it took three more rounds of tweaks before the rollout to all 300-plus locations.
Ramsey, for one, is pleased with the results.
"It's easier to operate and make in the kitchen," he said, and the introduction of sandwich combos makes the ordering process easier for the customer while more closely aligning Schlotzsky's with a QSR position. Customers, he said, are also loving the increase in portion size that came with the "Meaty Meal Deal" options.
"It went from oh, there's not very much meat on this to, oh, this is a great sandwich," Ramsey said of customer feedback. He's excited to keep growing with the brand and carrying on his parents' legacy.
Ramsey's parents owned 15 Schlotzsky's restaurants at one point before exiting the system. Ramsey, who's acquired 17 locations and built three since 2015, said his growth strategy is "acquisition-heavy, and the second prong of that is new growth."
Celebrating its 50th anniversary this year, Schlotzsky's, part of Atlanta-based Focus Brands, is also going after new growth. It's signed more than 75 deals so far this year, including a 10-store agreement in Phoenix. The brand did close 26 locations in 2020, the majority of which were inline locations "that didn't make it through COVID," said Bartlett.
The cost to open a Schlotzsky's, which according to the franchise disclosure document also typically requires the purchase of a Cinnabon Express franchise to operate inside the restaurant, ranges from $720,200 to $1,125,740.