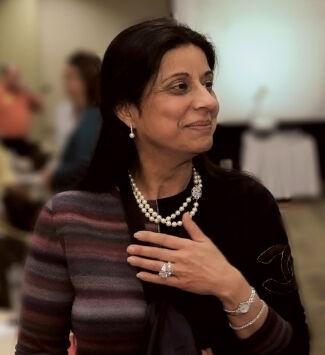 Kiran Yocom grew up in a Hindu family in India, but she attended a Catholic school and began showing up to donate money each week at the charities of Mother Teresa.
"I became a beggar at a very young age. To me I was more like a Robin Hood. I would take money from the rich, and make sure to give it to the children who didn't have much," Yocom recalled.
One day, at age 7, she saw Mother Teresa, the Christian missionary and nun who was canonized in 2016. "I actually touched her feet. I was so young. She actually gave me the biggest hug, and then she took me to the room where they prayed. So that bond started," and it grew into adulthood.
Mother Teresa's teachings inspired Yocom and her husband, Philip, to start Seniors Helping Seniors in 1998, the in-home services agency with about 200 locations today. "This is Mother's words, verbatim: 'America is very poor in giving time, especially to their seniors.' When she said that, it just touched my heart, and I realized that she was so right," Yocom said.
"That's when I had this calling in my being that kept saying to me: Some day you are going to be old. How would you like to respond to being that beautiful age when you really need someone to tell you they love you?"
Then COVID-19 began hitting America's elderly hard. "Some of them are so alone, and some of them are in very bad health, mentally, physically, emotionally, spiritually. Your heart goes out to that," she said.
The mission runs deep at Seniors Helping Seniors. "We bring hope and joy into the seniors' lives who were merely existing," said Namrata Yocom-Jan, Yocom's daughter and executive vice president of the franchise, who joined in 2007.
She was working in Switzerland in finance when her mother encouraged her to come home for the Seniors Helping Seniors annual picnic. "I flew in, I remember so vividly. I look very much like my mother, and there were over 1,500 people in my parents' backyard. Nobody knew me, but because I look so much like my mother, everybody was hugging me," Yocom-Jan said.
"I realized, all the things I was doing for corporate America, it was all about the bottom line. Here my mother was doing her mission. I witnessed it for the first time. They called her Junior Mother Teresa, and I decided I was going to quit my job and join this mission."
Daniel Jan was on board, too. Now VP of operations and Yocom-Jan's husband, at the time he was her co-worker in Switzerland. "I was her finance liaison and then I just became her liaison," he said with a laugh.
Cost of investment for a Seniors Helping Seniors franchise ranges from $83,000 to $110,000. A key differentiator is the workforce, Jan said. "I would say 85 percent of our caregivers are 50-plus," which he called a positive during COVID. "They're not partying on the beaches of Florida, and they aren't prone to going to the nightclub at night. They are a much more responsible group to be working with, more responsible than a younger crowd."
Andy Malivuk became a Seniors Helping Seniors franchisee in 2016. He said his turnover rate for caregivers is about 10 percent, compared with the industry average of 64 percent. "There's an extremely high level of turnover, and not only is it a high turnover, so clients are getting a revolving door of faces, but even those faces that are coming in, they aren't relating. They're on the couch doing their Instagram," Malivuk said.
"I saw very clearly the impact to my mom, the impact to my dad, the impact to the rest of us, when you have unreliable, inconsistent caregivers that have attitudes and you can tell they don't really care, versus when you have one who's there for the right reasons. It's life-changing. "
Yocom gets the last word, appropriate because she is always inspirational. "Love is about doing something without worrying whether somebody is going to appreciate it or not. As long as your heart knows what you're doing, you're making your own world a better place," she said, then adding a more practical note. "I can sleep like a baby without taking Ambien tonight."