Presented in a quick 7 minutes during the Around the Industry segment on day two of the Restaurant Finance & Development Conference, Paul Sill, founder of Forum Analytics, dove into the concept of what his firm calls ShopoGraphics, a deeper way of looking at the pros, cons, opportunities and challenges of retail sites.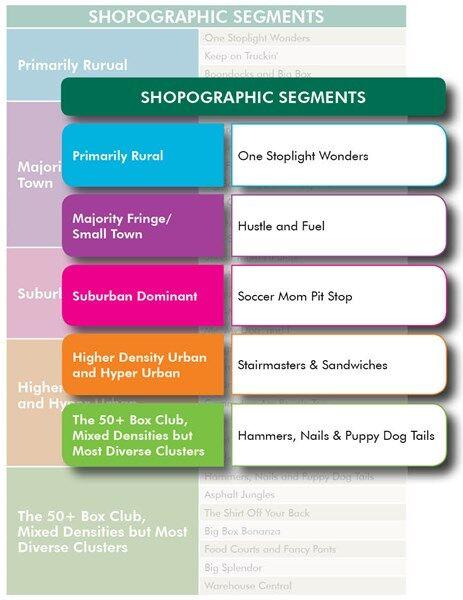 Rather than just focusing on what's allowed (or prohibited) in a given shopping center, Sill has spent a portion of his last 25 years hunting for what he called the holy grail of reverse engineering the "retail hierarchy." This is a deeper level beyond the "restaurant row effect" or a group of stores aimed at busy moms. 
The basic argument was simple and not unfamiliar, especially among commercial retail brokers: maximizing the potential of your brand in a specific location isn't just a function of vehicular traffic and regional demographics, but also unlocking invisible benefits by locating near especially complementary adjacent brands. 
Honed with the help of a team of mathematicians who helped develop the concept of shopographics, it's  the result of his two-plus-decade quest. "It's really all about the composition of the activity that takes place somewhere so it's truly a machine-learning exercise," he said. "A computer helped find for us these natural breaks in data and create … effectively 41 unique creative segments of consumer activity."
While the details of the concept are far too detailed for such a short presentation, he threw out a couple of what he calls "cutesy names" for different retail trade areas, from Pit Stop Soccer Moms to Hustle and Fuel and Mini-Me. 
With services like Buxton to SiteZeus to Sense360, there's never been more data that's available to franchisees, franchisors and other businesses looking to make the very most of real estate decisions. That plethora of new data-focused real estate intel doesn't make it any less intimidating for newbie business owners who haven't been down this road before. 
As Sill further explained, focusing on co-tenancy and shopographics "allows us to dial into more discrete answers for things that drive your business in a positive way forward." Those cutesy names are one of the first brands focused on boiling such wonky terms and data down to approachable levels for beginners, and that's undoubtedly a worthy goal. 
Having obsessed about the real estate side of the business world for years through my reporting in Franchise Times, it's notable when a new approach hits the scene that makes site selection and sales forecasting easier than just factors like rent, occupancy and a basic profile of who's visiting a given center on a daily basis. 
I'm curious to see the other 38 clusters his team has defined. What's my ideal cluster? I'll take a quick stab and call it Cereal-enabled Professionals of Leisure; that's shoppers focused on high-quality grocery, personal services like massage and healthcare, and restaurants savvy in delivery and takeout. Throw in a tailor, dry cleaner, dog food store and a ramen joint and then we'd really be cooking with fire.