Dr. Michael Osterholm, an internationally recognized infectious disease expert, was scheduled to present on day one of Restaurant Finance Week, but rescheduled for a pretty good reason—President-elect Joe Biden was calling to ask Osterholm if he'd join his COVID-19 advisory board.
In addition to directing the Center for Infectious Disease Research and Policy at the University of Minnesota, Osterholm is also a Regents professor, McKnight Presidential Endowed Chair in Public Health and a member of the National Academy of Medicine and the Council of Foreign Relations. On day three of Restaurant Finance Week, Osterholm took time to update attendees on the state of COVID-19 in the U.S., the vaccine and how to plan for the coming year. 
As COVID-19 cases continue to surge above 100,000 per day in the U.S., Osterholm said we need to reflect on the start of the pandemic.
"When this virus first emerged in the U.S. in February and March, at first people were challenging what it would result in, while some such as myself were trying to shout it from the rooftops that this would be a pandemic, and it would mean thousands of deaths associated, which unfortunately is coming true," Osterholm said. "We went into 'flatten the curve' or lockdown mode, and people did physically distance, and we saw numbers of cases drop. But then people just kind of went back to normal life."
With the reopening of businesses, the U.S. has seen a predictable surge in both cases and deaths—America topped 10 million cases Monday, just 10 days after it reached 9 million cases. While there is positive news about a vaccine from Pfizer and BioNTech indicating a 90 percent efficacy rate of preventing COVID-19, Osterholm gave a warning to RFW attendees.
"This is part of truth-telling and storytelling; a 90 percent efficacy rate is a bit misleading," Osterholm said. "We don't know how long these vaccines will actually protect, what we call durability of immunity, but we'll likely be delivering additional doses as booster shots over time, which is a challenge when 8 billion people want the vaccine now, which is actually a two-shot dosage, so 16 billion doses."
The logistics are challenged even more by the vaccine needing to be stored at negative 94 degrees Fahrenheit. Osterholm expects it won't be until at least 2023 that enough doses will be available to vaccinate the world's population. "I'm excited we have a vaccine at all with proof of concept it can work, but it's how well does it work and how long does it last," he said.
With many questions still left unanswered, Osterholm offered advice in the form of a friendly amendment: "Never 'socially' distance—it's physical distancing. Be close socially. You need to remind people how important it is to be socially close in this time."
Osterholm also added the 6-foot rule was based on 40- to 50-year-old research that hadn't been updated, giving people a false sense of security because it didn't account for aerosols, tiny particles that remain airborne, float around and can travel significantly farther than 6 feet. 
"If I'm in an environment outdoors, 10 to 15 feet away from someone with a slight breeze, whether I have a face covering on or not, I'm quite well protected against getting infected from that individual, because the virus dissipates quickly in the air and I don't get an infectious dose," Osterholm said. "But since aerosols can float, distance inside is a challenge here. If I'm in a room, I can be 12 feet away from someone and still be heavily exposed to the virus. Public health hasn't done a good job at all of helping people understand that."
Osterholm also added that he advises wearing masks, but not depending on them entirely for protection. "I have said from day one everyone should wear a face cloth covering, but know that it's only one layer of all we're trying to do to protect you, which is where physical distancing comes in."
What's next
In an op-ed piece he co-wrote for the New York Times, Osterholm explored why the U.S.'s response to containing COVID-19 failed, particularly compared with the results of Asia, Europe and Canada, and what can be done better in the future.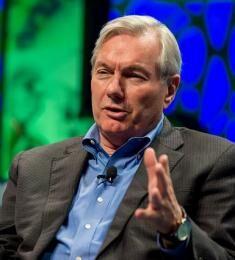 "Simply, we gave up on our lockdown efforts to control virus transmission well before the virus was under control. Many other countries didn't let up until the number of cases was greatly reduced, even in places that had extensive outbreaks in March and April," he wrote. "Once the number of new cases in those areas was driven to less than one per 100,000 people per day as a result of their lockdowns, limiting the increase of new cases was possible with a combination of testing, contact tracing, case isolation and extensive monitoring of positive tests."
Osterholm suggested another four-week, stay-at-home lockdown, while reimbursing individuals and businesses for lost wages. "We could actually find ourselves bring(ing) back everyday life sooner, and bring it without harming people the way the current situation is," Osterholm said. "But we've seen such large inaction out of our Washington leadership that it's hard to think that might happen."
In terms of leadership, Osterholm added we need something similar to President Franklin D. Roosevelt's fireside chats from March 1933 to June 1944, where he informed the public and kept them updated on various topics from unemployment to fighting fascism. 
"We need somebody to do something like FDR's fireside chats, tell us exactly what's happening, anticipating it and saying what we're going to do about it. Providing empathy, support and understanding to the people, and creative solutions on how we're going to minimize the impact," Osterholm said.
"I categorically disagree with the idea that we're for the economy or we're for health," Osterholm added. "You don't have a healthy economy if you're having these cases running willy nilly, and it's very hard to bring back the economy— Europe learned that. In Asia however, they learned that if you do suppress and control this virus, your economy comes back. We can argue if it's better to have a short burst and 'swallow your medicine now,' or is it going to be another 12-18 weeks more of this serious bloodletting that's going to occur with all these new cases? ...We need that leadership, somebody who can say we're going to get through this. This is going to get worse but we're going to get better. If we had that leadership right now, and we basically downed the partisanship debates, we'd all be a lot better."
Restaurant Finance Week, presented by Franchise Times and the Restaurant Finance Monitor, continues through Friday with panel discussions, keynote speakers and meetings between lenders and restaurant operators, all virtual. Access the conference portal here.