It took Steele Smiley more than five months and 1,000 ideas to come up with the name for Crisp & Green, his salad, grain bowl and smoothie franchise which first opened in November 2016. Now, Smiley is launching another healthy franchise, but this time it's a plant-based, fast-casual burger restaurant called Stalk & Spade—which only took him three weeks and just 800 ideas to finalize.
"I literally fell asleep one night staring at a big sticky note with a pen in my hand, trying to come up with more names for the business," said Smiley, a vegan since 2014 who wanted the brand name to mean something. "It's incredibly difficult to find a name that works…We used 'stalk' as in the stalk of a plant that brings its nutrients, then 'spade' as in the shovel you use to plant the plants."
Stalk & Spade will open and begin franchising on April 22—Earth Day—in Wayzata, Minnesota, at 740 E. Lake St., the same street that Smiley first launched Crisp & Green and his high-end fitness training concept, Steele Fitness, which he sold to Snap Fitness in 2014. There are eight Crisp & Green locations open plus more than 30 in various stages of development nationwide.
Smiley and his team spent months testing proprietary recipes for Stalk & Spade, which "has been an enormously labor-intensive process," he said. The problem Smiley set out to solve was to make plants taste like America's favorite foods, so every menu item will be made without using any animal products, including chicken, burgers, cheese and ice cream.
"I'm more excited about this than anything I've ever done," said Smiley, who thought of the idea just last year when his 11-year-old son Asher complained about eating Crisp & Green for the fourth time in a row, and asked if he could just have a burger. "I started thinking, I'm going to build you a burger chain where you can have anything you want, and I'm going to feel good about it as a parent, and that's literally how this idea started."
The investment to open a Crisp & Green franchise ranges from $750,000 to $1.2 million, and Smiley said the investment to open a Stalk & Spade will be "substantially less," in part because of a smaller footprint. While Crisp & Green locations can go up to 3,000 square feet, Stalk & Spade will float around 2,100 to 2,300 square feet. The franchise disclosure document will be released on April 22 when Stalk & Spade opens.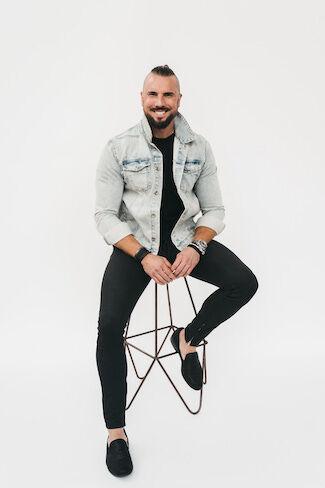 "I re-engineered the kitchen and the cost structure. My goal is, since we're launching during a pandemic and expecting fast growth, I put my entire team on evaluating every single cost," Smiley added. He said everything "down to the materials of the tables, chairs, signage, kitchen items" and more was carefully selected to keep the price down
Smiley expects the entire territory of Minnesota to be "spoken for" before they even open in April—he's already had about four groups express serious interest in buying the entire territory of Minnesota, and that's "before seeing a store or tasting a burger," he added. "My track record gives people that confidence, but I believe you'll see Stalk & Spade in other states by the end of this year. It's the fastest rollout I've ever done."
In addition to benefiting from Smiley's expertise and name recognition, Stalk & Spade will also have a competitive advantage by controlling its supply chain, a change from Crisp & Green where "we don't own the fields we grow our lettuce in." Stalk & Spade will also offer pickup and delivery to cars and homes right out of the gate, leveraging the technology Smiley invested in for Crisp & Green.   
The plant protein market is projected to reach $85 billion by 2030, according to a report by investment firm UBS. In a congruent move late February, Beyond Meat partnered up with McDonald's and Yum Brands, the parent company of KFC, Pizza Hut, Taco Bell, WingStreet and The Habit Burger Grill.
"I ultimately believe we'll be the McDonald's of this space," Smiley said. "It's fun to have that first mover advantage. It's a game of speed, and I'm really good at speed. We're positioned to win."