As franchise disclosure documents trickle out this year, it's worth exploring how franchises broke down their financial performance. The sandwich category is among the most volatile in all of restaurants. Before the pandemic, sandwich franchises had a huge portion of off-premises sales via takeout and delivery. A large percentage of that business, however, came during the lunch daypart. It wasn't the best place to be when everyone started working from home and eating their own terrible sourdough bread.
For a little insight into what that all meant for sales, we took a look at brands that reported financial performance representations in Item 19 of their 2021 FDD. Subway and Jersey Mike's, the No. 1 and No. 3 largest brands by location count, did not include the financial performance item. Jimmy John's (No. 2), Firehouse Subs (No. 4) and Cousins Subs did include the item this year.
Jimmy John's
Jimmy John's, which falls under the Inspire Brands umbrella, filed a detailed Item 19. The company segmented the 2,701 U.S. locations into three categories: all restaurants, franchised restaurants and affiliate-owned restaurants (which is how the company describes company-operated locations).
Overall, the 2020 AUV for the brand was $771,081, with the highest performing location hitting $1.9 million in sales and the median restaurants hitting $734,005. Franchised locations were just below at $766,166 AUV and affiliate-owned were ahead with a $1 million AUV. That's compared to $753,355 for franchised locations and $1.1 million or affiliate-owned stores in 2019.
The FDD also gives a glimpse into the volatile year of temporary closures, breaking out performance for restaurants that were partially closed for various reasons. If anyone needed a reminder of 2020, the FDD listed all manner of reasons for the temporary closure of 1,058 locations. They were "temporarily closed due to the global pandemic, weather, or protests during the 2020 Fiscal Year," read the FDD.
Those restaurants pushed the overall AUV lower. Overall, partially closed restaurants hit an AUV of $703,099. Franchised locations in that group came in at $699,301 and affiliate-owned restaurants hit $939,984.
Finally, the company reported drive-thru versus non-drive-thru locations. The drive-thru was a lifeline for QSR in general, but given the high portion of delivery, it's interesting to see how it affected Jimmy John's. The company broke out performance between the two groups for the period of February 2020 through the end of December.
Restaurants without a drive-thru reached a period AUV of $637,705, with the highest performers hitting $2 million and the lowest at $581,853. Restaurants with a drive-thru saw an AUV of $837,246, with the highest performers hitting $2.28 million and the lowest at $800,423.
Even with delivery as a core competency, drive-thru operations added just over $200,000, or 31 percent, to the AUV. The leadership team said it will look to add drive-thrus and focus on drive-thru sites in development where possible.
The company also saw a net decline of 89 restaurants, closures president James North said were part of a strategic look at operations that started under Inspire.
Firehouse Subs
Firehouse Subs similarly detailed its various cohorts of restaurants, including freestanding vs. inline locations as well as drive-thru vs. non-drive-thru locations. The company said flat out at the beginning of the Item 19 that COVID had a serious impact.
"In mid-March of 2020, the COVID-19 pandemic had a material impact on the Firehouse Subs business in the United States and Puerto Rico. During this fiscal year ending December 27, 2020, we have experienced 46 permanent Restaurant closures and 41 temporary Restaurant closures, of which four Restaurants still remains closed," read the FDD.
Firehouse broke down the sales as weekly AUVs and segmented those into ranges. The grand total for most company-owned locations was $20,310 and the highest portion of franchised locations saw a weekly AUV of $12,542. A key Item 19 chart, below, breaks down restaurants at all weekly AUV levels.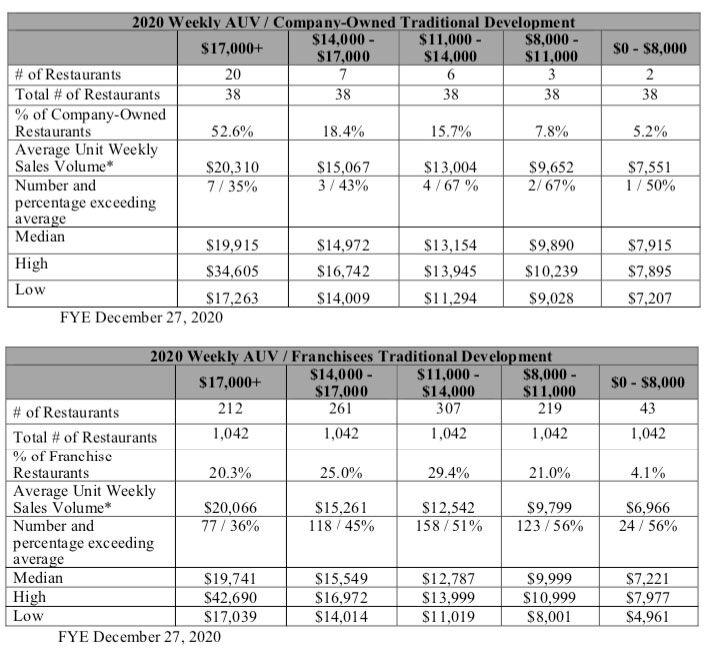 In the spirit of saving some Excel work, the overall AUV for all company restaurants was $867,238, up from $829,342 in 2019. Franchisees saw an overall AUV of $725,256 compared to $722,639 in 2019. So overall, even without the typical lunch daypart, sales ticked up.
As seen in Firehouse's data, the drive-thru helped push that even further. The highest percentage of freestanding drive-thru restaurants saw a weekly AUV of $24,231. That's $4,000 more weekly, or 19.3 percent compared to even the best-performing traditional locations. By averaging all performance levels, the drive-thru restaurants drew about $1,000 more per week in sales on average. The drive-thru effect was slightly less pronounced this year. In 2019 a drive-thru added about $1,600 on a higher base weekly AUV. In 2020, the drive-thru restaurants had 12.4 percent higher sales.
What factors all went into the 2020 sales figures isn't clear, but clearly Firehouse was able to recoup lost lunch sales elsewhere in the day or the shuttered locations helped push sales higher on average.
Cousins Subs
Cousins breaks its Item 19 (below) down in various ways, showing the top, middle and low ends of the system for both affiliate-owned (corporate) and franchisee locations.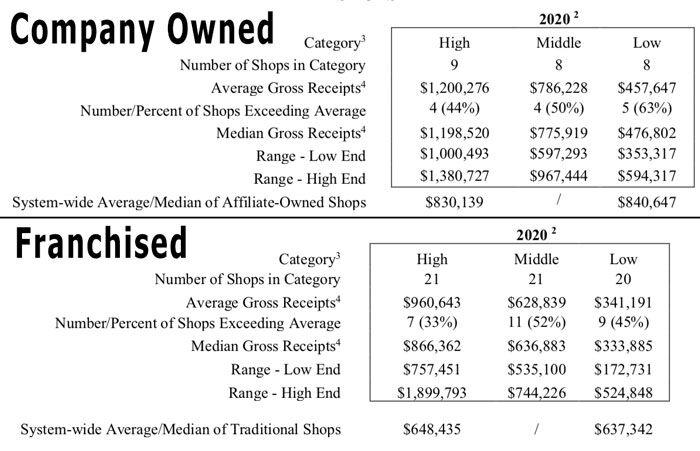 In 2020, the company reported affiliate AUVs as $830,139, with a high of $1.2 million and a low of $457,647. Franchisees saw AUVs of $648,435, with a high of $960,643 and a low of $341,191. That's compared to overall 2019 averages of $835,139 for affiliate locations and $627,435 for franchisee locations.
It's unclear from the FDD why franchisee sales got better and why affiliate locations declined slightly. Given the 2020 dynamics of people working from home in residential areas, it suggests that affiliate-owned outlets were in business districts, while franchisees were further out into the suburbs, which fared much better across the industry in 2020.
Cousins also breaks out earnings and operating costs for affiliate locations, a nice thing to have in the FDD. The seven lowest earners had sales of $554,886 on average with expenses adding up to $347,867 for an overall earnings, or EBITDA, of $21,995 or 4.36 percent. Five middle-tier locations had an average sales volume of $958,595, with $496,315 in expenses for overall earnings of $156,960 or 17.79 percent. The nine highest performing affiliate locations had sales averages of $1.3 million, with expenses coming in at $665,944 and overall earnings of $222,840 on average or 18.57 percent.
One last nice-to-have in the Cousins Item 19 is percentage sales growth quarter by quarter going back to 2013. Focusing on 2020, sales were flat in the first quarter of the year, picked up to 2.6 percent in the second quarter and rocketed to 11.3 percent growth year-over-year in the third quarter—that's the highest surge since the first quarter of 2015, when sales jumped 13.5 percent. Cousins saw another nice bump of 8.4 percent growth in final quarter of the year.
Numerous factors go into financial performance representations, but the breakdown shows that subs had a pretty good year overall even as lunch took a beating.