Over his nearly 40-year career in the restaurant industry, David Jones has received his fair share of pitches touting the next great franchise concept.
"I get solicited all the time and I just say no, no, no," said Jones, who with wife Lorri owns four Subways along with their own burger concept, the eight-unit Blazing Onion. The latest pitch, though, came from friend Sam Stanovich, who he'd gotten to know when both were part of the National Restaurant Association's Fast Casual Industry Council. And Jones is glad he listened.
Stanovich is senior vice president of development for Big Chicken, the fast-casual chicken franchise founded and owned by NBA Hall of Famer Shaquille O'Neal. And now the Joneses are Big Chicken's newest franchisees, signing on to develop three locations in and around Seattle.
"There's so many chicken concepts out there right now," said Jones, "so we had to say, is this one that's going to stand out?" After conversations with Big Chicken's development team and a visit to the Las Vegas restaurant, the answer for the Joneses was yes.
"They have the right process in the kitchen with the fresh breading and the menu, the chicken sandwiches that are tied to moments in Shaquille's life," said Jones, who noted the hormone-free chicken from Naked Truth that's used for sandwiches such as the Shaq Attack, Charles Barkley, Superman and Uncle Jerome. 
O'Neal's involvement, though, stressed Jones, was secondary in his and Lorri's assessment of the brand as they drew on their combined experience during the due diligence phase. He has a strong operations background from holding various managerial roles at Wendy's, McDonald's, Panhandler Pies and Denny's, while she worked as a controller at Red Hook Brewery, Eldec Aerospace and Philipps Warranty.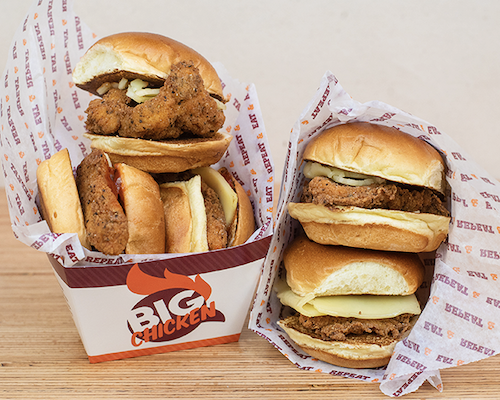 "We did the evaluation separate from Shaquille," said Jones, who is also board chair for the North American Association of Subway Franchisees. "What I mean by that is we were evaluating the concept for ourselves and could this rise above all the other brands out there. I think Shaquille is gravy for us."
And the Big Chicken team did its due diligence on the Joneses, too. "They came out to our restaurants and checked us out. They're being careful with who they bring in as partners," Jones said.
While Big Chicken has spots inside Climate Pledge Arena in Seattle and UBS Arena in New York, plus it's on a Carnival Cruise Line ship, it has just one other restaurant, in Glendale, California. That small unit number wasn't a deterrent for the Joneses.
"They're on the ground floor, they're just getting started. And while that would scare a lot of people away, for Lorri and I, it was an opportunity to really have it be a partnership," said Jones as he added though there are only two restaurants, "they have the infrastructure for 100 stores."
"Not everyone is brave enough to jump in when there's just two," he continued. "But we've made all the mistakes, so I can recognize if someone else is going to make the same ones."
Jones said he's close to signing a lease for the first Seattle restaurant and is touring real estate for additional stores. He noted the real estate market is more competitive now than he anticipated. "I had no clue it was as tough as it was … a lot of people are starting to jump back in the market," he said. "You have to be both aggressive and patient."
The cost to open a Big Chicken restaurant ranges from $653,000 to $1,567,000, including a $40,000 franchise fee. The royalty fee is 5 percent of gross sales.