Subway revealed a top-to-bottom menu update that North America President Trevor Haynes called "one of the biggest things we've done in a decade." And it's all happening overnight next week.
There are a lot of updates to the brand's menu, but the most foundational are two new bread for signature breads. The company unveiled new recipes the Artisan Italian and Hearty Multigrain, both "crafted by a panel of world-class bakers" over the past two years, according to the company. Haynes said that is one of the most exciting aspects of the update to him personally.
"We're really proud of the new formula we rolled out for the Italian and multigrain bread. For me, that's one of the big things, you can't have a great sandwich without great bread," said Haynes. "It's going to be huge for the brand."
The company also brought in new or updated toppings including smashed avocado, fresh Wisconsin mozzarella and a parmesan vinaigrette. There were a lot of protein changes too, including a new hickory-smoked bacon, "deli-thin" sliced ham and turkey, and a thicker, juicier shaved steak.
Rotisserie chicken and roast beef are also coming back. Both were trimmed from menus during 2020 as supply chain difficulties and prices affected supply.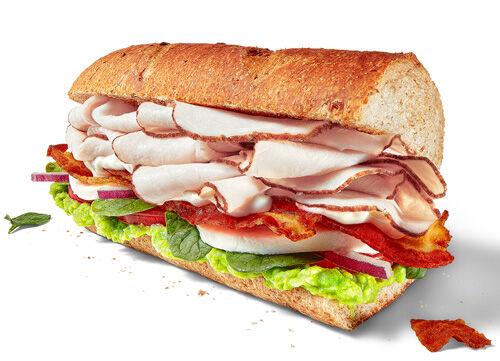 Subway also unveiled four new sandwiches to highlight the new and updated ingredients. The Turkey Cali Fresh features the new mozzarella, bacon and smashed avocado along with the thinner turkey; the Steak Cali Fresh swaps in the new steak product. Two new "club" offerings highlight the return of roast beef, and the All-American Club also swaps in the new bacon product.
Haynes said this was just the "first wave" of menu innovation and marks a quicker pace of innovation for the more than 42,000 locations globally. Franchise Times recently spoke with the concept's new chef, Paul Fabre, about innovating with data, and he hinted at the aggressive timeline to come.
Franchisees Involved at Every Step
Subway is a behemoth in the space, but the company has closed more locations than it has opened in the past few years and has faced pointed critiques from franchisees in the system when it comes to competition. Haynes said franchisees were involved with the update from start to finish.
"We have all these franchisees who came along, we had franchisees working with products, they worked with the items and tested and taught. There's been phenomenal leadership with the franchisees," said Haynes. "That's what we've been really proud of, they've been focused on all aspects of this."
Subway also called out its premium tuna. The product didn't change, but a lawsuit and New York Times coverage questioned whether it was really tuna.
"Subway sources tuna from leading global food suppliers that have a reputation for working diligently with food safety and quality experts and suppliers to ensure consistent, high-quality products at every stage of the supply chain," read a company release.
Beyond the menu, Haynes said there are many more updates. Subway's remodeling program, for one, continues at massive scale. Last year, franchisees updated 2,000 locations and Haynes expects 7,000 by the end of 2021. There are also some major technology updates.
"We're leading with the new ingredients," said Haynes. "There's also a couple other elements that I'm really excited about, our digital journey we're evolving around that. We've launched our new app. We're standing up our own delivery though Subway.com."
As internal delivery ramps up, he said there is more potential to grab data and better understand the consumer. Essentially, the orders originate at Subway.com and are then pushed out to DoorDash, which will act as the delivery partner across the country.
"That gives us a lot of control and helps us understand the guest better," said Haynes. "It also retains more profits, so we're always in the background looking for a better deal with these kinds of things."
The new menu items officially launch July 13, but the company will undertake the heavy lifting on the evening of July 12. In what Subway is calling "the Refresh Break," it will close some 11,000 U.S. locations at 6 p.m. to open with all the updates at once. In tandem, Subway will give away some 1 million subs to customers who show up between 10 a.m. and 12 p.m. to see the new changes.
The sub category is growing and changing rapidly. While Haynes wouldn't say how this and future updates would help it compete, the refresh seems laser-targeted at making the concept more competitive in a growing field of profitable rivals.
"Everything we're doing here is to make Subway better," said Haynes.