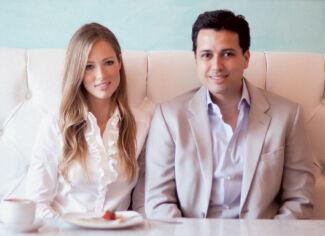 Ivan Chavez saw crêpe carts scattered on nearly every block while growing up in Mexico. Sweet, Nutella-filled and strawberry-topped breakfast crêpes were exchanged for savory ones in the evenings, often filled with chicken and other taco ingredients.
"Crêpes are omnipresent in Mexico," Chavez said. "In mall food courts, they always have tacos, Chinese food, ice cream and a crêperie as a cheap fast-food concept."
After immigrating to the United States during high school, Chavez studied abroad in Paris during his college years at the University of Pennsylvania's Wharton School of business. While he noticed crêpe stands everywhere in Paris, he also observed "them making crêpes without gloves on, and taking your money without washing their hands," Chavez said.
When he returned to the U.S. to finish college, Chavez met Allison Young, his future wife and Sweet Paris co-founder, who was studying finance and real estate. The two began to date and one night, Chavez had a craving for crêpes—but there were no options nearby, so they went to the store, bought ingredients and a crêpe griddle and set out to make their own. Chavez even called his sister to get their family recipe.
"I burned like 20 of them that I didn't want to give to her," Chavez admitted. "I finally made the perfect one. And they weren't just regular, the batter was red velvet, so they were pink crepes with Nutella."
Then Chavez saw his pile of 20 burnt crêpes and had an epiphany—he'd spent only $5 on ingredients, yet had this stack of food in front of him.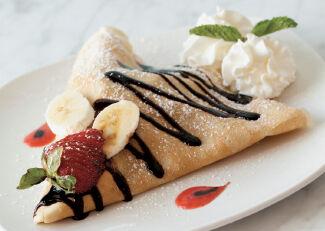 "I told Allison, 'do you know how cheap it was to make these?' She whipped out her Excel model and figured out how many crêpes you can make from the recipe," Chavez said. "Other crêperies are so stingy with ingredients and toppings, but why are they so stingy when the food isn't the main cost? We realized there was a good margin there to play with."
From there, the couple calculated what other expenses there would be from rent to labor, and how many crêpes they would need to sell per day to break even and make it a viable business concept. The next year, "all we did in our free time was look at potential spaces, go to crêperies and ask how many crêpes they sold, build our model and get enough comfort to see it was worth it," Chavez said.
They traveled across the world to research the concept, from New York City to Europe to even Tokyo, where they found vending machines that sold crêpes like pancakes. "Our honeymoon was based on crêpes," said Allison, who studied abroad in Argentina, where the couple ended up sourcing ingredients.
Their first Sweet Paris Crêperie opened in Houston in 2012. The original concept was meant to evoke high-end coffee shop vibes, with a slow-paced trickling in of customers throughout the day and chic booths to sit down and relax. Instead, it ended up attracting millennials and food bloggers, who inadvertently advertised for the brand on social media. The couple never expected the crowds, nor the 45-minute wait times for a crêpe, which caused them to reevaluate.
"We didn't even have stainless steel shelves in the kitchen, we used wood," Chavez said. "We had to redesign the entire kitchen and had to go a lot more commercial with equipment and furnishings…We had customers who really wanted to love us, but they said, 'you gotta solve the timing issue.'"
Chavez never wanted to sacrifice quality for high volume, so the first six months were spent rebuilding and figuring out how to streamline operations. The result was a fast-casual, high-end concept with "high quality, high volume in one shop, our biggest differentiator and our know-how," Chavez said. When they launched their franchise program in 2017, this was also the biggest reason potential franchisees were attracted to the concept.
Sweet Paris has 10 locations—six of which are franchised—in Texas, where more are planned before expanding elsewhere. They also have one location in Nuevo Vallarta, Mexico, and two franchisees are in development in Oklahoma City and Tulsa, Oklahoma.
"The challenge is to make sure our identity is not lost as we grow," Chavez added.
The initial investment for a Sweet Paris franchise ranges from $600,000 to $1,000,000.