One of the largest Taco Bell franchisees has broken ground on building a 3,000-square-foot, two-story model which will feature four drive-thru lanes, dubbed "Taco Bell Defy." Border Foods plans to open the new restaurant design in Brooklyn Park, Minnesota, by spring 2022, according to franchisees and brothers Lee and Jeff Engler.
Based in New Hope, Minnesota, 35-year franchise partner Border Foods owns and operates more than 200 Taco Bell restaurants and ranks No. 25 on the Franchise Times Restaurant 200. Its locations are spread across the Upper Midwest in Minnesota, Illinois, Michigan, South Dakota and Wisconsin.
Taco Bell Defy is designed to solve the bottleneck issue and "turn-away factor," where customers see a long line of cars for a drive-thru and turn the car around to eat at another concept. Three lanes will be dedicated to mobile or delivery order pickups—which will have digital QR code check-in screens—while the fourth will be a traditional drive-thru. Customers will also have the option to order, pay and pick up food from the mobile shelf inside the store, but there won't be a dining room.
"We believe that this is the first true innovation in QSR on the drive-thru since the induction of the drive-thru," Lee Engler said.
But here's the coolest part: food will be delivered by a custom lift system from the kitchen above to the cars down below, with six seconds of travel time each way. The Englers partnered with Minneapolis-based firm Vertical Works to design the lift, alongside Workshop, PD Instore and Engelsma Construction.
"What's kinda cool about the idea is that it's never been done, and it's never been done because sometimes you only know what you know. It took someone from outside the industry to identify the opportunity," Lee said. "We couldn't have done this on our own."
This will mark Border Foods' 230th restaurant and 82nd new restaurant build. Systemwide, Taco Bell has more than 7,400 units.
"There are no labor savings whatsoever on this model," Lee admitted, which makes this a head-scratching decision given a shortage of workers. "If anything, there could be more" need for labor, "but what it does do is it provides a seamless, frictionless experience that's very quick. The other part that somewhat gets glossed over is you actually won't have a lot of idling cars and no chattery speaker boxes, so it takes some of the stigma or complaints against drive-thrus away."
This follows Taco Bell's launch of its Go Mobile framework last August, which uses smart kitchen technology integrated into the chain's app. Border Foods opened the first Go Mobile site in the Twin Cities in Maple Grove with two lanes, one of which was dedicated to mobile orders.
"We're really working on Defy 2.0, our next Defy location," Lee said. "We're just working through the design phase right now and shrinking the building. We overbuilt this business, putting four drive-thru lanes in. I think it can be an expandable footprint, so we'll try a smaller footprint on then next one. It's going to be interesting. We're very bullish on the opportunity, obviously, otherwise we wouldn't have done it."
The brothers have received lots of positive feedback on the idea, they said, plus they're under construction of another site in Minnetonka by the Ridgedale Center mall which will have no indoor seating, some outdoor seating and two drive-thru lanes.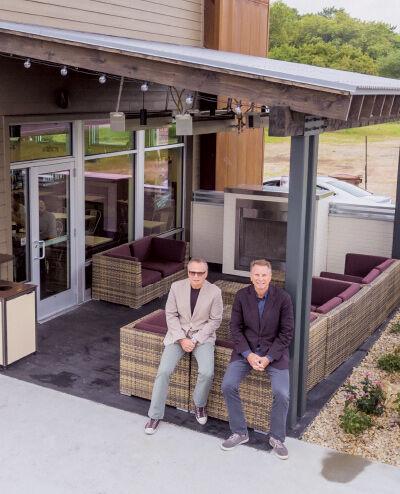 "We shall see. It's either the smartest thing we ever did or the not-so-smartest thing we've ever done, but I have high confidence we can execute against it," Lee added about Taco Bell Defy. "We have one production line per drive-thru lane, and we have the capacity and capability to really execute at a very high level in terms of speed and accuracy."
Brothers divest from Pizza Hut, other brands to focus on Taco Bell
The Engler brothers first invested in Taco Bell 35 years ago and got their start in shopping centers. The duo has previously been franchisees of other concepts such as Pizza Hut, Long John Silver's, Sonic Drive-In, Wing Street and Au Bon Pain, but eventually realized Taco Bell was their most successful concept.
"We came to the realization in 2011 that Taco Bell had always been our kind of winner, if you will, and every year it continued to do well," Lee said. "Despite some missteps that the brand had over time, it consistently performed, so we made the decision to focus all energy and resources in Taco Bell."
In 2013 they owned and operated 135 restaurants. That year, they sold off everything but Taco Bell, which brought their footprint down to 75 restaurants.
"We're different from other operators our size because we own the real estate in upwards of 50 percent of our holdings," Jeff added.
When they opened their first Taco Bell in 1986, the brand had more of a regional presence and didn't have a national footprint, Lee said. But then the brand launched the Doritos Locos Taco in 2012 and sold more than a billion of the tacos in the first year.
"That was the beginning of the next evolution of the brand, and they continually have new products, have a strong product pipeline as well as a strong value proposition and value offering to our customers," Lee said. "It's a very relevant brand."