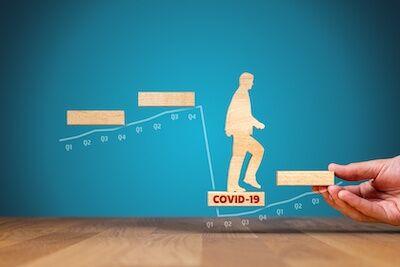 While franchise businesses in general are faring better during the COVID-19 pandemic than their independently owned counterparts, that doesn't mean they're financially healthy, said Darrell Johnson, CEO of FRANdata. "It just means we're less unhealthy than a lot of other business models."
Johnson, whose data and advisory firm released an analysis of COVID-19's economic impact on franchising through the first six months of the pandemic, pointed out "varied and uneven" results in states across the country and across different franchise sectors. Quick-service restaurants and home services franchises, for example, are performing better than restaurant concepts that rely on sit-down dining, he said, and various local and state restrictions are still affecting how businesses can operate.
As he discussed the FRANdata report during a recent webinar hosted by the International Franchise Association, Johnson noted that of the estimated 32,700 franchise businesses still closed as of August 31, nearly 11,000 won't reopen while the rest have the "expectation of reopening."
"I emphasize expectation because we're still in a race and we're in a race to see if we can get past the crisis and all of its challenges before cash flow runs out for many of these businesses," he said. In gathering feedback from lenders on the cash position of their borrowers, Johnson said the view is that money from Paycheck Protection Program loans "bought time."
"But that clock has struck midnight," he continued. "Absent a further round of government assistance or a miracle vaccine developed, distributed, used and effective, that optimism will dwindle just as cash reserves of many of these businesses head toward zero."
The FRANdata report projected that, without additional government assistance, an estimated 36,000 franchise businesses will close within the next six months. Sectors including accommodation and foodservice, arts, entertainment and recreation, and educational services are anticipated to see greater losses, with an estimated permanent unit closure rate of 10.7 percent, 9.4 percent and 7 percent, respectively. And of the estimated total loss of 1.4 million jobs in the franchise sector, 40.2 percent of those losses are permanent.
Michael Layman, vice president of government relations at IFA, said the organization's priority now is backing legislation that would allow business owners to take a second PPP loan. It and more than 170 other trade associations and organizations also launched the COVID Relief Now Coalition to call on Congress to pass some form of relief before adjourning for recess. 
"It's critical that this gets done before the election because as bitter and gridlocked as things are in Washington right now, we don't expect things, personalities to soothe much after this election is over, particularly if there is some sort of delay or contested result in particularly the presidential election," said Layman. A contested result isn't thought to be likely, however, "because where there's any controversy around mail-in ballots and how they'll be counted, most of the states that are allowing vote by mail are in blue states that particularly the president is not likely to be very competitive in."
"But the point is the election remains really, really important to get this relief done because otherwise we're really looking at the new year and the new administration or continued administration for additional relief," said Layman.
The U.S. House last week passed a $2.2 trillion HEROES Act which included a $120 billion grant program known as the RESTAURANTS Act. The House version, however, would exclude most franchise restaurant owners because a franchisee who own stores in a brand with more than 20 units is ineligible.
Negotiations in Congress remain stalled and the House adjourned October 2, though members may be called to reconvene. The Senate, meanwhile, is in recess until October 19 after three Republican lawmakers tested positive for the coronavirus.