It was easily the strangest moving request Eric Tremble's ever received. "We typically don't transport anything live," he quipped.
With wildfires closing in earlier this month in Marion County, Oregon, Tremble, the general manager of a Two Men and a Truck franchise in Beaverton, and his team helped transport several big cats from Wildcat Ridge Sanctuary after staff and volunteers—and the animals—were forced to evacuate. Assisting with the last leg of a journey that involved getting 62 animals to safety, Tremble's trucks brought 14 large cats 160 miles south to Wildlife Safari in Winston.
"Two cheetahs, five mountain lions, two lions and five tigers," said Tremble as he ticked off the animals. And two of those tigers, he noted, were featured on the Animal Planet show "Surviving Joe Exotic," which followed the journeys of animals from G.W. Zoo, made famous in Netflix's "Tiger King" docu-series.
"I'm an animal lover," said Tremble. "I said, let's see what we can do to help. We didn't really know what we were getting into, honestly."
Among the cats was Arial, a cheetah that Tremble said made the most interesting noises, similar to a bird call. Cheetahs make a bird-like "cheep" noise, technically known as a chirrup, often when they're excited. A Siberian tiger named Nora, by contrast, was totally chill, said Tremble.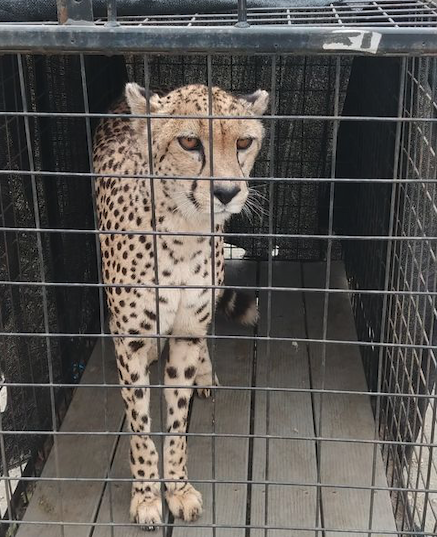 Fire crews are making progress in the area, he continued, and he's already volunteered to help bring the animals back to Wildcat Ridge when it's safe. "I know the sanctuary had to spend a lot of money on the other temporary set-ups," said Tremble. "So I'm happy to use our trucks and donate our resources." He's also working on a campaign to collect donations for the sanctuary.
And in yet another community effort, Tremble also deployed a 20-foot moving truck to help bring food to hungry firefighters. "I have a neighbor whose son is a firefighter," he explained. "They'd gotten a call from a restaurant chain that had 3,000 pounds of chicken wings they were donating to those fighting the wildfires. So we loaded up a truck."
A caterer in the area is donating the time to prepare the wings for the fire crews.