"I think the company got too far away from pizza," said Erik Frederick, CEO of Uno Pizzeria & Grill. "I want to take us back to our roots."
Frederick became CEO in late 2020 following a two-year stint as Uno's chief financial officer. A Chicago native, he takes the brand's roots seriously and said he likes to joke that he "was eating deep dish in a high chair."
The eatery started as a pizzeria, but gradually expanded its menu, adding burgers, wings and other entrees. "The original concept that we franchised was really a casual dining format—6- or 7,000-square-foot boxes," he said. "If you have a 6,000-square-foot box it's really difficult to just focus on pizza. " 
Uno is solving that problem with a new, smaller concept, with a streamlined, pizza-centric menu. It debuted a prototype earlier this year in Highland, Indiana.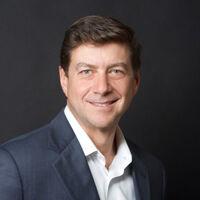 The concept "is an outpouring of the idea that you can do $20,000 in off-premises order per week," said Paul Rankin, a Uno franchisee. He said that would have been unthinkable a few years ago, but two months into the pandemic, he said his restaurant was doing "$25,000 to $27,000 in takeout" sales each week. 
Rankin, who hails from a family of restaurateurs, began working at an Uno in 1990. He became a partner in a New Jersey franchise in 2007 and said he bought out his partner and became the sole owner of his restaurant just 18 months before COVID-19 hit. 
While the prototype is geared toward off-premises business, in-store dining will still be available. Frederick is committed to preserving the experience of a pizzeria. And although he declined to share sales data for the new location, which opened in June, Frederick said he's "very pleased with how it's doing."
Franchisees of the new concept will have the opportunity to extend their reach by building a network of ghost kitchens around their restaurants. The company is also testing a virtual pizza brand to drive additional off-premises sales. 
Roughly 25 percent of the company's sales are off-premises orders, said Frederick, up from 16 percent pre-COVID. Of those, he said two out of every three are takeout orders. According to Rankin, the rise in off-premises sales has corresponded with a rise in pizza sales. He said roughly 35 percent of sales in his Uno restaurant come from pizza, up from the mid-20s pre-pandemic. 
Outside of promoting the new prototype, Frederick said he has no plans to mess with the company's casual dining business, beyond getting it to sell more, better pizza. He said the company is leveraging new equipment and streamlining its kitchens to get entrees out faster, and the operations team is an active participant in the menu development process. "I don't care what something tastes like at 3 p.m. in a test kitchen," he said. "I just care what it tastes like in the restaurant at 8 p.m. on a Saturday."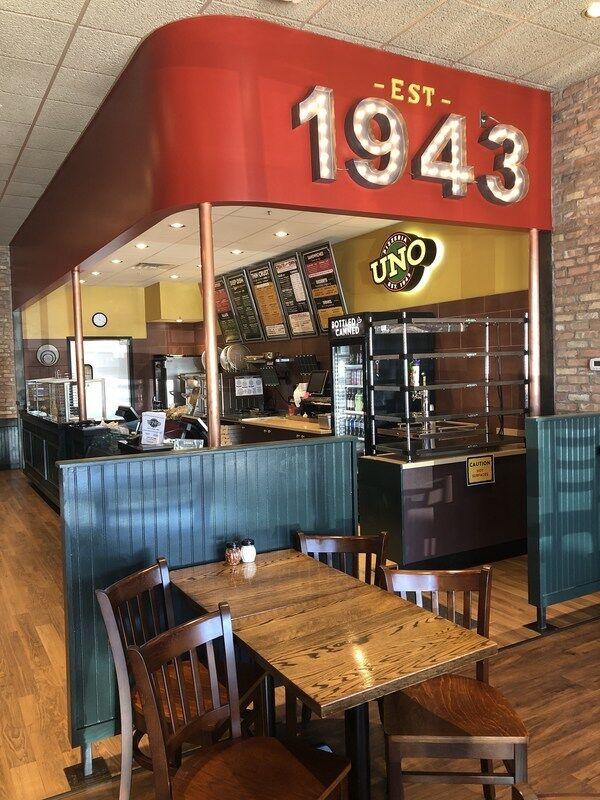 The result: a faster deep-dish pizza. Frederick said it used to take Uno as long as 45 minutes to cook a deep-dish pizza, which is a tough sell to customers, particularly if they don't order right away. Today, Frederick said they can get a deep-dish pizza out in as little as 24 minutes. 
"The company hasn't really been out there doing development for at least a dozen years," said Frederick. In part, that's due to Uno's 2010 bankruptcy filing. "Nobody was going to buy a franchise then." To get the brand going again, Frederick said he hired Brett Larrabee, the company's first development executive in years, and improved the company's online presence.
The Highland, Indiana, prototype is another part of the company's franchising push. "Nobody's going to buy a PowerPoint," said Frederick. 
Alongside the smaller pizzeria, the brand is also pushing a version of the Uno Pizzeria & Grill for use as a hotel restaurant. In both cases, Frederick emphasized the concepts were not "cookie-cutter" templates and he encourages franchisees to tailor their restaurants to their local markets, so long as they preserve the feel of a pizzeria. 
As an example, Frederick said the company asked art students from a local high school to decorate one of the walls in the prototype. "It's their wall. If they want to paint over it for every class, we're down with that."
That ties in with the company's pre-opening ritual of embedding in the community. "We're not going to sponsor the Chicago Cubs, but we sponsor the local high schools… and that really brings in the local crowd." Many Uno restaurants display jerseys from local sports teams on their walls.