Referred to internally as "the most interesting man in the world," Wingstop Chief Development Officer Madison Jobe is retiring in March after nearly 35 years in the franchise industry, many spent as a C-level executive with national brands including Red Robin, Rave Restaurant Group, Dickey's Barbecue and Watermill Express. A one-time franchisee and restaurant operator, he spent much of his career in development and operational roles before joining Wingstop in 2017. 
Jobe has been an active member of various industry associations throughout his career and became a close friend of CEO Charlie Morrison's while the two worked at Rave Restaurant Group more than a decade ago. After four years leading franchise development at one of the most pandemic- and delivery-ready restaurant brands, Jobe said he's leaving his professional life at a moment that's "a mix of excitement and caution."
Stressing that he postponed his retirement out of a "love of the business," Jobe said the turmoil in the restaurant industry includes friends who've been furloughed and damage to long-standing brands. It's given him "mixed emotions, no questions about it" as he steps away from the industry. 
"Those that can survive this time will be better positioned when we are no longer in a pandemic to address the needs of the consumer," he said. "Will consumer behavior be the same? I don't think anybody knows that for a second."
Jobe said he's been blessed to be part of the Wingstop team, which has delivered industry-leading growth even during the pandemic, and said he's looking forward to focusing on family and piloting his new RV to the places he's still yet to visit in the U.S. Plus many visits to see family beyond he and his wife's new home base on the shores of Cedar Creek Lake near Dallas.
"My first many years of my own young adult life was in the franchise business as a franchisee, so that really has shaped my life not only being in this business, but my entire approach to development in which I've spent the last 30-plus years on the franchise side of the business," Jobe said. 
He pointed to his years helping grow Red Robin from a small West Coast brand with 22 corporate restaurants to more than 150 locations across half of the country prior to its IPO as a pivotal period of his career. Jobe also singled out his years at Pizza Inn, which brought a much different set of challenges than he's recently faced during Wingstop's latest growth spurt. 
"I'm still having fun," he said about his headquarters team and brand franchisees. "If I did it until I didn't have fun, I'd probably do it the rest of my life." 
Morrison, who didn't know Jobe before hiring him to join the leadership team at Pizza Inn in 2007, said it was immediately apparent his even-keeled, unflappable demeanor would be a fantastic fit for a brand that, at the time, was in a tough spot and running low on cash.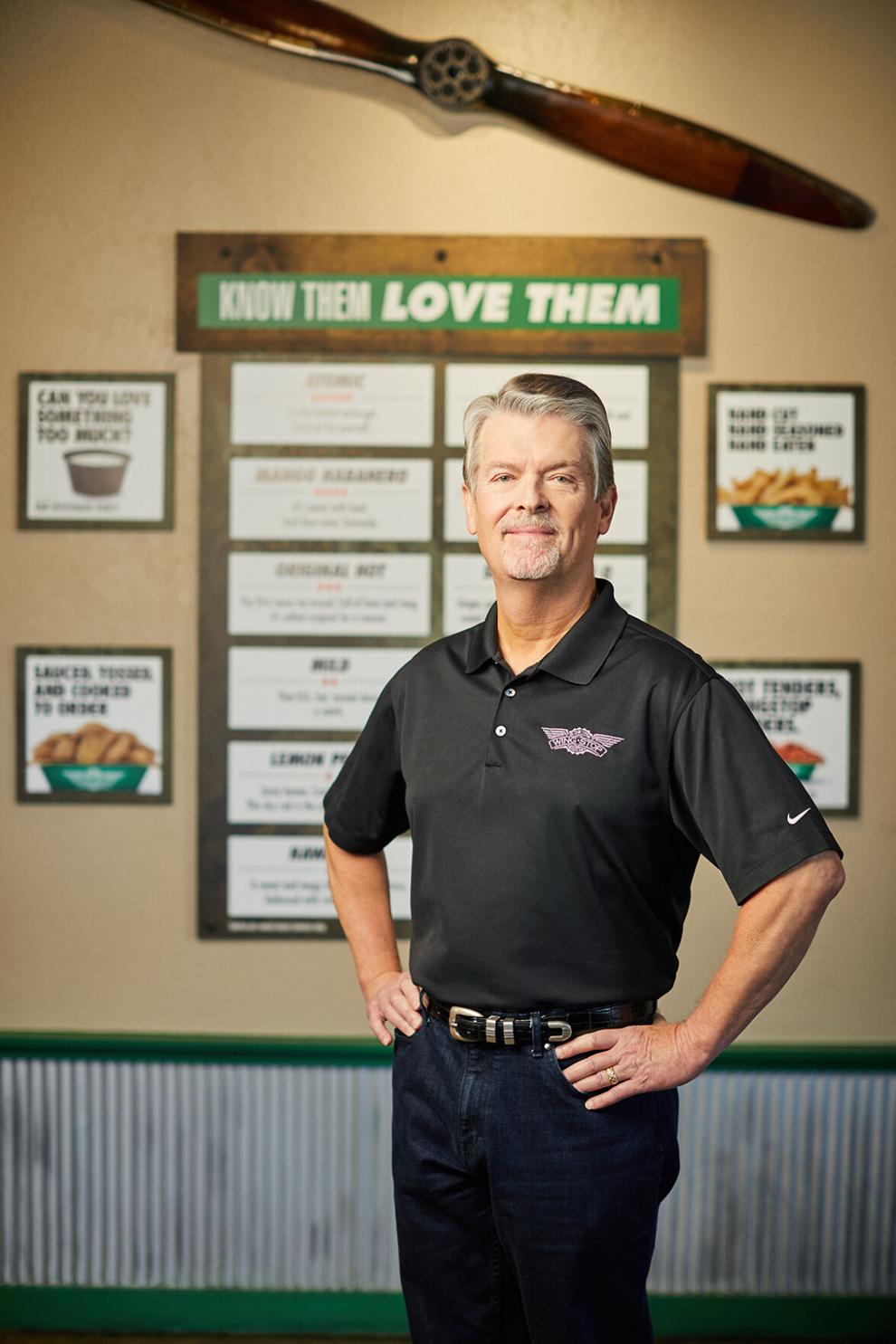 "He's every bit the nice guy behind the scenes as he is when you meet him," Morrison said. "We affectionately as a senior team refer to him in a couple ways, but notably as the most interesting man in the world, because Madison, in his 40-plus-year career has had some extraordinary experiences. He and I together have had some really fun experiences as we've navigated the entire world together."
Morrison said it's hard to picture his work life without Jobe by his side, but added that he's delighted he and his wife, Jan, are making this time for leisure, family and more adventures. He also said that Jobe's qualities of being humble, hungry, smart and empathetic will stay with the organization, especially its franchisees, many of whom have formed close bonds with Jobe during his years at Wingstop. 
"We have to work in this so-called supervisor-and-subordinate relationship, but that's never been the case with Madison, he's a partner in this," Morrison said. "What I've been able to do is give him the opportunity to showcase his greatness in any organization we've been a part of."
Lex Lane, senior vice president, sales, at BciCapital Franchise, has known Jobe for 14 years and said it wasn't a surprise when Morrison brought him over to the Wingstop team. 
"From a franchisee standpoint, he's just a great guy to work with," Lane said. "You know where you stand, you know that he cares—no hidden agenda or anything like that. When you're trying to do business, you need to be able to trust the people you're working with."
Talking about the occasional tough times in franchising, like when a development agreement isn't being fulfilled or planned stores aren't coming to fruition, Lane said Jobe's gentle but firm approach has served his respective brands well, including the franchisees he's counseled throughout his career. 
"What I like about Madison is that he can mix—and it's an important mix—firmness and heart, and that's in a world where everybody gets a trophy, which sickens me. He doesn't do that," he added.
Asked if he had any advice to share, Lane suggested trying pickleball, which he called "a phenomenal sport for those of us that are 45 and up, when you don't feel like running all over a tennis court anymore." 
FRM Solutions President Stan Friedman said he'd be hard pressed to identify when he first met Jobe, but said it's been a long time and over many brands that their friendship formed. 
"Madison to me was one of those guys, no matter what shirt he was wearing, core value-wise, he and I were always in the same mindset and the same place," he said. "I have nothing but high regard for him all the way." 
Saying that he prides himself on "collecting" people of high character in the industry, Friedman said his time spent with Jobe showed that he valued relationships more than signing deals or representing any particular employer. 
"When you're not at a brand and you're not buying software, and there again there's no commercial value to the relationship, and those calls are still every bit as important to you, then you know you are really about relationships and people, and I've always had that feeling about Madison," Friedman said. "That tells me this is somebody you want to collect, you want this to be somebody you're going to know in many, many lives and in many places across the career span of your tenure in franchising."
Noting that Jobe's time as a franchisee gave him "a depth of perspective" that other development-focused professionals don't necessarily have, Friedman said Jobe's temperament, intelligence and affability provide a model for anyone at an earlier stage in this industry. 
"He's been threatening this for a lot longer than COVID's been around," he said. "If you're smart, you pick your time and you go out on top and, literally, he could not have picked a better time as the brand is in great shape and the leadership of that brand has benefited from his participation. He'll be missed if he retired now or a year from now or two years ago. There's a whole lot that gets left when you lose somebody on a leadership team like Madison Jobe." 
As Wingstop's executive team prepares for a new era after Jobe's last day on March 26, Chief Operating Officer Mahesh Sadarangani will take over the brand's development and construction duties, in addition to operations. 
In the months and years to come, Morrison said he hopes Jobe resists the urge to reconnect, unless it's strictly personal and includes a nice bottle of wine and tales from the lake house, grandkids or motorhome. 
"I'll be thrilled to hear of his adventures if he'll just keep us informed on how life is," Morrison said. "He's the most interesting man in the world. The experiences he's going to continue to have are going to be amazing and, if he can share those with us, then we can learn from that and, as we prepare to retire one of these days, we can follow his lead, because I've been doing that a lot with him over the years."