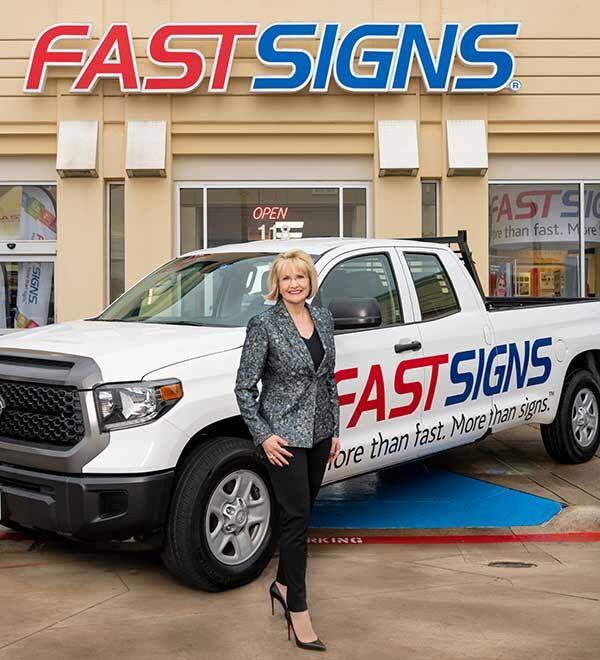 NerdsToGo is a bit player in the IT business services category, with 25 franchise locations in 16 states and a three-year franchising history. Catherine Monson, CEO of Fastsigns, hopes to change that after bringing the young brand under the Fastsigns umbrella last month. "We like the IT support and consultant space. It's very similar" to the type of franchisee who succeeds at Fastsigns, she said.
"We're not looking for franchise candidates at Fastsigns that want to make signs. We're looking for middle-management employees that want to create an enterprise." At NerdsToGo, "we want candidates that don't want to be the nerd, not fix computers, but want to do business development."
NerdsToGo offers both business-to-consumer and business-to-business services, but Monson said her plan is to beef up the latter because it aligns with the Fastsigns model and is more lucrative for franchisees. "We believe we have the expertise to refine the brand, make it even more appealing for B2B, and put together the right managed services offering," she said. "We will dramatically raise their average unit volumes."
A half-dozen Fastsigns franchisees have already inquired about buying into NerdsToGo. "We say slow down, we don't have an FDD yet," Monson said, although the franchise disclosure document is expected to be ready this month.
"We do have over 200 open and approved markets available for Fastsigns franchisees, but there are a lot of markets where we're sold out," she said, including San Antonio, Texas, Atlanta and Minneapolis, in all "a dozen cities where there is no white space." NerdsToGo, on the other hand, is wide open.
TeamLogic IT, with about 200 units, and CMIT Solutions, with more than 238, are the two leaders in the franchise information technology support space. Both offer a long list of technology services, from managed IT to backup and recovery to cybersecurity, and both have long histories. CMIT was founded in 1996 and is owned by a private equity firm that was not interested in selling. TeamLogic, founded in 2004, is owned by a family office.
LightBay Capital and Freeman Spogli acquired Fastsigns, with more than 700 locations across 45 states and eight countries, in March 2019. More acquisitions are expected from Fastsigns, along with a new umbrella company with a new name.
Nominations are now open for Franchise Time's annual Dealmakers awards. Nominate your bold deals here.

Flynn Bids For NPC, Inspire Wants Dunkin' Plus More Deals
The No. 1 operator on the Franchise Times Restaurant 200, Flynn Restaurant Group, placed an $816-million stalking-horse bid for No. 2 NPC, the Pizza Hut and Wendy's operator that filed for bankruptcy protection in July. Inspire Brands plans to take Dunkin' Brands private in an $11.3-billion deal. Meanwhile, active investment banker Boxwood Partners says buyers are willing to pay a premium for home services brands that are performing well during COVID.
Briefs
Engineering for Kids, a STEM education franchise, has been acquired by Canadian investment firm LaunchLife International, including 89 franchised locations in 26 countries, 40 in the United States. Specializing in franchising education platforms, LaunchLife's portfolio also includes Pitman Training, School is Easy and Academy of Learning Career College. Dori Roberts, who founded Engineering for Kids in 2009, will remain the president while becoming vice president of youth education USA at LaunchLife. "My role is really going to focus on franchisees and their local growth, which is fantastic for me because it gets me out of wearing so many hats," Roberts said. "I'm looking forward to having more face time with my franchisees, that's for sure. I've been pulled in a lot of directions." For Engineering for Kids, the acquisition will mean more resources available in marketing, social media and other expertise for franchisees. This deal also extends LaunchLife's reach to more than 250 locations in 30 countries in both adult and children's education.
Authority Brands bought STOP Restoration, which stands for Service Team of Professionals, and will add President Brian Clark to its management team. Founded in 1971 by Mack Clark, STOP is the seventh brand addition for Authority since October 2018. Investment banker Boxwood Partners advised Authority Brands on the deal, Boxwood's fourth in the home services space to close this year. (The others were Monster Tree Service to Authority Brands, and Shelf Genie and Dryer Vent Wizard to Neighborly.)
"Anything home-related is really hot right now. A lot of people are staying home and working from home and wanting to improve their property and their house," said Patrick Galleher, managing partner at Boxwood, and buyers are willing to spend. "I would say that if you've done well during COVID, you're getting a premium in the market. If you survived COVID well and had recurring revenue and performed, private equity and buyers are paying up."
Inspire Brands and Dunkin' Brands made their engagement official and illuminated some key details of the take-private acquisition. Early indicators predicted an $8.8 billion deal, a premium that would, as Peter Saleh, an analyst at investment bank BTIG wrote, be "the highest acquisition multiple of a franchise operator in recent history." Inspire announced it was going even bigger, to $11.3 billion, a premium of about 30 percent to Dunkin' Brand's latest trading levels. That price consists of $106.50 per share and the assumption of Dunkin's $3.42 billion in debt. Inspire CEO Paul Brown said there was a lot that went into that exceptional price tag, including the addition of more than 15 million loyalty members. The acquisition will also add a projected $11 billion in sales and push Inspire Brands to $26 billion in systemwide sales. The deal is expected to close by the end of 2020. Barclays served as financial adviser and Paul, Weiss, Rifkind, Wharton & Garrison LLP served as legal counsel for Inspire. BofA Securities and Ropes & Gray LLP advised Dunkin'.
Flynn Restaurant Group, led by CEO Greg Flynn and No. 1 on the Franchise Times Restaurant 200, offered a bid for the entirety of NPC, No. 2 on that list, in what would be a monumental franchisee acquisition. The initial bid for NPC, which filed for bankruptcy protection in July, is $816 million. Under the agreement, Flynn would acquire all of the 1,300-plus Pizza Hut and Wendy's locations, the company's home office assets and offer employment to "substantially all of NPC's more than 30,000 full- and part-time employees," according to a press release. The largest franchisee at $2.3 billion in sales acquiring the second largest would have some interesting effects on the industry and would form a nearly $4 billion franchise juggernaut under Flynn's "state and federal" operating model. A November 13 hearing will approve or deny the bid. A sale hearing with this and all other bids is expected on December 4.
KBP Bells, led by Mike Kulp and Barry Dubin, acquired 27 Taco Bell restaurants in Colorado Springs from Colomex and the Grage Family, led by franchisees Jerry and Matt Grage. Unbridled Capital provided sell-side advisory services, marking their sixth deal closed since the start of COVID-19. KBP was founded in 1999 when it acquired five restaurants in Colorado. In 2019, the investment firm acquired 45 restaurants across 13 states.
Amici Partners is set to acquire Friendly's, which filed for Chapter 11 bankruptcy for a second time, in early November. Amici, an investor group that also backs Brix Holdings, will keep most Friendly's stores open. The $2 million cash deal is subject to approval by the court, but Friendly's $89 million in debt remains a challenge. In 2007, Friendly's was acquired by Sun Capital for about $337.2 million. It remained under Sun Capital's umbrella even after filing for Chapter 11 in 2011. Founded in 1935 in Springfield, Massachusetts, Friendly's has about 50 corporate-owned restaurants and 80 franchised stores.
Better Homes and Gardens Real Estate Winans, based in Dallas/Fort Worth, has merged with the Trinity Realty Group of Sherman, Texas. The deal makes BHGRE Winans the 10th largest affiliate in the brand by volume and transactiona, with eight offices and more than 200 agents. Mark McDonough, president of BHGRE Winans, will oversee the joint operations. Meanwhile, Trinity Realty Group partners Lisa Carrillo and Robin Mata will remain with the company and focus on sales. The company was established in 1984 by David Winans and Dana Winans, who leads relocation services.
Red Barn Equity Partners, a New York-based private investment firm, announced an investment in Dogtopia, a dog daycare, boarding and spa franchisor under their newly formed name Red Barn Franchise Holdings. With 144 locations in the U.S. and Canada, Dogtopia's CEO Neil Gill will continue in his role, while Christopher Kempner, co-founder of Red Barn Equity Partners, will become chairman of Dogtopia's board of directors. Peter Thomas, Dogtopia's former chairman, will remain a limited partner. Separately, Red Barn Equity Partners owns the largest franchisee portfolio within the Dogtopia franchise system. Founded in 2002, Dogtopia is one of the fast-growing brands in the $95 billion pet industry.
CareBuilders at Home, the home division of ATC Healthcare, announced the new owners of its Lake Jackson, Texas location—Surefire Health, a healthcare investment group with 15 years of experience in the non-medical home care space. Surefire Health began admitting new clients in their region October 5, with L'Donna Berryhill serving as the new administrator for the location. CareBuilders at Home was founded seven years ago as an extension of ATC Healthcare.
Guillermo Perales' Sun Holdings purchased 41 IHOP restaurants from CFRA Holdings, which filed for Chapter 11 bankruptcy in May. The stores, which are now owned by Sun Holdings subsidiary Suncakes, are in Tennessee, Virginia, North Carolina and South Carolina. Ownership was transferred in July, and this marks the first IHOP restaurants acquired by Sun Holdings, one of the largest franchisees in the United States with more than 1,000 locations of restaurants and stores in Florida and Texas such as Burger King, Arby's, Popeyes, Golden Corral, Krispy Kreme, GNC and T-Mobile.
InXpress Holdings was acquired by Hudson Hill Capital, a private investment firm founded by Eric Rosen. The firm announced its majority stake in the software-enabled global franchisor of transportation and logistics services based in Manchester, U.K. Founded in 1999, InXpress has a global network of nearly 400 franchises in 14 countries and built an online software platform, Webship+, which helps franchisees manage multiple orders with a bulk upload tool and integrate all e-commerce platforms.
—Briefs by Callie Evergreen and Nicholas Upton. Send details about M&A deals to cevergreen@franchisetimes.com.