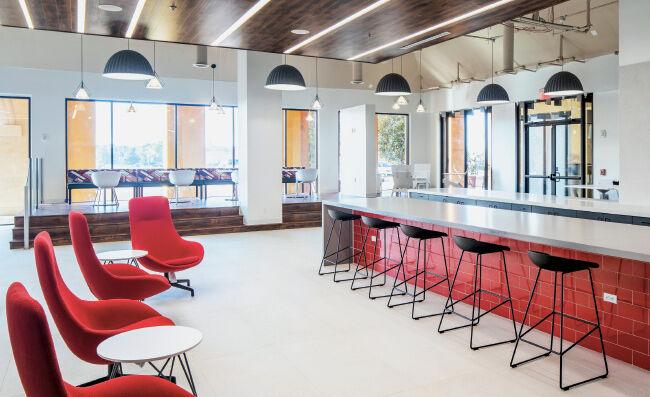 The last week of February one year ago, about 200 staffers at uBreakiFix were excitedly moving into their beautiful new 33,000-square-foot headquarters in Orlando. Formerly a gym and with twice as much room as before, the space has soaring ceilings, a game room slash library, a basketball court and a set of bleachers for group meet-ups.
"We focused on building a collaborative workspace," says Justin Wetherill, CEO of the mobile-device repair franchise that's opening 130-plus stores each year, accelerated by its strategic backer, Asurion. Two weeks after the move-in began, Wetherill sent everyone home.
Reached in December, 10 months into the pandemic, Wetherill was back in the office, but only about 50 staffers, or 25 percent, were there, too, on a voluntary basis. They were following a "hoteling" protocol, in which people reserve a desk in advance and then complete a health checklist before entering. Temperature checks, hand-sanitizing stations and two daily cleanings of common areas are the new normal.
"Are we bummed? Yes. Would we do it all over again? Absolutely," says Wetherill about building the HQ. "The new office is another reason for everybody to become excited to come back to work when it's safe and the time is right."
Count uBreakiFix, then, as one franchise operation squarely in the camp that physical headquarters are crucial to building dynamic cultures. But many companies are opting to stay virtual, believing the pandemic has shown the benefits of sourcing talented people from anywhere, and reporting record scores in employee engagement and productivity. A third group is taking a hybrid approach in the great office space debate of 2021.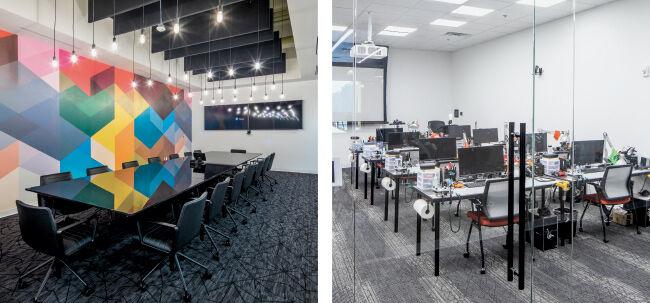 Always virtual
"Culture is not a space. Culture is not a situation. Culture is created by people," declares Ken McAllister, president and CEO of My Salon Suite and Salon Plaza's parent company. "It's not where you are but what you do."
He wasn't a believer in remote work back in 2013, when he started the franchise. "I was old school," he said, counting on management by walking around, in person, in order to drive results. But then he sought to hire his first key executive.
"Our first hire was out of Denver, and it came down to her not being able to move because she had family and kids," so he took a chance on a virtual workforce. Since COVID, "the cat is out of the bag" that virtual work works.
"People are not clock-watchers. We're about setting goals and holding everyone accountable. I have a bi-weekly call. It's like a football team, if everybody knows the game plan," he said. "It makes it a much better workplace. We have about 22 people now. Would they ever go back to a corporate office? It would be unequivocally no."
McAllister believes other franchises would benefit from following his lead. "My advice would be the faster you can go virtual, and then implement the process and objectives and goals for your team, the faster you're going to find out your team's happier and your network's going to be happier," he said. "I would encourage anyone to go virtual, whether you have five, 10 or a thousand" employees.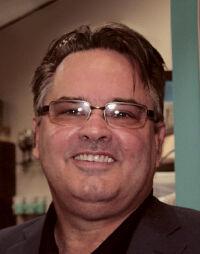 The in-between
Statistics show the return to the office was inching up last summer and early fall, but then fell again in November as COVID-19 cases rose. About 27 percent of workers in 2,500 office buildings in the 10 largest U.S. cities had returned by mid-October 2020, up from a low of below 15 percent in April, according to Kastle Systems, a national security firm that tracks access-card swipes. That number was 24.4 percent as of early December.
Geography played a big role in those numbers. Dallas was No. 1 at 37.8 percent back in the office as of December 2, according to the Kastle Back to Work Barometer. Chicago was No. 5 at 16.6 percent and San Francisco was No. 10 of 10 at 12.8 percent.
A visit to Focus Brands headquarters in Atlanta in early December showed a cautious approach to getting people back in the office, and an emphasis on voluntary rather than mandatory appearances, including for franchisees who can choose in-person or virtual visits.
The parent company of Auntie Anne's, Jamba, Cinnabon, Moe's Southwest and three more, Focus has a couple dozen movable cushions in a huge entrance foyer topped with colorful signs overhead. Called The Hub, the space leads to a conference room with a glass wall that anyone can hop into, first come, first served.
Normally, it's buzzing with people in small groups, but now those spaces are silent. Every person who arrives at the building must scan a QR code and answer about 12 questions on the phone before entry is allowed by the portal not a person, and most areas of the headquarters are empty.
"It's hard to build the culture, and if you're new" it's tough to meet employees working remotely, said CEO Jim Holthouser, who joined Focus Brands in February 2020. "Zoom doesn't necessarily allow" for maximum creativity.
Added CFO Mike Dixon: "We'd love to get the culture back as soon as possible," they hope by summer of 2021.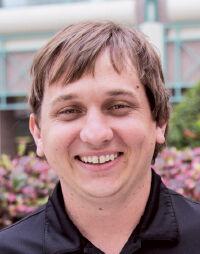 The more things change…
Ditto for Wetherill of uBreakiFix, who elaborated on his preference for in-person offices. "We've seen tremendous growth over the last decade, and plan to see the same growth going forward, and that means that the team is growing constantly," he said. "And for us, the constant growth means that in-person introductions and interactions are much easier to do personally than virtually."
But before he could finish those well-stated thoughts, his calls dropped at least four times, causing him to call back and repeat himself—and proving that when it comes to office space, some headaches stay the same.
"The irony is in this fancy new office space we don't have desk phones, so if the cell phones don't work, we're in trouble," he said with a laugh.
The Human Element covers HR management, recruitment and training topics in each issue with a focus on solutions. Send story ideas to Editor Laura Michaels, lmichaels@franchisetimes.com.
---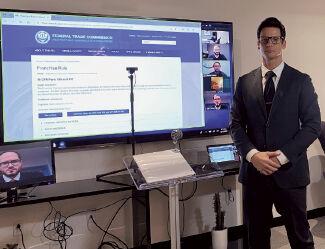 Virtual vs. in-person: A case study
One more idea for suddenly empty office space comes from Cheng Cohen, a franchise law firm in Chicago, where the lawyers took great pains to incorporate conference and collaborative spaces into their new headquarters in 2019, only to send everyone home last March.
So they borrowed a page from "American Idol," which was interrupted when the contestants sheltered in place but the show didn't stop. "Rather, ring lights, microphones, cameras and props were rolled out, and each contestant's setting was produced to facilitate the non-verbal communications that is so vital to live performance," as Cheng Cohen put it in a blog post.
They repurposed one of those conference rooms into a virtual courtroom, with the right lights, cameras, audio and technology to "maintain if not extend our edge over our adversaries when it's time to call our first witnesses."
Ric Cohen, co-founder of the firm, was reluctant to go virtual at first, he explained via email.  "My initial thought when our first hearing was set for Zoom back in April was: I spent 32 years in a courtroom only to have to dust-it-up with a bunch of millennials on their technology?"
But he came around. "What we quickly learned is technology is not technique. Technology is learned; technique is earned," he said.
"We figured out the technology and the opportunities it presents. I like it and my guess is we won't be going back to live entirely, even when this is done."