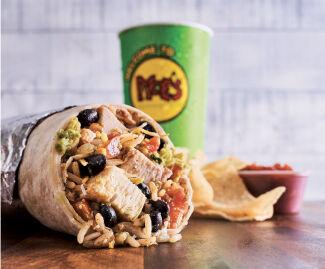 Any deal is tough to close, but when you have four different franchisees who band together to sell 67 total Moe's Southwest Grill units, the hurdles are higher. "When those issues are magnified by 4X and have different personalities and decision makers, it is that much more difficult," said Rick Ormsby and Derek Ball of Unbridled Capital, the investment banker on the deal. "As an adviser, while we had four fantastic clients, it could be a challenge to rein in expectations, solve conflicts, and ensure everyone walks away happy."
The sellers were Brad Chasteen with 42 stores; Mike Silverman with eight stores; Guy Campbell with 11 stores; and Rob Atkisson with six stores, in Florida, South Carolina, Virginia, Washington, D.C., and Maryland. The buyer was Quality Restaurant Group, which instantly became the largest Moe's franchisee and is covered nearby with a Dealmakers award in its own right.
"They did come together; they're fishing buds and stuff. They said it was time to pull the trigger," said Derek Ball about the franchisees. "We probably got the larger franchisees a turn more than he would have gotten" from selling separately, "and the smaller ones probably got two turns" more.
"As I'm sure you heard from them, the closing wasn't the best timing," Ball said about Quality Restaurant Group. "They closed on a Monday when lockdowns went into effect on Friday."
Added Ormsby: "Hardly anyone would have hung in there with the transaction. Kudos to Quality Restaurant Group, they had a lot of fortitude. They were willing to put up with the personalities of all the different sellers."
The four franchisees had different reasons to sell, as well. One is out of everything; a second may work with Quality Restaurant Group going forward. A third simply saw an opportunity to sell six stores at a good price, and may pick up more in the future. "It's like buying and selling baseball cards," Ormsby said.
"I just would make a big plug for the resiliency of the QSR business," Ormsby added. "I just think we've all seen the industry is a very resilient industry. It's made it through recession, depression, it makes it through the pandemic. The fundamentals of the business really were strong and came back with a fury," he said. "There were enough players to make a market for the financing of these businesses, who believed in these businesses enough, to keep the M&A going."
---
Inspire Brands Wins Franchise Times Deal of the Year
2021 Winners Include 10 More Daring Deals: