Stacy Brown, founder of Chicken Salad Chick, is giving a pep talk to franchisees, crew members and corporate execs, minutes before the grand opening of the Baton Rouge, Louisiana, store in February. "It is the American dream," she says quietly, a hint of her Rome, Georgia, accent in her voice, "that you can deliver chicken salad door to door and it turns into this." But she has to keep it short because she's tearing up like she always does, even though this opening is No. 150.
"I can't get through an event without crying," she says later, choking back tears again while giving a quick interview in between greeting the 100-plus guests who pour through the door, the first hundred who receive their favorite chicken salad free for a year. "Every time it's such a realization of how far we've come. I'm 100 percent connected to it."
11 more win FT Dealmakers awards
The shorthand version of Brown's story has been often told. Divorced and unemployed with three little kids at home, in Auburn, Alabama, she started whipping up her signature chicken salad, trying many versions before she got it just right and then selling it door to door until the health department shut her down. "It was terrifying," she recalls of that time. "I had no family in town. It's much scarier looking back." At the time, "You've got to figure it out. I was like, it is ON!"
With Kevin Brown, first her friend, then her business partner and ultimately her husband, they decided to start a restaurant in 2008 that was unapologetically female-focused and featured a core group of chicken salads named after important women in Stacy's life.
By 2010 they were franchising, but then Kevin Brown was stricken with colon cancer and for the first time the pair started looking for a private equity investor. "When he was ill we never, ever talked about the possibility that he wouldn't make it," she says today. "But what we did do is start listening to private equity firms. We said, this brand has already become bigger than the two of us. We hosted several people. We cooked dinner for them. Others came in and said, we need to do this, we need to do that," to make changes to the brand. "And Eagle Merchant Partners said, 'It's on us not to mess it up.' They allowed me to do what I want."
Kevin Brown died in November 2015 at age 40, and CEO Scott Deviney, a former banker and Wendy's franchisee backed by Eagle Merchant Partners, set about making many small improvements to Chicken Salad Chick, ultimately pushing average unit volumes from $900,000 to $1.2 million and the unit count from 32 when he signed on to 150 today. At the same time, he used charm and diplomacy to safeguard the signature features of the brand—including staying closed on Sundays, much to the concern of investor groups—while keeping Stacy Brown involved and content. Last year he also engineered the sale of Chicken Salad Chick to a new equity partner, Brentwood Associates, with $2.4 billion under management and a host of brands such as Blaze Pizza, Orangetheory Fitness and Zoes Kitchen under its umbrella.
Deviney leads a short tour of the Baton Rouge restaurant, which is a 2,800-square-foot stand-alone store with a drive-thru. "There's no fryer. There's no grill. This is it. It's a very simple operation," he points out in the back, where about 20 employees are hand-chopping broccoli, shredding and mixing the pimento cheese, and blending the dressing for the grape salad. "It's particular, so it comes out fluffy," Deviney said about that last task. The walk-in cooler holds about 600 to 700 pounds of chicken salad, made in the two days before the opening, which will sell out during the event.
"A little bit of everything" is what he focused on to improve the brand, he said, ticking off some of the items. "A higher grand opening dollar day" usually leads to better performance through the year. "Better local real estate selection. Better local marketing," he said, citing his background with Wendy's for improvements like adding a second steamer for the chicken and finding just the right shredder. "Wendy's is very operationally focused. How can I cut on steps, cut on time," were his constant questions. "Being a franchisee means I have a franchisee perspective, the P&L, profitability."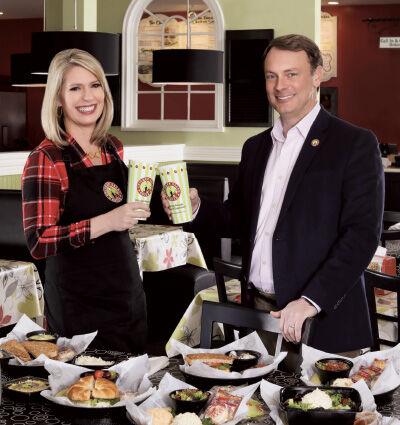 Stacy Brown, meanwhile, is in front of the store, posing for selfies as guests walk in, and connecting with each with her considerable emotive power. "Are you rookies or seasoned guests?" she asks, giving tips on which type of salad each should try. "What's your flavor? Have you tried those in a BLT? It's a whole other level," she says, adding in the typical politician's note from time to time. "Look at the baby!"
Over two platters loaded with two dozen samples of everything on the menu, she tells her tales, which she keeps in a journal. "They all like to give me their Chick testimonies. They all remember where they were the first time they had it," she said. "I've had the most fun being in this position when it opens," meaning right out front. "A lady told me, 'I want you to know, I'm 50 years old and dating again. On my dating profile it says, if you don't like Chicken Salad Chick, we don't have a future.'"
Brown was originally going to serve just one chicken salad: Classic Carol, but then she started thinking about her friend Elizabeth, for example, who liked fruit and nuts. She and Kevin were developing the restaurant at the time.
"It hit me; we need to be a chicken salad place for everyone. We threw everything in the pantry and the fridge on the table, and eight new salads were born that night," she said. And Kevin said, "Why don't you give them girly names or something?" Brown, who looks like the poised and perfect sorority sister but is wickedly funny and very demonstrative, says: "I went"—and she throws her arms in the air—"not only are they going to have chick names but they will have real chick names" of people who lifted her up in her life.
The idea was genius, but its execution had complications. "What that led to was hurt feelings," like when her mother said, "You have got to come up with one for Kelli," her sister-in-law. "I threw some cranberries in and said, 'I'm going to call it the Cranky Kelli.'" The sister-in-law wasn't amused. "I said, OK, Cranberry Kelli. BORING!"
Then her childhood friend Scott, a woman, wanted a salad of her own. "She says, 'I have been your best friend since kindergarten.' I said, but you have a boy name," so she changed it to Sassy Scotty. "I want you to know, when we go to someone and say, it will be Miss Tamara's Tarragon, they cry," she said. Then she adds, deadpan, about all those women and their signature salads: "I had no clue that they were going to grow into entitled divas."
---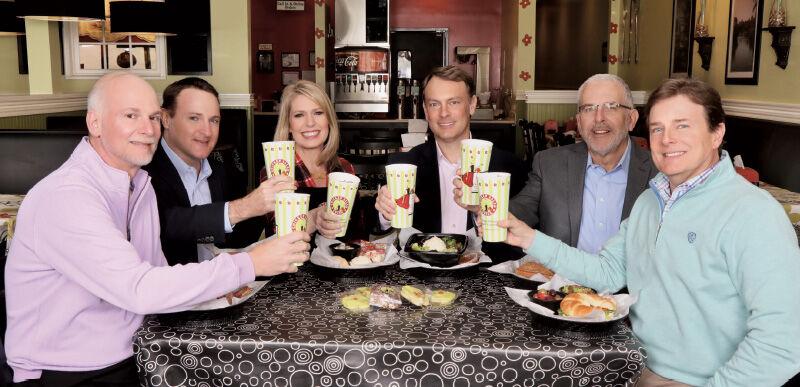 From left: Chicken Salad Chick's Jim Thompson, VP of operations; David Ostrander, CFO; Stacy Brown, founder; Scott Deviney, president and CEO; Terry McKee, VP of real estate; and Tom Carr, VP of marketing.
---
These days, Brown, 45, retains a small equity stake in Chicken Salad Chick, sits on the board, attends every opening she can and is a motivational speaker, with engagements once a month. She remarried in April 2019, to King Braswell. "K-I-N-G," she spells out his first name. "So that makes me…." and she throws up her arms again, of course to indicate that she's the queen.
The couple are operating a store themselves, in Rome, Georgia, Stacy's hometown. "It's the franchise owners that inspired me. I see they're having a ball," she said. "I love mixing the chicken salad," although she admits when guests see her in the kitchen with her hairnet, "all of their ideas of success have come crashing to the floor. I say, 'I'm OK! I'm OK! I love this!'"
Her first lesson learned: "Whatever you go after, do you feel you have the most genuine passion for it in the world," although she adds a contradictory note. "Sometimes you might make a bad decision around that."
She is often asked to try samples of various products. "If you have to convince somebody that what you have is good, it's not good," she said. "The very first thing I say is, have you been sampling this to others?" If they say yes, she says, "Have they been knocking down your door to get more?" If they say no, "then it's not ready."
Twelve years in for Chicken Salad Chick, she expresses every emotion, shares every tale, and will tell anyone who listens to embrace the highs and the lows. "It's always a message of life never goes according to plan, and it's beautiful and tragic and you are going to get knocked down," she said. "You need to be prepared for it and know you have to get up and keep going."
---
About this project
Franchise Times Dealmakers is an editorial project and awards event designed to highlight excellence in buying and selling franchise companies to drive sustainable growth. Franchise Times calls for nominations the fourth quarter of each year, and presents the finalists to a panel of judges. The award winners are featured in the April issue of Franchise Times and were honored at an awards luncheon in March. Nominations for next year's project open October 1 at www.franchisetimes.com.
---
About the judges
We thank the Franchise Times Dealmakers judges, invited to serve because of their expertise in franchise finance, who evaluated nominations and helped to select winners.
Carty Davis
C Squared Advisors
Joshua Lewis
National Retail Properties
Kevin Fretz
BBVA
Archie Leynes
Crowe LLP
Karen Blacik
CLA
John Dysart
People's United Bank
Merrilee Rojas
First Midwest Bank
Brad Cashman
Monroe Moxness Berg
Sims Richardson
Live Oak Bank
 
---
11 more win FT Dealmakers awards:  Ace Hardware buys, re-launches Handyman Services • Tasty Huts bets on Pizza Hut with 117-unit Rage Inc. buy • Wendy's franchisee rebuilds via merger with Triwen • Premium Service Brands adds Renew Crew, Maid Right • Modern Acupuncture gets new investor in Strand Equity • Have a plan to sell, advises Sunbelt's Terry Kelm • McAlister's lands mega-franchisee Sun Holdings • With 94-unit buy, WKS is largest Denny's franchisee • McLean Group helps drive up Planet Fitness valuations • Anytime Fitness parent gives franchise boost to 2 new brands • Large KFC, Taco Bell 'zee gets family office backing