Fast & Serious: 1 • 2-10 • 11-20 • 21-30 • 31-40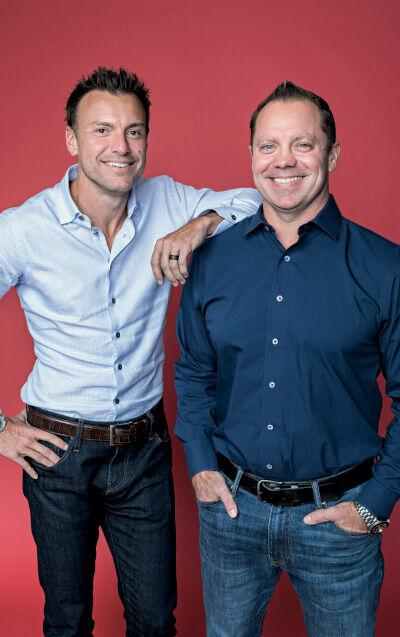 #1 Club Pilates
Fitness studios
Anthony Geisler shared this analogy as he related the condition of the Club Pilates system when he acquired it from founder Allison Beardsley: "You have an excellent chef who loves to cook but who is a terrible restaurateur."
"Allison, to her the P&L is how many people showed up to class and did they have a good time," continued Geisler. "The only reason Club Pilates is opening is because the workout is amazing."
"It was the wild, wild west, there was no consistency," agreed Shaun Grove, who Geisler brought in as Club Pilates' brand president after working with him to grow LA Boxing to 81 units before selling to UFC Gyms.
That was in March 2015, when Club Pilates had 25 locations and, despite its raw nature, Geisler saw potential to expand the fledging brand he said was on the cusp of a popular workout craze that would soon have mass appeal.
So far, he's been right. From 2016 to 2018 Club Pilates grew sales an astounding 795.4 percent, while also growing units by 389.7 percent to finish 2018 with 382 locations and $148 million in systemwide revenue. Those numbers pushed Club Pilates to No. 1 on our Fast & Serious list, up from No. 5 last year.
"We took the first eight months to evaluate what was there and what we would put in place," said Grove, an assessment that ultimately resulted in a new studio design package complete with a refreshed logo and branding to go along with ClubReady's fitness software platform that includes membership management.
"Club Pilates was 98 percent female," noted Grove of a stat that influenced the redesign in an effort to broaden Club Pilates' appeal early on. Studios with mint-colored walls, pink weights and purple mats were refreshed using a palette of blues and blacks with wood flooring, and while membership "still skews female," men now account for 12 percent of members.
---

---
Right-sizing the number of reformers, the exercise machine used in the Pilates technique, to 12 per studio, the addition of private training and introduction of a retail component were other early changes. Average gross revenue of these new, 1,500-square-foot studios hit $557,550 in 2018.
It's all part of the "bringing Pilates to the masses," mindset Grove said drives business decisions. That's the message he and Geisler took to existing franchisees when they made the rounds after the ownership change.
"They were paying 2 percent royalties, 1 percent marketing and not getting anything in return," said Grove of those existing owners. "We had to get them to sign new agreements, raise royalties and buy in to getting more support."
That support component has been a huge focus of Grove's, and in 2017 Club Pilates launched a new opening support program that guides franchisees "from lease through grand opening," said Grove, with an emphasis on membership presales. A mandated 12-week marketing program helps drive those presales, which Grove noted are essential to a steady revenue stream for franchisees.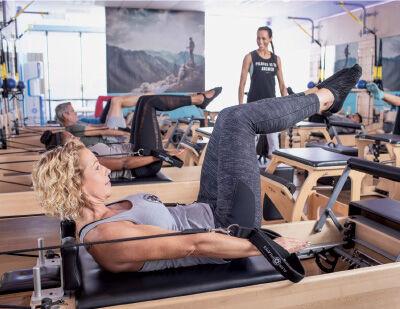 "It's a lot of hand-holding," he said, "and then we see the performance on the other side."
Internally, what Grove called the "Christmas tree report" helps track that studio performance. "Good equals green, poor is red," said Grove. "If they're underperforming, it's usually a function of not executing on marketing," which triggers additional training.
On the franchise development side, Club Pilates continues to benefit from the formation of Xponential Fitness, the parent company Geisler created in 2017 and originally backed by private equity firm TPG Growth. When TPG partner Mark Grabowski left the firm in 2018 to launch Snapdragon Capital, he and Geisler bought out TPG's stake and today they're majority owners of Xponential, with Geisler as CEO.
The Irvine, California-based company's fitness portfolio has swelled to eight brands, as Club Pilates was joined by Cyclebar, StretchLab, Row House, AKT, Yoga Six, Pure Barre and Stride. Shared services include accounting, real estate, finance and legal, but, noted Geisler, "everything that's franchisee-facing is siloed in the brand" and each brand has its own president.
Franchise sales are outsourced to a third-party vendor, St. Gregory Development Group in Cincinnati, Ohio. That's because, said Geisler, he wants everyone at Xponential's headquarters to "focus on franchisees and getting stores open."
St. Gregory deploys a rigorous process, stressed Geisler, and candidates get disqualified "all the time." When Xponential hosts discovery days, "we pay for the flight, hotel, food, we take then through a workout, out to dinner," he said. "Some people can't hold their alcohol, they get disqualified. Or if people are super confrontational …
"They have to understand we're in the royalty business. They have to be coachable," he continued. "You're applying and we're accepting," and after each discovery day "people get to vote them on or off the island."
When asked to think back to those early days of Club Pilates, Geisler said he isn't surprised by the brand's sustained success.
"What I do more than picking the next trend is aggregating the trend that's already there," he said. "I didn't have to worry about people doing Pilates—they were doing it all over the world."   
—Laura Michaels
---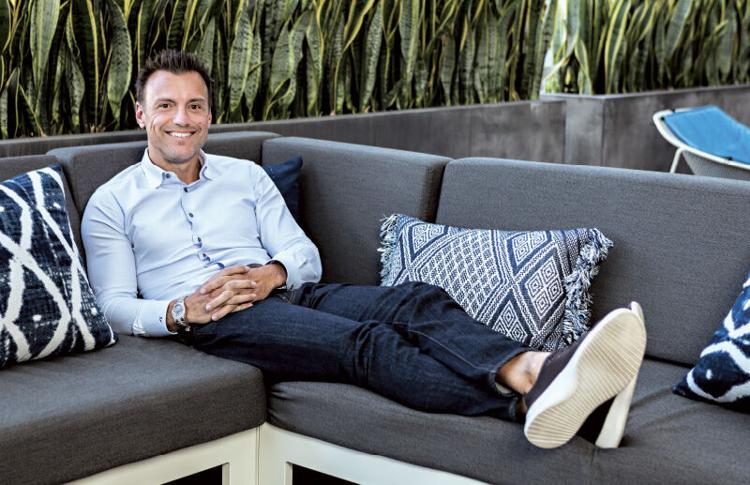 When CEO Anthony Geisler acquired Club Pilates  he met with each existing owner to ensure they saw his vision for growth—one that's since helped it hit No. 1 on the Franchise Times Fast & Serious ranking.  Cover photo by Scott Witter
---
About this project
Franchise Times created a formula to identify fast-growing franchise systems that also have staying power, as an antidote to multiple other rankings that include too many one-year wonders. Controller Matt Haskin developed a proprietary 10-point formula, including percentage sales growth, percentage unit growth, dollar sales growth and numerical unit growth over the past three years. The database for the project is the Franchise Times Top 200+, our annual ranking published in October of the largest franchise systems by revenue. Haskin identified the companies that submitted information for all three years for that project, then selected for analysis those with systemwide sales above $40 million.
Fast & Serious: 1 • 2-10 • 11-20 • 21-30 • 31-40