After an extended Dark Ages that brought unit closures, successive executive departures, the ouster of its founder and the burning down of the original location in its northern Wisconsin birthplace, Famous Dave's was on the verge of a breakdown. But the barbecue brand found the stability its franchisees have craved to move forward and, following years of behind-the-scenes experimentation on new store designs and technology, Famous Dave's is back in growth mode.
This time it's with new restaurant prototypes, a rejuvenated menu and a leadership team that's unusually well-versed in off-premises operations. And they're looking to build an empire.
Taking a page from Arby's, which morphed into Inspire Brands and went on to purchase Buffalo Wild Wings, Sonic, Rusty Taco and Jimmy John's, Minnesota-based Famous Dave's of America recast itself as BBQ Holdings in late 2019 before buying casual beer-and-food brand Granite City in February.
If all goes according to pandemic-revised plans, that acquisition could be just the first big move. Others on the table include creating an entirely new Southern-style concept, launching a drive-thru-focused brand, buying additional restaurants and driving the flagship Famous Dave's brand down Interstate 35 into the Great Plains and southern states where it's eager to compete against national chains and one-off mom-and-pop barbecue pits alike.
The first cornerstone of a much wider plan, buying fellow Minnesota brand Granite City raised eyebrows across the industry, as its large dining rooms, expensive brewery equipment and massive food menu were challenging enough that the company filed for bankruptcy protection in late 2019. BBQ Holdings paid $3.65 million for Granite City, which was previously valued at $7.5 million and includes 18 restaurants in 10 states.
Jeff Crivello, head of Famous Dave's and CEO of BBQ Holdings, said adding Granite City to the mix could mean supplying its beers to Famous Dave's locations, with some Famous Dave's menu items also jumping over to Granite City.
The new parent company also opened several restaurant concepts, including Clark Crew BBQ in Oklahoma City, Real Famous BBQ in Utah and is working in concert with its franchisees to roll out several smaller-footprint concepts in its home market of Minneapolis.
---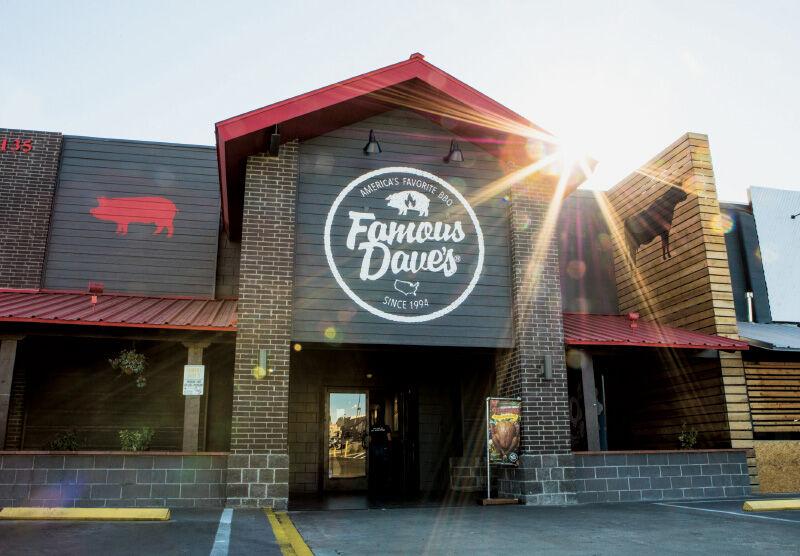 Rather than sticking to one official template across the system, Famous Dave's has encouraged its franchisees to innovate with new concepts featuring smaller dining rooms.
---
An Uptown resurrection
Sitting across from each other at a high-top inside the newly opened, 2,500-square-foot, urban-format Famous Dave's in Minneapolis' Uptown neighborhood before worries of the new coronavirus officially became a pandemic, Crivello and Senior Vice President Al Hank shared the nitty-gritty about designing the new prototype, and the rationale for how this trendy store fits in with their wider vision.
Hank, who started at Famous Dave's as an hourly employee back in 2005, became senior vice president in early 2020. With a background in operations, and a lot of experience with catering and off-premises channels, Hank has been charged with turning broader ideas from the leadership team into tangible executions.
He said Crivello became involved in the finer details of this latest location, down to the minutiae of precisely how the brick wall at the back of the dining room was white-washed.
"Maybe we argued about a couple of different colors here and there, but this was Jeff and Dave Anderson as well, and then I was the one who made it come to life," Hank said, with Dave Anderson being that Dave, founder of the brand. "That's a really fun and exciting part, when you get to build a restaurant, see it one week to the next … that's a really fun time, especially when you're building a new iteration of a legacy brand."
Beyond design, which feels like a modern barbecue restaurant from the sliding wood doors and exposed brick to the wood and tin recovered from area barns, it was clear that Crivello and Hank were mostly fired up about the intangibles.
"Labor is probably the largest opportunity that we have," Crivello said, as he ticked off the critical components of the new location: fewer front-of-the-house staff members, a stronger focus on the bar program, an open kitchen, and programming to fill in the gaps between a brisk lunchtime business that included a significant amount of catering and delivery orders even before dining rooms closed across the country.
To juice sales and traffic outside of the lunch and dinnertime dayparts, the company implemented activities during the weekdays, including pull-tabs, trivia and flip-a-coin-for-dollar-drinks, among others, to capitalize on the neighborhood's active bar scene, especially among well-heeled twentysomethings.
"We're trying to allow the guest to customize the environment when they're in here," Hank said. "You want to bring your family in and have a nice quiet dinner in the corner and do your thing, great, and then at the same time you could come in, manipulate the music, win $500 on pull-tabs, and flip for a dollar beer at the same time."
That's all textbook Midwestern bar vibes, and a significant departure from the larger location the brand closed less than a mile down the road in 2019. Like other older Famous Dave's units, its previous Uptown location felt dated, with a huge dining room that quickly fell out of fashion in the casual dining segment.
It's not just real estate that's gone under the microscope. In creating a restaurant holding company with a clear intent to grow, both through acquisitions and organically, BBQ Holdings is also looking to diversify itself away from its namesake, protein-heavy offerings.
With expensive proteins such as Texas brisket, St. Louis-style ribs and pulled pork, Famous Dave's has another significant cost sink, and one that can't be eased as easily as outdated real estate.
Adding in new challenges from a pandemic-altered supply chain, Crivello said "barbecue is a very difficult category to generate a profit." That's part of the rationale for also pumping up higher-margin alcohol sales in new prototypes compared to legacy locations.
"Al and our new team of operators have been in place since mid-January, so our heaviest lift is making changes in our corporate store for profitability, and being more profitability-focused than we have over the last couple of years," Crivello said. "Labor's going up, occupancy is increasing, food costs are increasing—all of our expenses are increasing—so it takes a sharper eye on the P&L as that happens."
---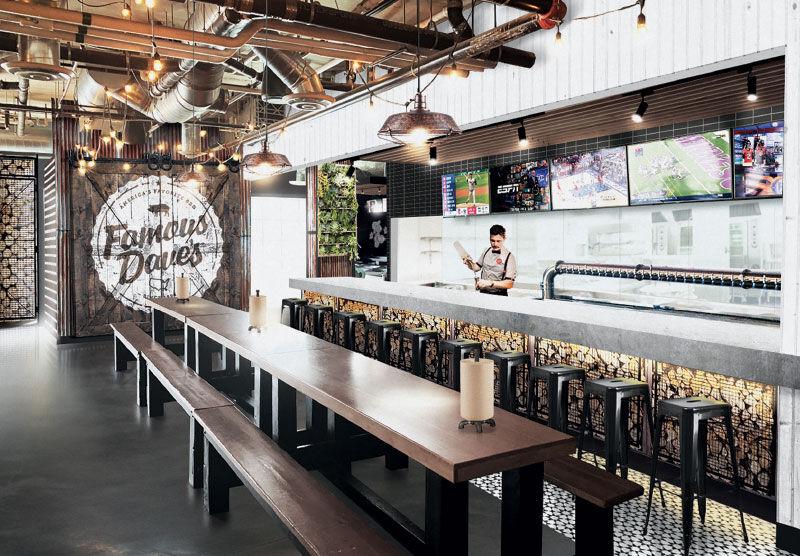 The newest Famous Dave's in Minneapolis' Uptown neighborhood is long on its expanded bar program.
---
Organic, inorganic growth
In addition to a handful of new Famous Dave's designs being rolled out at corporate- and franchisee-owned locations, Crivello said the company is going to test a drive-thru concept that'll be more of a QSR-meets-barbecue format designed to expand its already impressive expertise in off-premises sales, including catering.
That drive-thru-focused concept could come from a familiar face: Famous Dave, Dave Anderson, himself.
Anderson rejoined the company in 2015 after resigning in 2014 following disagreements over the company's leadership at the time, which he said was too focused on Wall Street metrics.
Anderson started his Jimmie's Old Southern BBQ Smokehouse in Famous Dave's original hometown of Hayward, Wisconsin, a small tourist trap in the woodsy northwest corner of the state. While that location later closed, Jimmie's is up to four restaurants in Wisconsin and Minnesota. With counter-style ordering, a much smaller dining room and a large menu of proteins and sides, Jimmie's feels at least a generation ahead of the most legacy of Famous Dave's locations in the system.
With drive-thru economics being a game of seconds, not minutes, Crivello said his team is still working through challenges to refine Jimmie's before possibly acquiring the brand and bringing it toward the 1,000-location goal Anderson has previously mentioned.
"His ticket times are about four minutes, and if we could get those down to a minute and a half, that could be the concept with the drive-thru," Crivello said. "It's just a matter of when the time is right, how many units is right and if that's the prototype we want. We're not really interested in buying something that isn't going to be expandable."
Opening his playbook even further, Crivello said BBQ Holdings could build a new brand from scratch, with a Southern-style concept that's "not just barbecue" already in the hopper. This could dovetail with his plans to expand Famous Dave's across the Great Plains and southern states in the coming years.
That concept will join the holding company's roster that now includes Clark Crew BBQ, a new brand created in partnership with famed pitmaster Travis Clark, who has World Champion and Team of the Year titles in the barbecue scene. The first Clark Crew BBQ opened in Oklahoma City in December.
More broadly, Crivello said his guiding principles are diversifying away from the food cost challenges of barbecue, keeping a close eye on staffing costs, maintaining a 50/50 balance between lunch and dinner dayparts, and providing a foundation for dramatic expansion further down the line.
"It's a lot of balls in the air, but when we do that, we can be fairly confident that we're going to get it right—or one of them is going to be right," Crivello said. "We don't know which one it is, but one of them will be right for the next 10 years."
Outside of the idea lab, the company's most pressing challenge revolves around getting company stores and franchisees out of those older, excessively large spaces or in trade areas where the action has shifted to new parts of town.
Crivello said the brand still has a decent number of such locations on the books, but that franchisee-owned units the company has purchased included short-term guarantees to make it both easier and less expensive to exit sites that are too old or large for the current industry landscape.
In working with his operations team to implement these long-term visions, Hank said doing so much at once is overwhelming, but it has also been energizing for him and the team on the road and back at the headquarters.
"We know as an organization that we've built the foundation to be able to execute whatever the market or time says this is right, this feels right," he said. "We took our time, we were patient, we built the foundation—you name it—we're ready to deploy whenever we need to."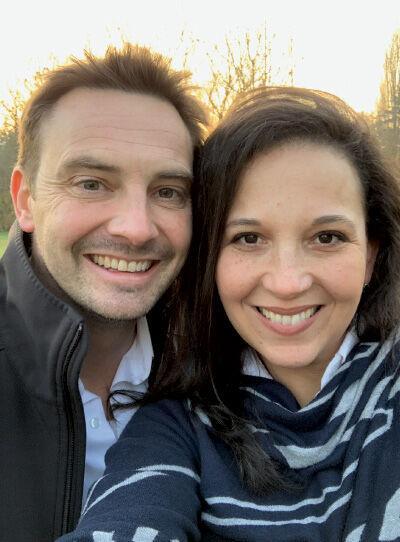 Stoking franchisee experiments
Among the newest Famous Dave's franchisees are Elaina and Paul Herber of Ascend Hospitality Group. Elaina and her husband have grown to become one of the largest multi-concept operators in the Pacific Northwest with more than 700 employees across three states and with other concepts including Ascent Prime Steak & Sushi, Lincoln South Food Hall, Stanford's and Portland Seafood Co. The pair joined the Famous Dave's system in 2018 and operated six Famous Dave's "pre-COVID" in Washington and Utah.   
Empowered by the franchisor to use their expertise and market knowledge to experiment with their locations, the Herbers opened a smaller, fast-casual style prototype in Provo, Utah, under the Real Famous BBQ name. That test location was designed to boost off-premises sales, which the couple said have long been a strong suit of Famous Dave's.
"The majority of our franchisees aren't sitting around going, 'What are you going to do for me, Jeff?'," Elaina Herber said, praising the company for allowing franchisees to try new things. "What they're doing is having a more complex, honest and open dialogue about running our business."
As head of the Famous Dave's franchisee association, Paul Herber said Crivello's quieter, team-focused and no-ego style has been a big boost to the morale of the brand's 129 locations, 99 of which are owned by franchisees.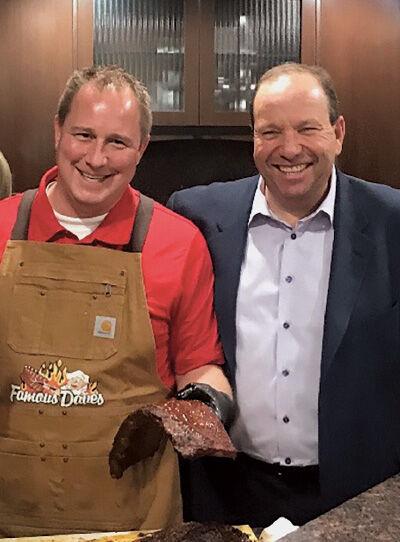 "So many of the CEOs had a very gregarious personality, as well as an ego—it was about them and not the brand," he said. "Jeff is a very pass-forward person, he doesn't thrive on attention and that's a huge piece of why we've been able to see the traction that we see today."
In the center of the country, Famous Dave's franchisee Elliot Baum owns 18 restaurants in the Midwest under the Blue Ribbon Restaurants banner. His organization opened its first Famous Dave's in 2002, and his Detroit-area locations are some of the best-performing stores in the entire system. His latest location is a ghost kitchen setup within a CloudKitchens delivery-only facility serving downtown Chicago, which Crivello suggested would be a pillar of the brand's strategy in additional urban markets.
"We never had a low point," Baum said of his tenure with the brand, excepting the depths of the Great Recession, which especially impacted the Detroit metro area. Looking to his early days, when he said "the food was incredible but the brand itself was horribly mismanaged," he stressed he never lost momentum or faith in its longterm appeal.
Previously the youngest Burger King franchisee in the system, Baum poured significant resources into remodeling his Famous Dave's restaurants, including increasing physical space for takeout and delivery that is now the majority of sales at most locations.  
"No one told us to do that, we wanted to drive another nail into the competition and wanted people to understand we were staking our footprint in barbecue in this community and we were going to continue to operate top of class," Baum said of the renovations. "We don't need 7,000-square-foot buildings when 70 percent of our volume is off-premises."
He said the current management team is the best he's seen in his 18 years with the company, and that Crivello's influence has had an especially positive impact on his faith in the leadership team. Baum and Crivello catch up on the phone most days of the week, including weekends.
"They're returning their calls, they answer their phones," Baum said. "He's surrounded himself with some pretty good, hard working people … and he understands the business."
---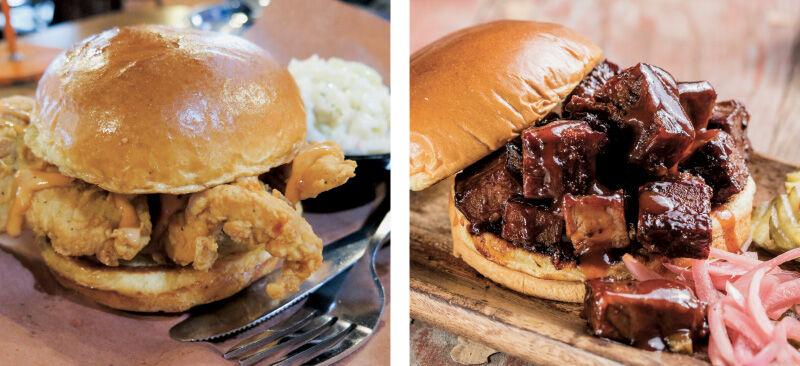 While barbecue remains the culinary focus, Famous Dave's rolled out a chicken sandwich (left) last year that's arguably the best of the breed.
---
The next heavy lift
Even with so much hard work already in hand, expanding Famous Dave's in the way Crivello and Hank have outlined is still a heavy lift, one further complicated by the pandemic that closed dining rooms across the country.
In its filing for the fourth fiscal quarter of 2019, released after the completion of the Granite City acquisition, BBQ Holdings reported same-store sales increases of 4.7 percent, driven by a 6.4 percent increase in to-go sales and a 26 percent increase in catering sales, marking nine of 10 quarters of positive comparable sales. Franchise-operated locations saw smaller sales increases of 0.4 percent year over year.
The company also highlighted that 54 percent of its total sales came through off-premises lines of business. Its quarterly net loss of $1.8 million was "driven by acquisition and pre-opening costs," according to the filing. For the full year in 2019, BBQ Holdings posted a net loss of $649,000.
For its first quarterly filing for fiscal 2020, released May 13, Famous Dave's reported a 6.8 percent sales decrease in company-owned stores; prior to the closure of dining rooms mid-March sales increased 3 percent. Franchisee-operated same-store sales decreased 13.1 percent post-closure and 2 percent pre-closure. Net income for the quarter was $13.7 million, driven by a one-time gain on the "bargain purchase acquisition" of Granite City restaurants, the company said.  
Protein prices have also presented a challenge in the COVID-19 era, with some estimates claiming that 25 percent of pork producers have closed as a result of employee infections and supply chain interruptions. That has led to wider concerns about the restaurant protein pipeline as the pandemic's many impacts persist into the summer months.
With the crisis still hammering restaurant stocks, Nasdaq-traded BBQ is currently trading at $2.52 per share, down from its previous high of $5.65 last July.
Hank said the company's previous investments in off-premises operations have blunted the impact of dining room closures, and will likely result in further moves toward delivery and catering.
"It has allowed us to mitigate those losses and provide our services to our guests in a safe manner through off-premise channels," Hank added. "We were well down the road of implementing these initiatives prior to the pandemic. If anything, it may just accelerate our efforts as we continue to double down on those initiatives."
For a CEO who's been on the board since purchasing 10 percent of the company in 2012, Crivello has long been a familiar name among Famous Dave's franchisees. Joking that his wife urges him to develop some hobbies outside of work, he said that creating brands and building the company are "what's fun to me, something that's material."
After so much hard work behind the scenes—all part of a $10 million investment in the brand's future—Crivello is looking forward to building new restaurants, taking advantage of shifting customer behavior in terms of delivery and curbside pickup, and the next round of hard work on the real estate side as the company pushes south.
"As Dave Anderson says, there's no school for easy answers," Crivello said. "I think all challenges are fun and I don't expect any of it to be easy."
As the proverb goes, even the best-laid plans can go awry, especially in the casual dining category. While some of that work is immediately gratifying, like building a new store template, much of the work that remains is nailing the staffing, unit-level economics and shifting the brand to meet consumers in a newly isolated, delivery-enabled landscape.
"The stock had gone from $30 to $3 and drastic changes had to be made," Crivello said. "I knew it wasn't going to be easy, I knew it wasn't going to be quick, but I think we're in inning number three of the turnaround, or at least understanding what the next 10 years looks like."
---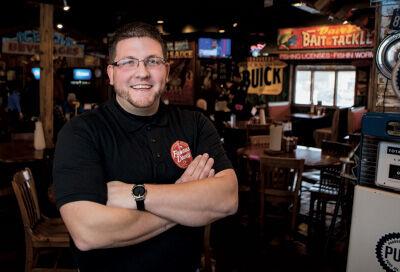 Rising up the operational ranks  
For a guy who started working at Famous Dave's as a takeout cashier at 17 and is now heading up the company's catering and off-premises strategy as senior vice president of operations at BBQ Holdings, Al Hank has an especially deep understanding of the company and how new initiatives translate down to restaurant-level employees.
Clear-eyed about the company's "troubled years," Hank has been at the forefront of Famous Dave's reinvestment back into its company-owned portfolio, as well as spearheading new initiatives to capture younger diners through national third-party delivery and catering platforms.
Those efforts are bearing fruit, now that off-premises revenue has eclipsed the 50 percent mark. Calling third-party delivery a "necessary evil," Hank said because ordering barbecue is more of a celebratory occasion rather than a daily habit, outside platforms are a key opportunity to bring new revenue and younger diners into the fold.
"We started to engage with them, and to-go sales started to skyrocket," he said of third-party delivery. "The demographic that dines in our restaurants is not the same demographic that is third party."
Adding that some of the brand's previous new restaurant prototypes may have been before their time in the wider market, he stressed that smaller dining rooms are a cornerstone of a future where the majority of sales leave the restaurants in a bag, box or drive-thru window.
That new mindset requires greater flexibility for diverse trade areas across the country, and providing franchisees with a range of options to reach a new set of consumers in their territories, while spending financial and staffing resources as efficiently as possible.
"More often than not, the consumer is going to tell us what they want, and we're going to build it," he said. "It's going to be really important for us to get these four or five or six restaurants stood up in this new box, because we believe this is the future of our brand, to be able to scale and grow quickly."