"I'm very autonomous, because I don't like having other people tell me what to do."
—Kat Eckles, co-founder, Clean Juice
By Beth Ewen
As always during creativity time, Kat Eckles spent weeks and weeks in late 2018 mixing up homemade dressings to go with her new line of salads.
"I start everything at home. I test it on my kids," said the co-founder and chief branding officer of Clean Juice. "I lock myself in my kitchen and kind of quietly" experiment.
"I was adamant we were going to do our homemade salad dressings," so when her recipe was just right she found a bottling company to prepare a thousand gallons and stacked them in the boardroom for imminent shipping.

"We heard these explosions. Pop, pop, pop! We walked into the boardroom and they were literally exploding," she recalled, due to the pesky process of fermentation. "I was freaking out."
That's a story for the history books for Clean Juice, which makes its first appearance on the Franchise Times Top 200+ ranking this year at No. 454 after missing the Top 500 the year before at No. 506. Its systemwide sales in 2019 were $33 million.
It's also a rare misstep for Eckles and her husband and co-founder, Landon, the impossibly photogenic couple who seem merely adorable but are actually intense and driven, both the oldest children of families where they were mostly left alone to make their own way. "I'm very autonomous, because I don't like having other people tell me what to do," said Kat. Given their strong views and ambitious plans, you could call them the tycoons next door.
Many couples are said to be yin and yang, with one type A and the other chill. "We're yin and yin," said Landon, CEO of Clean Juice. Starting franchising in 2016 and winning the International Franchise Association's NextGen competition in 2018, Clean Juice now has 100 stores open.
The pair just made their first acquisition, of a non-toxic nail concept called Freecoat, and are looking for more in the health and wellness space. "I love doing that work," Landon says about acquisitions. "I like to look at what something could be, but also what it's worth now," doing the "ballet" of being in turn futuristic and pragmatic.
Kat shoots back: "He's called lowball Landon."
They've attracted three investors from the same family office, whom they decline to name, to back their brands. Kat said they've not had to ask for more funding during COVID-19, which boosts investor confidence in them, she believes.
"I can make a nickel go pretty far. That's one of my skill sets," Landon said. Kat replies: "Not one of mine!"
Oh, and they have five children, the youngest of whom, Ellis, is wandering the halls brandishing a water gun on an August visit to headquarters in Charlotte, North Carolina. Kat is 34 and Landon is 35, meaning they have a whole lot of white space ahead of them.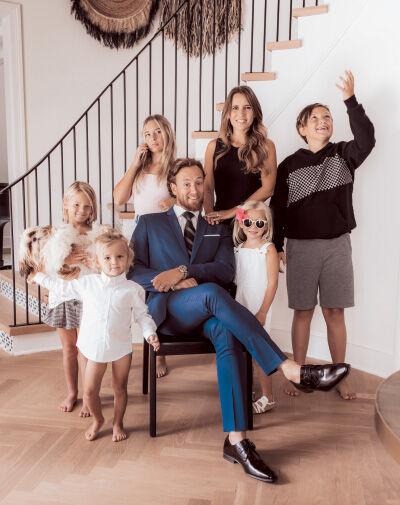 Landon leads a quick tour around company headquarters, up a flight of stairs to a bright white space with the company's black and green colors, now with a pale pink added in honor of their new Freecoat brand. Two large, leafy greens are painted on one wall, ready for a photo opp for each new franchisee who completes training. "Once they graduate, they get their kale wings," Landon says, one of the many fresh ingredients in their cold-pressed juices and smoothies.
We view a wall of framed sayings from the Bible, with the verses cited on the bottom.
The main value for Clean Juice—Healthy in Body, Strong in Spirit is its tagline— is 3 John 1:2. "Dear friend, I hope all is well with you. I hope you are healthy in body and strong in spirit," Landon said.
The two met cute, on the first day of economics class in college. He says Kat was staring at him, which she at first denies. "Here's the telltale sign," Landon insists. "Did you or did you not" text a friend about a cute guy. Kat concedes: "Then I met him and said that's not happening." They married in 2007, when she was 21 and he 22.
The pair weren't always religious. Kat was raised Catholic, and is now non-denominational, she said, describing herself as "half-Baptist, half-Pentecostal." When she had their first child, McKenna, she became committed to eating clean food, and she started the kitchen experiments that would in a few years become the basis for Clean Juice.
"I'm a recovering Taco Bell addict," she said about that time. She also became intensely Christian, although "Landon wasn't there yet. I put Bible verses in his socks to get him there."
Landon, meanwhile, was working for a boutique investment bank headquartered in Hong Kong. "I'm jet-lagged 24/7," he said about the rat race. One day he came home from yet another international trip, and Kat said, "Let's move South and open a juice bar. We were pregnant with our fourth child when he quit his job. Within 24 hours we drove to Charlotte and bought a house," she said. Clean Juice, which is certified organic by the U.S.D.A., is "bringing glory onto the way He designed food, that we as a society kind of messed up."
Asked how their Christian focus plays outside of the Bible Belt, Kat says "it's been received fine," although occasionally someone says "I don't need this religion with my smoothies." But the vast majority of customers thank them for their stand, which she says is about love and kindness. "We don't scream the 10 Commandments at you."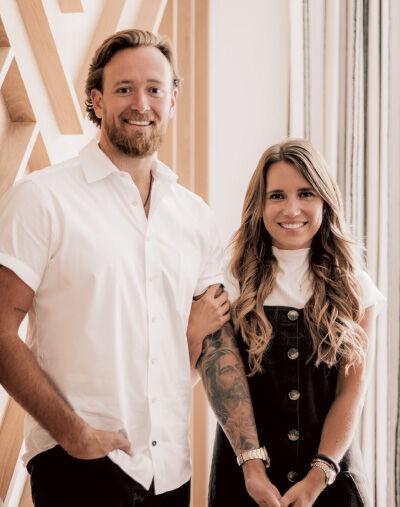 "Today everybody's scared to not be everyone's cup of tea," Kat said, but she's fine "if we're not your cup of juice."
Adds Landon: "If you read the New Testament, it's all about love. We're unapologetic about that." His left arm has a tattooed sleeve featuring the face of Jesus and citing yet another Bible verse.
As for Clean Juice's strong financial performance, "It starts with the team first. We made some key hires," Landon said. One of those was B. Quick Chadwick, director of marketing, who joined at the end of 2018 and in 2019 helped the firm improve third-party delivery, which was nonexistent when Chadwick arrived. This year, they're doing $100,000 a week in delivery/digital sales.
Amanda Hall was set to join the brand in late August as chief operating officer, the first C-level officer other than the co-founders. She was at Burn Boot Camp, starting when that brand had 20 units; it now has more than 300, and Landon expects her to drive similar growth at Clean Juice.
New menu items were another key addition in late 2018, with Kat creating wraps, a line of trademarked salads called Greenoa Bowls, and a toast line. "Avocado toast is our No. 1 app order," Kat said, and was then asked to describe her process.
"I'm a true visionary, so I'm not a detail person at all. I did notice, if we were going to succeed, we needed to expand our offerings."
She noticed others adding things like healthy ice cream but that was not for her. "I'm about the healthiest eater there is," but even she says no to kale ice cream. (As for the exploding bottles, she said they recovered by quickly hiring an outside vendor to supply their dressings.)
Kat and Landon host individual discovery days for their prospective franchisees, and the two meet each prospect themselves. "We've messed it up a little," Kat said about their early days in franchising. "You don't know what to look for." Today they have a very detailed Item 19 in the franchise disclosure document, outlining the performance of each and every store.
"At the beginning, we did a little rainbow around it," she said, meaning they emphasized the positive more than the reality. "Our idea of hard work can be a little different than others. Sometimes people say they want a juice bar like they want a Louis Vuitton bag," she said. "I think we've done a better job of telling people what they're getting into."
Asked about the biggest lesson they've learned, Landon says bringing in the right franchisees is most important, a cliché that he believes is nonetheless true. "It's a marriage. Everyone says it. The people you work with are going to make or break you."
Kat echoes the idea, but more colorfully. "The Bible verse for that is, you don't give your pearls to pigs," she said, scrolling through her phone until she finds the citation. "Matthew 7:6."
Does she have a Bible verse app, she is asked. "I have all the apps," she replies.