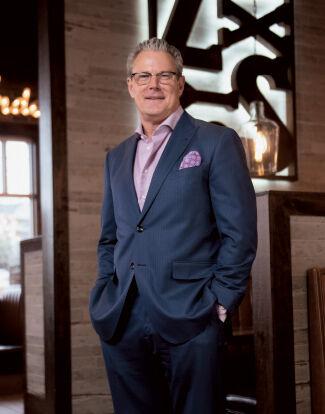 One thing is very different for Zach McLeroy, CEO of Zaxby's, now that Goldman Sachs Merchant Banking Division bought the brand and Tony Townley, his business partner for 30 years, has exited. "It's kind of different having a boss. I haven't had a boss for 30 years," McLeroy said.
"They're very engaged," he said about Goldman Sachs, and focused on implementing a lot of enhancements in a hurry. "It's almost like a new administration. They come in, they have a 100-day plan, and that's sort of how it feels with Goldman."
But the dialogue goes both ways. "We're sort of learning from each other. What makes our brand so great is our culture; we're focused on servant leadership. Great people make great brands, so I talk to them about that."
Meanwhile, "they bring horsepower, they bring expertise to the table and helping us up our game," he said.
Townley and McLeroy opened their first chicken fingers restaurant 30 years ago, funded with credit cards and McLeroy's sale of his drum set for $8,000, ending McLeroy's ambition to become a professional drummer. Operating primarily in the Southeast, Zaxby's today has more than 900 restaurants in 17 states.
"We're breaking up the band after all these years," McLeroy said with a laugh when reached right after the transaction, in December.
The Goldman Sachs investment will fuel expansion. "We want to take the brand nationwide. That's a goal we have, and Goldman wants to help us with that," McLeroy said, adding international expansion may follow.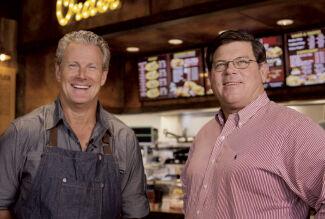 "With the engine of Goldman behind us, the attention that brings to us, it validates we're a great brand, we're doing great things," he added. "It's been a mom and pop brand, run by my partner and I," and the investment "really got people's attention."
Townley and McLeroy got plenty of attention themselves when they went to the private equity market for the first time earlier last year, as a brand nearing 1,000 stores. "There are not a lot of founder-led organizations" of that size "that are going out to try to do a deal, so there will be a lot of demand," their investment banker told them, and that proved true.
"We decided why not, let's take a look, and see what the demand will be. We started off with about 30 banks, and then narrowed to 14, and then six or eight really negotiating hot and heavy for Zaxby's." Goldman Sachs rose above, he said, perhaps surprising given the seeming mismatch between slick East Coast bankers and the Athens, Georgia-based Zaxby's founders.
"It was a little strange" at first, talking to private equity firms, he said. "That's how I viewed Goldman and other private equity groups. You come in, you clear house, you hire new people, you go public. That's a fear of mine, but as we talked more," he became comfortable with his new investors. "This is not a short-term deal for them, they're in it for the long term. That's where I think we found our alignment."
Zaxby's is focusing work in the IT department, trying to build a better app and enhance the website. "Everything we're focused on is consumer-facing," McLeroy said. This year's goal is to open 25 new restaurants, and then 50 stores in 2022. He believes Goldman's reputation as a "world-class company" shines the spotlight on Zaxby's. "Goldman put their stamp of approval on Zaxby's," which will help in his efforts to take the brand nationwide and eventually international.
During COVID-19, Zaxby's created a new prototype that's 700 square feet smaller than the existing model, with roughly 50 seats vs. 70-plus and $100,000 less expensive than the previous building.
The debut of a chicken sandwich and a Super Bowl ad featuring the shadow of a giant chicken are two other recent accomplishments. McLeroy has good feelings about his new partner.
"More than anything I'm concerned about the people, and the career opportunity and legacy of the brand. I feel like we've found a good fit, someone who's really engaged in growing," he said.
"Only time will tell how our relationship works out. Sometimes there's a little bit of rubbing rocks," but that's all part of growth, he continued. Perhaps the size of the transaction, which the nomination form listed as "$125 million-plus," will prove to be soothing.
"It was sizable," was all McLeroy would say in an interview, but Franchise Times later confirmed the Goldman Sachs stake in Zaxby's "is valued at a multiple of 18x to 20x EBITDA of $100 million to $125 million, or roughly $2 billion." Sizable indeed.
---
Inspire Brands Wins Franchise Times Deal of the Year
2021 Winners Include 10 More Daring Deals: