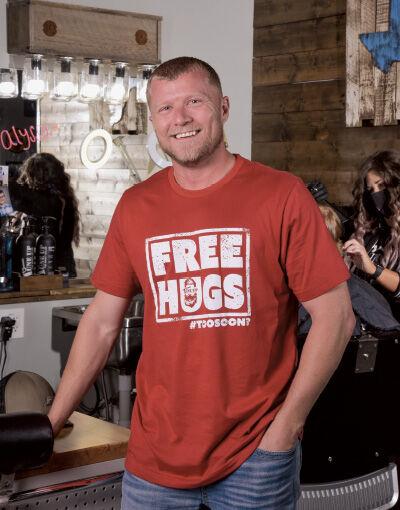 The Defiant
"Every single day that goes by will be one day harder to recapitalize and reopen." —Anthony Milton, CEO, Tune Up-The Manly Salon
Anthony Milton, CEO of Tune Up-The Manly Salon, is by far the most publicly defiant franchisor—critics would say reckless—amid government shutdowns and now restarts and stops during the COVID-19 pandemic.
Milton showed up May 1 at one of his corporate salons in Houston to open for about three hours, before the cops came and threatened $1,000 fines for everyone in the store and jail time for Milton.
He closed the shop again, but then enlisted two state representatives to come in for haircuts, hired a constitutional lawyer to tag along, and attracted the news media for a May 6 showdown. This time the cops stayed away.
"This isn't an epidemic issue and it's not a political issue either. This is a simple rights issue. Under the constitution in the state of Texas, and the U.S. Constitution, businesses should have the right to operate," he said.
"I didn't risk my personal savings, my livelihood, my kids' education fund, to have a licensing agency that isn't even elected tell me if I can or cannot run my business. That's not the American dream."
Ultimately, Milton said, the actions pressured Gov. Greg Abbott into revising his order, moving up the date for hair salons to open by 10 days. In June, Milton upped the ante, vowing to file a lawsuit he said was on behalf of all small businesses against the state of Texas, the governor and Montgomery County. He wants to preempt them from shutting down businesses again, just as cases began to spike in the state.
On a visit to a Tune Up salon June 11 in Midlothian, Texas, about 30 miles southwest of Dallas, Milton in some ways lived up to his brash persona. He swaggered in with an entourage, including Candice Weeter, co-founder of Tune Up and his ex-wife, with one of their four children in tow; Ryan Logan, former franchisee and now minority shareholder; and Michael-David Reilly, Tune Up's personable and hip director of marketing.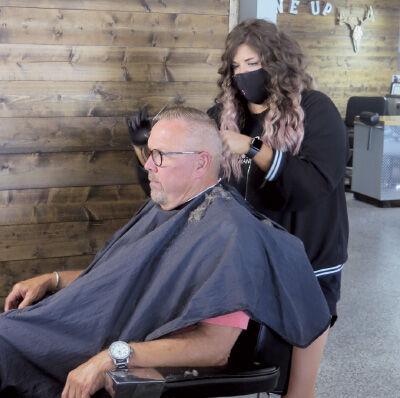 Tim Vaught, franchisee of the store, greeted his visitors and then sat in a salon chair getting a cut and shave. All staffers wore masks, including a friendly woman behind the counter that doubles as a bar, backed by 80 or so bottles of amber-colored adult beverages, each with the name of its VIP customer. Every patron who wants a cold beer gets one, for free.
Milton, wearing bright red sneakers and a matching T-shirt—"Free Hugs. #Too Soon?" it said in all caps—and sporting a blond buzz cut, spoke forcefully about his controversial stance. "We're against government intervention. It's free enterprise, and it's supposed to be the freest country in the world. Of course, we're going to push back.
"Our customer base, former military, good dads, good businessmen, they supported us en masse," he said.
"People who didn't like it, they're the ones who willfully stayed in their house for two months. I didn't have the luxury. I was out every day," trying to keep his 52-unit chain of Tune Up barbershops afloat, along with two fledgling brands: Martinis & Manicures, a nail shop with two locations aimed at women, and Balanced Foods, offering prepared healthy meals, with five stores.
Weeter acts like the ex-wife she is, telling Milton he looks fat in his photo shoot and adjusting his shirt and pose to fix that. She came up with the idea for Tune Up while working as a stylist for Sport Clips, the barbershop chain for men and boys.
"I wanted culture. I wanted relationships. I wanted fun. I wanted to enjoy my career," she said, expounding on her fellow stylists. "We're a little weird. We're a little quirky," with different hair color and tattoos of all sorts. "At Sport Clips you can't do that. You hire someone to have creativity and then force them to be normal," and that doesn't work, she believes.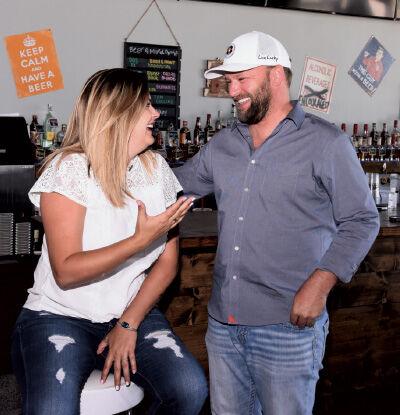 "I initially pushed him," to defy the shutdown order, she said about Milton, and since then the chain has been busier than ever. Why? "Our loud asses," she said, meaning the bold stand and the resulting publicity. "We want a franchisor that supports us," prospects tell her.
Has she gotten blowback on social media? "Absolutely," she said, but it doesn't faze her. "I send them cutesy messages. I tell them to lay a blanket under the door to keep the virus out. Don't get gas. Don't get food. Make sure you're a hermit crab," she said in a mocking tone. "Our job as a franchisor is to make sure the opportunity is there. We got into this because we're stubborn and strong-willed."
Vaught, the franchise owner, approved of their moves. "I applauded it. It didn't make sense. These ladies and guys, they go through many, many hours of training in learning to be sanitary," he said, but he didn't defy the order himself because he feared his stylists could have their licenses revoked.
After the photo shoot, Milton turns more thoughtful, expanding upon his ideas about doing business in the current moment. After high school he spent a few years working for Texas Roadhouse, then Brinker International and the Chili's and Red Lobster brands.
"Tune Up was the seventh brand we started from scratch or bought," he said. "We just see niches in industries that we can capitalize on it, or that are bad at it." He's had a couple of flops, including a boutique clothing store and a big-box Chinese buffet. Two other concepts were successfully sold. He's learned plenty from all those attempts.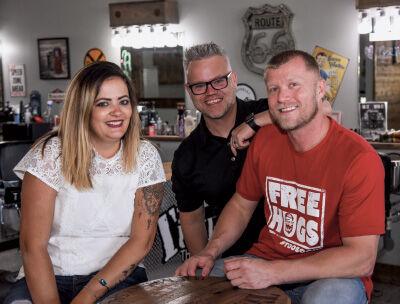 "First I would say, failure sucks, but it's necessary," he said. "Second, it's important to understand a brand or industry, the timing of entry and exit."
Milton makes a simple summation about Tune Up: "We want to cut hair, drink some beer, take care of our families." But then he expands upon his philosophy.
Milton became a business owner in 2007, at 25 years old, with My Fit Foods, a provider of prepared frozen meals. Today, at 38, he is keenly aware of his responsibility as a franchisor. "We have 640 employees across 52 locations," and some 20 franchisee families that depend on him. "What's the point of going through this massive risk? I've chosen the responsibility and the liability, but what I require is the opportunity to do business," he said.
"We didn't sign up to be business owners to get relief from the government," or concessions from a landlord.
He maintains licensed stylists and barbers go through more rigorous training in sanitation than other fields, far more than in restaurants, and questions brands that today are making much noise about their enhanced sanitation methods. "I'd give caution to the brands promoting their new-found cleanliness. That raises the question, what the hell were they doing before?" he said.
Does he think he'll be a target with the lawsuit? "Absolutely. I want to put a target on my back," he said, even though intentions can be misconstrued. "You're greedy, You're Scrooge McDuck," people thought when he wanted to open early. But to him, opening means survival. "Every single day that goes by will be one day harder to recapitalize and reopen," he said.
"Now that we have revenue, I have something to work off of." Those still closed, "they're pushing a dead, stopped car. You'll see a further divide" between the open and the not.
Milton believes he has no time to lose. "If I don't learn something every day, then someone's going to learn it instead," and he refers to the founder of Sport Clips, the industry's franchise giant.
"One of the best competitors is Sport Clips. Gordon Logan has a degree from MIT," while Milton has a high school diploma. "I'm up against a genius with 1,400 stores," he said. "So, I have catching up to do."
---
 Yousuf Ali, second from left, with his staff.
---
The Optimist
"There's a lot of opportunities to lease. I have a realtor working overtime for me." —Yousuf Ali, franchisee, My Eyelab
The first thing Yousuf Ali did at his My Eyelab franchise in Dallas was cut his household expenses to essentials only. He paused insurance on two cars, since he and his wife weren't going anywhere, anyway. They canceled two international trips.
"My lawn service, pool service, cleaning service," gone. "I had to clean and vacuum   at home. We had to buy a vacuum cleaner," he said with a grin, fully aware those items are not necessities.
"My wife and I sat down. We need to take care of our associates and rent," they decided, and nothing more.
Born and raised in Pakistan, Ali went to college in New York City and returned home afterward. Twenty years ago, he moved the family to Dallas. "The ability to express and the freedom. Freedom of expression, freedom of religion," are the ideals he most values in America.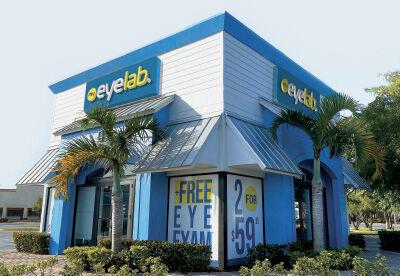 After a career in direct marketing, working for someone else, he decided to buy a franchise and got busy researching. An elegant man wearing a sharp, dark suit as he leads a brisk tour around his store, Ali found My Eyelab to be "very interesting." One, it was billed as a recession-proof business, "and it proved it in this environment." Two, "I've hesitated with food businesses, it seems to be more volatile.
"What really excited me, I defined them as a technology company that happens to do eye care," he says about My Eyelab, which uses refractionists and eye doctors who are independent contractors to do exams remotely. "We don't get close to patients," he said, an obvious boon once COVID hit.
"No one had foreseen this. Even during the peak of shelter-in-place, we kept open," he said. He reduced the number of hours; allowed only one patient in at a time; did not admit companions—those people who come to help pick out glasses—but rather encouraged customers "to take a selfie and send it to your loved one."
"We were down to 15 percent" of typical revenue," he said. "We lost 85 percent. For four to five weeks, we just hunkered down." He retained his four full-time employees but reduced part-timers from four to one. He also received a Paycheck Protection Program loan, which covered two and a half times his monthly payroll, in the first wave of the program. "I have a good banker, a small community bank," he said about that feat.
That was then. Since late May his store has been fully open. "We've come back with a bang," he said. "We've seen 25 percent over our normal business" pre-COVID, and that's across the board, over the chain's 165 stores. "I thought I was super genius, but we're all experiencing this."
Why? "A lot of people are using the stimulus on their eyecare," he said. "People are getting a second pair, or my 'fun' pair, too."
He believes consumer demand will come back strong, but it will be different from before. "I'm very optimistic. People will come out," and if they've been sheltering in place, they haven't been spending on travel et al. "We'll spend money on personal things: dental work, eye care, hair, cosmetic surgeries," he said.
The problem now is people, and it's also the barrier to his expansion plans. "We had a hard time recruiting. I wanted to write a letter to the governor," asking him not to extend unemployment benefits.
The hourly rate at his store is $12 to $16, plus people get commissions and "spiffs," or weekly bonuses based on four to five specific goals to reach. He also holds quarterly "fun" days for staff.
He is actively looking for sites now, with hopes to open a second and perhaps third location by the end of the year. "A lot of retailers are closing down. There's a lot of opportunities to lease. I have a realtor working overtime for me."
Ali, who bought into My Eyelab a year ago for $450,000 and expects a return in three years, said he's excited for his next chapter, although he prefers a baseball metaphor to a bookish one.
When deciding to buy a franchise, he thought: "I'm on the last inning" of his career. "I said let's do something for my tenth inning that I can be proud of."
He never got rattled by the pandemic. "No, I was not freaked out. One thing I knew, COVID was temporary, and if we're able to sustain ourselves for those months, when it's lifted, we'll fly. We will literally fly," like that baseball hit out of the park.
---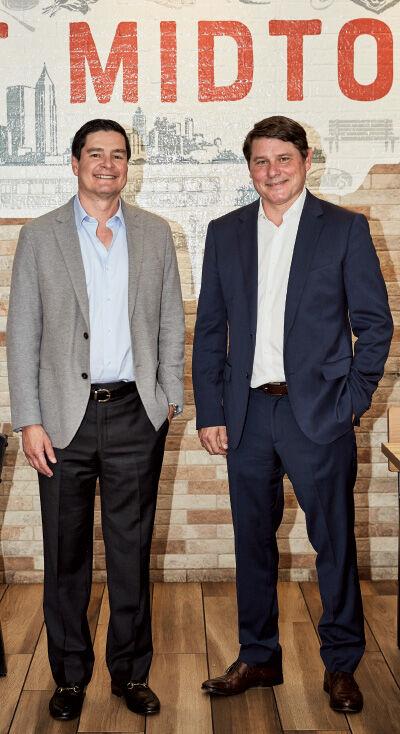 The Cautious
"We feel like we don't have control any more. We just try to do our best." —Guillermo Perales, CEO, Sun Holdings
You don't get to more than 1,000 restaurants generating more than $1 billion in sales each year, as Guillermo Perales of Sun Holdings has, by being meek.
But when reaching the Dallas-based mega-franchisee by phone on June 9, after he canceled the in-person interview and photo shoot scheduled for two days later, he sounded both dejected and stuck, two adjectives likely never before applied to Perales.
"We have most of the Golden Corrals closed," he said quietly, and his Cici's Pizza stores, too, both buffet concepts. "Our McAlister's were way down, 50, 60 percent" at first and "now they're down 10."
"Our Burger Kings also took a dive. Arby's took a dive for two or three weeks, so they've bounced back to flattish," he said. Popeyes was performing the best, on the strength of its new chicken sandwich.
"You just have to deal with everybody, lenders and vendors," he said. "When you're used to getting X amount of money in a month, and that gets cut by 30, 40, 50 or 100 percent, how do you pay your suppliers? We work with negative capital."
"Our office is closed, nobody's there. I go there to catch up, but even our accounting people, with the social distancing, I think there might be only 10 people and they take turns," he said. "I'm trying to figure out when we're going to reopen, or how we're going to do it."
Perales and Sun Holdings opened the group's 150th Popeyes restaurant in July 2019 in its home market of Dallas, bringing the company's store total to 1,000 across nine brands spanning food and retail, Franchise Times reported last fall. There's 293 Burger Kings to go along with the 150 Popeyes units, plus 94 Arby's restaurants, 20 Golden Corrals, 31 Cici's Pizza locations, 18 Krispy Kremes, 160 T-Mobile stores, 80 GNC stores and 10 airport restaurants.
Another 144 restaurants came from Sun Holdings' purchase of Tex-Mex chain Taco Bueno in January 2019. Also last year, Perales struck a deal with McAlister's Deli to buy 51 restaurants and development rights for 47 new units. The two deals garnered Perales a Franchise Times Dealmakers of the Year award in 2020.
He hasn't renegotiated the terms of his deal with McAlister's. "Will we change it? We'll wait and see," he said. He had just opened or was about to open three of those restaurants as COVID hit. "We do have 10 projects where I'm kind of rethinking there. I want to make sure the new ones do have either a pickup window or drive-thru, so we can be there if it happens again. Everybody says by November, October, we might have a second round."
Operating amid COVID has been the worst. "When this hit and we were 60 percent down, it was pretty bad. It was rough, very rough," he said. "You just don't know how things are going to react. We had been looking at other casual dining and other concepts, and others like the buffet was down 100 percent, or others down 80, 70 percent, it was difficult. Now that we're kind of back to flat—we're still not flat—it's better.
"But it's pretty scary when you lose so much because it puts you in very difficult financials."
Is this the toughest time in his career? "Yeah, definitely, especially because you don't have any decision ability. The first three/four weeks, it was really scary."
When stimulus checks went out, "people start spending money," he said. "Once the unemployment checks stop going out, there are 20 million without work. Will the consumption stop? Are we going back to less consumption?"
He said his lenders, landlords and suppliers gave him deferrals. "A lot of the bigger landlords and the lenders, everybody's worked with us. Every single lender was able to say, three months deferral, some capital neutral, some with interest. Everybody's playing fair," he said. "We don't have anybody breathing down our neck and saying 'Hey, pay up, pay up.'"
Now his greatest problem is Golden Corral and Cici's, because neither concept has opened. "Landlords are starting to get very upset, so the pressure is on those." His other brands are mostly recovering. "At least we're above water," he said.
How long that lasts depends on many factors, most of them out of his hands. "If the consumption stays, we will have a good recovery. If the consumption goes down and we get hit again, it could be problematic," he said. "We feel like we don't have control any more. We just try to do our best."
---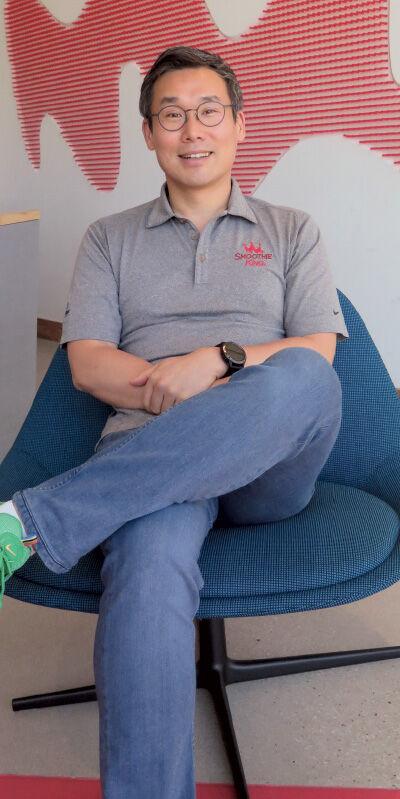 The Opportunist
"If there is any great M&A opportunity, we would engage private equity. We'll see. We'll see." —Wan Kim, CEO, Smoothie King
On March 3, 2020, Smoothie King did not have any revenue from online orders, said CEO Wan Kim, a surprising admission in an era when most quick-service restaurants are rushing toward such tactics.
"We put out our digital platforms March 3. Our digital sales before March 4 were zero," said Kim. Earlier attempts to start a system had foundered, in large part because a new point-of-sale system was plagued with technical problem.
One week later, and Kim & Co. were in full COVID mode. "We assembled a team called ERT, emergency response team," he said. "We met every day and weekend, lots of work, for 80 days."
When I showed up at Kim's headquarters location in Dallas on June 11, he was surprised to see me in person—he thought the interview was to be over the phone. The last time we met was 2013, when the master franchisee from South Korea, who had built 130-plus stores there, had just purchased the storied brand from its founder and moved his family to its New Orleans headquarters.
At the time, Kim was grappling with an often cantankerous group of franchisees who liked things the old way, under Steve and Cindy Kuhnau. Kim spoke to the group at their annual convention, sometimes struggling to be understood with a heavy accent, rolling out big changes like a new logo but vowing to remain in New Orleans in order to keep longtime employees. Within months he bought naming rights to the sports arena, home of the NBA's Pelicans, slapping the Smoothie King name on a much-photographed venue but also raising questions about the cost.
But vexed by inefficient travel arrangements and an inability to attract talent to New Orleans, he said, by 2018 he moved to Dallas, in offices with groovy chairs, colorful accents, and that splashy logo displayed on the wall.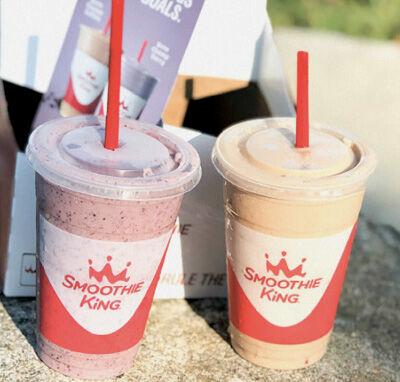 His office displays sports paraphernalia, including a giant black sneaker with gold accents from Anthony Davis, formerly with the Pelicans but now with the Lakers. So they still have naming rights? "Yes, it's a contract," Kim said.
After a 50 percent drop in systemwide sales when lockdowns began in March, he said, things were looking up. So far in June, sales were up 10 percent from a year ago, and digital sales made up 14 percent of revenue, up from the aforementioned zero. "Chipotle has 23 percent. It's one of the best of the best in digital sales," Kim said, and his brand's new goal is 20 percent by the end of the year.
To get there quickly, Kim sent out his marketing and operations team "to experience a few brands," and see "how their curbside and delivery" worked. So they were sleuthing?
"No, benchmarking," he replied with a laugh. "We liked the experience of this brand, but not that one," he explained, and they'd meet once a week to compare notes and adjust what he calls their "digital experience."
Why is it working well now? "First of all, we are now focusing on it. Now we have a dedicated team and things are moving, and third, we put measurements around it and shared them with franchisees."
Perhaps more important, his team is talking about the philosophy around digital sales, not just the tactics. "When people choose the digital experience, it's for two reasons: 1, convenience and 2, safety. It's not about what service we offer, but are we offering convenience and safety, peace of mind? It didn't matter what we were offering but why."
Smoothie King has close to 990 domestic stores and 165 international—those stores in South Korea that Wan owned but sold to a friend. He's not focusing on international any more, he said. "I really think this country has a lot of potential. We can be the prettiest brand, so people want to come and dance with us."
He attributes the strong growth to several factors, chief among them the development of an overall mission. "Our vision, we want to be an integral part of every person's health and fitness journey," he explains. "When I bought the company, we were selling snacks, we were selling treats," he said. Today, "It's not flavor-driven," citing a new keto smoothie and a HIIT smoothie, which stands for the popular fitness approach of high-intensity interval training.
"It took four years," he said about creating a clean smoothie blend, free of artificial ingredients, gluten-free and GMO-free. "In two-thirds of the product we took out added sugar. It was really, really difficult. We had to change every single ingredient in our kitchen, about 150" in all. "In the beginning, our franchisees were against it."
Why? "It was more expensive. They were afraid—What if regular Joe doesn't like it? We finished it by 2019," and asked franchisees, "Do you want to go back? They said no. Our same-store sales indicated" it was the right move. Sales and unit growth averaged 15 percent for six years straight, he said.
Last year, Smoothie King bid for Jamba Juice, but was the "second runner-up" to Roark Capital, who put Jamba under its Focus Brands umbrella. "We thought about bringing in private equity this year, before COVID-19. Today the stock market crashed," he noted. "The point is, the market is not stable.
"If there is any great M&A opportunity, we would engage private equity. We wanted to buy Jamba Juice. We'll see. We'll see."
As for those franchisees who were skeptical when he first bought the brand, their relationship now is just like a family, fights and all. "I tell them always we have love and hate going on. I do believe, they do respect at the end of the day, we were able to manage it. In the last four years we opened 100 stores per year, 60 percent were opened by existing franchisees.
"Whenever we don't agree with each other, there's hate," he said. "I always try to make the best decision for the system, not for me, not for Texas, for the system."
---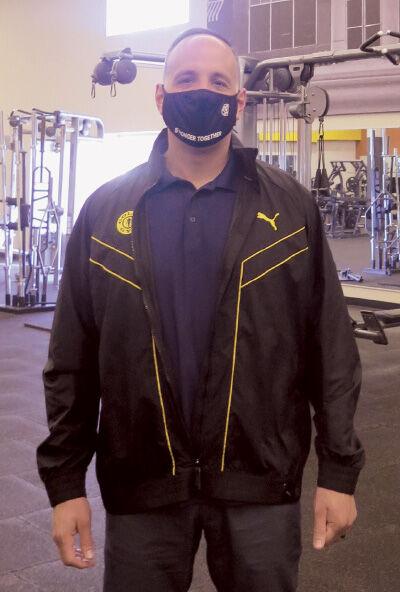 The Restructurer
"You kick and scream and claw and fight your way back." —Adam Zeitsiff, CEO, Gold's Gym
It's 7:30 a.m. on a Thursday in June, and the Gold's Gym in Richardson, Texas, is already humming with customers in a 32,000-square-foot gym with a spinning studio, a functional training area, a group exercise room almost ready to reopen, and a pool. Six-foot spacers are on the floor, all the staff (but not the customers) are masked, and large hand sanitizer dispensers are everywhere.
"Gold's has that body-building history, but we built it for everyone," says CEO Adam Zeitsiff, tall and lean and wearing a mask himself while sporting a Gold's Gym/Puma co-branded black tracksuit.
His job to restart is extra challenging, because Gold's Gym filed for Chapter 11 bankruptcy protection in May, listing about $50 million in debt. "I've never been through it before. It's a challenge," he said. "We weren't going to need to do this except for COVID. We wanted to guarantee the longevity of the brand."
Zeitsiff came to Gold's as CEO in February 2019, when the iconic brand had 130 corporate stores, many of them in trouble. "We're going to refranchise half of these," he decided, with private owners TRT Holdings. "We got halfway there. We got 31 refranchised and had 30 to go, the more difficult ones," and the chain counts 60 company-owned and 610 franchised stores today.
On March 16 they shut down the company, and filed for Chapter 11 on May 4. "This was a preemptive strike," he said. "It scared the bleep out of me, not only COVID but the restructuring. It's scary when you're at the helm of a brand."
"I don't use the 'B' word," Zeitsiff said with a rueful laugh, adding his PR agency advised him to say "restructuring through the court process." He acknowledges that consumers may think Gold's is not coming back, and franchisees may think the same. "We called every one of them," he said about domestic franchisees, before filing, and the international operators, too. The latter had more questions, especially in Japan, which doesn't have a bankruptcy process like in the United States.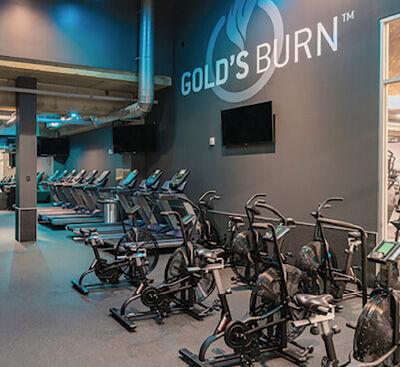 The root problem at Gold's was "the significant number of clubs that had lost a lot of money. It's not just the cash drain, but it's the liability of the leases," in some cases 10 years long. Chapter 11 limits the length of the liability, so if there are eight years left on a lease, for example, the most the debtor can be liable for is 12 months.
"It's an education I don't want again," he said about Chapter 11, but added, "Our job is to protect the brand."
Gold's Gym started with a tiny shop on Venice Beach, California, 55 years ago, that attracted devoted body builders in a bare-bones setting. "We just call it The Mecca," he said about that gym.
California gyms were allowed to open June 12, and The Mecca was set to open the following week.  Zeitsiff was thinking about flying out for the grand reopening. "It's going to be cool," he said. (By mid-July gyms in most of the state were forced to close again.)
The Mecca today is "huge. It's very busy. It opens at 4 a.m.," he said. "Arnold Schwarzenegger is still there four to five days a week," and he takes out his phone. Right before the pandemic, "I worked out with him. It was certainly surreal. He has a very specific workout."
Was he able to hold his own? "You certainly don't have a competition with Arnold, but I was able to keep up." He shows me a picture, with the former governor of California and "Terminator" legend wearing a gray T-shirt and counting down reps for Zeitsiff. His chest is enormous, I remark. "I know, He' still pretty jacked," Zeitsiff says.
Angel and Willy Banos are the brand's largest domestic franchisees, in California. They furloughed 98 percent of their workforce and went to all the landlords to get relief. "They've been using digital content. They're doing the same as we are," Zeitsiff said about franchisees. "You kick and scream and fight and claw your way back."
Zeitsiff praised the government's response. "Here in Texas, Gov. Abbott did a great job laying out his plan. We were well prepared. He gave us notice," he said. Then he jumps up from his seat, socially distanced at 10 feet away from his interviewer. "There's a problem with this mirror. I want to take a picture. You always have to be aware of quality assurance," he said, then sits back down.
"For us, the safety of our members and team members is first," he said. "Nobody wants to shut down, but at the same time we have to think of people first."
"The way to go is to collaborate and work together," he said. "If anyone says they have a playbook for this pandemic, they're lying."
On July 14, RSG Group of Berlin said it would buy Gold's Gym, and Zeitsiff vowed to emerge from Chapter 11 by July 30, which he believes is ahead of other brands that may be teetering financially but have not yet filed.
"If we were parked for 60 days, we're already in second gear," he said. "We're going to get our foot back on the gas."