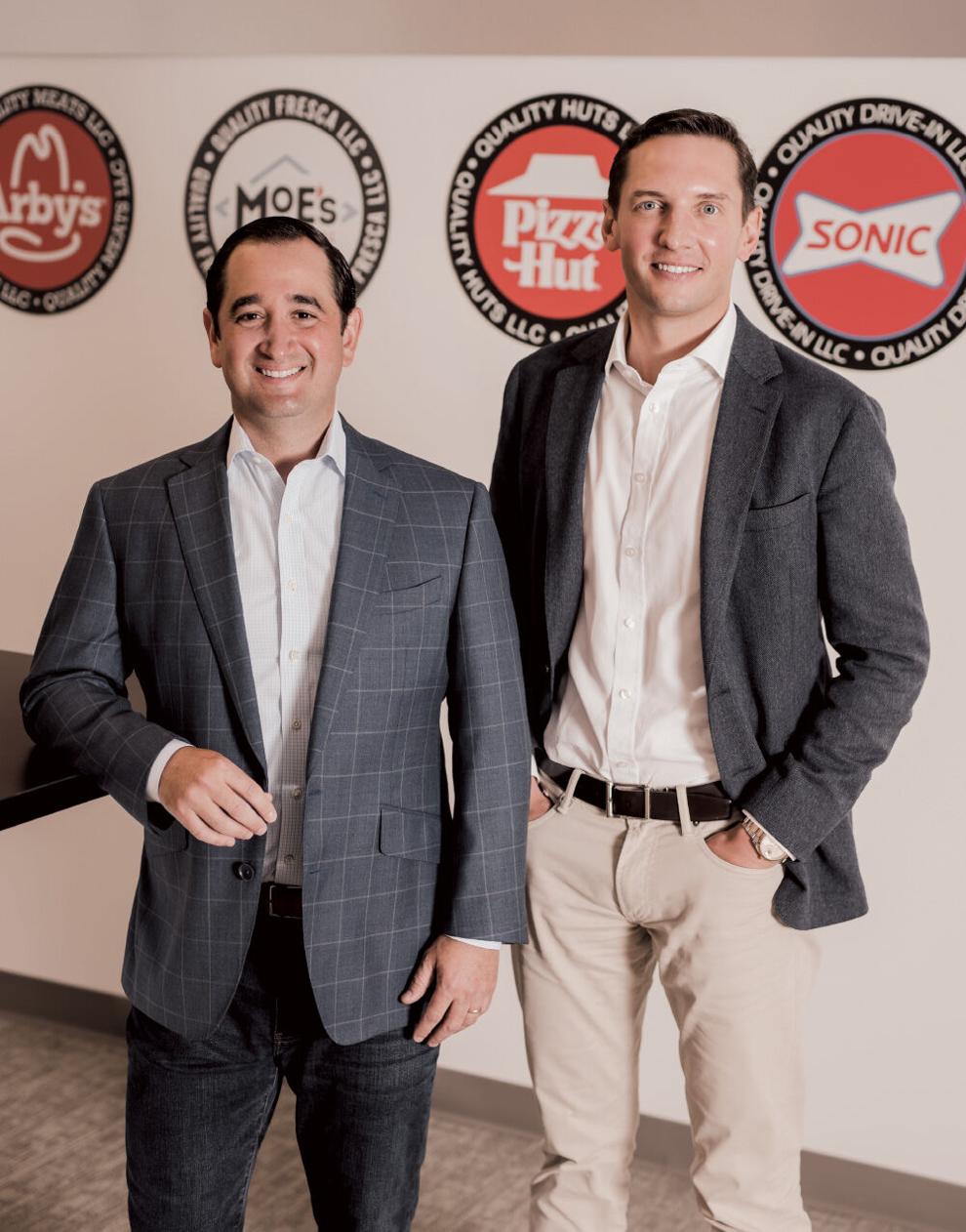 What would you do if you could create the ideal restaurant operating company? What would it take to get there? How would it actually work?
That's what Matt Ailey and Matt Slaine began chatting about over drinks in 2017. The friends of nearly 20 years woke up not with hangovers but a real drive to build from scratch a franchise company that matched the opportunities and met the challenges of the quick-service restaurant space.
"That's exactly what our vision is, word for word," said Slaine, the CEO of Quality Restaurant Group. "Our vision is to be the best private restaurant business in the franchise restaurant space."
Today, Slaine and Ailey, Quality Restaurant Group's founder, are talking about the future from their new company headquarters in Greensboro, North Carolina. Four years in, they have 190 Pizza Huts, 64 Sonic Drive-In locations, 67 units in Moe's Southwest Grill and 27 Arby's restaurants with more to come. The company landed at No. 38 on the Franchise Times Restaurant 200 list after growing by more than $130 million, to $300 million in annual sales to finish 2020. (See the full ranking and analysis on pages 30-38.)
Perhaps unlike a pair of typical buddies dreaming up ideas, Ailey and Slaine have the business acumen and access to the resources necessary to take a real shot at their idea of a scaled, talented, multi-brand operating company. Ailey has a deep background in private equity, even helping Yum Brands spin off Yum China while he was at private hedge fund Corvex Management. Prior to that, the 34-year-old worked at buyout giant Blackstone. During his career, he specialized in roll-ups, acquiring assets in an attractive industry and scaling up to the point where a business is appealing to top talent.
"At a very high level, what we have tried to create is a business that is a better operator and has more talent—whether it's because we can attract or retain people—and can be a best-in-class operator across multiple brands. In order to do that, we made a bet on scale. We said that the more resources we can provide, the better we'll be able to operate," said Ailey.
He saw in the restaurant space a fertile ground for a new kind of operating company, a roll-up of the many family-owned franchises looking to sell.
"You look at the restaurant business, QSR especially, in terms of family business, there were just a lot of opportunities for various families that were on their second, third or fourth generation and they were no longer interested in pursuing that and they were looking for an exit," said Ailey as he described the market opportunity for QRG's quick succession of acquisitions.


Slaine, 37, also has a background in finance, with stints at Deutsche Bank and Goldman Sachs. In 2017 he was still at the helm of his former company, marketing and events business Progressive Business Media. The company was on track to be acquired and Slaine was pondering what would come next.
"The timing of both of our professional lives, as well as personal, was really interesting and the brands we were focused on were interested in bringing on new types of franchisees who had scale," said Slaine.
Soon after leaving Corvex, Ailey founded GenRock Capital, raising $183 million from institutional investors, mainly family offices, with the ideal restaurant company goal in mind. The fund was purpose built for long-term restaurant investments like Quality Restaurant Group, so far its only investment. Ailey had seen just about every scenario in the M&A world, but to scale as fast as the restaurant roll-up thesis required, he had to embrace a flexible restaurant acquisition strategy.
The vision required scale enough to be partners of consequence with the franchise brand, which in turn created a serious balancing act. QRG needed brands in which it could quickly amass units, didn't compete with each other and had enough locations available to buy at sensible multiples.
"I think our flexibility in approaching these deals is critical; no two deals are the same, no two families are the same. There's always various pieces that are different, nothing is ever clean," said Ailey. "Especially in multi-generational businesses, their lives are mixed into this business. We've closed a lot of deals, but only because we're able to be flexible and can bring the families and the dealmakers along with us."
He said that's exceptionally important when working with longtime operators who are selling a family business—it's emotional, it's complicated and some of the deals that added up to 350 restaurants were not exactly hot commodities.
One more wrinkle for the strategy: neither Ailey nor Slaine had restaurant-operating credentials. Instead, they represented a new breed of operator, the savvy business generalists with access to capital seeking a strong cashflow business.
Digging for deals
"Especially as new franchisees and people that didn't come from the restaurant business, we had to kind of dig under rocks. Frankly, we bought assets that others might be afraid to buy," said Slaine of QRG's willingness to undertake complex transactions and smaller deals other strategic buyers might not want to hassle with.
In 2017, Quality Restaurant Group made its first acquisition, 66 Pizza Hut locations in the Chicago area. That was followed in quick succession by three more acquisitions of similar size to bring the nascent company very quickly to nearly 200 Pizza Huts. From there, the dizzying pace only accelerated.
The acquisition in October 2020 of 62 Sonic Drive-In locations from franchisee MVP Sonic Group highlights how Ailey and Slaine would go the extra mile for the right brand. Sonic represented a further expansion into the Inspire Brands network to complement the company's Arby's locations after it bought 27 stores in four states in 2019. At the height of the COVID-19 pandemic, the two went to meet with the sellers in person and talk it out while other bidders video chatted in from their home offices. Ailey said that personal connection cut out a lot of back and forth.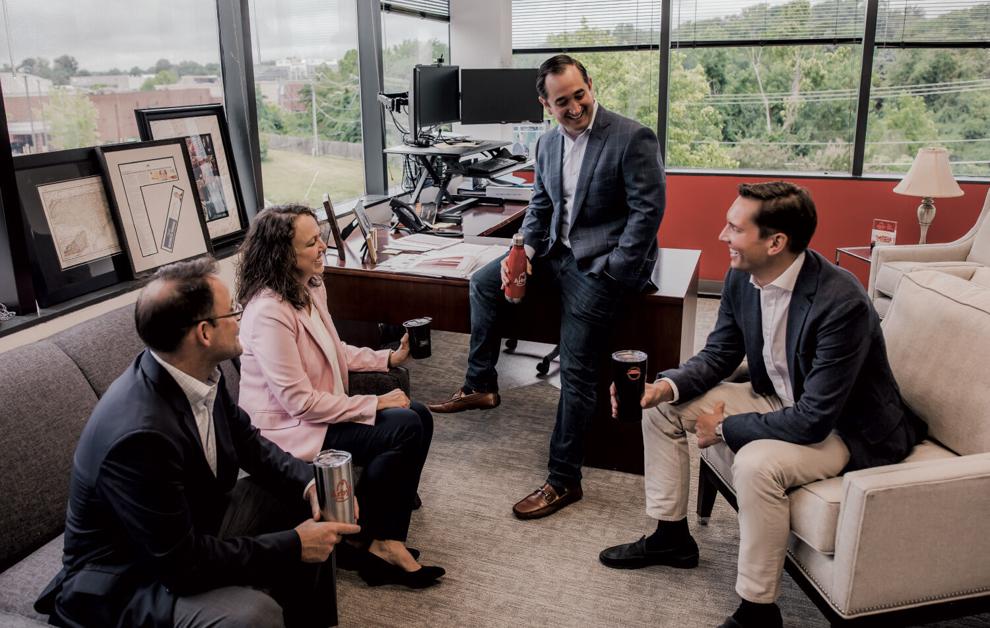 The 67-location acquisition that made QRG the largest Moe's Southwest Grill operator illustrates the group's flexibility. Four sellers came together to bundle their locations and get a better deal from strategic buyers. It worked for the sellers, but it also meant four times the emotion, complexity and personalities. It also came just as COVID-19 began to hit the U.S., and the restaurants shut down just days after the deal closed.
"Hardly anyone would have hung in there with the transaction. Kudos to Quality Restaurant Group, they had a lot of fortitude," said investment banker Rick Ormsby who worked on the deal for the sellers. "They were willing to put up with the personalities of all the different sellers."
On paper, those transactions added up to a nice number, but as Ailey explained it, those stores were just functioning as assets under his charge, without the management to go with them.
"We put together a collection of assets, but we didn't have management," said Ailey. "I certainly didn't have the skillset to do that."
That's where Slaine came in. Having built his prior company over six years with culture at the forefront, he knew how to develop a people-first organization. He officially came on board as CEO in 2019 as QRG expanded beyond Pizza Hut with its Arby's acquisition. Slaine's chief goal was to scale the operations and talent as the assets stacked up.
Amassing expertise
"I've always been a believer that culture eats strategy for breakfast. If you have the best M&A strategy but you can't operate it, it doesn't matter," said Slaine. "Step one is having the right people in operations; we're going to live or die by operations."
He and the company hired star leaders with deep restaurant backgrounds. The company was built to attract those people, grab them with the grand vision, give them some of the upside and grow with the group.
Among those key leaders are Don Dalton, the chief operating officer of the Pizza Hut division dubbed Quality Huts; Chris Grooms, vice president overseeing Quality Fresca, the Moe's division; Jon Bentley, VP overseeing Quality Meats, the Arby's division; and Jason McNeill, VP overseeing Quality Drive-In, the Sonic division.
They all joined between 2019 and October 2020, expanding the leadership capabilities as aggressively as the location count.
Slaine beamed when he talked about how smart and experienced the brand leaders are, but said the positive culture is the glue that holds it all together. One example of that ongoing focus: every meeting starts with "words of the good" or recognition of company accomplishments. Company retreats are also coming back after a pandemic pause, and there is a lot of idea sharing across brands. The brand leaders themselves said it's an engaging challenge to keep up with growth alongside other great executives.
Dalton, a longtime Red Robin exec, said when he came on board there was still plenty of work to be done, including some heavy lifting after those initial Pizza Hut acquisitions.
"We have four different markets, each one was purchased in turn, in quick succession. When I joined, they were all in place, but they still had the residue of the old owners," said Dalton of the restaurants in Baltimore, Chicago, Indianapolis and Pittsburgh.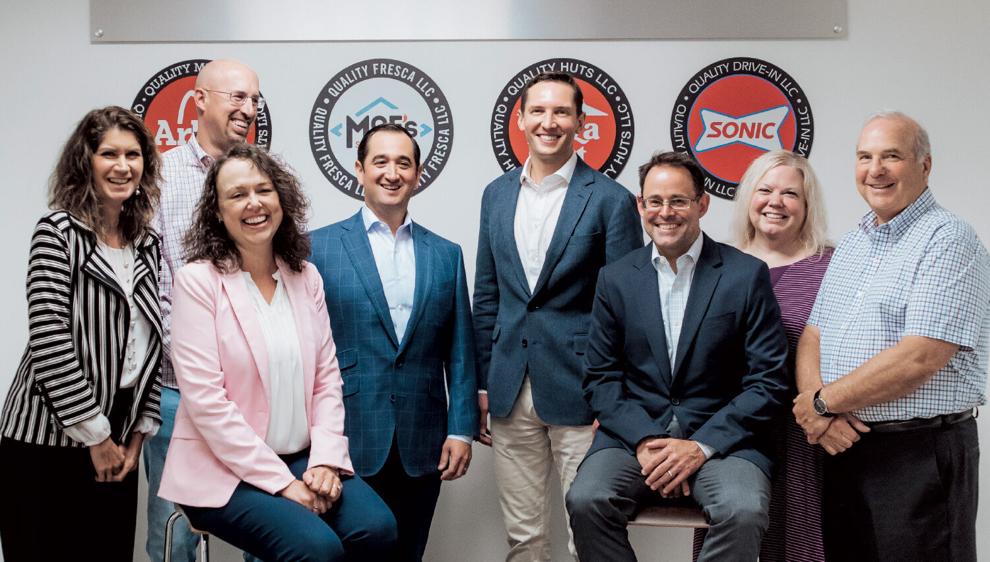 It wasn't necessarily a bad residue, but when any operator controls a business for a few decades, their quirks are reflected in it, for better and worse. Corners might be cut, staffing might be slim, maintenance deferred, plus all the other hallmarks of a lack of new investment.
The first step was reinvesting in the businesses, fixing the methaphorical leaks and replacing duct tape with new parts, then bringing in tools that leaders such as Dalton used operating Red Robin's corporate restaurants. It took money and smarts to reinvigorate, but Dalton said the culture was paramount.
"We implemented systems, but the first thing we did was combine the culture: mission, vision and values," said Dalton. With that set up and Slaine on board, "we were able to fine tune those under Quality Restaurant Group. Now we're one of the top franchisees and I work closely with the people in the brand to make sure that we're all aligned."
Bentley, who was director of operations for the Arby's locations since 2004 and stayed on after the acquisition, said the investments were palpable in the day-to-day operations. He saw both sides of the ownership coin and said he appreciates the investment in best-in-class tools that he can use to improve sales and operations.
"I would say the analytics side was most impactful, being able to actually dig deeper into what's going to make us successful in the future. Before, we had two partners. One was doing new growth and the other was our bookkeeper," said Bentley. "We didn't dig in as much into dayparts and what was going to grow the business. That has been instrumental in moving us forward."
Grooms, meanwhile, was drawn to the vision of a growth-minded company, and the potential to flex his own leadership skills. He now manages a small executive team overseeing marketing, catering and human resources inside the Moe's division, plus eight district managers.
Grooms spent more than 16 years at Steak 'n Shake before he worked in operations at The Krystal Company, and joined a few months prior to QRG's large and complex Moe's transaction. He brings a deep set of skills in operations learned while cross training his way up the ladder—restaurant-specific skills and experience that Ailey and Slaine didn't have.
Grooms said the growth potential attracts store level talent, too, and he's seen the opposite scenario before: small operations may as well hang a dead-end sign on the interview room wall.
"I've interviewed maybe thousands of managers in my career. One of the disadvantages of a small mom-and-pop operation are the limitations. There might be a manager with a lot of tenure as a ceiling," said Grooms. "We have the opportunity and the career trajectory of a large organization. We had our first intercompany transfer about seven weeks ago. We had a manager move from a Pizza Hut to a Moe's in another geographic location."
The company also created a key position along that career ladder to keep store leaders engaged: the senior general manager. The role is what Slaine called a "training ground for multi-unit leaders" that teaches the skills necessary to manage five or 10 locations, such as time management, delegation, analytics. Those aren't things one typically learns between putting out fires and directing hourly staff in a single restaurant.
"We found that gap was so huge. It lowers the risk for them and for us. And they already know if they like it or are good at it. If they don't like it, we're happy to bring them back to a store," said Slaine. "In January of 2020, we formalized the program. Six months later, we have 30 senior GMs."
As every single operator, Quality Restaurant Group included, scours the earth for in-store leadership, keeping 30 of them engaged, learning and growing their career is almost priceless.
As for the final piece of the grand vision—partnership with the brands—it's already working. As the largest operator in Moe's, the company has numerous seats through committees and associations. Quality Fresca serves as a testbed for new products and tools, and helped work through curbside pickup, grocery programs and other COVID-19-era pivots.
The partnership mentality is the same across other brands: QRG works closely with the franchisor, gets a little extra insight and brings valuable feedback to the brand. With more growth ahead, the close alignment also makes each rotation of the roll-up easier for brand gatekeepers to approve.
So how close is Quality Restaurant Group to creating the ideal operating business? Pretty close, its leaders say. But as the QSR space continues to consolidate, a key question is if the company's reputation for getting deals done and being a good steward of acquisitions will set it apart from a competitive field of equally aggressive peers. In year four and with 350 restaurants, Ailey and Slaine's vision seems like it's quickly coming into focus.
---
The GenRock Connection
Private equity isn't a novelty in the franchised restaurant space, but GenRock founder Matt Ailey said his private investment firm does a few things differently. For one, the overall roll-up strategy requires an unusually close connection with the operating company.
"You really have to understand the business; you're expanding the team as you build the company," said Ailey. "So, it's really a partnership. I think that's the piece that makes it so closely aligned."
Describing the process, Ailey said before finance chief Matt Zeiger joined, he and Slaine were the de facto CFOs. And before Slaine joined, Ailey and the company's board functioned in the CEO role. They also had to figure out the rest of the systems.
"We spent six months standing up payroll, financial systems well in advance of actually owning anything because it didn't exist and we didn't buy any of that. We bought restaurants and that's it," said Ailey. "It's different than buying a big company and saying, 'We trust you and we'll show up at a quarterly board meeting.' You just can't do that with a roll-up."
He said while GenRock remains a separate entity with parallel motivations and wasn't founded to only support Quality Restaurant Group, it's "very close" compared to the typical private equity investor.