Dressed in a pleated white dress with blue and red stripes, her wrist adorned with a sparkly silver bracelet and smart watch, Adenah Bayoh sat at a corner booth inside Cornbread and chatted with one of her cooks as employees prepped to open. She's splitting time between the fast-casual Southern comfort food restaurant she opened in Maplewood, New Jersey, in 2017 and her IHOP restaurants, a challenging balancing act but one that Bayoh has seemingly been preparing for since childhood in Liberia.
Bayoh developed her early business skills in the market of her village, Foya, where as a 6-year-old carrying bread baskets she would lower her prices at the end of the day to make the sale and empty inventory. Civil war forced her to flee Liberia when she was 9, and after living in a refugee camp in neighboring Sierra Leone, she immigrated to the United States at age 13. "Full of energy," she started babysitting and doing neighbors' laundry, even volunteering at a hospital because she was used to being busy.
"I think if I were to sum it up, when I came here, I was in a 13-year-old body, but mentally I was 18 or 19, honest to God," Bayoh said. "I was very serious from a very early age. I knew what I wanted, and I wasn't gonna get distracted by the noises around me. I was going to use every resource afforded to me to do great things."
Bayoh got her start in the foodservice industry working at McDonald's as a teenager. Fast forward a decade or so, and she became one of the youngest IHOP franchisees in the country at age 27.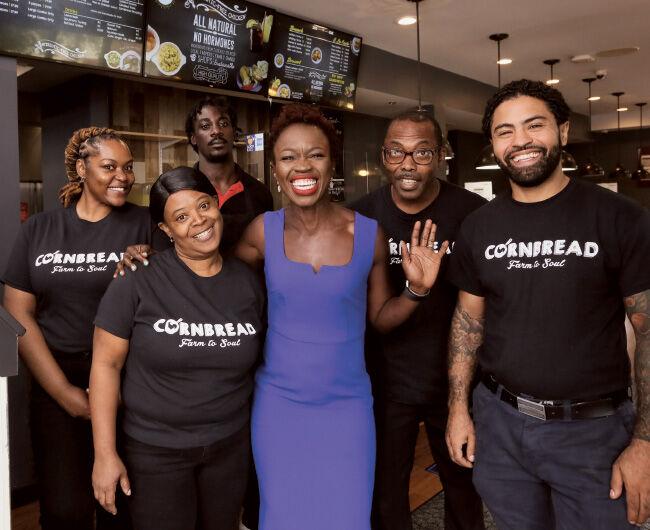 Obstacles abound
"IHOP was a 'being called into your destiny' kind of thing," Bayoh mused. While at New Jersey's Fairleigh Dickinson University earning a bachelor's degree in business management, she and a few friends would regularly visit their local IHOP and stay until closing time.
After graduation, Bayoh returned to her parents' home in Newark before buying her first house in Irvington. She worked in banking, and with experience managing her grandmother's properties in Africa, Bayoh began investing in multi-family homes.
"At the time, I remember Irvington as a beautiful, bustling city," Bayoh said. "When I came back from college, most of the white people had left and it was predominantly African American and Latino communities, suffering from a lack of investment."
Bayoh quickly took note that Irvington, with a population around 50,000, didn't have an IHOP, or really any national franchise or chain in the community except McDonald's and Popeyes. Frustrated, she wrote a letter to the mayor at the time, Wayne Smith, who asked her to meet to check out an old diner in town that was for sale. Bayoh owned roughly 10 properties by the time she met the diner's owner, an elderly Greek man who had worked there most of his life. During their meeting, she was taken aback.
"The striking thing about the diner was that at some point in that diner history, Black people weren't allowed to eat in there," Bayoh said. "When I went to meet with the owner, he looked at me with, for a lack of a better word, disgust. He looked at me in judgmental disbelief. 'Who's this little Black girl? She can't buy my restaurant.'"
Bayoh, deeply hurt by the experience, told the owner she would buy the diner and write him a deposit check for $25,000 right then; her lawyer would be in touch to figure out the details. She ultimately purchased the building for $1.2 million and later asked the IHOP owner in Newark if he wanted to develop the space, to which she received another negative response.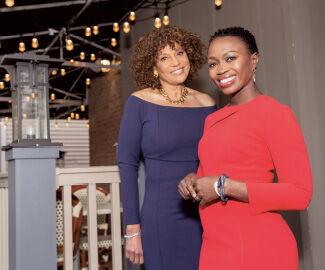 "He said 'no, you're wasting my time, Irvington doesn't have the population to support it.' He spoke to me matter-of-factly, annoyed and disgusted, and my emotions took over. I said, 'if you don't wanna do it, I'll do it and show you.'" Bayoh contacted IHOP corporate the next day to fill out a franchisee application.
Yet another roadblock came up when IHOP said no, Bayoh didn't have enough restaurant experience. That's when she called Nicole Durham-Mallory, the brand's franchise coordinator.
"I said, 'I know you said the committee said no, but by the way, let me tell you a little more about this community and myself,'" Bayoh recalled. "In the midst of striking up that conversation with Nicole, she got a bigger picture to the vision of what I wanted to do, and she said, 'Listen, here's the committee feedback—that you'd need a lot of hand-holding, and that an existing IHOP is too close by—but I can bring your name back up and ask them to interview you personally and see how that goes.'"
Bayoh got the interview and sold the committee on herself and Irvington.
"I expressed, there is a community where if we give them the same chance, the same investment as we do with other communities, this community can be successful and pay off," Bayoh said. "That was my in. They bought in, and it was expensive and they made me pay every step of the way, but we did it."
Bayoh received many more nos along her journey, including from seven banks that said no to financing her until what was then GE Capital Franchise Finance agreed. Finally, Bayoh's first IHOP opened in 2007. Within three years the restaurant was the highest-grossing and fastest growing IHOP in the Northeast, and she's since added two more in Paterson and Newark.
Her fourth IHOP is in development, and Bayoh's stores are exceeding the system's $2 million annual average gross sales mark.
"For me it was very important for that IHOP to be successful, because I knew there would be so many more Adenahs coming through that door," Bayoh said. "I wanted my success to make that decision easier for the next person coming through."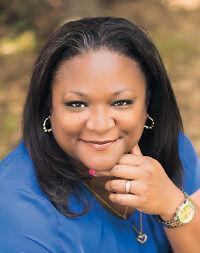 From mentee to mentor
Bayoh kept in contact with Durham-Mallory, who IHOP promoted to director of franchise development.
"There were no Black female franchisees. There was no pathway, so I had to create my own path and playbook," Bayoh said. "Nicole has been great and is someone who has worked on their humanity. Being a young person in this industry, I was fortunate enough to be at a franchise that was patient with me and kind to me. It's been a good relationship, and the anchor of that for me has been Nicole."
Durham-Mallory coached Bayoh in everything from "always do your homework" to learning how to move forward without dwelling on the past. The most important lesson, however, was patience. "You don't have to develop five to 10 stores. Develop profitably so you'll be able to look back and see that your stores are an example of who you are," Bayoh said.
"Also understand that Nicole is another Black woman, and my success is heavily a reflection of her. That has been very interesting in the sense that I'm in a space where someone that looks like me has played a part in where I'm sitting today. So it's kinda like, what do I do with that now? I do the same thing."
Durham-Mallory started as an administrative assistant at IHOP in September 2000 and worked for several people who mentored her and taught her the franchise business.
"I think 20 years in corporate America as an African American woman says a lot about the kind of company IHOP is, and I wouldn't have it any other way," Durham-Mallory said. "They nurtured and helped to grow me."
Because of that experience and knowing how it impacted her, mentoring others became part of Durham-Mallory's approach when interacting with franchisees. When she first met Bayoh, she was impressed by the woman's passion and drive.
"She was well-spoken, charismatic, caring and carried herself well. I want you to know that I'm so very proud of her and proud of the woman she is, the leadership she's displayed and how she's represented the IHOP brand," Durham-Mallory said. "She is a pillar in her community, gives back, is selfless and caring and just a wonderful human being. I love her honesty and devotion."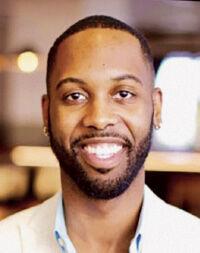 Bayoh's actions back up that glowing reflection of character, Durham-Mallory said. At one point, Bayoh inherited a financial burden and took on debt that wasn't hers, yet she took care of each issue "with grace and dug in deep so she could continue to grow."
When the pandemic first hit, Bayoh fed families for free every day of the week, even when her restaurants were taking a large hit and couldn't be open. "She invited people to come eat food for free because she understood the impact COVID was having on the community around her," Durham-Mallory said.
"Being an African American woman in a system that did not have any African American women franchisees, and just being able to have longevity and be successful in that, is a demonstration of her character."
Bayoh also lists Oprah Winfrey as a mentor, albeit one she's never met or spoken with, but contended that someone can mentor you from miles away, even through a screen.
"Every corner of my life, I've had people pour into me," Bayoh said. "I had teachers who have gone above and beyond for me, career mentors far and near … Now I'm in a space where everybody in my organization, I want you to thrive to be the best you, either with me or somewhere else."
One person Bayoh took under her wing was Luis De La Cruz, who started in her restaurants as a busboy. He'd been studying criminal law when a marijuana offense ultimately got him a five-year prison sentence in New Jersey. Halfway through incarceration, De La Cruz went to live in a halfway house and his counselor arranged an interview with Bayoh.
"I took my bus and met her at the Irvington IHOP. I was extremely nervous after Googling her. I thought, 'this lady is never going to hire me, why would they send me here?'" De La Cruz said. "I still had to sleep in the halfway house and I had all these restrictions—but it was the shortest interview I've had in my entire life. She said there was something about me."
On his third day at Cornbread, De La Cruz accidentally threw out a whole pot of peach cobbler while trying to help the dishwasher. A week later, Bayoh held a store meeting and asked him to continue doing one thing: taking initiative anytime he saw something that needed to be done.
"Coming out and working for Adenah, I had a point to prove because I was in a halfway house. I was dispensable at any moment," De La Cruz said. "Even though other employees weren't more talented than me and didn't work harder, they were just free and had that advantage over me. That bothered me, so I worked harder than everybody."
As his release date approached, Bayoh asked De La Cruz what he wanted to do. He planned to move back to New York, but Bayoh gave him the option to stay on at Cornbread and help open another store in Pennsylvania, even offering up one of her rentals for him to stay in.
"By giving me the option, she gave me the plan but never forced me," De La Cruz said. "It was definitely stressful to the point where I wanted to give up multiple times, but I had worked too hard to give up…After going to prison, time is the one thing you can't get back or buy, so you start to value it more."
Bayoh said when she first met De La Cruz, she saw an energetic young guy who did his job with integrity and pride, so she pushed him out of his comfort zone. She moved him from busboy to the kitchen, then promoted him to kitchen manager, then pushed him out to general manager and eventually to district operations manager for all Cornbread stores.
"One time I called myself a criminal in front of her, and she got more offended than if I would've called her that," De La Cruz said. "She really showed me that my past doesn't define me, and made me believe more in myself."
Joseph Knight, who started working at a different IHOP in 2005 at age 15, met Bayoh at Fairleigh Dickinson University in 2010. After Bayoh spoke on a panel and said she owned an IHOP, Knight told her his goal was to open his own location. That's when Bayoh asked Knight to come work with her. The two became business partners in 2014 to open a new unit, and Knight also helped open up two more stores. He also expanded his role from managing partner to include director of operations and finance.
"Adenah is a great speaker and leader. I learned everything from her and would follow her around that restaurant like a toddler," Knight said. Bayoh opened up her business playbook to him, Knight said, allowing him to learn how to get funding and manage finances.
"That was a really important piece of me developing into the person I am now. She really taught me that kindness will take you anywhere you want to go, being fair and kind to employees and coworkers," he said. "When I first met her, I was a little rough around the edges, I won't lie. I was figuring out how to overcome my obstacles. Throughout the 10 years Adenah and I have worked together, there have been a lot of obstacles, but the most important lesson I learned from her is you can never let anything get you down."
Though Knight stopped working with Bayoh in August to explore other franchises, he wants to create the relationship he had with her many more times in his career. "I want people to look at me and say, Joseph pushed me to be better and believe in myself," Knight added.
To this, Bayoh said she believes in karma, and if she can help anyone or make their life better, she's going to do it.
"I also believe that in the restaurant space, too often we don't pour a lot into the people who work for us. We see them as bodies, and I wanted to do it differently," Bayoh said. "I think that to whom so much is given, so much more is expected, and that's how I've lived my life, not taking anything away. The world goes in a circle."
Creating Cornbread
Though her plate was full running the IHOP restaurants and managing a real estate portfolio of mixed-use developments and urban renewal projects, Bayoh noticed the need for a soul food concept in the national restaurant landscape.
"I had gotten so sick and tired of the rap soul food was given, that it was this unhealthy thing and not good for you. It was all lies and wasn't my experience with soul food at all," Bayoh said. "I am someone who believes in integrity of ingredients, and that food should be nourishing. I wanted to create a space people can come experience that and combat all the negativity of soul food. And if you look at the history of soul or comfort food, it's an emotional food."
Bayoh partnered with friend Zadie Smith, who brought the scratch cooking experience, to create Cornbread. Bayoh looked to her ancestors in Liberia and how they cooked yams, mac and cheese, collard greens, cabbage and cornbread to influence the menu.
"I wanted to go back to those basics from the farm and have wholesome veggies when you came to Cornbread, plus the best cornbread you're ever going to have," Bayoh said. "I wanted to put that out in the community. Enough of the basic fried chicken joint; I wanted to put something together where families can come together and thrive over a healthy, good tasting meal in a beautiful environment."
Bayoh opened the first Cornbread in Maplewood in 2017, then added two inside of Walmart stores in Pittsburgh. She plans to open another in downtown Newark this year, and hopes to franchise the brand within the next two years as part of her mission to provide more franchising opportunities to Black and brown entrepreneurs and women. Bayoh cited a recent report from the Institute for Policy Studies that predicts by 2053, the median wealth for Black Americans will fall to $0 if current trends continue.
"When will we address the things that stop us from creating generational wealth?" Bayoh said. "I think one of the unique things about Cornbread is that it's not only an amazing restaurant, but we give back. We work with formerly incarcerated youth, and we think the best way to empower people is to give them economic opportunities."
In response to the pandemic and rise in anti-racist activism, Bayoh grieved how COVID-19 has wreaked havoc on small businesses and disproportionately impacted communities of color. According to APM Research Lab, Black Americans continue to experience the highest actual COVID-19 mortality rates nationwide, more than twice as high as the rate for white and Asian people.
"This has been a really difficult time in the industry and my community, but nevertheless, I find myself being very hopeful and optimistic, because I think for the very first time in this country, we're seeing not just Black people suffering, but all of us are in this together," Bayoh said. "We're all speaking up for each other, and it's fulfilling to see the gratitude and magnitude of empathy among us."
"Vulnerability has been so OK during the pandemic, and we've all found ourselves in touch with our humanity to survive this. We need each other more than we thought before, and we're finding out this brought us more together, not economically, but I think as a society. We're seeing that things that divide us are so little versus the things that bring us together."