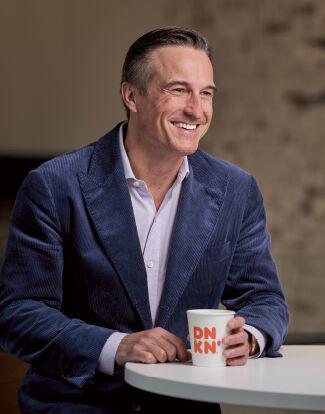 When Inspire Brands set out to purchase Dunkin' Brands Group in what would be an $11.3-billion take-private deal, there was one big wrinkle: "It started with, it wasn't for sale," deadpans CFO David Pipes.
Pipes is the straight-talking financial whiz who has helped to drive four acquisitions worth $18 billion total in three years for the Atlanta-based umbrella company. The latest, named the Franchise Times Deal of the Year by a panel of staff and outside judges, is so significant it gets even Pipes hyped up. "It's huge," he says.
Then he counts some of the ways. "They've got over 20,000 restaurants and $11.5 billion in systemwide sales," plus 10 consecutive years of same-store sales growth.
Before, "Inspire Brands was 2 percent international, but with Dunkin' it takes us to 29 percent. It opens the door for further expansion internationally, but not just of Dunkin' and Baskin-Robbins. They clearly have the better infrastructure."
Dunkin' Brands has 15 million loyalty members, a boon for Inspire.
He adds one more benefit that only a finance chief could love: "The franchise unit mix is 80 percent before the acquisition but up to 93 percent combined with Dunkin' Brands, in a much improved cash flow conversion ratio," Pipes said. Both Dunkin', with 12,500 restaurants, and Baskin-Robbins, with 8,000 restaurants, are 100 percent franchised.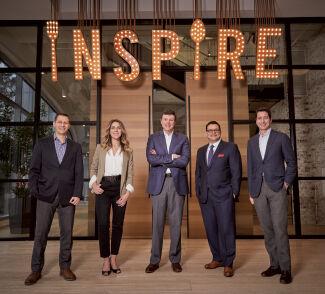 Those restaurants now join five other brands under the Inspire flag, backed by private equity franchise mega-firm Roark Capital. Arby's was the first, purchased by Roark in 2011. Then came Buffalo Wild Wings and Rusty Taco, Sonic Drive-In and Jimmy John's. In October 2020 Inspire announced its bid for Dunkin' Brands and closed on December 15.
Inspire Brands is now the second-largest restaurant company in the United States by system sales, with $26 billion, nearly 32,000 restaurants, 3,200 franchisees and more than 25 million loyalty members, according to the company.
Inspire's purchases started out small—$2 billion, then $3 billion, before this $11.3-billion whopper, Pipes said, allowing the company to perfect its methods and prove the thesis that restaurant chains were better off under its umbrella than alone.
The track record came in handy when getting investors and assembling the finance pieces for the deal. "We didn't have $11.3 billion lying around," Pipes says dryly. But Roark Capital put in additional equity, and Barclays led the debt financing push.
"We were very successful because we had a good story," Pipes says from Inspire's conference room in Atlanta. "We sat in this room for three days, and started dialing for dollars," meaning presenting the opportunity to investors. "We were oversubscribed in terms of what we needed, and that's where you want to be."
Now comes the hardest part—integrating the Canton, Massachusetts-born-and-bred Dunkin' under the Inspire umbrella. CEO Paul Brown says the process begins early. "It's an iconic brand. It's just a wonderful brand to add," says Brown, looking prosperous in a plush blue jacket and posing for photos in Inspire's gleaming headquarters, purchased in April 2019 and hosting about 1,000 staff members during non-COVID times.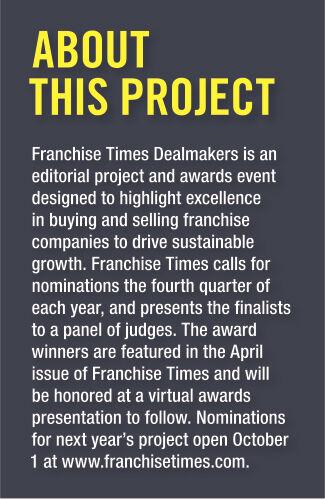 A barista makes Brown's preferred espresso to go into his DNKN cup. Floor-to-ceiling windows let in natural light on the second floor. On the first floor is a large café with brews on tap and a "Timeout" lounge where people can chill. Visited in February, Brown had just been named chairman of the board at Neiman-Marcus, and I asked if he got his striking jacket as swag from the high-end fashion retailer. "No, but I get the employee discount," he jokes.
Brown's discussions with former Dunkin' CEO Dave Hoffmann started just before COVID-19 lockdowns began in the United States last year. By March, DNKN's stock price hit a low of about $39. By October, news leaked that Inspire was offering in the high $70s a share, and by the time the deal closed in December, the price was a hefty $106.50. Did the sweet price convince shareholders to sell? "That helped!" agrees Pipes, but more important was Inspire's track record.
"If you're a board of a public company, you want to leave it in the hands of someone who will continue what you've been doing and frankly make it better. Brands can be better as part of Inspire than on their own," Pipes says. "In the conversations we had with the leadership team there, we hit it off pretty well. They understand what we're trying to do. We're not coming in and stripping off the costs and milking it. We have a lot of plans to make it profitable and make it great" for all the parties.
Brown outlines a rigorous process. "We've been very successful in buying and integrating. We've developed a clear playbook. This will be our fourth integration in less than three years. We have a dedicated team" doing M&A. "This is part of our business model," he says.
"During diligence we start building our integration plan," Brown continues, and once the deal closed "the first step is to validate that is the right approach. Then we set up a joint steering committee made up of legacy Inspire people and the Dunkin' team. We manage the process together." He says it's too early to give details about integration or personnel moves or growth plans; those will be revealed over a 12-to-18-month process.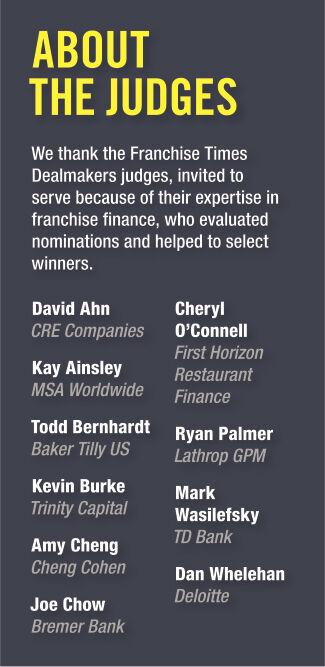 Christian Charnaux, Inspire's chief growth officer, is one of the leaders on that integration team, an unusual role for a development chief but one he thinks is crucial to Inspire's success with acquisitions. Charnaux used to work with Brown when he was a Hilton executive, and in March 2018 was brought in to help drive acquisition efforts, "not only what we buy but how we integrate. You can do cost-out acquiring; you have more of a holding company in nature," he says. By contrast, "we've been investing a lot into the platform. If the brands aren't better together, we're not" doing the job right. "We're building a portfolio of killer brands.
"So unlike a lot of biz dev—'Hey, let's go do a deal'—I'm also responsible for development in the U.S. One of the best indicators is the rate of net unit growth" across the brands, he notes, declining to give specifics.
"Integration isn't done to you, it's done with you," he insists. "Yes, we have a playbook, but it doesn't mean we have all the answers. Collaboration/communication are key," then adding they can say "great things," but "it's the behaviors that matter."
Told the Franchise Times Dealmakers judges were "flabbergasted" the deal closed in 45 days, during COVID-19 no less, Charnaux says, "We were too!" Pipes said a direct tender offer to the shareholders speeded things along. So did the syndication in advance of the term loan led by Barclays.
Many previous investors came on board to the new deal, but 40 percent were new. "We did bring our leverage ratio up a bit, but never to a point we were uncomfortable," Pipes says, declining to give specifics.
"Inspire in general, we are in many ways a start-up company, but a start-up company with brands that are 40, 50, 70 years old almost. It's a neat place to be," Pipes says, adding Inspire seems pretty well set for now. "Literally, as you look at the sizable brands, we have acquired several of them. We don't really need to buy anything else."
Adds Charnaux about another acquisition: "There's not a pressing need or segment. We feel that we have all the pieces we need to be very successful." But this chief growth officer can't help himself: "You don't want to rule it out."
---
Inspire Brands Wins Franchise Times Deal of the Year
2021 Winners Include 10 More Daring Deals: