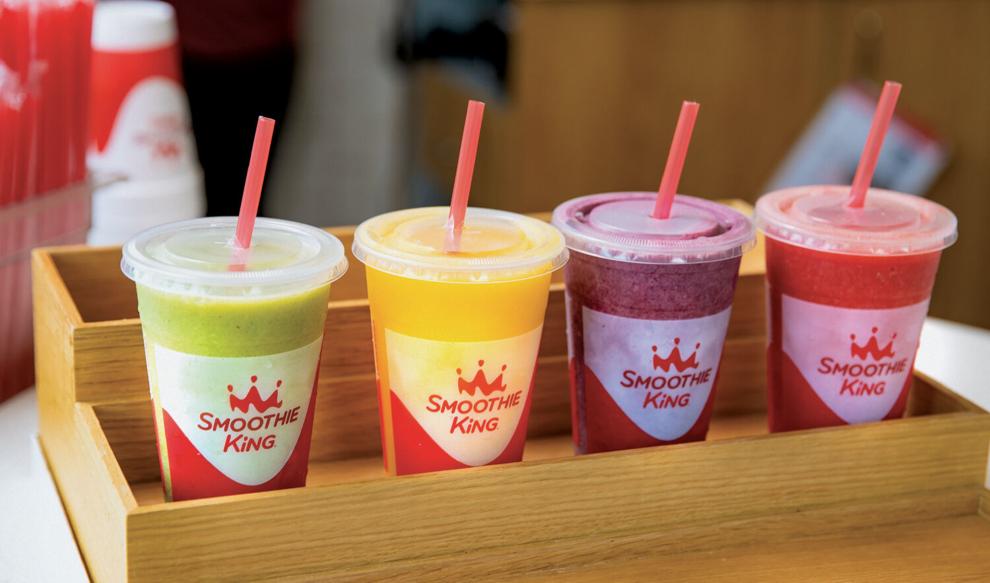 Winner: Smoothie King
Finalists: Gong Cha and Robeks Fresh Juices & Smoothies
Eric Grush had been working at his dad's Smoothie King store for 15 years, seven as general manager, before making the leap to open his own location, in 2013. "I always felt like I could do it on a larger scale," said Grush, who added he "didn't want to be a manager forever" but his dad wasn't motivated to open more stores.
Now Grush is well on his way to that larger scale. He and business partner Brett Lawson started with one unit in the New Orleans metro before adding four in Birmingham, Alabama. Their store count grew again last fall when they acquired the three Smoothie Kings in Murfreesboro, Tennessee, and another in Birmingham.
While his dad "had his own way of doing things," success in the system, said Grush, comes from sticking to the model, following brand guidelines and keeping costs in line. "Operationally, we have some pretty good systems in place. We're very diligent with our labor and our cost of goods, which are two things key to the business," he said.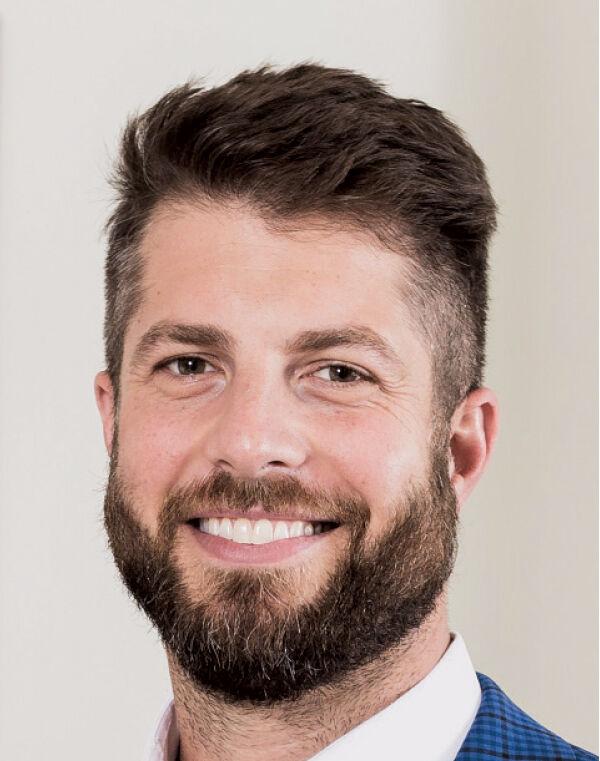 Employees are held accountable to customer service and quality standards, and with unit growth Grush said he's been able to offer career opportunities beyond a part-time job.
"We went through a period where we were losing people because growth wasn't happening fast enough," he said. Now he has assistant managers and GMs at each store, plus regional directors as his operations stretch across three states.
Grush's two drive-thrus are top performers, each with sales of $1.3 million in 2021. His six inline locations averaged between $550,000 and $700,000—the system average was $521,461 in 2020—while a food court kiosk in an Alabama mall "hit really hard by COVID" had sales of $450,000 last year. Development of more drive-thrus is a priority, he said, but the real estate is harder to come by.
"Inlines also perform well and it's a lower cost to get into," he said. Smoothie King gives an investment range of $268,900 to $555,965 for an inline store, while a freestanding drive-thru carries a cost between $589,300 and $858,900.
The quick rollout of digital ordering and delivery channels during the pandemic has continued to drive sales, said Grush, especially at those inline stores, which see digital volume of 30 to 35 percent versus about 20 percent at the drive-thrus.
Smoothie King hit $497 million in systemwide sales in 2020 from 1,303 total units. While its closing rate is on the high side—15, 21 and 32, respectively, in 2018, 2019 and 2020—it's maintained a strong pace of openings, 99, 87 and 70 in those years.
With that expansion comes development in newer markets such as Birmingham, where Grush wants to build more units and where he's amplifying corporate marketing efforts with his own direct mail campaigns and even billboards.
"To get people to realize we're not dessert, we're a meal, that was a big hurdle for us," he said. It's a brand position the franchisor is also working to reinforce since starting its "cleaner blending" initiative in 2017 to remove artificial ingredients, create smoothies without added sugar and introduce non-GMO fruits and veggies.
Franchisees, said Grush, "saw a pretty big jump in food costs" early on but he credited the corporate team with helping get those costs down.
"It's tapped us into a different group of people that wouldn't have come to us," he said, and more menu innovation, such as the addition of keto smoothies, keeps the brand in step with consumer trends. "The thing I like about Smoothie King is they're always evolving."
Evolution on the technology side, however, has been slower.
"One of the major areas we can improve is our POS system," said Grush, which franchisees can now only access using a desktop computer and which he added needs to "be a little more with the times" in terms of reporting dashboards to give operators better insights into the business.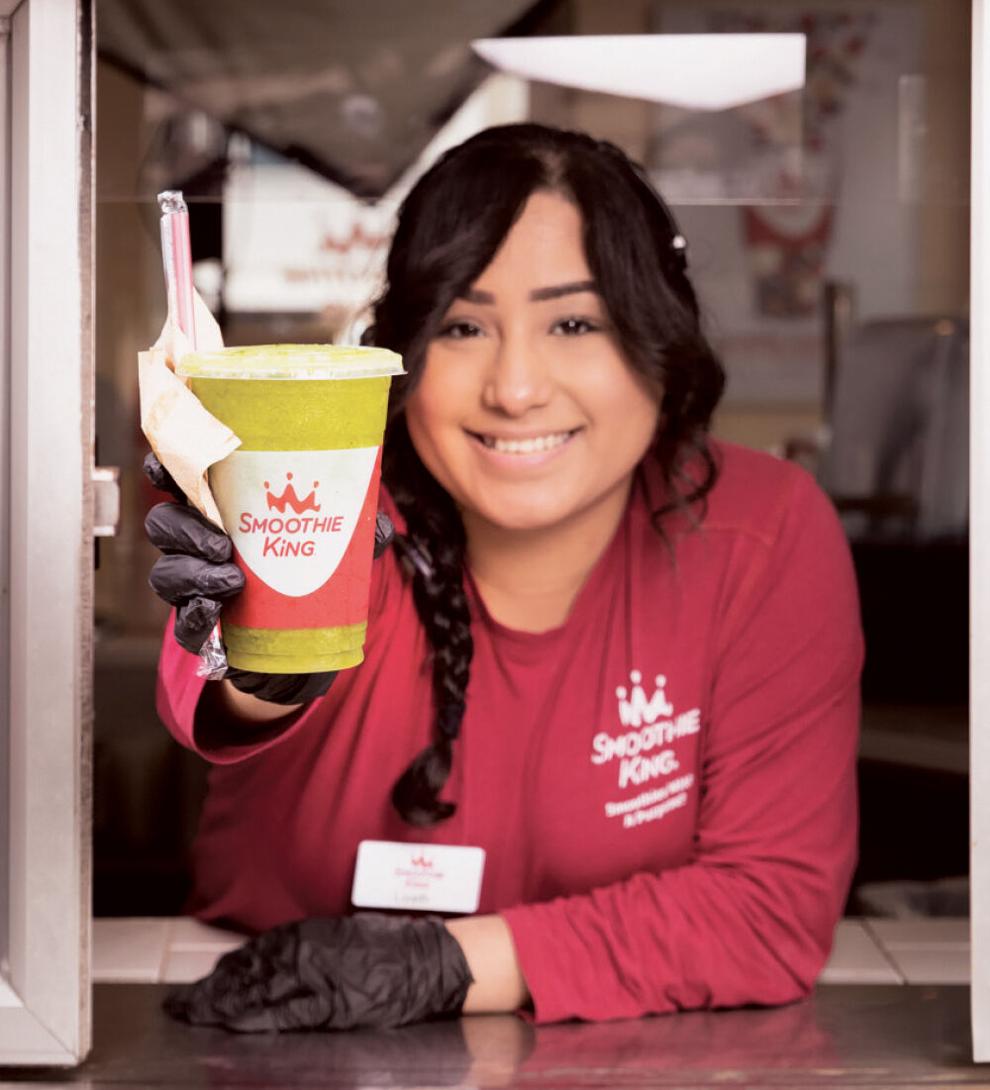 Even with his experience at his dad's store, Grush said he talked with numerous franchisees before signing an agreement of his own and said that's probably the most important thing a prospective owner can do. "And I'm still always picking the brains of the larger franchisees," he said.
Brandon Shamy did the same before opening his first Smoothie King in Hillsborough, New Jersey, in 2008. One franchisee gave him a "true peak under the hood," and Shamy said he was drawn to the concept because of the easy-to-manage inventory, low product waste and ability to operate with fewer employees per store, depending on volume, to maximize profitability.
At the time a recent graduate with a business degree from the University of Maryland and a loan co-signed by his dad, he was also able to get into the system with one store, while other franchises he researched wanted multi-unit commitments right away.
He's grown his unit count to five and is building two drive-thru locations. "My best store does over $1 million and my lowest store does $350,000 … but I can still be profitable off that lower-performing store," he said.
He emphasized the importance of training and setting high expectations for customer service and product consistency early on with employees, something he struggled with. Investing in strong managers, meanwhile, has paid off. Two of Shamy's managers have been with him for 10 years and another for seven, "and I'll do anything I can to have them with me forever," he said.
---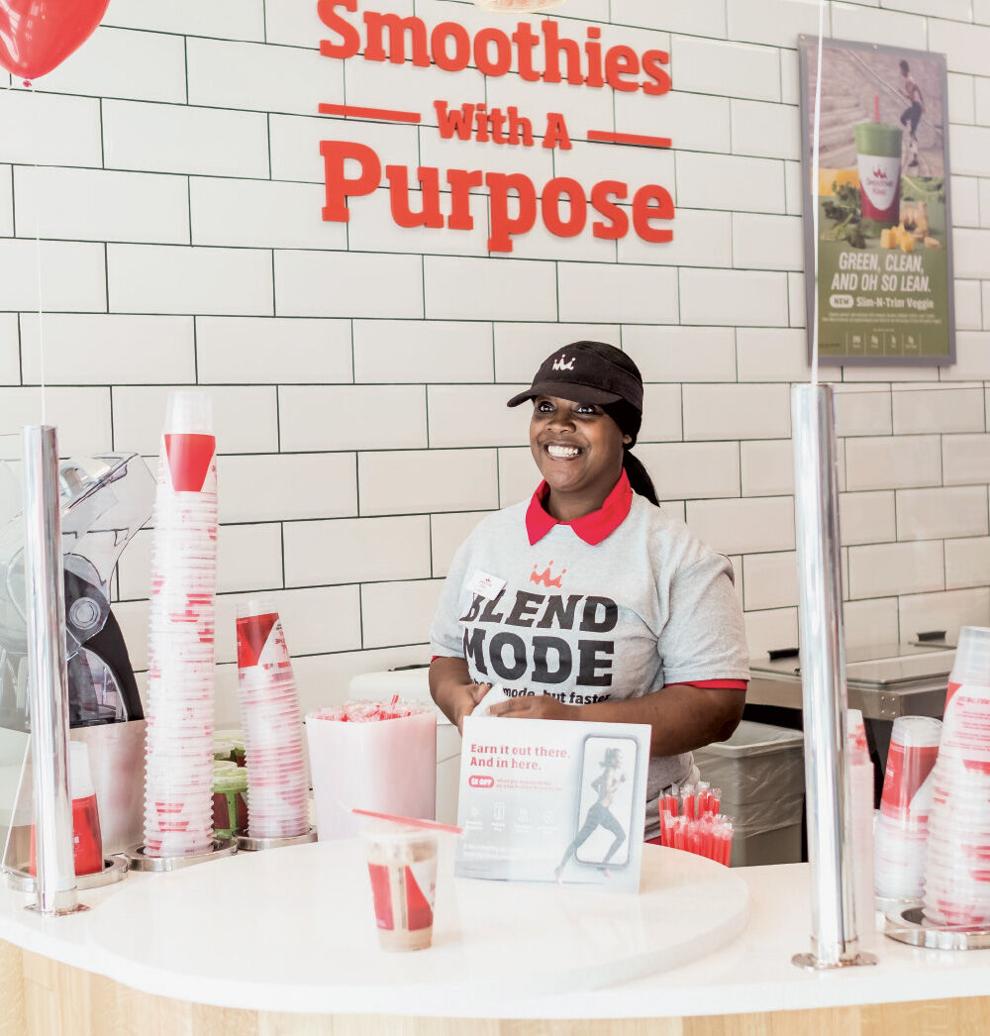 Smoothie King
Positives
Positioned as a lifestyle brand with a fitness/health bent, an evolving menu of Immune Builder blends, keto and vegan smoothies keep the concept on trend.
At 1,300-plus locations, Smoothie King is building the name recognition of a national brand with plenty of growth opportunity in new markets.
Use Caution
The franchisor is playing catch-up with some technology investments and needs to improve its vetting process for suppliers and vendors, franchisees say.
CEO Wan Kim was Smoothie King's master franchisee in South Korea before he bought the company in 2012 and a few years later moved its headquarters from New Orleans to Dallas. Restaurants, many of which have drive-thrus, serve all types of smoothies, from indulgent to nutritional.
---
---

For the Kids
Top Kids Education/Activity Franchises
Finalists: i9 Sports, Soccer Shots, TheCoderSchool

---

Drink Up
Top Beverage Franchises
Finalists: Gong Cha, Robeks Fresh Juices & Smoothies, Smoothie King

---

On the Mend
Top Medical Franchises
Finalists: Fyzical Therapy & Balance Centers, The Joint Chiropractic, Vital Care Infusion

Full Speed Ahead
Top QSR Burger Franchises
Finalists: Freddy's Frozen Custard & Steakburgers, Sonic Drive-In, The Habit Burger Grill

---

Big Haul
Top Junk Removal Franchises
Finalists: 1-800-GOT-JUNK?, Junk King, The Junkluggers

---

Affordable Entry
Top Low-cost Franchises
Finalists: Blue Moon Estate Sales USA, DoodyCalls, Fastest Labs

---

On the Move
Top Mobile Franchises
Finalists: HouseMaster, Pirtek, Screenmobile

Early Risers
Top Breakfast Franchises
Finalists: Eggs Up Grill, Huckleberry's, The Flying Biscuit Café

---

Fixer Upper
Top Home Improvement Franchises
Finalists: Floor Coverings International, Kitchen Tune-Up, Handyman Connection

---

Upstart Adventure
Top Emerging Restaurant Franchises
Finalists: Dog Haus, Happy Joe's Pizza and Ice Cream, Kolache Factory