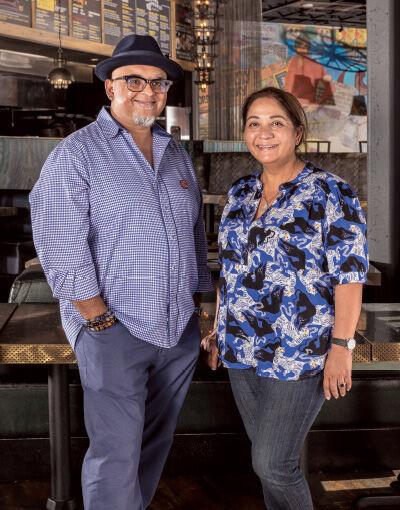 Akash and Rana Kapoor
Curry Up Now
'Death to the sandwich platter'
By Laura Michaels
Akash and Rana Kapoor exchange humorous barbs like the husband-and-wife team they are, married for 25 years and working together for much of that time.
"We tried an enchilada one time—it totally didn't work," says Rana of experimenting with the menu at Curry Up Now, the Indian street food concept they created in 2009.
"That's going to come back, I'm bringing that back at some point," puts in Akash as his wife gives an exaggerated roll of her eyes.
"His brain is running and all I'm thinking is, how the hell am I going to put that on the line. So yes, he's the chief troublemaker," says Rana, referencing Akash's more playful title. His other is CEO, while Rana maintains she doesn't really have a title. "I'll do anything and everything that's required."
Sitting on the patio of their restaurant in San Jose, California, the Kapoors offer anecdotes about developing Curry Up Now from a food truck to a fast-casual franchise in between checking news alerts and texting managers. Gov. Gavin Newsom that day ordered bars to close again as coronavirus cases spiked in several counties, affecting Mortar & Pestle, the craft cocktail lounge side of some Curry Up Now locations.
"Where were we?" says Akash. "Oh, we got really stupid one time and we did Thai curry burritos. The combination of coconut milk, black beans and rice ... it didn't work. And we tried doing a 'curries around the world,' but people were just confused."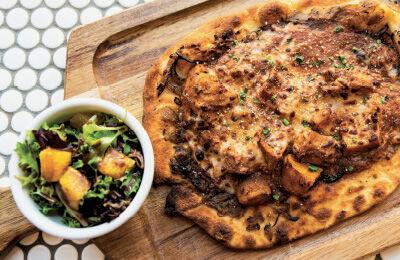 "If it was just Akash, this menu would go on and on and on," quips Rana.
Since coming up with the original food truck menu, the Kapoors continue to lead culinary development for the brand, despite having no formal chef training. Instead, they rely on a mixture of family recipes, draw inspiration from their own travels and don't hesitate to recast traditional Indian dishes with a street food bent.
"We didn't want to just do traditional, just naan or kebobs. Not naan wraps, that was already being done," says Akash, who before starting Curry Up Now ran one of the largest mortgage banks in the San Francisco Bay Area. "We came up with the tikka masala burrito and that's still the No. 1 seller."
Other items such as the Deconstructed Samosa—an inside-out plate of chana masala, pico and chutneys studded with mini samosas—Sexy Fries, Naughty Naan and the latest, a tandoori fried chicken sandwich, illustrate the brand's playful approach to the Indian food experience that Akash says needed a refresh.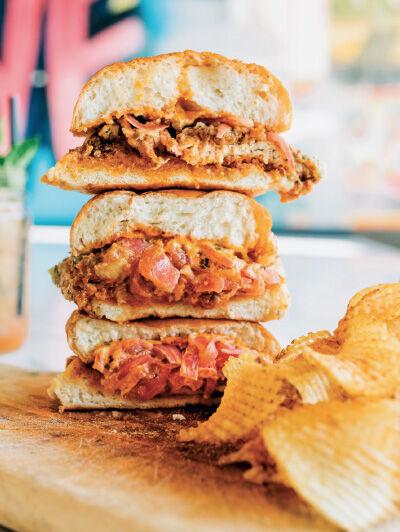 "Everything out there is super stereotypical," he explains, calling out the gaudy golden elephants and brightly festooned Indian princesses that adorn many Indian restaurants. "There's really not much for Indian fast casual, and Curry Up Now is not designed just for the Indian customer. We wanted to make it, and I hate this word, but mainstream. Approachable."
"We mess around with the food and have fun with it," continues Akash, "but the inside, the ingredients, the flavors, we keep authentic. This is not fusion food—we hate that word."
Now in its third year of franchising, Curry Up Now has 11 locations in California, Utah, New Jersey and Georgia, with another 40 in development. Franchisees don't need to hire a chef, points out Akash, and the brand can maintain quality control because 90 percent of the food is produced in two central kitchens and shipped to each restaurant, where kitchen workers handle the final prep of proteins, vegetables and rice.
"We've always run the business like a franchise, even without knowing it," says Akash, referencing the early food truck days where off-site food preparation was necessary given the truck's limited cooking capacity. "We documented everything, had a system for everything."
The Kapoors plan to keep adding corporate-owned restaurants in addition to franchising as they work toward becoming "the biggest and the baddest" Indian street food brand, with Akash adding he thinks Americans are craving this type of food.
"We have a saying, 'death to the sandwich platter.' How many sandwiches can you really eat? How much pizza?" he says. "We think Indian food is next, it's here."

Culinary Q&A with the Kapoors
What's the last thing you cooked at home?
Rana: I made lentils, just at home for the kids. Don't ask Akash what he made. The girls, we have three daughters, they like white sauce, like alfredo, but I refuse to buy the store-bought version. So he made it just with milk and parmesan.
Akash: Actually I used ricotta instead of cream. It's actually creamier.
What's your guilty pleasure food?
Rana: A nice glass of scotch and a bag of chips. Just classic, salty potato chips. Or a nice glass of wine and a good loaf of bread.
Akash: It's usually a nice bourbon or scotch with a good cigar.
If you could have any chef cook you dinner, who would it be and what would you want them to prepare?
Rana: I love so many people … I'd pick Chef Elena Reygadas at Rosetta in Mexico City. I'd have her make the pasta with beet root.
Akash: I'd have Anthony Bourdain come back. Also this chef from India that I know. He just makes tremendous, traditional Indian food.
If you could only eat or drink three things for the rest of your life, what would they be?
Rana: Bread, it has to be bread. And scotch. And I'd want my mom to make me rajma chawal. It's basically kidney beans and rice.
Akash: Sushi, bourbon and the third thing would just be my mom's food. She's a master. My mom is from Kashmir, it's a state in India, and it's just a different type of food.
If you could have any restaurant-related superpower, what would it be?
Rana: I'd be a fairy with a wand and have automatic cleaning. Just 'poof' and it's spotless.
Akash: Hire anybody I wanted to and fire anybody I wanted to. And to make 100 percent of the guests happy.