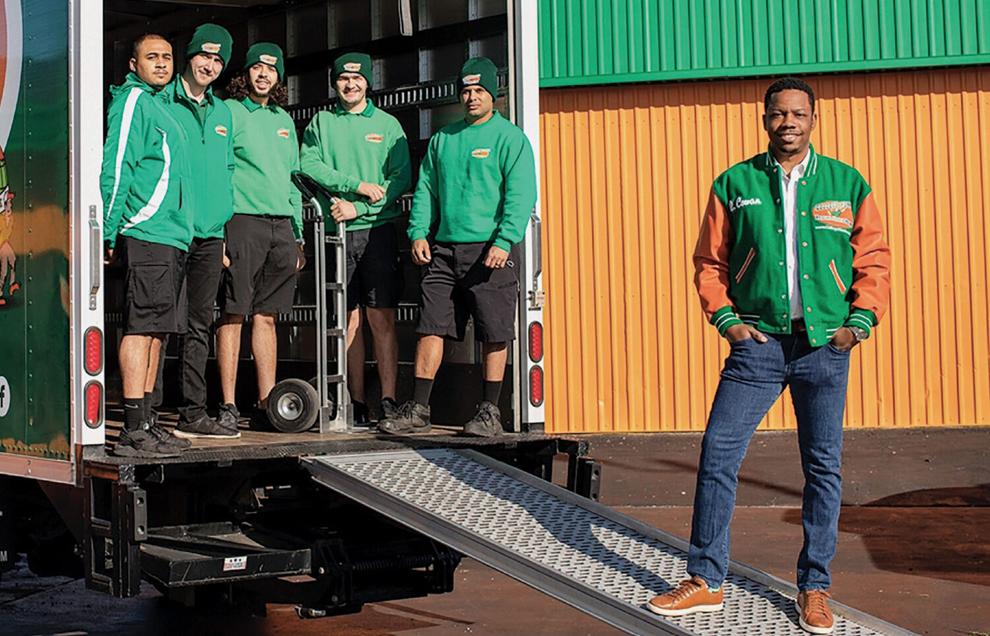 When two college buddies founded College HUNKS in 2003 out of a cargo van, their primary service was junk hauling. It wasn't until early 2010 that they added moving services—which, as of 2020, eclipsed junk hauling and accounted for 60 percent of systemwide sales, said President Roman Cowan.
"Moving was added and came out of the recession back in the late 2000s," he said. "We wanted a way to help drive more revenue to franchisees that was more recession-proof. We've significantly improved our junk removal offering since we added move, but junk has been cannibalized to some extent."
With $150 million in sales last year—a 20 percent increase from 2019—College HUNKS climbed to No. 253 and was in one of the few franchise categories that saw sales growth in 2020. The junk removal segment was up 11.7 percent overall with $621 million in sales in 2020.
College HUNKS (which stands for honest, uniformed, nice, knowledgeable, service) began offering contactless curbside junk removal to accommodate customers stuck at home during COVID-19 who were cleaning out their spaces, but weren't comfortable having anyone inside their homes. The brand also added a customer service portal and updated its website to improve the experience for both customers and the company's booking agents, Cowan said.
"That also freed up a lot of phone and handle time our agents wouldn't typically have had, so they could focus on sales in the call center," he said.
---
"We were thriving while unfortunately many were folding, so when someone was looking for a franchise, we were the optimal, most appropriate franchise to invest funds in."

—Roman Cowan, president, College HUNKS Hauling Junk and Moving
---
Deemed an "essential" business during pandemic shutdowns, College HUNKS decided to be intentional about marketing the designation and showcasing how it tweaked its protocols for customer and employee safety. This ultimately helped "inspire that trust and feeling that we are going to care for your items, we will take care of you and your belongings, animals, kids … communication is what we ramped up on," Cowan said.
The company balanced the increased marketing spend with cost savings from the corporate team working remotely, plus travel was temporarily discontinued.
"Our sales were up, but it's more accurate to say our profits were significantly up, which is more important to us," said Cowan, and "franchisees were significantly more profitable during the pandemic, which is pretty amazing. We encouraged them to take advantage of PPP loans so they were ready."
The biggest hiccups were in recruiting and dealing with supply chain issues, which impacted both parts and labor for manufacturing trucks. The company started working directly with manufacturers to alleviate some headaches.
Despite those challenges, College HUNKS managed to increase by a net 32 locations in 2020 to finish the year with 150. The majority of those units were opened by new franchisees.
"With all due respect to what many of those in other industries faced, like restaurants and gyms, so on, we were thriving while unfortunately many were folding, so when someone was looking for a franchise, we were the optimal, most appropriate franchise to invest funds in," Cowan said.
Candidates, he continued, "were looking and seeing what we were doing with free moves for domestic violence survivors, feeding children, and compared to other franchisors, saying, 'this is the business I want to invest in,' which goes back to the quality of franchisees we originally had in the first place, because they showed a lot of grit and courage to go out and be inspiring hosts on the front lines of the pandemic."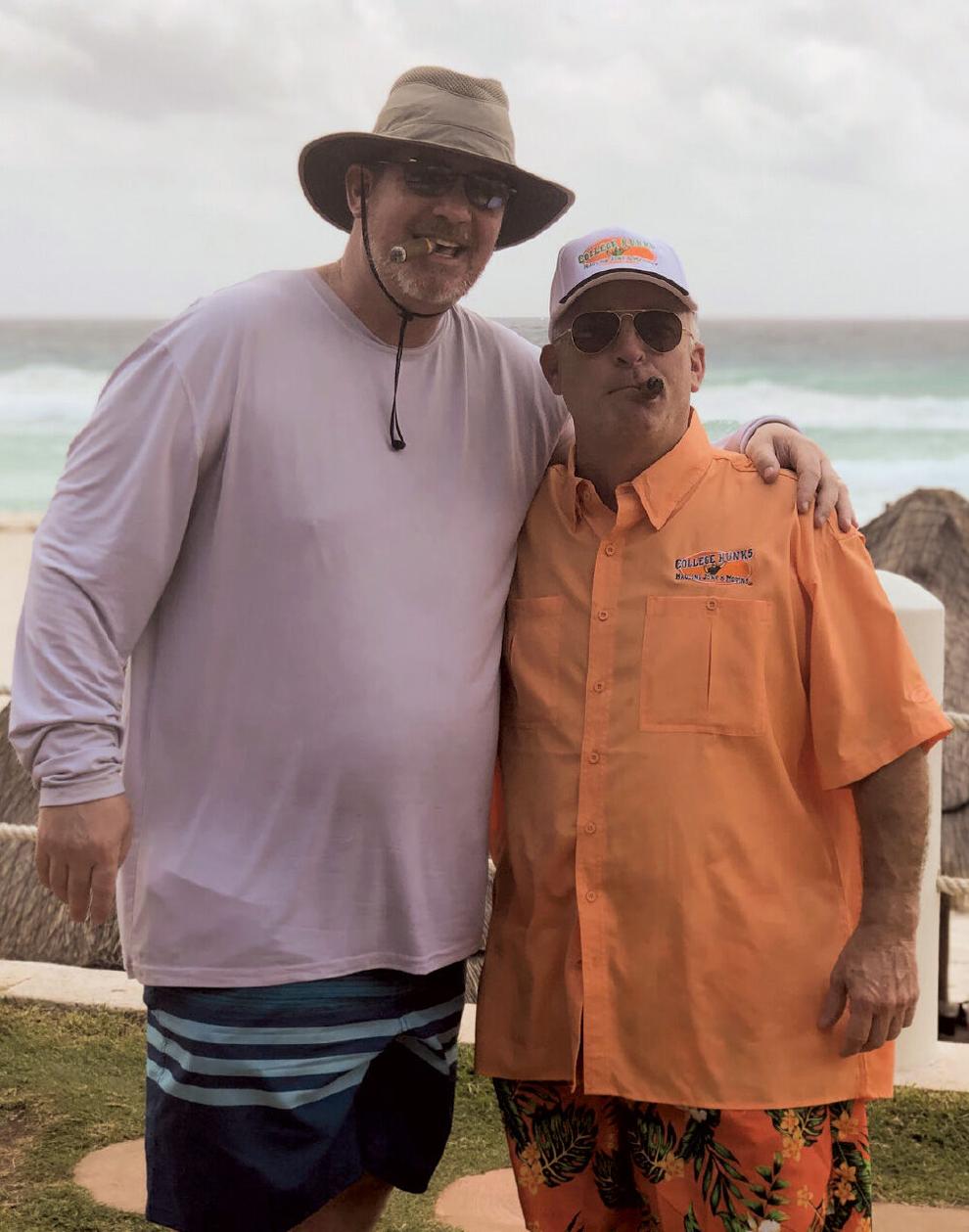 Service stands out
Getting a Paycheck Protection Program loan allowed College HUNKS franchisee Roger Panitch to keep nearly all of his employees, plus give them bonuses to purchase fresh new uniforms and offer discounted services at the beginning of the pandemic to drive more traffic. Panitch, a franchisee in the Atlanta area since 2010, said his sales were down 50 percent in April 2020. By June it was 9 percent, and "then we had our busiest month we've ever had, July of 2020," he said.
Panitch's business grew 3 percent overall in 2020, which he attributes to customer service, creative marketing strategies and insight he learned from being in a mastermind group with other College HUNKS franchisees. (His business is ranked third in the franchise system, he said.)
"One of the things we learned to do was, every morning, go park in your Kroger or Home Depot or Publix parking lot where people were going to," he said. "They'd see our trucks and realize yes, we're out there working … that was beneficial. Making sure we were changing our advertising strategy to alert people, yes, we're open, this is how we're taking care of our employees, everyone is temperature-checked every way, wearing masks, sanitizing trucks."
Panitch, who worked in sales and restaurant management before College HUNKS, emphasized customer service has been paramount to his success over the past 11 years.
"We're not the cable company. We don't tell you we'll be there between 8 a.m. and 9 p.m. and you're scared to use the restroom because right when you do, they'll ring the doorbell and slap a sticky note on your door saying we'll see you in two weeks," he said. "We want to take care of our customers. We call them the day before, and when we're headed in your direction, you get texts from our newer technology. We're really trying to go above and beyond for our clients, because they're going to tell their friends."
It was Panitch who brought Jeff Moss into the College HUNKS franchise system in June 2018.
Moss garnered $1 million in sales within his first 12 months of opening in Wilmington, North Carolina, and has grown ever since. He credits his first two hires—his general manager and operations manager—for helping him do "five-star moves pretty much out of the gate."
"They're doing such a good job managing and operating the business, but I also brought in my military background to put in standard operating procedures and understand what we do and what we do well," said Moss, a former Army helicopter pilot. "I liken us to being the Chick-fil-A of junk removal and moving."
Like Cowan and Panitch, Moss stressed the importance of customer service and trains employees to "treat their customer no different than you would your grandmother." His employees set the expectation up front with customers that they're going to request a five-star review at the end of the service, so if something comes up that a customer doesn't like there's an opportunity to "course-correct," he said. That strategy helped Moss earn a 4.9-star average Google rating out of nearly 800 reviews.
Moss's franchise ranks in the top 25 in the College HUNKS system, he said, and he's among the three top monthly volume producers of a single zone.
"You should be able to talk about your execution points. We did this, we went above and beyond—you should know why you won, you shouldn't feel like you tripped and fell into it," Moss said. "…We should know how we got here, but not to get arrogant, complacent or take anything for granted."
This summer, Susquehanna Private Capital made a minority investment in College HUNKS, along with two former International Franchise Association chairs, David Barr and BrightStar Care CEO Shelly Sun. The investment amounts were not disclosed, and co-founders Omar Soliman and Nick Friedman will remain as top "visionaries" of the brand, with Cowan as brand president.
Susquehanna is "telling us a little more about the 'how,'" Cowan said. "They've seen organizations move from $100 million in revenue to $500 million and so on, so what we're looking to do is leverage them with the senior leadership roles we're looking for and bring in resources where we are now to build the iconic brand status we want to be. They've also opened us up to more mentors when working on different brand initiatives we're looking into."
Cowan projected College HUNKS would have more than $220 million in sales by the end of 2021. To get there, "we're not taking our foot off the gas," he said. "We're going to focus on the main things, our people, and take care of them."