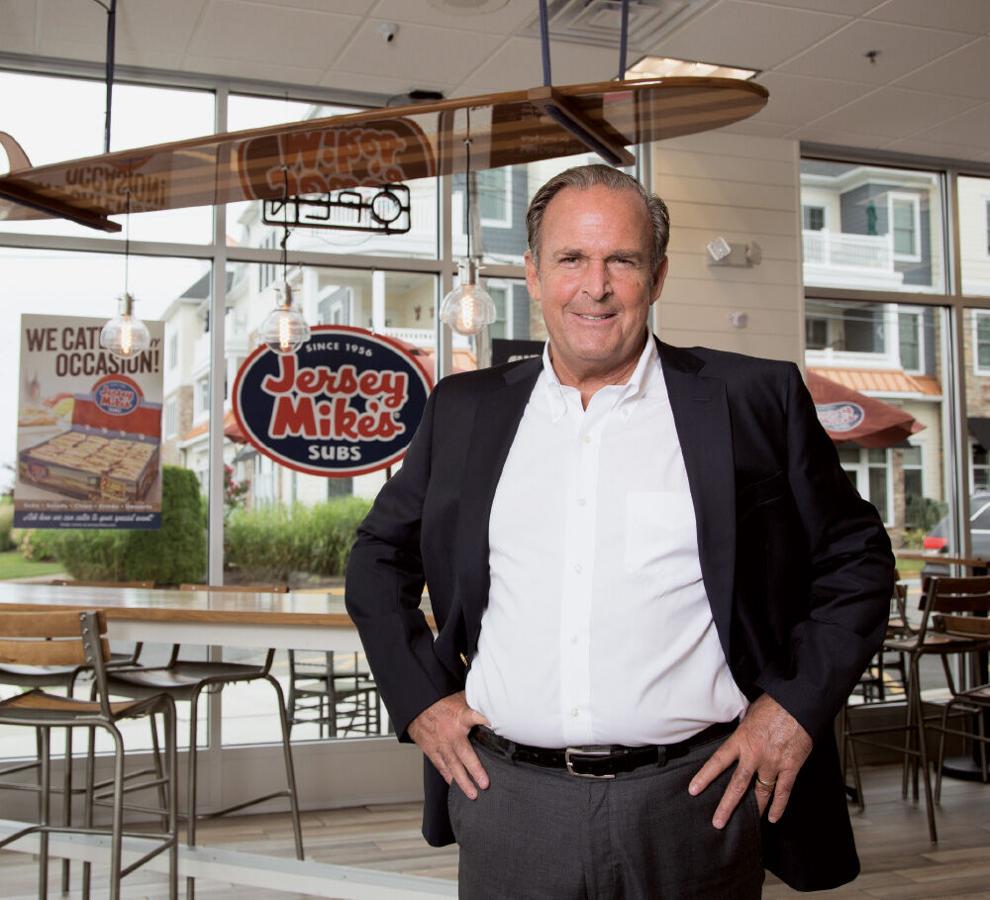 In March 2020, Jersey Mike's was the only store open in some strip malls. When others put their heads down, CEO Peter Cancro did the opposite. Even as some on his own management team urged caution in the face of a global crisis, Cancro pushed forward with a top-to-bottom brand update.
"Everyone said pull back, don't do anything. I said absolutely not," said Cancro.
That mindset was part Jersey Shore-style bullheadedness and part a true desire to help in a time of need. However you slice it, Cancro's decision to advance big initiatives while others stood still led to some exceptional results.
Systemwide sales at Jersey Mike's surged 19 percent in 2020, to $1.6 billion, and the sandwich brand shot up the Top 400 ranking to No. 63, a 25-spot jump. The company's unit count grew by 10.6 percent to 1,854 locations, all as Cancro pressed on with a brand-wide remodel program, which it completed in early 2021. Buried in those highlights is a yearlong saga of reinvention and big swings, nearly all of which connected.
Human connection
Cancro is an affable New Jersey guy. He's quick to crack a joke and he's no stranger to the Jersey Mike's slicer—he has 50 years of experience after all. As soon as the Franchise Times photo shoot ended, he relaxed, tossed his sport coat, rolled up his sleeves and jumped behind the line. The new assistant manager sliced the lettuce too thin for Cancro. "It can make the sandwich mushy," he said. As the 15-year-old and her 20-something shift leader watched, he cranked open the slicer and ran the lettuce through. The outcome was a fluffy, crunchy pile of greens.
He's serious about fundamentals like that lettuce. It's how the brand expanded across the country, "all those little things," said Cancro. Those things initially helped Jersey Mike's stand out on the Jersey Shore, an area with as many Italian delis as Starbucks, and locals who pronounce mozzarella with a full-throated "mu-za-rella."
Consistently great subs are one part. The other is genuine human connection. Cancro said the latter is what drove the company to press on last year. After resisting the urge (and advice) to slow down, the next move was to tell the world the company was still making subs, even in mostly shuttered and eerily empty business centers.
---
"Everyone said pull back, don't do anything. I said absolutely not."
—Peter Cancro, CEO, Jersey Mike's
---
"Customers thought that everything shut down. I had never been on TV before, ever, but my first commercial came out March 26," said Cancro. "My message was nothing about any product, but what we were doing."
Then came the charity work. Community giving has been in the Jersey Mike's mission statement since 1975, and the company raises millions every year during its Day of Giving. It's an approach Cancro learned well watching local Jersey Shore institutions support his hometown charities.
Jersey Mike's doled out enough money so every location could give out 1,000 free subs. Franchise operators, who are used to marketing by way of local giving, ran with the idea, doubling and tripling the number of giveaways. Subs went to first responders, hospitals, third-party delivery drivers and just about anyone in need. And when Cancro saw the miles-long food bank lines, he woke up in the middle of the night and wrote another commercial. The company quickly raised enough to fund more than 50 million meals with Feeding America.
"I think America wanted to find a place to give and it's resonating," said Cancro. He doesn't like connecting the company giving directly to business results, but the response was incredible.
"People can't believe when you take care of people," said Cancro. "In Hoboken, the firemen all showed up in front of the store with their sirens on basically to say thanks for what you've done. There were lots of little stories like that across the country."
If the few people not glued to the news were still wondering if Jersey Mike's was open, some firetrucks and a bunch of thankful firefighters helped.
"We did that and things really started; the bleeding stopped. We went from down 45 percent to zero or plus 2 percent. Then by April, we kept pushing the media and TV. Jersey Mike's rose up like never before in April and May," said Cancro, and it kept going. "By June we were up 15 percent in sales. We said, 'How long can this last?' Last quarter it was up 25 percent, then we went up 35 percent and it just kept going."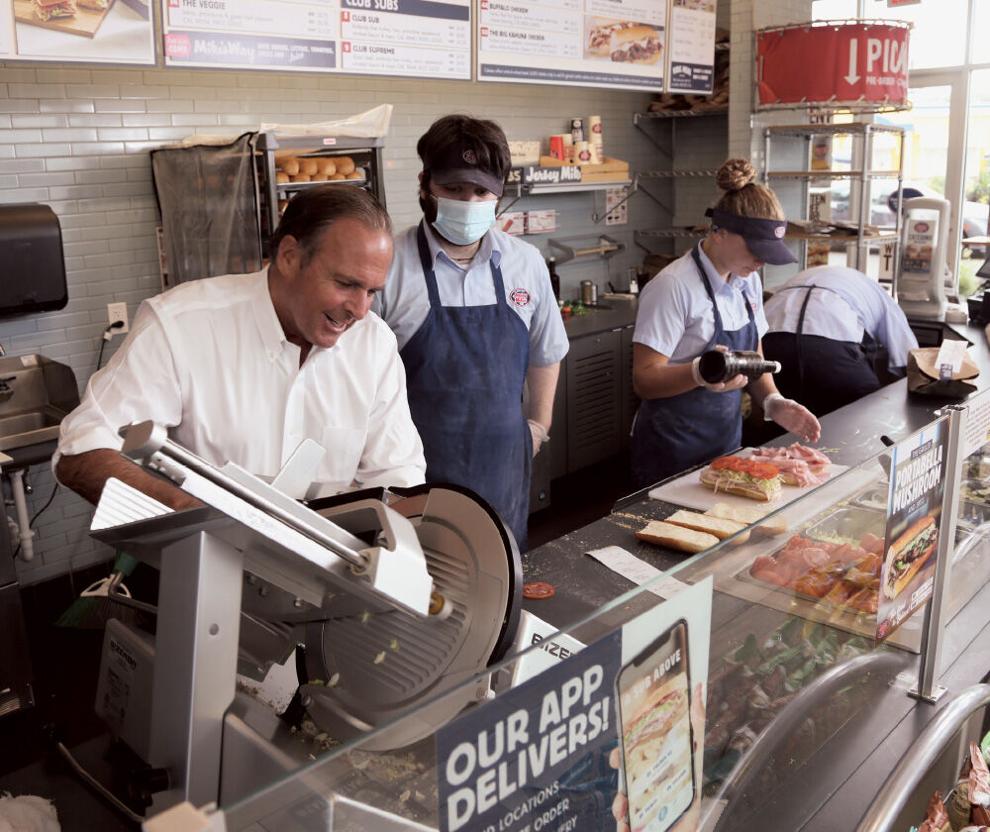 In the midst of all that, the company executed a major remodeling program. The new look and feel were finalized just as COVID-19 hit in the U.S., and the company announced early in March that it would fund the program to the tune of $75,000 per store.
That effort was in the works before COVID. In fact, CFO Walter Tombs said it was a key part of a securitization financing program the company completed in 2019.
"It's how we marketed our securitization; they were thrilled that we were going to reinvest, to put a couple hundred million into the brand. It's made a huge difference," said Tombs. "Having a couple thousand of stores look the same is great."
The expected sales lift from the remodels was about 10 percent, though with the disruption of 2020 it's hard to differentiate among sales drivers. Regardless, franchisees were pleased. Tombs said there were some happy tears and a lot of excitement when the company announced it was footing the bill, about $150 million in all. Local operators just had to keep up with the surge of business as the average unit volume shot from $850,000 to $1.2 million "really overnight," said Tombs.
The company also announced the first participants in its Coach Rod Smith Ownership Program, which gives promising managers a way to open their own store. It essentially lends money for all the upfront costs to get into a location, sets up a mentoring program and turns those managers into franchisees.
"Somebody gave me an opportunity, someone gave me a shot, Coach Rod," said Cancro of the man who loaned him $125,000 in 1971 to buy a single sub shop. "This is me saying, I want to give you a shot."
Holley Hood and Haydyn Straus were the inaugural awardees, and even drove around Green Bay, Wisconsin, with Cancro to look for locations. Cancro said he thinks it can be a much larger program and complete the Jersey Mike's career track from afterschool job to owner.
That's a lot of bread
In all, 2020 was a blockbuster year for the company. To distill everything that happened— and it was a lot—look to the bread. Jersey Mike's made a lot of bread last year, literally and figuratively.
For Cancro, "bread" is how he measures sales per store per day. Tombs even has a bread spreadsheet that includes every location. Each loaf of bread used equates to about $20 in sales.
A big national marketing push and the addition of third-party delivery in recent years pushed the locations from about 122 loaves per day in 2017 to about 130 last year.
"We were doing like 130 bread in January of 2020," said Cancro. "Now, we're at 167 bread average, so 37 loaves of bread, that's where you get that 45 percent. It's just absolutely crazy. We're about five years ahead of where we thought we'd be."
As for what else fueled the 2020 results, COO Mike Manzo said while it helped to already have the technology for digital operations in place, communications between the company and those in the field was key.
"I admire the way we communicated," said Manzo. "We called all the franchisees, we divvied up a list and made 550 phone calls to franchisees."
President Hoyt Jones noted more than 30 area directors also helped keep dialogue going as things changed on a daily and sometimes hourly basis.
"That was critical; franchisees needed someone to talk to, too. All our ADs are owners as well. They were going through the same thing," said Jones. "It was comforting to have everyone in the same boat. It was just constant best-practice sharing."
But it was Cancro's willingness to charge ahead into uncharted waters that set the course.
"Not blinking was the biggest thing. Peter didn't blink. He kept going with the update, we invested in advertising," said Jones. "It said we weren't going to batten down the hatches but push ahead."