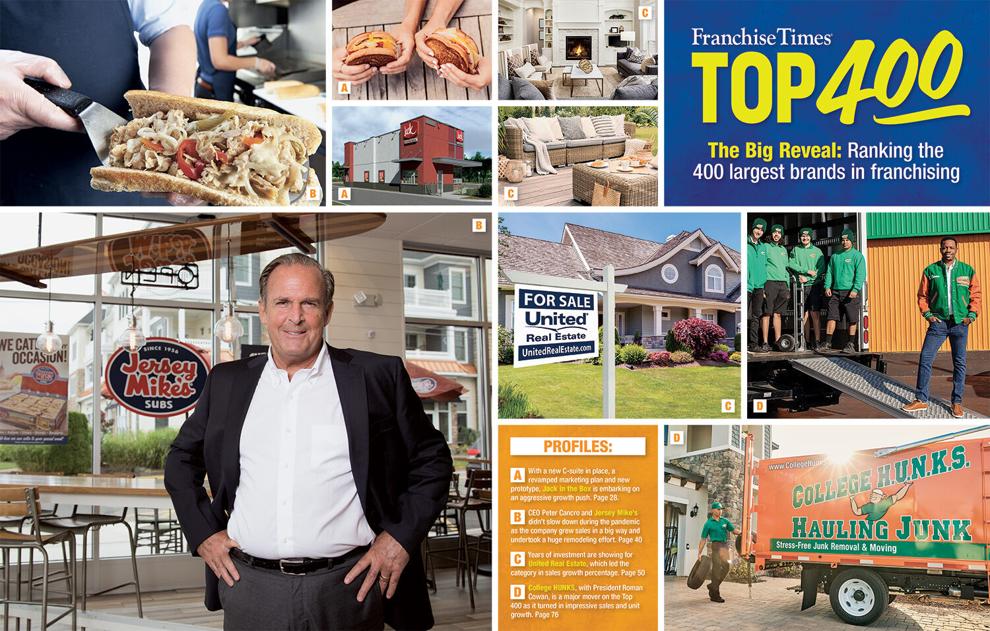 Research by Matt Haskin and Max Wolf
There's no easy way to sum up how 2020 affected the franchise space. There were incredible stories of entrepreneurial innovation and brilliant moves, while other brands were paralyzed by regulations, radical change or fear.
As shown in the Franchise Times Top 400—our annual ranking of the largest U.S.-based franchise systems by systemwide sales—some brands thrived and some nosedived. But at either end of the spectrum, few would like a repeat of the dismal year.
Through it all, the top 10 saw only a few shake-ups. McDonald's retained the No. 1 position by just over $1 billion, even as its systemwide sales declined by 6.8 percent to $93.3 billion one year after cresting the $100 billion mark.
7-Eleven is nipping at its heels. The convenience store giant grew by 3.1 percent to $92 billion as the corner mart became a pandemic go-to. KFC held on at No. 3 as its sales sank by 5.8 percent, a $1.6 billion loss in another year of battles for chicken market share. Ace Hardware moved from No. 5 to No. 4, growing sales by $3.5 billion or 21.1 percent as everyone tackled their home—and home office—projects. That marked the best dollar amount sales growth across the franchise space last year.
Burger King fell to No. 5, supplanted by Ace's performance and its own sales decline of $2.8 billion, or 12.6 percent. It ended 2020 with just over $20 billion in sales.
---
Ace Hardware moved from No. 5 to No. 4, growing sales by $3.5 billion. That marked the best dollar amount sales growth across the franchise space last year.
---
Rounding out the top 10, Circle K, Subway and Pizza Hut were big movers. Similar to 7-Eleven, Circle K benefited from the pandemic chaos and sales for the system grew to $15 billion, up 22 percent. Subway and Pizza Hut saw steep declines; top line revenue fell 14.9 percent and 7.3 percent, respectively.
In all, sales for the top 10 dropped 2.1 percent, a marked deceleration from the 6.7 percent growth rate seen in 2019. Still, those 10 command the lion's share of sales across the largest 200 brands on the list. Those brands captured $323 billion in sales. The largest 200 brands recorded $614 billion in sales and the full Top 400 pulled in $635.9 billion.
With its estimated $7 billion drop, Hilton suffered the biggest sales decline; that 67.2 percent downturn was also the largest dip by percentage of sales. The largest growth by percentage was United Real Estate. It saw sales explode by 126 percent and grew units by 42.1 percent.
Subway, meanwhile, shed the most net units. The sub giant reported 3,864 fewer locations by year-end 2020.
Unit growth overseas only
The largest 200 franchised brands saw locations dwindle by 920 units or 0.3 percent overall. In the U.S., only corporate entities grew. Company-owned locations grew by 2.6 percent, or 954 locations, while franchisee-held locations dropped by 1,874, or 0.7 percent.
That mismatch was even more pronounced in the top 10. Franchisees in the top brands lost 2,096 locations, a 2.7 percent decline. Franchisors added 143 locations, growth of 1.7 percent. Overall, the top 10 ended the year with 2.3 percent fewer U.S. locations, a cut of 1,953.
International growth was strong for another year as brands overcame supply chain, construction, travel, communication and other pandemic-related obstacles. International franchisees added 4,106 units across the list, growth of 1.8 percent. Company-owned locations notably jumped 28.1 percent with 2,416 new stores.
The largest 200 franchise brands finished 2020 with 533,763 international locations, up 0.6 percent from 2019.
Homebody blow
The Top 400 sales results mostly followed the logic of what would happen if the whole world was asked to sit at home for two weeks, a few months and then the remainder of the year.
Travel cratered, so hotels saw an incredible decline. Sales for the category sank 47.9 percent last year, a decline from $98 billion in 2019 to $50.9 billion. It was the hardest-hit category of franchising, but not by much.
Trampoline parks did not fare well with shutdowns and, later, social distancing. The small segment that had grown explosively in prior years saw sales fall by 46.1 percent while it also shed 75 locations, a 23 percent reduction. Few people were learning to swim, either. The swim school segment plunged by 36.5 percent. Then there was fitness. That segment of the personal care and services category declined by 23.8 percent.
The restaurant world bifurcated dramatically under social distancing, state and local regulations, and the general lack of in-person interaction. Then there was the lunch daypart, practically wiped out as office workers traded burgers and sandwiches for their stocked pantries or grab-and-go options (see the performance of c-stores). While there were bright spots in almost every category, the overarching trends showed some major shifts in consumer spending.
The bakery, café and deli segment was down 12.6 percent; sales at sandwich franchises were down 11.7 percent; and snacks were down 10.8 percent. Mexican was just shy of flat, sinking 1.9 percent as people shifted their spicy meals to the dinner hour. Chicken restaurant franchises benefited from the ongoing popularity of fried chicken sandwiches and increased sales by 1.8 percent to $51.3 billion overall.
Everyone ate a ton of pizza. In total, the segment was up 4.8 percent for delivery players, but dine-in pizza concepts saw sales spiral down 15.2 percent.
Breakfast and brunch franchises, meanwhile, where in a tough spot as they worked to quickly implement curbside and delivery service. Sales in the segment were down 34.2 percent overall.
As shown by Ace Hardware's performance, consumers got serious about their to-do lists. Home services ticked up 5.6 percent, and within that broad category home improvement franchises performed especially well. The group's 11.2 percent overall sales increase proved people had plenty of time to stare at broken drawers, chipped paint and ugly fixtures.
Consumers also spent a lot of time listening to bugs buzz around—and then decided to take control. The two franchised mosquito control brands saw big gains. Mosquito Joe was up 34.1 percent in sales and Mosquito Squad grew by 13.1 percent.
The Franchise Times Top 400, renamed from the Franchise Times Top 200+, offers a useful summary of the impacts of the pandemic on the whole of the franchise space.
For all the volatility of the year, 2021 is presenting its own hazards, from supply chain whiplash to intense hiring hardships. By this time next year, the sales performance across industry categories could look dramatically different—again.
---
Notable No-shows
Several well-known companies are not on the Top 400 list this year as some big-name brands opted not to share their numbers. Whether they hope to just forget 2020 ever happened or they simply couldn't prepare the data in time to submit is unknown, but nonetheless, some of the big names are listed here.
A&W Restaurants
Corner Bakery Cafe
Dickey's Barbecue Pit
Estrella Insurance
Freshii
GNC
Grease Monkey
Golden Corral
Long John Silver's
Orkin Pest Control USA
Slumberland
Smartstyle
Smashburger
Supercuts
Sylvan Learning Center
UNO Pizzeria & Grill
Weed Man
---
How we rank the Top 400 franchises
The Franchise Times Top 400 is an annual ranking of the 400 largest franchise systems in the United States by global systemwide sales, based on the previous year's performance.
In a five-month research process and building upon a database that began in 1999, our research team uses a combination of companies' voluntary reports and publicly available data, including the franchises' most recent franchise disclosure documents and Securities and Exchange Commission filings.
To qualify, a company must be a legal U.S. franchise. Franchisees must own at least 10 percent of the company's total units. The company must also be based in the United States, or have at least 10 percent of its total units in the United States.
Systemwide sales is defined as the total sales for both franchise and company units. Those sales figures should represent sales to customers, and not corporate sales to franchisees or prospective franchisees, such as royalty revenue or franchise fees. Other revenue not directly related to franchising should not be included.
If two companies reported the same systemwide sales, the higher ranking is given to the company with the most units. Preference is also given to companies that voluntarily report their systemwide sales, rather than those companies for which we must estimate the sales figures.
Franchise Times' estimated revenue for hotels is based on a formula multiplying the chain's revenue per available room (RevPAR) by the number of rooms and the number of days in the year. RevPAR comes from the company, or from industry estimates.
We estimate real estate companies based on 2.5 percent of their reported sales volume. Real estate companies report sales based on total volume of homes sold. So if a home is sold for $200,000, it would be listed as $200,000 in revenue. Franchise Times' estimate would count $5,000 in revenue earned as a commission from the sale.
We estimate travel agencies based on 12.5 percent of their total sales volume. Like real estate companies, travel agencies report sales volume based on the value of the vacations sold, rather than their commissions.
Research begins for next year's project in late April. To submit your brand's numbers or for more information, contact Franchise Times General Manager Matt Haskin, who leads the research effort for Top 400, at mhaskin@franchisetimes.com.