"I've made millions of dollars in cannabis and I've lost millions of dollars in cannabis." So declares Christian Hageseth, co-founder of Unity Rd., formerly called One Cannabis, the company intent on becoming the first to successfully franchise marijuana retail stores on a large scale. "I've got the scars to prove it."
What kind of scars? Tax problems, for one, because marijuana is illegal on the federal level so standard accounting practices don't apply. In the first two growing facilities he built, "I put in a million dollars of TI and FF&E that were not deductible," meaning tenant improvements and furniture, fixtures and equipment. "We segment our retail staff by job description. Back of the house are deductible; salespeople are non-deductible," he has learned.
Meanwhile, "we're in the middle of the fourth audit from the IRS."
Dicey encounters with the police were common in the early days, back in 2009 when medical marijuana became legal in Colorado and then recreational marijuana followed suit in 2014. "When I got into it, I didn't know if the police would break down our doors," he recalls. There was a burglary at one of his grow facilities, at 1 o'clock in the morning, and the police were on their way to meet him there. But then he thought: should he go? Would he be arrested? He took off his wedding ring and left behind his driver's license, plus any other valuables.
The interactions in time became easier, attracting a touristy interest even from the cops. During one visit to a grow facility, "The canine officer is picking these sticky buds off his dog's paws. He said, 'It really smells good!'" Hageseth recalls. Another time, a federal investigator who was background-checking a new executive arrived. "He goes, 'Do you mind if I look around? Can I take a picture? Because my brother would love this.'"
Hageseth, 51, is tall, intense and wiry with deep lines in his face, earned through an eclectic career that includes studying Russian in the Soviet Union, tinkering with an import/export business in Seattle, then starting and selling an ice cream shop called Marble Top Creamery, modeled after Cold Stone. "I sold it off, so I had my first exit at 27," he said. "I had a check for $70,000. I thought I was set up."
He went to work in tech and transferred to Denver. "September 12, 2001, the company shut down the entire tech division and laid us off." Before the year ended, he formed a mortgage bank and used that platform to roll up other mortgage bankers, at one point with $4 billion in loan origination under his umbrella, and buying 200 homes at a time, then flipping them.
What could possibly go wrong? "2008 that all came crashing down on me very, very hard. I got caught and crushed financially," he said, eventually filing Chapter 7. "I felt the stress of being a father, a husband. I'd been doing very well and then all of a sudden I was very, very humbled."
Enter the medical marijuana business, legal in Colorado for the first time in 2009. "I started with $5,000," he said. "I'd just gone bankrupt and was as broke as a joke," he said, adding the Chapter 7 didn't hurt his chances in the new endeavor. "I was in the marijuana business. No one was asking. It wasn't like I was trying to get a job in a bank."  
Today, Unity Rd. is working on its second merger after a deal announced last December with the publicly traded Cannabis One Holdings fell through. Now the plan is to merge with Item 9 Labs, an Arizona-based company that trades over the counter and has $6 million in revenue; Unity Rd. has about $15 million in revenue. Management changes are expected after the companies merge but those decisions will be made later on. Hageseth says his team has the unique ability to take all of those expensive lessons and spare Unity Rd. franchisees from learning them the hard way.
---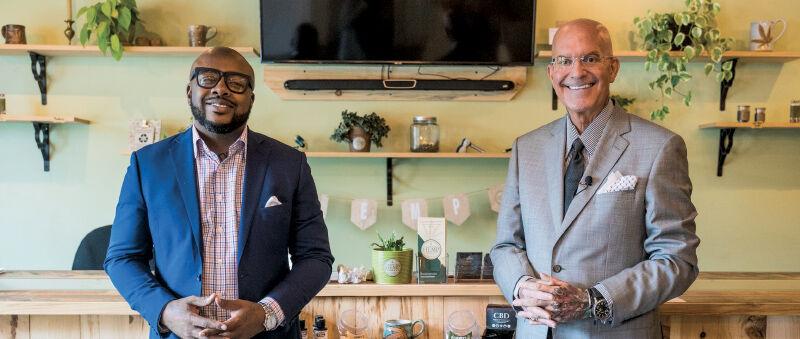 ---
As he points out, many companies in the marijuana dispensary business say "we're franchising" or "we're franchise-ready," but only Unity Rd. has a detailed franchise disclosure document filed. Reading the FDD, however, shows just what they're up against, including this prominent paragraph in all caps: "The state of Colorado has decriminalized the production, sale and distribution of marijuana. However, currently, marijuana is a Schedule 1 controlled substance under federal law, which means you are not allowed to manufacture, distribute, dispense or possess marijuana."
Only Unity Rd., Hageseth insists, has Hageseth's growing and selling experience combined with COO Mike Weinberger's franchise chops. "I came at it with 10 years of operating experience. I literally paid millions of dollars to learn these things," while "Mike speaks franchising."
Weinberger, an attorney, was CEO of Maui Wowi, a franchisor with 500-plus units. He spearheaded its sale to Kahala Brands, where he led growth strategies for its quick-service chains. He says "plowing is a good description" of his quest since 2016 to franchise marijuana stores. At that time, the typical response was, "No way," Weinberger said. "Anyone's initial response to something that hasn't been done before is no. It's just human nature. So, you ask my mom when I was growing up. I don't understand the word no."
Hageseth believes franchising marijuana stores makes sense, particularly because of the high cost of licenses to sell it. Granted by the states, those range from a very pricey $2 million to as high as $70 million in one case, Florida, where the applicant can get 35 stores for that price. If applicants succeed, they're ready to be owner-operators but they likely don't know how to run a successful weed store. "They need to turn that license into a profitable business," Hageseth said, adding "I wish I had a franchisor" when he got started.
But the road has been long. As of March, Unity Rd. had deals for 31 stores with 11 franchisees in seven states, the latest in Illinois and Massachusetts, but only eight of those were in the site selection phase. The rest are pending as prospects await word on whether they will be granted a license. No Unity Rd. stores are open yet.
Despite the hurdles and the warnings, the reason to franchise marijuana stores is crystal clear to Justin Livingston, vice president of franchise development. "There's been nothing this massive in franchising" since the beginning of the Golden Arches. "There's been tweaks," he said, but "this is new, scratch new, with numbers that are so far above" any other industries.
Now a range of competitors in the franchise space are coming on strong.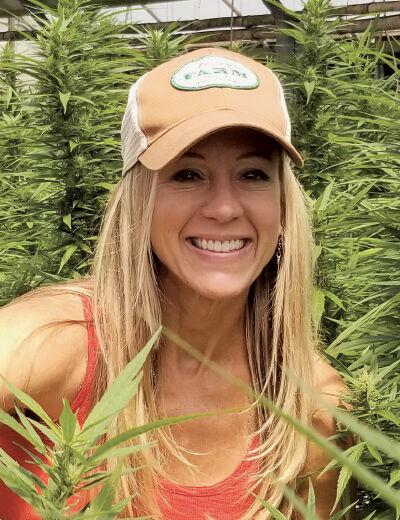 Jostling for space
The rush of interest isn't difficult to understand. The legal marijuana industry's economic impact in the United States was between $20 billion and $23 billion in 2017, and will reach $77 billion by 2022, according to the Marijuana Business Factbook, although estimates vary widely. Recreational marijuana is legal in 11 U.S. states; medical marijuana is legal in 33 states.
Then there's cannabidiol or CBD products, the non-psychoactive version (not containing THC) of cannabis that's best known for its medical benefits and is popping up on every convenience store shelf. CBD can be extracted from both the cannabis and hemp plant, the latter much more cheaply and made legal to grow again in the U.S. Farm Bill in 2018, after a 70-plus-year prohibition.
Brightfield pegs CBD product sales in the United States at $5 billion in 2018 and projects them to be $23.7 billion by 2023, although again estimates vary. CBD product sales are legal in all states but transporting hemp across state lines is forbidden in some.
Unlike marijuana dispensary franchises, of which Unity Rd. is the only established player so far, there are four CBD dispensary franchises in various stages of development: Franny's Farmacy; Carolina Hemp Co.; American Shaman; and Natural Life. A fifth franchise, Cru Hemp Lounge, is positioning itself to add pot sales when the federal government legalizes the drug, something that all players believe is inevitable.
Dennis McKinley and Greg George, owners of Cru Hemp Lounge and Carolina Hemp Company, got a boost from Bernie Sanders' declaration about marijuana during the Democratic presidential candidates' debate in February. "I just heard Bernie Sanders say, if I'm elected, it will be legal," said McKinley when reached the day after the debate.
The two men are "laying the groundwork now" for what they believe is inevitable: legalized marijuana on the federal level, even though Sanders' fortunes on the campaign trail declined shortly thereafter.
"I'm an economist by study, and we're going to let those guys fight about getting licenses and et cetera, et cetera," McKinley said, referring to the half-dozen franchise players trying to compete in the cannabis business. "Because at one point it will be a distribution issue. They can go ahead and get this set up," he said about competing marijuana franchises, "and then we'll buy from them." Empire Franchise Group, their umbrella company, will then be poised to rule the retail marijuana business, McKinley believes.
Added George, "We're just preparing, and like our competitors, we're laying the groundwork now. There's nobody growing any faster than the two brands" the two partners oversee under Empire, George contends.
Cost for a Cru Hemp Lounge franchise is $172,500 to $552,000, with $75,000 liquid capital required. The franchise fee is $40,000. Cru Hemp Lounge began franchising in 2019 and has two locations open.
A Carolina Hemp Co. franchise, which sells CBD products in retail stores, costs $60,000 to $100,000, with a $24,900 franchise fee and $40,000 minimum cash required. Thirty franchises are "in the works or open," George said in February.
Franny Tacy, co-founder of Franny's Farmacy in Asheville, North Carolina, and pictured on our cover, is the first female hemp farmer in that state in more than 70 years and has the finely chiseled arms to show for it. "I don't even notice it," she said with a laugh when I mention her photograph, adding people say to her: "Girl, you've got muscles for miles. And I say yes, nothing like all that heavy lifting."
Tacy put her love of the farm simply. "I call it the bowl of heaven," she said. "It's a beautiful thing to watch a seed grow."
With her husband and business partner, Jeff Tacy, she is on a mission to educate consumers of CBD products, which are unregulated. "We're one of the leaders in transparency," she said about Franny's Farmacy, which has four corporate stores and five franchises sold. Cost to open a Franny's Farmacy ranges from $110,000 to $140,000.
"Our products are all the way tracked right back to our farm and never leave oversight of our business. In an unregulated market, it's very important to have a brand you can trust," she said. "I'm a huge advocate for the consumer and for transparency and so is our company. We are there to be an example of how to do business with integrity."
CBD American Shaman opened its first retail location in Topeka, Kansas, in March 2017, and added 25 more stores that year. Founded by Vince Sanders, American Shaman announced its franchise program in August 2018, for a cost of investment ranging from $5,000 to $75,000; more than 130 retail stores are now open. Stores sell organic hemp-based products that range from a skincare line to its signature line of patent-pending "water soluble" products.
Natural Life Franchise Corp. announced its new franchise model in March 2020, with four corporate-owned locations in Tallahassee, Tampa and Jacksonville, Florida. The retail chain expects seven total stores in 2020, with two of those being franchised. Natural Life offers more than 1,100 products and more than 20 brands. Staff are certified by the CBD Training Academy. Gabriel Suarez is its owner.
A final player (at least so far, as new cannabis franchises pop up regularly) is a little bit different from the rest. Tariq Farid, the founder of Edible Arrangements, which sells fresh-fruit arrangements via retail stores, has started a new venture called Incredible Edibles and planned to begin selling CBD products in newly designed stores. A test of CBD sales in existing stores was a failure, however, according to the independent franchisee association, which also criticized the new venture in a lawsuit. Nonetheless, with more than 1,045 Edible Arrangements stores in eight countries, and Farid's track record in building a large franchise, that may be a new force to reckon with.
---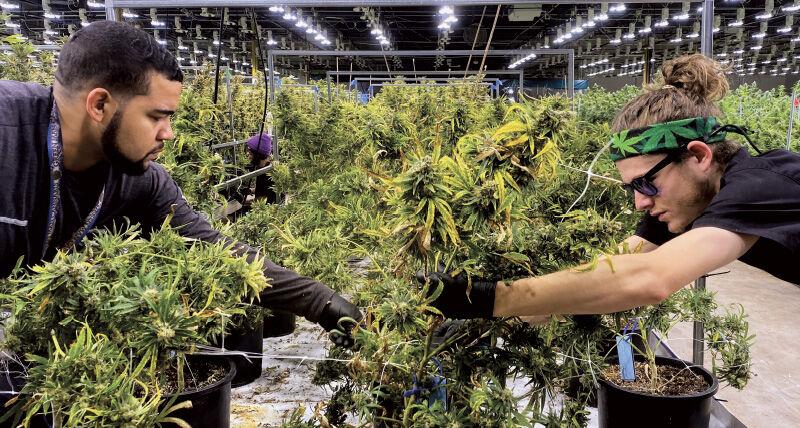 ---
A colorful cast of characters
None of the franchise cannabis players are more invested in the weed business than Christian Hageseth and his longtime business partner Corey Buffkin, the chief cultivation officer at Unity Rd. who also helped Hageseth build his first company, Green Man Cannabis, that formed the foundation for what came next.
At a visit to their 118,000-square-foot, $15-million grow facility with more than 12,000 plants outside of Denver, Weinberger gives Buffkin a simple title: He's "the best effing grower in the world." Buffkin shows me around, telling me something about each and every plant. "We've got genetics here that goes back 20 years," he said. "A lot of people try to do this and they fail. That failure rate when you first start is 50/50."
Buffkin shows off 120 different strains of marijuana, each with different psychoactive effects from THC as well as distinctive smells and tastes, and with names like Jungle Cheese and Starkiller that soak up $90,000 in electricity each month and take 30 employees and 30 subcontractors to nurture.
The operation is highly regulated and totally buttoned down today, with strict rules including weighing regimens, lab testing and employee scrutiny. "Everyone has been background checked by the FBI," Buffkin explains, and can have no felonies and no defaults on student loans, child support or taxes going back for several years. (Hageseth's earlier financial troubles were not a problem because they happened long ago.)
The business has come a long way from 2009 and the "Eric Holder memo," as Buffkin calls it, when then-U.S. Attorney General Holder said the Justice Department would no longer aggressively prosecute marijuana sellers and growers in states where medical cannabis was legal.
"Everybody out here jumped on it," Buffkin said, including himself, when he went from growing for five patients as allowed under the medical marijuana program in Colorado that started in 2000, to 20 times that amount and more. "It was a free-for-all. The dispensaries were frat houses where everybody was smoking and drinking. It was a big party." Within a couple of years, regulators cracked down.
Which does Buffkin like better, then or now? I ask. "Then. It was more fun. I think most guys would say that," he said. "It was like being a cowboy, an outlaw."
But he clearly relishes his role today. The best part of his job? "It's pride in what you do, and we like to be the best. We like to be the best product with the lowest cost of goods and the highest price in the market," he said, and he has won four Cannabis Cups to show for it.
At last we get to the back room, housing the "mother plants," from which cuttings are taken and planted over the course of four months, until ultimately "they'll be killed," he says.
He gestures to another group of mother plants and repeats: "They'll be killed." Isn't that an awfully harsh way of putting it? Not at all, he counters with a laugh, because he never tells the plants themselves the bad news. "We say they're getting on the bus to go to Disneyland. They just don't know where Disneyland is."
Later that day, Weinberger takes me to a Green Man cannabis dispensary, which will be re-branded to Unity Rd. this summer, with a sleek design more like an Apple store than a pot shop. He believes Unity Rd. is out front, and also is aware of all the heavy lifting they've had to do to get this far. "I know other people will follow and good luck," because it's not easy. "I've never not had competition," he said. "In 2023 cannabis is projected to be a $50 billion business," he said, throwing out yet another estimate. "Franchising will be a part of that."
After selling smoothie franchises, cannabis seems different. "I'm passionate about it. I'm excited to bring something new to our industry," meaning franchising. "How much cheese can you put on a burger? Not to knock those concepts but this is something new."
Later on, in December, I spoke to Justin Livingston, vice president of franchise development, at the MJBizCon show, the largest marijuana business conference in the world. He formerly sold franchises for Coyote Ugly and Maui Wowi, in that last post working for Weinberger. As Livingston recalls, his old boss called him up and said, "It's you and me, buddy. We're the only two that can make this happen. It's very hard," he said, especially because people in franchising are used to "instant gratification."
In marijuana franchising, not only are there the usual time lags to sign a contract, select a site, do the buildout, etc., but you also have to wait months for a potential operator to get a license to grow, and they may not receive one. Livingston said his approach is "to lead with the hurdles: there's no real lending," for example. "You lead with the hard truths. It's got a bit of a stigma to it," he said. "It's hard, but we have that drawbridge to get people across the moat, or moats."
Franchise prospects, none of whom want to be identified yet because of the stigma, Weinberger said, range from multi-unit franchise operators in the Subway and Planet Fitness systems who want to diversify, to entrepreneurs in retail and construction businesses who "see cannabis as their next big thing." A third group, so-called social equity franchisees as designated by some states as well as Unity Rd. itself, are people who "have been disproportionately impacted by the war on drugs," especially brown and black people.
Although no Unity Rd. stores are operating so no financial data exists, the Unity Rd. FDD's Item 19 reports the 2018 numbers from one Green Man Cannabis dispensary in Denver, a corporate store, which the company said is a similar model to the franchise store. Gross sales were $5.3 million; gross profit was $3.07 million; and net income was $2.4 million.
Add that to the wide-open total revenue numbers attached to the cannabis business, even subtracting the hype factor, and the answer to "why take the risk" to jump in becomes clear to many.
"The enormous potential for generational wealth, the ability to pioneer," Livingston said of his reasons. "You're talking about numbers that will change" people's lives, and he's more than happy to go along for that ride.
Update: Brian Bullman and Randall Snyder said they purchased 100 percent ownership in Carolina Hemp Co. Franchising on March 31, and Dennis McKinley and Greg George are no longer owners as of that date.
---
---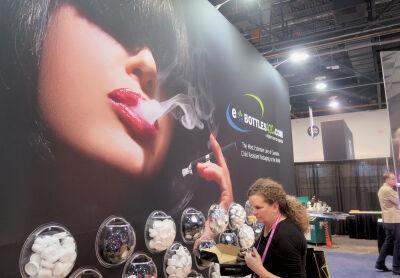 So much weed, but nothing to sample
My first stop at the MJBizCon show last December, billed as the largest marijuana business show in the world and said to attract 35,000 people from 75 countries in the 250,000-square-foot Las Vegas Convention Center, was a letdown. Iced coffee samples infused with CBD were on offer, with names like Hazelnut Haze or Light it Up, but without the CBD.
Say what? Weed, weed everywhere, but not a bud to smoke? That was the drill throughout the show as told via stern warnings against any use of cannabis products on the premises. To imbibe, patrons had to venture outside for the sweet smell of marijuana packing its punch, and in the case of at least one obviously stoned executive I interviewed at the show, that's exactly what many did. (Nevada legalized recreational weed in 2017.)
The LuvBuds guy, Shawn Hermanson, was still chill, showing off fancy bongs like a bright red number made of silicone and stamped with a "420 Hot Chili Sauce" logo. "Silicone is hot right now," he said, also pointing out an intricate glass bong on a high shelf selling for $120. "I love my job," he declared.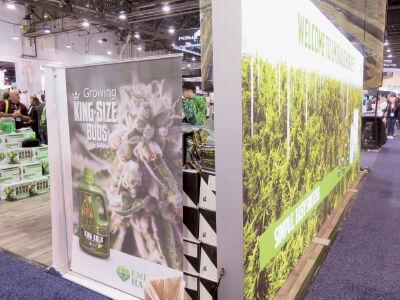 Emerald Harvest, grower of King Kola and touting its king-sized buds, was another evocative name at the show. Cool, too, were the Willy Wonka-like cannabis extraction machines, with tubes and gizmos going every which way.
Hypur had a big presence, providing financial services so growers and retailers can "pay and get paid without cash." That used to be the pot retailer's biggest headache: walking around with huge duffle bags stuffed with cash because it's illegal for federally chartered banks to be in the business.
Hypur's President and COO Michael Sinnwell said when the founder of Hypur first asked him to join the company, "I chuckled and said I don't look good in stripes. I didn't want to take the risk." But then an attorney he consulted laid out the many benefits medical marijuana had for his son, who had frequent seizures, such as allowing him to go to school. The attorney said, "Someone needs to look at this industry. Something needs to change," and Sinnwell signed on.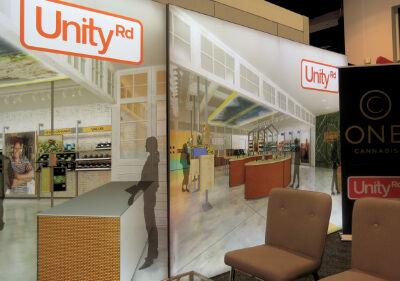 Plenty of large corporations and big money were on display at the show, where I was a guest of Unity Rd., which bills itself (and can back it up) as the first to franchise marijuana dispensaries. Case in point: Hawthorne Gardening Co. for cannabis growers, a subsidiary of Scotts Miracle-Gro Co. (Scotts posted $3.15 billion in annual revenue in 2019.)
As for getting actual samples, an attorney on the plane home let me know where the real action was: the edibles party after and outside the show one late night. Naturally, it had a Willie Nelson theme.