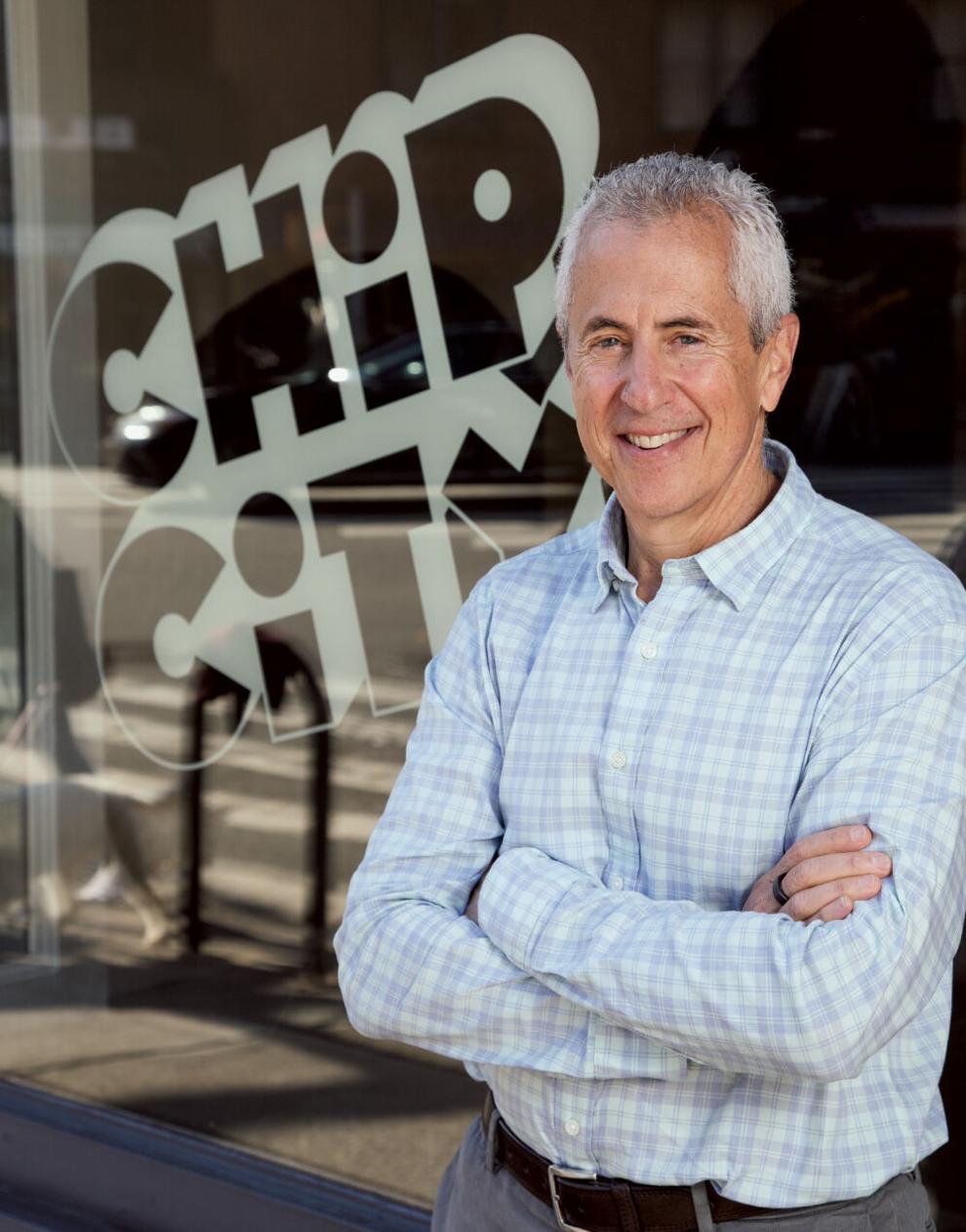 Danny Meyer slips into new cookie franchise Chip City, his fund's latest investment, on a sun-drenched morning in November in New York's West Village. Fresh from a gym workout and then a Shake Shack board meeting just blocks away, he speaks softly about his storied career in the hospitality business.
"I don't believe in our success" when measured in traditional ways: number of restaurants, valuation of companies. "Instead, I think it is understanding how powerful hospitality is, and understanding how different it is from service," he says.
Enlightened hospitality, as he calls it, is based on a 100-point test in which "49 percent is how you perform. Fifty-one is how you make people feel. That's unlocked the success we've had, that equation."
Wearing soft shoes and talking about hugs and "heartset," the 64-year-old Meyer comes across like a sweet grandpa—that is if a sweet grandpa launched 12-plus famous New York City restaurants from Union Square Café to Gramercy Tavern to The Modern, founded the
$2.19 billion Shake Shack, tried but failed to take the 2,400-restaurant chain Panera Brands public, and famously started a "hospitality included" or no-tipping policy that swept through the restaurant world. Meyer abandoned the policy in 2020 because "we had a really, really hard time making the math work."
Meyer was an early investor in restaurant reservation system OpenTable, discount theater ticket site TodayTix, the Sweetgreen restaurant chain and technology platform Olo, among others. His college roommate Mark Leavitt is an investment banker, and approached him about starting an investment fund. "He said, instead of doing it episodically, let's do it intentionally." Enlightened Hospitality Investments has funded 18 companies since its start in 2016—among them Joe Coffee, technology platform Seven Shifts, Goldbelly gourmet food purveyor and Notco, which makes mayo and milk out of fruits and vegetables. It raised its second $330 million fund in 2022, and invested the first $10 million into Chip City.
Every investment has a few things in common. "It's kind of an ecosystem of self-reinforcing ways of doing business," he says about the leaders of those companies. "Everyone has a different mindset but the same heartset." Put more simply: "It has to start with happy employees," Meyer says, which he can easily sniff out simply by stopping in.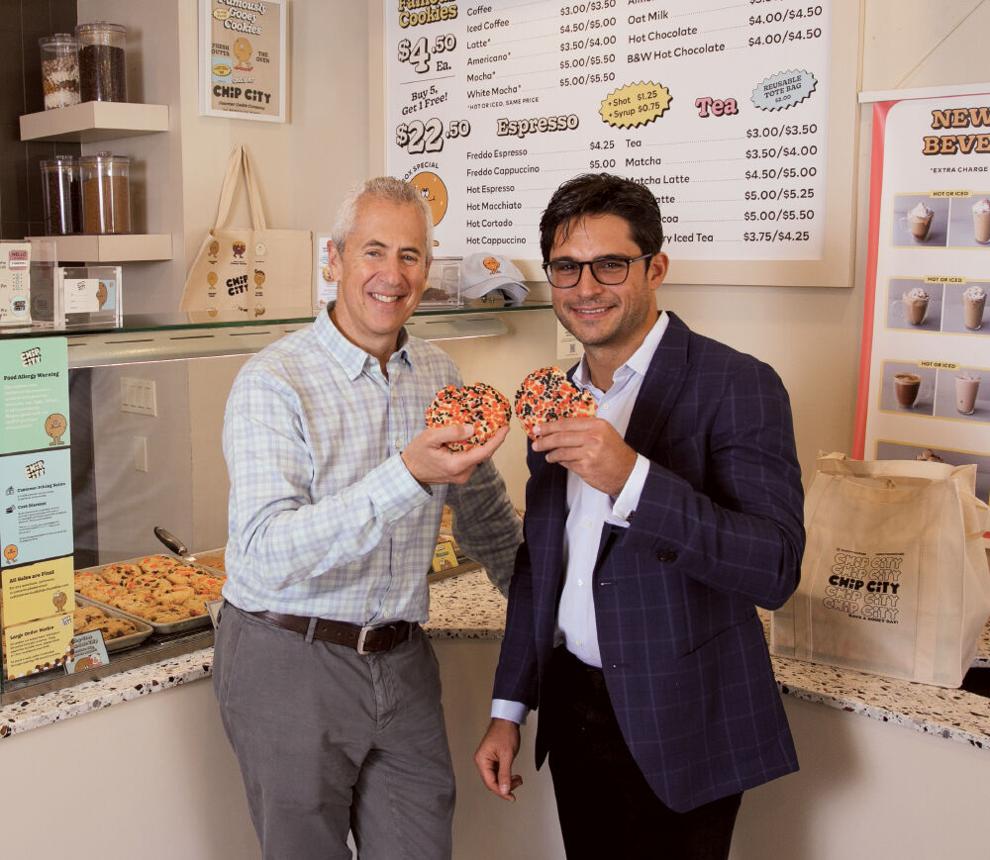 Taking a swing at sweets
"I don't get credit for discovering Chip City," Meyer says. Instead, Leavitt and others became fans after a gluten-free Chip City cookie, in particular, attracted their interest.
"I was introduced to Mark through a mutual acquaintance. At the time we weren't ready for a capital raise," says Peter Phillips, the serious and sharply dressed co-founder and CEO of Chip City, which he and a high school buddy started in 2017. But getting through the pandemic "gave me a lot of confidence," he continues, and they decided to go for it, speaking with a number of investment firms and ultimately gaining $10 million from Enlightened Hospitality. "Nobody brought any kind of feedback about how we make people feel," except for Meyer's fund.
"Of all of the investments we've made, only four were my idea," Meyer says, referring to Enlightened Hospitality, formed with four decision-makers. "But three of us have to vote yes. I trust my taste buds and trust my barometer of culture," while others analyze the financial promise and other aspects of the brand. "I was crunching cookies not numbers."
Meyer says he enjoys the atmosphere at Chip City when he visits their stores, and is constantly checking out companies' culture. "You can feel it, you can see it. You can definitely feel it when you visit someone's offices. Employees can't fake how they feel and they don't," Meyer says. "I'm looking for, is the staff having fun with each other and are they doing a great job."
Phillips, from a "100 percent Greek" family whose grandfather changed his surname from "Phillipos" when he immigrated, says Chip City is ready to sell franchises. "You can't deny the ability to scale it and the speed" from franchising. He says Chip City's cookies are meant to evoke nostalgia with their gooey recipe—"Have a gooey day" is their slogan. "Everybody has this memory of a fresh-baked cookie."
Average unit volumes are $850,000 to $900,000, and cost of investment is around $350,000.
Meyer regularly brings guests to Chip City and talks up their products. He also shares stories with Phillips. "The metaphor for hospitality is a hug. Even though you get punched in the face a couple times doesn't mean you don't get a hug," he says.
"It is a hard business. You know that," he says, speaking to Phillips. "Of course, you're smart enough to not have a grease trap."
Asked about the pile of competitors in the cookie business, many started in the last five years, Meyer shrugs. When he started Shake Shack with a single hotdog and custard stand, "Everyone said, why would you enter a business" with so many competitors.
Shake Shack today has 360 restaurants and went public in 2015. "It was so clear that was the best thing we did for our employees. Everyone was able to buy at the strike price, $21 a share," which allowed people in the service industry to own houses or pay for college or meet other financial goals likely out of reach before. Today the price is about $50 per share, and Meyer still sees transactions from employees from time to time.
Chip City doesn't have to be the only cookie place that customers visit, Meyer says. "I just want to make your rotation list. That's the bet we're making." Phillips says he's given stock in Chip City to 11 people—not worth much today but who knows in the future. "It would be cool to do another one," Meyer says, meaning an IPO.
So is Chip City the next Shake Shack? Meyer shoots back an answer that sounds more tycoon than grandpa. "No, it's the next Chip City."
A stack of cookie contenders
Across the country in Orem, Utah, is Crumbl Cookies, the biggest new player—and the most litigious, as this issue's Legal Beat column describes—by a mile in the cookie franchise game. Jason McGowan is CEO and founder with cousin Sawyer Hemsley.
When they were building the business, "I made sure that we integrated technology into every aspect possible," McGowan wrote on LinkedIn. His first corporate hire was Chief Technology Officer Bryce Redd. "In under five years, he and his team have built tech that has served as a catalyst for Crumbl's growth," with Crumbl and Crumbl Crew apps, a POS system, rewards program and teaching tools.
When Crumbl opened in New York City in fall 2022, McGowan wrote in another post, "Sometimes watching our dream come true is just surreal. When Sawyer and I set out to make the world's best cookies, we did it in a hut set to be demolished in six months. Yesterday was our soft opening in NYC in the Upper East Side, and I am full of nothing but emotion and gratitude." McGowan declined an interview request through a spokesperson, citing a busy schedule.
Crumbl started 2019 with 15 franchised and one corporate-owned store. By the end of 2021 it had 326 franchised and one corporate store. It also had 382 stores sold but not open, its 2022 franchise disclosure document said, a number high enough to alarm some in franchising—selling many more stores than you can get open in a timely manner can lead to trouble.
Dirty Dough is another new cookie franchise, also hailing from Utah. "I stumbled across it, never had a food or restaurant company," said Bennett Maxwell, CEO. "A guy I went to high school with started Dirty Dough; he was looking for investors." Both Crave Cookies and Crumbl started in Utah. "Seeing their success, I knew cookies were hot. I wanted him to franchise to me. He said 'no, I want out.' We purchased it in January 2021, and the goal was to make it the most simplistic franchise model, so people like me can jump into the business."
Competitors started in the last five years also include Chip Cookies and Cookie Plug. (See pages 28-29.) "I think it's great. I do think it's a craze though. I am convinced, we're in a cookie craze. How long is this gonna last? Who knows?" said Maxwell.
He studied older players and modeled his business after theirs, where he said people can make money even at $400,000 average unit volumes. Great American Cookie Co. started in 1977 and still has 300 locations. Mrs. Field's also started in 1977, and is still nearly 200 locations strong. "What did they do? They centralized production," just as he is doing for Dirty Dough.
Dirty Dough has seven open units; 36 franchisees have leases signed. They've sold about 280, all over the country, with an investment range of $200,000 to $250,000. In another potential red flag, Dirty Dough is using "a few million" they've collected in franchise fees to fund the ongoing operation; experts say a more solid move is to hang on to franchise fees and fund operations only via royalties from open stores.
He believes his concept is better suited to a potential downturn. "You look at Crumbl's FDD, their lowest store out of 115 stores is $740,000. But look at the net, it was $33,000. There's no profit there. So in my opinion, that's not sustainable."
Checking Crumbl's FDD confirms Maxwell's numbers. In 2021, the lowest store revenue was $734,278 and net profit was $33,260. The highest was $3,639,139 revenue and $618,102 net profit.
But Maxwell also praises Crumbl. "Crumbl is the leader, they're killing it. Crumbl, their tech is phenomenal. Their tech and their marketing is head over heels better than anyone else," Maxwell said. "I was in San Diego when I bought the company. I went back to Utah, this is where my network is, where everybody saw Crumbl's success, and Crumbl sold out all over the country." His pitch to franchisees: "So if you missed the Crumbl train, you can get on the Dirty Dough train."
Back to New York and Chip City, CEO Peter Phillips says his brand is all about nostalgia. He credits Andrea Prunella, a baker and the company's COO, with the recipe. Getting it right took "a long time," he says, and it creates super gooey cookies that live up to their "famously gooey cookies" tagline. The S'mores flavor handed over hot on that November morning immediately collapsed onto the floor during a visit. They're building an 18,000-square-foot commissary now, in Queens, to service the growing network of stores.
Prunella joined Chip City in 2017 as executive pastry chef and partner. A graduate of the Culinary Institute of America with a degree in baking and pastry arts, she led the creation of more than 50 Chip City cookie flavors, such as Italian Rainbow, Baklava, Strawberry Shortcake cookie, Funfetti and many others.
Phillips and co-founder Teddy Gailas said they partnered with Enlightened Hospitality to speed growth plans for the 14-unit gourmet cookie brand beyond New York City. Connecticut, Florida, Massachusetts and Virginia as well as D.C. are among the targets.
Then Phillips and Meyer discuss the power of a good cookie. "How cool to have a product that just makes people happy," Meyer says. In 2002, "we opened Blue Smoke," his barbecue restaurant. "One of us got the idea to send Blue Smoke to Major League Baseball" negotiations at the time, when players were threatening to strike. "It worked." Phillips replies, "We need to get Chip City cookies the next time we're sitting down with North Korea."
The Meyer manifesto
The deal that got away from Danny Meyer is a whopper. "We were all set to go public" with Panera Brands, which was founded in St. Louis, Missouri, Meyer's hometown. In November 2021, Meyer's Union Square Hospitality Group announced a special purpose acquisition company or SPAC with the ticker name HUGS and the plan was to take Panera and its 2,400 restaurants public again via a merger.
By July 1, 2022, the deal was off, along with many other failed SPAC deals. In a statement at the time, Meyer said "current capital market conditions" made it unlikely for an initial public offering for Panera in the near term.
"We successfully raised $287 million. It's in the bank," Meyer says; they have until the end of March 2023 to find another target or give the money back. "What an amazing opportunity" to have 2,400 restaurants. They said, "help us with our hospitality," while Panera is an expert in franchising. "It's sad because I don't think we could have found a better partner."
Meyer speaks often about what he's learned from other restaurant owners, like Rich Melman, the founder of Chicago's Lettuce Entertain You empire. "I went to school with Rich," Meyer says, and credits him with the 49 to 51 "skills to feelings" equation. Walk into any shop and "you can actually feel the human energy, and if you asked yourself, why does it feel different?" it comes down to happy employees.
Likewise, he praises the owners of Takumi when the COVID-19 pandemic hit New York and restaurants were ordered closed. Takumi "was immediately out of the gate with outdoor seating," whereas Meyer's restaurants were slow to change.
"COVID was the only time in my whole career when you take the whole boat out of the water. Let's scrape off the barnacles and when you put it back in the water it would sail better."
But COVID also caused him to end the hospitality included policy; when restaurants re-opened and patrons flooded back, they wanted to show their gratitude with large tips. After a month of telling guests that staffers would "not accept gratitude, we put up the white flag on hospitality included. So we instituted a top-line revenue share" for non-tipped employees.
Meyer also praised his business partner in Tokyo, Wonderworld, which has opened the one and only other restaurant with the Union Square name. "It's a much, much bigger company" than his. "I never ever wanted to have a second Union Square anything, but he convinced me to do Union Square Tokyo. The real reason is I think we can learn a lot from each other."
When the licensing deal was announced in 2007, press reports said in preparation for the opening, "Chef Matsuda and General Manager Hideo Mogi spent several weeks in New York City, working side by side with Michael Romano and the Union Square Cafe staff, absorbing the spirit, hospitality and cuisine of Union Square Café." At the same time, Romano visited Tokyo to absorb "details about Japanese cooking, restaurant operations and local culture."
Meyer describes the partnership this way. "He said we're really good at precision and technique. I think you could benefit from that," and at the same time the Tokyo operation could benefit from Meyer's approach to hospitality. "No one in their culture has given them the opportunity to be themselves and open their hearts."
And there we are, back to the hearts of service workers, which is the subject of Meyer's manifesto, "Setting the Table: The Transforming Power of Hospitality in Business," published in 2006 and dedicated to his wife, Audrey, and their four children, Hallie, Charles, Gretchen and Peyton.
"But what really challenges me to get up and go to work every day … is my deep conviction about the intense human drive to provide and receive hospitality—well beyond the world of restaurants. Within moments of being born, most babies find themselves receiving the first four gifts of life: eye contact, a smile, a hug, and some food," he writes.
"That first time may be the purest 'hospitality transaction' we'll ever have, and it's not much of a surprise that we'll crave those gifts for the rest of our lives. I know I do."
The sentiment is still a driving force. Since the pandemic, in the restaurant business: "Everything is different and one thing is the same. The one thing that's the same is people want to be with people," Meyer says near the end of our interview.
Meyer's book gets the last word. "In the end, what's most meaningful is creating positive, uplifting outcomes for human experiences and human relationships. Business, like life, is all about how you make people feel. It's that simple, and it's that hard."
---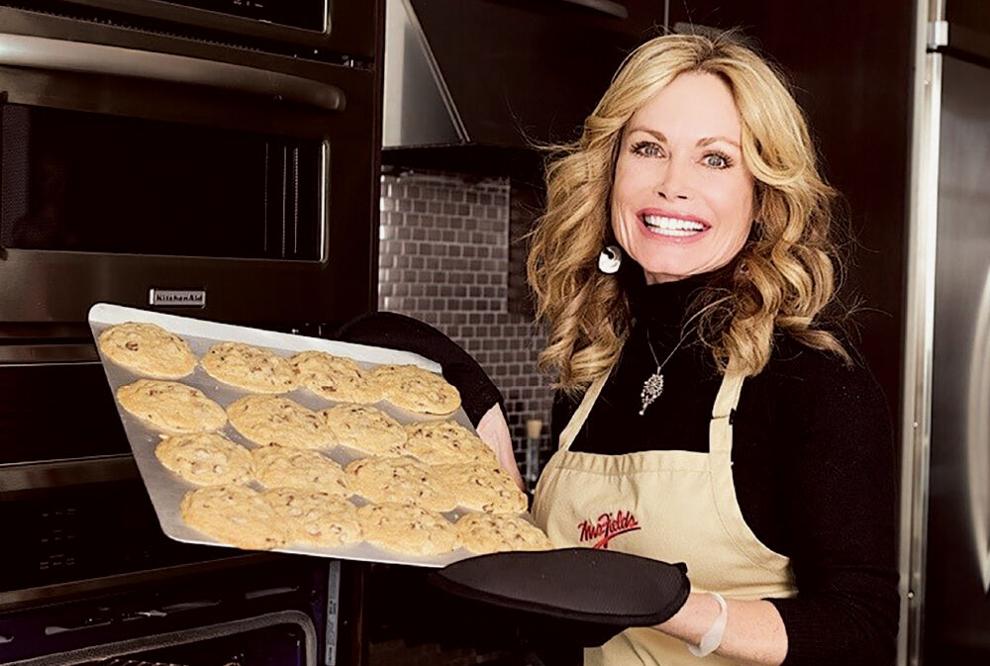 A baker's half-dozen of cookie concepts
In the beginning Debbi Fields opened the first Mrs. Fields Cookies store, in 1977 in Palo Alto, California. The morning her first store opened, her husband bet she couldn't make $50 in sales. "Of course, I took that bet," she told LearnVest in a 2020 interview, but there were no customers. "So I took to the streets. I walked up and down the street letting people try the product, and that day I ended up selling $75 worth. I had to realize that failure means something isn't working—I had to try something new." Today it's a $450 million company with 128 franchised units.
Great American Cookies began in 1977, too, in Atlanta, using a generations-old family recipe and founded by Michael Coles and Arthur Karp. With more than 370 locations as of February 2022, Great American Cookies was acquired by FAT Brands in 2021 as part of Global Franchise Group and its five quick-service restaurant concepts. A manufacturing plant to make cookie and pretzel dough was one of the most valuable assets in the sale, FAT Brands CEO Andy Wiederhorn said at the time.
Chip Cookies, which boasts about being the original cookie delivery company, launched outside Salt Lake City in November 2016. (One could argue the actual original was Insomnia Cookies, which started in 2003 in a college dorm room, but the brand no longer franchises.) Chip Cookies traces its origins to co-founder Sarah Wilson's pregnancy craving. Eventually her husband, Sean, said, "You know, why isn't there a business that does this, that you can get a warm, fresh cookie delivered to your door?" and they later decided to give the business a serious shot. Chip Cookies has 11 stores open and began franchising in 2022, with an investment range of $200,000 to $400,000.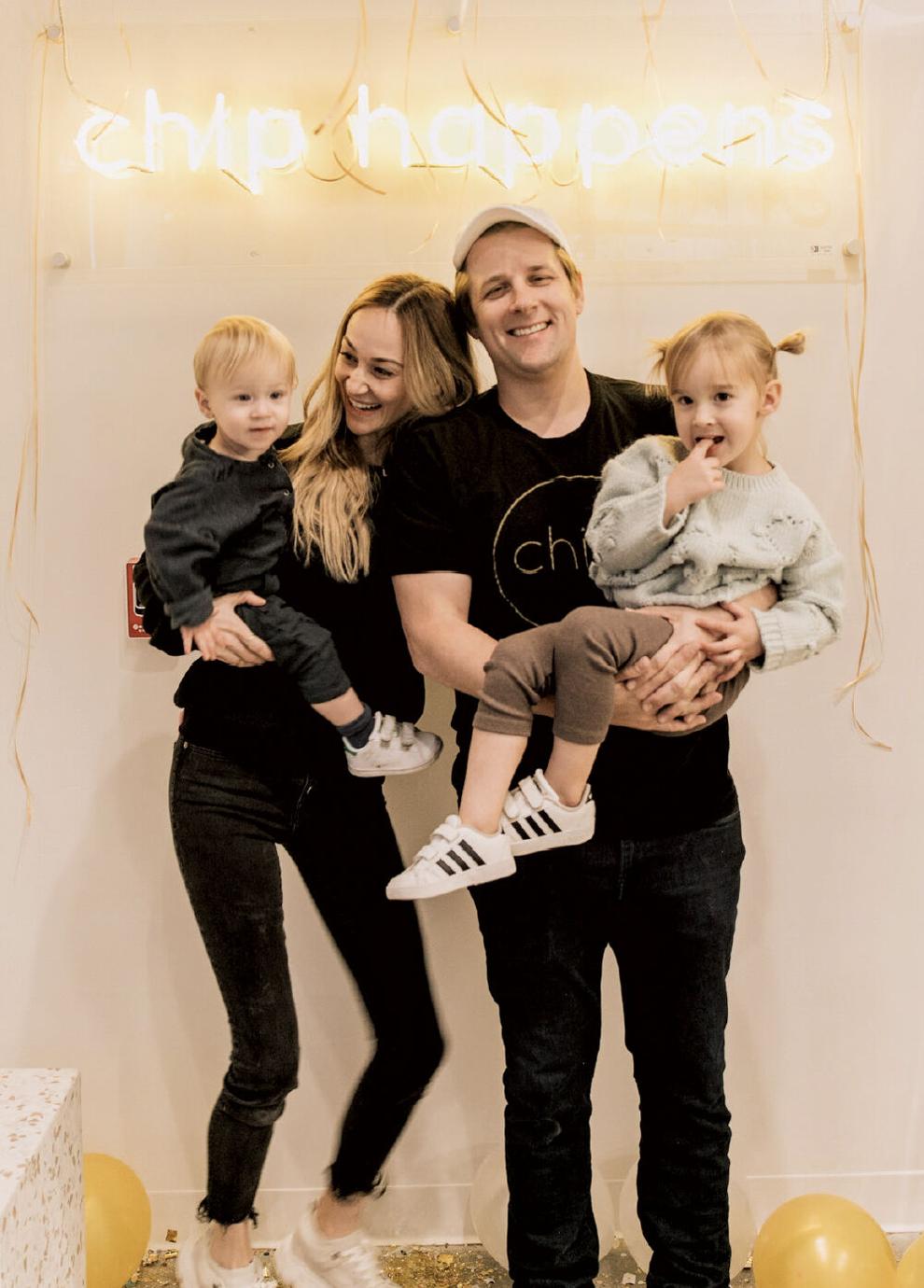 Chip City began in July 2017 in Astoria, Queens, as a "hobby between two childhood friends as they sought to recreate the simple taste of their childhood," its website says. In 2022, CEO Peter Phillips secured a $10 million investment from restaurateur Danny Meyer and his Enlightened Hospitality fund, and launched a franchise program to expand from the 14 corporate-owned units.
The tech-enabled and marketing-savvy Crumbl Cookies started in August 2017 in Orem, Utah, where co-founders Jason McGowan, CEO, and Sawyer Hemsley, COO, began baking and delivering cookies from a hut they initially planned to take down after a few months. Instead, they've built the biggest modern cookie franchise by far, 326 franchised and one corporate store open by the end of 2021, plus 382 stores sold but not open. Royalty is 8 percent of gross sales and marketing fee is 2 percent of gross sales. A marketing partnership with the Utah Jazz was a highlight of last year, McGowan announced on LinkedIn.
Cookie Plug launched its franchise program in 2022. The hip-hop themed, California-based brand advertises its cookies as "fat, thicc, and bomb AF." The brand has 23 corporate locations and another two franchised units, which opened in September. Founder Erik Martinez has huge growth aspirations, with 10 more stores slated to open as of the end of 2022 and agreements signed for several dozen. Cookie Plug entered the 2022 cookie wars, as competition among several young brands is known, with its own ad late last year. "Our Box is Longer…Our Cookies Are Thiccer," it says, as the kids today like to spell it.
Dirty Dough, which makes three-layer filled cookies, one with a hot fudge center, for example, centralizes its production to lower costs and maintain consistency—and prepare it for after the current cookie craze crashes, as CEO Bennett Maxwell says. In January 2021, Maxwell bought the brand, started by a high school classmate, "and the goal was to make it the most simplistic franchise model, so people like me can jump into the business."