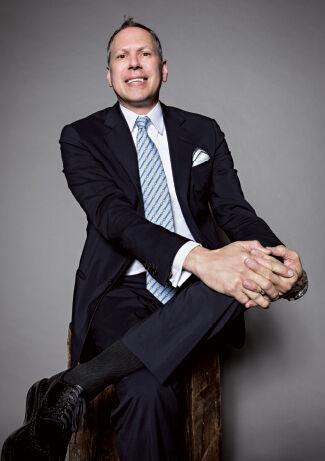 FAT Brands CEO Andy Wiederhorn calls the purchase of Johnny Rockets last year a "transformative" transaction, "rounding out our burger portfolio and providing us with another strong, iconic brand to share with our franchisees." The $25 million purchase from Sun Capital Partners doubled the parent company's size.
With Johnny Rockets, systemwide sales jump to $700 million and earnings will reach $16- to $18 million (on a pre-COVID and ideally post-COVID basis). That's an important range for the public company that would push company valuation dramatically, Wiederhorn told Franchise Times after the deal closed last August.
"Even with a 10x multiple, we're now not a microcap stock. That attracts all kinds of institutional investors and broadens the investor appeal," said Wiederhorn. "It's been the goal to get out of microcap hell. This moves us almost all the way there. If we make another acquisition, we'll definitely get there or if we grow organically."
A corporate restructuring completed at the end of 2020 paves the way for more acquisitions, Wiederhorn said. FAT Brands is merging with its largest shareholder, Fog Cutter Capital, the entity that owns 80 percent of shares and is controlled by the Wiederhorn family. In order to preserve more than $100 million of net operating loss carry-forwards for tax purposes, Fog Cutter could not fall below 80 percent share ownership; with the merger that limitation is dissolved. That in turn will free up options for FAT Brands as it continues an acquisition push.
"By effecting the merger, FAT Brands will become the parent and Fog Cutter will be the subsidiary. That 80 percent limitation goes away, and now FAT Brands can buy new targets with stock. We can raise as much cash as we can with stock, not just with debt," Wiederhorn said.
"It makes our public float significantly bigger, which is good to get our stock price up. It gives us the ability to buy companies with stock. It takes off all the handcuffs we had in place at the time of our IPO," he added, in 2017. FAT stock hit $11.17 per share in mid-February, up from $3.13 last July.
FAT Brands owns Fatburger, Johnny Rockets, Buffalo's Cafe, Buffalo's Express, Hurricane Grill & Wings, Elevation Burger, Yalla Mediterranean and Ponderosa and Bonanza Steakhouses, and franchises more than 675 units worldwide.
"My goal right now is to take our enterprise value from $200 million to $500 million," Wiederhorn said, and make two or three acquisitions this year. "I see the institutional sellers being much more practical and reasonable today to deal with than the founders. In years past we made a lot of deals with founders, but founders are always very emotional and attached to the price. Today's environment it seems like, founders are struggling with the effects of COVID, and what it's done to valuations, and they're not ready to let go at a smaller multiple."
On the other hand, "the institutional investors or the banks, they're sort of clear and resolute: 'We're not going to babysit these problems any longer.' I think that's a slight turn than a year or two ago. I think we'll see a bunch of stuff change hands."
He closes with a statement like a true dealmaker. "I think we'll be very acquisitive. It's going to be a big 24-month period for us."
---
Inspire Brands Wins Franchise Times Deal of the Year
2021 Winners Include 10 More Daring Deals: