At a shop within the Silverene Tower and overlooking the Dubai Marina and the Persian Gulf,
Mohammed Albaqami fried the first donut at his Duck Donuts, 7,000 miles from where the brand got its start in North Carolina.
It was one of his favorites, a cinnamon sugar donut, said Albaqami, who was in the midst of training and final preparations with his 14 employees plus Duck Donuts CEO Russ DeGilio and COO Betsy Hamm two days before the store opened September 10.
"It's worth every hour, every day we've spent on this," continued Albaqami, who in October 2019 signed a master franchise deal to develop Duck Donuts in the United Arab Emirates but because of the COVID-19 pandemic experienced several months' worth of delays as he worked with distributors to get necessary supplies and ingredients. "But I can tell you, it's not a walk through the park." (A shipping container with just about everything he needed, including fryers and even ice cream, eventually made its way across the Atlantic Ocean.)
The shop near the Dubai Marina Mall is the first of at least three locations Albaqami will open before he begins sub-franchising throughout the UAE under his Gold Peak Coffee Shop company. Albaqami is also a minority partner in Anjal Arabia Trading & Contracting Co., an investor group expanding Duck Donuts in Saudi Arabia, starting in Riyadh.
"In the UAE market, we've never encountered a donut shop where you can customize your donuts," said Albaqami. "It will appeal to families and kids." And to tourists—when they return.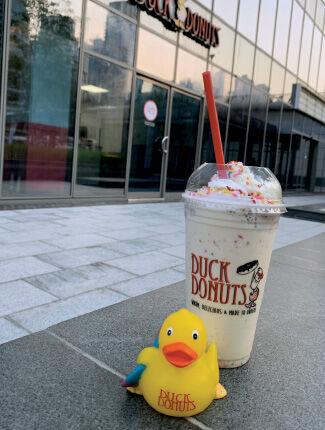 While businesses are back open—"Dubai is one of the few fortunate countries that was able to control COVID-19," he noted—and the emirate began allowing travelers in July, tourists have been slower to return.
Albaqami, though, said consumer sentiment is improving and people "feel relatively safe going out to dine in." His workers follow safety protocols similar to what restaurants in the United States implemented, including wearing face masks, and indoor seating at the 2,200-square-foot store is limited.
Based in Mechanicsburg, Pennsylvania, Duck Donuts has 97 stores in the U.S., largely concentrated in East Coast states. It was while living near Washington, D.C., and working at the Saudi Embassy that Albaqami first visited Duck Donuts and became a frequent customer, eventually connecting with DiGilio about the prospect of bringing the brand to the UAE. He'd gotten a taste of working in foodservice at a Greek restaurant and for a catering business while attending college at The University of North Carolina at Charlotte and thought the Duck Donuts concept would resonate back home.
Sweet treats and coffee are popular in the region, explained Albaqami, a sentiment backed up by data from Euromonitor International, which forecasted confectionery sales in the UAE would reach $800 million by 2021 as the popularity of snacking increases. A variety of topping and icing choices, such as Oreo crumbles, Nutella and lemon drizzle, are appealing to kids, who can climb the steps at the counter to watch their donuts being made, he continued.
That interactive component is another aspect differentiating Duck Donuts from the likes of Krispy Kreme and Dunkin', which also have stores in Dubai.
Intentional approach
For DiGilio and Hamm, who made the trip—and needed to have negative COVID-19 tests no more than 96 hours before arriving in Dubai—the UAE expansion represents the company's second foray into international franchising.
The brand opened its first international location, a store in Santiago, Chile, with franchisee Marcial Dieguez-Acuna in January 2019. That store, however, is no longer in operation, said Corporate Communication Manager Kristin Kellum, and the brand terminated its contract with Dieguez-Acuna. "The franchisee made the difficult decision to close when the country was experiencing civil unrest in October 2019. He was unable to recover from his losses," she wrote in an email.
The expansion to Santiago "gave us a taste of what it was like to go abroad," said DiGilio, who back in 2018 when that deal was signed wasn't actively looking to take the franchise outside the United States. Now, "we've taken a more intentional approach," he said, looking for operators with hospitality experience and carefully analyzing markets.
Starting in Dubai was strategic. "We believe being here in Dubai will expose us to the cooperating council in the UAE," said DiGilio in reference to the Gulf Cooperation Council, a political and economic alliance of six Middle Eastern countries—Saudi Arabia, Kuwait, the United Arab Emirates, Qatar, Bahrain and Oman.
"This really is an international hub," noted Hamm of Dubai. "We have exposure to so many different countries."
Anjal Arabia Trading & Contracting Co., the development group that signed for 10 Duck Donuts stores in Saudi Arabia, expected to open its Riyadh shop in October. That expansion is in line with the country's Vision 2030 plan, a broader effort on the part of Crown Prince Mohammed Bin Salman to diversify the Saudi economy. A new franchise law and accompanying regulations drafted by the Ministry of Commerce and Investment went into effect in April and included disclosure requirements for franchise agreements and protections for franchisees.