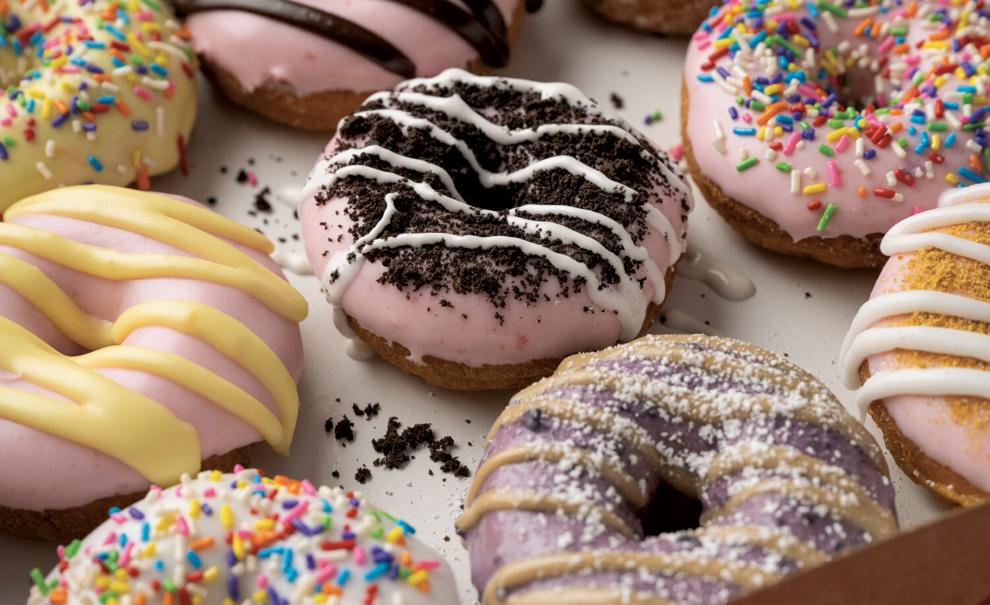 Pizza Hut and KFC recently opened a new co-branded location in Baghdad, Iraq's capital and the second-largest city in the Middle East after Cairo, Egypt. Cinnabon entered the Iraqi market in February with a store in the city's Al Jadriya neighborhood. And in March, Alina Romanowski, the U.S. ambassador to Iraq, attended the ribbon-cutting ceremony of Burger King's new restaurant in Erbil, the capital of the country's Kurdistan Region.
There's no Dunkin', however, and no Krispy Kreme, noted Riam Mohammad, "and this is a good advantage for me." Mohammad is poised to bring the first U.S. donut franchise to Iraq when she opens Duck Donuts in Baghdad later this year as part of a 10-unit agreement signed with the Pennsylvania-based brand.
"The first advantage, the product quality will be different from local. People like to try new things, to try new tastes," she said of what drew her to the concept. "Duck Donuts, they have their own way, it's warm, fresh, they make it to order. People can see how they prepare it. So it's different."
Mohammad is an engineer and partner in Basis of Engineering Solutions, or BES, which she runs with her husband. The company operates in the construction chemicals space, working with a host of international businesses and oil companies on construction projects in Iraq. Wanting to bring a new food business to her country, Mohammad connected with friend Yasser Ismael, managing director for the Middle East and Europe for Duck Donuts.
Ismael, who lives in Cairo, spent almost 20 years with Focus Brands as director of international operations in the Middle East. He worked on the launch and development of more than 320 stores in the region, primarily Cinnabon, and said that concept's success bodes well for Duck Donuts. "In the Middle East, they love sweets and they are not caring as much about diet," he said.
American brands, he continued, elicit "a high level of respect" among Iraqi consumers, and the Duck Donuts model is well-suited to shopping centers and malls, which are being developed at a rapid clip in the country. Mohammad is evaluating sites and said she expects to open four stores this year targeting Baghdad, Basra and Nasiriyah. She plans to open shopping mall locations and standalone stores, the latter to accommodate a new feature.
"I'm planning to make a playground area with the stores so I need a big area for that," she said. Having space for children to play will entice families, a core customer focus for the brand, and keep them in the shops longer to buy more donuts. "I want them to stay there for a long time, this is a benefit to me."
Mohammad acknowledged her lack of restaurant experience but emphasized her familiarity with the local market and passion for the brand will be crucial to successfully developing her stores. "I believe in myself and I'm sure I will succeed. I told Mr. Yasser many times, I know myself, so I will do it, I will make Duck Donuts have a big name in Iraq."
She is also excited to play a role in a brighter future for the country, which is beginning to attract more interest from international brands looking to expand in the region. "Iraq is different from what many Americans make it," she said of opportunities for business growth in a country that in many ways is still rebuilding 20 years after the U.S.-led military invasion that ended Saddam Hussein's rule.
Iraq, said Ismael, is similar to the United Arab Emirates and Saudi Arabia in terms of its currency power, growing middle class and consumer demand for global brands. "I think in five years it will be very, very different and every single brand will be there. I think Duck Donuts has landed in Iraq in a very perfect time," he said.
Marcel Portmann, director of global development, echoed Mohammad's enthusiasm surrounding Duck Donuts' early entry status in Iraq, a country of more than 41 million people. "It's one of the few markets where we can say we're the first of the big donut brands," he said. Another attractive element is "an extremely young population," with more than half of the country's people under the age of 25 and about 35 percent are under 14. "That's a big one for us. It's the kids dragging the parents in, in most cases."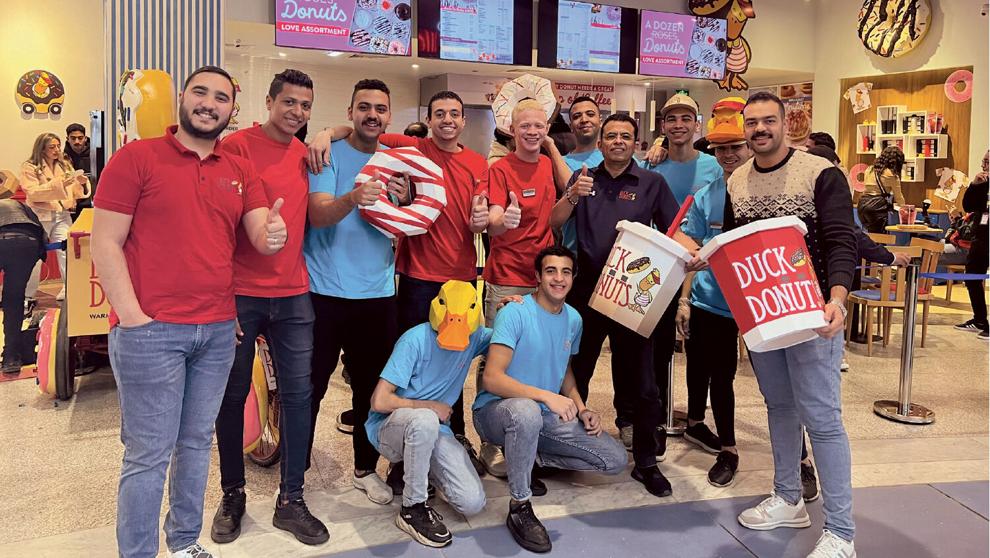 With the opening in February of the first Duck Donuts in Egypt, in the Cairo Festival City Mall, the company also established its supply chain in the region, with its donut mix manufactured at a nearby facility. That facility will support more expansion in Egypt—the franchisee, Ahmed Ihab, managing partner of Integrated Food Services, has another location opening later this year—as well as in Saudi Arabia, where it has a store in Riyadh and nine more planned with franchisee Anjal Arabia Trading.
Duck Donuts is making a renewed push for international development after its franchise stores in Santiago, Chile, and Dubai closed in recent years. "When we started this adventure a few years ago, we didn't necessarily have the structure and resources," said Betsy Hamm, Duck Donuts CEO. "We have built out the team with Marcel, Yasser and we have someone leading Canadian development," Costas Siountres. "Now, a lot of that foundational work is done."
The company, which has 122 U.S. locations, has also sharpened its franchisee selection process for international operators, Hamm said, and instead of signing large master deals it is working with operators to prove the concept in the market with a handful of units. "We don't want to rush it," she noted. "It can be very costly."
In addition to Iraq, Egypt and Saudi Arabia, Duck Donuts expects locations to open this year in Qatar, Pakistan and Thailand, and it has agreements signed for five shops in Sydney, Australia, and three in the Bahamas.