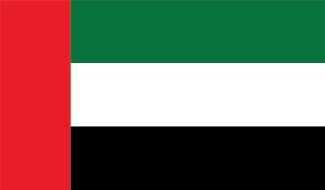 Location: Slightly larger than South Carolina and bordering the Gulf of Oman and the Persian Gulf, the UAE is located between Oman and Saudi Arabia in the Middle East.
The Emirates: Abu Dhabi (capital), Dubai, Sharjah, Ajman, Umm al-Quwain, Ras al-Khaimah and Fujairah.
Language: Arabic (official); also English, Hindi, Urdu and others.
Total Population: 9.9 million
Capital: Abu Dhabi
Government: Federation of monarchies. A body known as the Supreme Council of Rulers elects the president, and the president appoints the prime minister. The Supreme Council is the top policy-making body in the UAE, with both legislative and executive powers.
Religion: Muslim (official) 76 percent
Economy: On a positive growth trajectory before the COVID-19 pandemic hit, the UAE's economy was struck with dual blows as oil prices and demand were reduced and other major sectors including tourism were impacted. Though growth in the short-term is affected, with real GDP in 2020 expected to fall approximately 3.5 percent, the UAE remains an attractive market for investors ready to play the long game. The International Monetary Fund projects GDP to recover to a growth rate of 3.3 percent in 2021, and the UAE's free trade zones help attract foreign investors.
News note: Abu Dhabi's Department of Culture and Tourism announced it was eliminating its licensing system for alcohol purchases for drinkers, a move in line with a loosening of rules in Dubai aimed at increasing sales and tourism. Individuals in Abu Dhabi previously needed a license to purchase, transport or have alcohol in their homes. The department stated, "Residents and tourists will be permitted to buy and possess alcohol from licensed retail shops, and are allowed to drink within tourism and hotel establishments, clubs and independent outlets."
GDP (official exchange rate): $382.6 billion
Currency: Emirati Dirham (conversion rate at press time: 1 AED equals $0.27 USD).
Franchising in the UAE: General contract and commercial law are applicable to franchise agreements, as the emirates don't have laws that specifically govern franchising. While U.S. brands face strong multinational competition given the UAE's status as a trade hub, the education and health care segments are among the best prospects. The Emirates Association for Franchise Development aims to promote, sustain, educate and empower people in franchising in the UAE. The association sits under the Chamber of Commerce & Industry.
World Bank ease of doing business rank: 16.