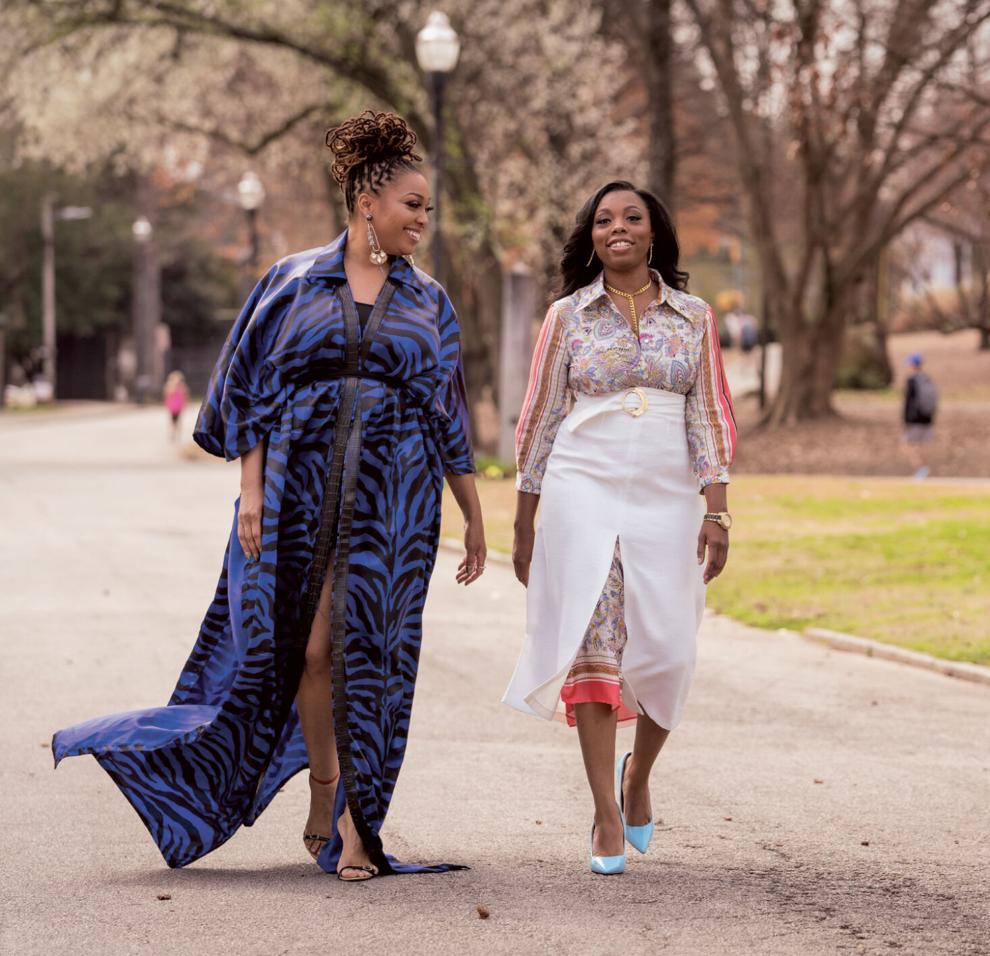 "Who run the world? Girls!" Beyonce belts out in the background as Davonne Reaves and Jessica Myers sing along and groove during a photo shoot in Atlanta's Piedmont Park. Reaves switches from her blue pumps to Adidas slides from Ivy Park, the new activewear brand co-founded by the Grammy Award winner, as they walk from one photoshoot location to the next with her personal stylist, Terry, carrying her shoes and phone.
At Lake Clara Meer, Myers changes from her full-length blue and black tiger-striped kimono robe to a professional teal blazer, but keeps her bejeweled paperclip earrings. They both change from their comfortable shoes into the high heels they hate walking in before getting in formation.
"You're back to your grandma pose," Terry calls out to Reaves, trying to help the camera-shy entrepreneur. "Tuck your butt, elongate your neck and straighten your back." Myers jumps in and shows Reaves how to position her hands—the secret is to imagine you're holding an egg with your thumb and middle finger, then relax your entire hand and voila, you're a model showing off her rings.
Afterwards during lunch, the two elaborate on their journey to becoming hotel franchisees. Myers is a journalism school grad who wound up in real estate after she "climbed the corporate ladder, then realized the ladder was on the wrong wall," she said.
Reaves got her start in the industry as a front desk agent for the Hyatt Regency Atlanta and met "a lot of hotel owners in my day, but one thing I did not see was hotel owners who looked like me," she said. "I would see Black hotel owners, but I didn't see a lot of female hotel owners, and I definitely didn't see anyone who was a lot closer to my age."
Less than 1 percent of all hotels are owned by Black women, according to the National Association of Black Hotel Owners, Operators and Developers. Reaves and Myers made history when, at 33, they acquired the Home2 Suites by Hilton in El Reno, Oklahoma, and became the youngest Black women to co-own a property under a major hotel chain such as Hilton.
They closed the deal, valued at $8.3 million, in November 2020 through their hotel ownership group, Epiq Collective, also partnering with Nassau Investments, a Black-owned-and-operated private equity firm specializing in hotels and apartment complexes. That partnership, both said, shows the power of networking.
"People don't realize the importance of developing relationships, which is a result of networking," Reaves said. "We were able to partner with Nassau Investments through a hotel broker friend of mine" who helped connect the dots.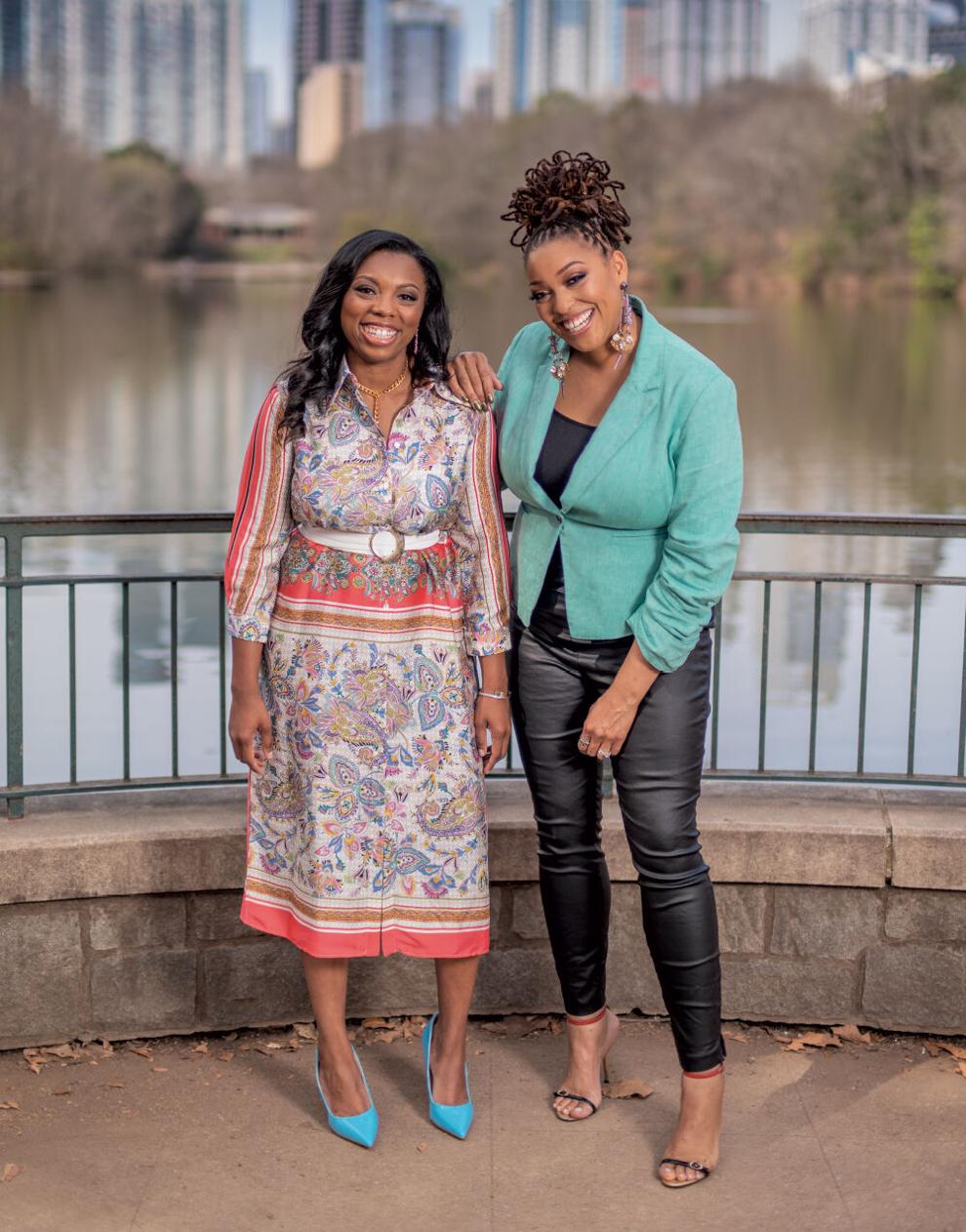 Hilton Hotels & Resorts ranks No. 15 on the Franchise Times Top 200+, with estimated systemwide sales of $10.4 billion in 2019 and with a steep investment range starting at $33 million to build one. The company has more than a dozen brand flags such as Doubletree, Embassy Suites, Hilton Garden Inn and Home2 Suites with locations in 119 countries.
The first change Reaves and Myers implemented when they visited the property and met with staff was to introduce benefits such as insurance, paid time off and a 401(k) option for employees.
"We met the staff and heart of the company who kept the property alive in the midst of the pandemic," Myers said. "One person said, 'I'm able to see now, I was able to go to the eye doctor and get glasses because I didn't have insurance before.'"
Reaves and Myers, who met at Georgia State University in the late 2000s, reconnected in 2018 when they created their business partnership meant to "give people opportunities who may not have had it in the past," Reaves said. "It was organic and not planned, more like 'hey girl, here we are, let's talk hospitality.' We didn't even set out to try and make history."
The two had to create the path for themselves, Reaves said. They looked to other hotel ownership groups such as the Asian American Hotel Owners Association and noted their model and strategies to help form Epiq Collective. Founded in 2019, it's acquired more than $14 million in commercial real estate assets. Reaves also started The Vonne Group in 2017, a consulting firm to help first-time hotel owners.
"This is the fusion of two powerhouses in real estate who came together to focus on collective and collaborative economics for this hotel acquisition," Myers said. "What we do is work with investors to find deals to build generational wealth for families.
"The two mesh," she continued. Reaves "has hospitality and experience managing billion-dollar assets, and I had business acumen and knew how to raise capital."
From 2016 through 2018, Reaves served as co-chair of the women's division of the National Association of Black Hotel Owners, Operators and Developers, which works to increase minority ownership in the hospitality industry. "And actually, a lot of this passion came from this group," Reaves said.
When advising prospective first-time hotel owners, Reaves looks at a range of factors including where they're based and what they're willing to invest. The financial barrier to entry is a lot less for a Choice Hotel, for example, with an investment ranging from $1.4 million to $15.5 million.
"I may recommend Choice, especially if you're an African American or minority," Reaves said, "because Choice Hotel, they have one of the only programs that's specifically designed to increase minority hotel ownership." Choice launched the hotel industry's first franchisee-focused group in December 2020, called Choice Hotels Owners African American Alliance and dedicated to creating ownership opportunities.
To attract their investors, Reaves and Myers utilize platforms across social media—they have more than 5,000 followers combined on LinkedIn—plus conferences and networking events. They also hosted a screening of "The Banker," a 2020 film starring Samuel L. Jackson and Anthony Mackie about two of the first African American bankers in the U.S., "to let them know like, hey, we're changing the narrative. This is something that's possible," Myers said.
Then, COVID-19 shut down in-person events, so they hosted a virtual summit. "That's where we met one of our investors that really helped to open it up," Myers said. "But it was us doing the work. It was us looking for the deal. It was us using our platform to raise the narrative through the education that attracted like-minded individuals that were on the same vibration of I'm ready to invest, I understand the long haul."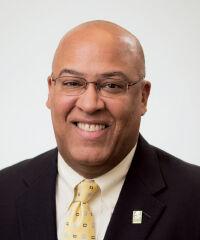 Creating generational wealth
A conversation about building generational wealth, particularly in Black communities, can't start without first acknowledging the impact slavery, Jim Crow laws and segregation had—and still has—on Black Americans.
"Blacks were not allowed to own property, eat and go into restaurants, and all of that contributed to Black Americans being so far behind in business ownership and business acumen because we weren't involved," said Gerry Fernandez, president and founder of the Multicultural Foodservice & Hospitality Alliance. "And there are many instances in history we don't like to talk about where Black businesses were burned and targeted."
In 1936, a Harlem-based mail carrier named Victor Hugo Green published "The Negro Motorist's Green Book," an annual guidebook which listed hotels, motels, restaurants and other stores that served Black people. Many of the hotels on the list were Black-owned, such as Harlem's famous Hotel Theresa and The Eureka Hotel in Memphis, Tennessee. The book was published until 1966, two years after the Civil Rights Act banned racial discrimination, but many mom-and-pop hotels went out of business or were bought out.
The National Association of Black Hotel Owners, Operators and Developers formed in 2001, the same year a Days Inn property in Memphis became one of the first modern-day, Black-owned franchise hotels.
"Particularly African Americans, we used to own hotels, because there was a point in time when we couldn't stay at hotels other than our own," Reaves said. "And so those families built hotels, developed hotels. And we talk about generational wealth, but we need to really talk more about retaining that wealth, because if we would've had systems in place or education, we would've been able to probably keep some of those Black-owned hotels."
Reaves and Myers focus on this with their clients, with training on how to invest and make sure wealth is passed down to the next generation of women and people of color.
"For so long, we were left out of the ownership conversation, and that's what I mean as far as changing the narrative," Myers said. "That it's attainable and you can think big on the ownership, especially with collaborative economics. Together, we can accomplish so much more than…trying to be individual. That's why we created something epic, to do this together."
Beyond anti-racist statements
To the already simmering pot of racial inequity, a pandemic and high unemployment rates which disproportionately affect women and people of color, George Floyd, an unarmed Black man, was murdered May 25, 2020, by former Minneapolis police officer Derek Chauvin, who was found guilty by a jury on April 20, 2021. In the midst of the pandemic, people took to the streets to demand justice for Floyd, urging leaders to deal with the country's systemic racism in a lasting way.
This set off a national conversation about racial equity, which corporate America and other large businesses responded to in various ways as consumers looked to their favorite brands and demanded they take a stand on social and moral issues. CEOs from franchises such as Domino's, Smoothie King, Dine Brands and Wingstop, for example, joined a growing number of restaurant leaders and businesses in signing the CEO Action for Diversity & Inclusion pledge.
Justin Butler, a Duck Donuts and Rita's Italian Ice franchisee in Minnesota, thinks broad company statements aren't enough. "I don't know if any company tolerates racism, so to some extent, it's not necessary to make those statements. It's more necessary to think about actions companies can take and their impact on certain populations," he said.
"We need to think about how we do business and if that's the right way to support diverse people in our communities," Butler, who is Black, added. "I want to see us continuing to think about how our product and brand shows up not just in one community, but in all communities; where we are geographically located, having a diverse franchisee population, and supporting a diverse workforce."
While many brands simply released anti-racist statements in the wake of Floyd's killing, other companies pledged to donate to nonprofits working with Black business owners, or promised to change their own institutional cultures and hiring practices to be more equitable.
McDonald's is one mega franchise, meanwhile, that's been in the news for the class-action lawsuit filed in September 2020 by more than 70 former Black franchisees who accused the franchisor of systemic discrimination and denial of the same opportunities, such as more favorable store locations, as white franchisees. Another lawsuit filed by James and Darrell Byrd in October also alleges racial discrimination. The brothers, who each own two McDonald's stores in Tennessee, are seeking class-action status on behalf of all current Black franchisees.
McDonald's said in a statement it "invested significantly" in each of the Byrds' respective businesses, but their difficulties were caused by "mismanagement of their organizations."
"We will defend against this lawsuit while we move forward with our priorities to foster equitable opportunities for franchisees, suppliers and employees," the statement continued. McDonald's appointed Reggie Miller as its new global diversity, inclusion and equity officer in November, and earlier this year announced goals to increase the number of women at the senior director level and executives from "underrepresented" groups. The company did not respond to a request to interview Miller.
The latest legal action came in February, when multi-unit operator Herb Washington filed a civil rights lawsuit against McDonald's, alleging racial discrimination and retaliation against him as a Black franchisee. The suit claims McDonald's "redlined" Washington and other Black franchisees into undesirable locations, saving the best locations for white operators. The number of Black McDonald's franchisees in the U.S. dropped from 377 to 186 since 1998, the lawsuit said.
Fernandez, not specifically referencing McDonald's, said companies sometimes "give franchises to whites in the best areas, and don't give Blacks the same kind of quality territories. They'll have one in an urban area where the crime rate is three times as in the suburbs, so there are more expenses for security, repairs and all those things."
Fernandez said giving a fair and equitable chance to access territories, resources, discounts and opportunities is not only critical for Black and brown communities, but it's good for everyone. "High employment, much less crime, kids dropping out of school, teen pregnancies—all the factors that create healthy, positive social outcomes are improved by healthy businesses in a community, by Black and other underrepresented groups," Fernandez said.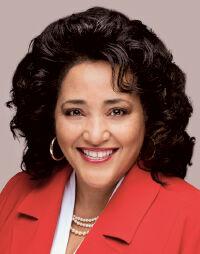 'We have to be inclusive'
In March, Wendy's appointed Beverly Stallings-Johnson to the newly created position of chief diversity, equity and inclusion officer. She was the chief diversity officer for the city of Columbus, Ohio, before coming to Wendy's, and as the pandemic hit helped provide access to funding and resources for minority and woman-owned businesses in the city.
Stallings-Johnson came to the burger franchise to promote and accelerate what Wendy's was already doing, she said.
"It also gives us a competitive advantage at this unique moment in time," said Stallings-Johnson. "Doing this now is not only the right thing to do, but the demographics and consumers are changing and we're in tune with where they're headed. The talent of the future is evolving and it's diverse, and we have to be inclusive."
She'll focus on goals such as counseling the franchise recruitment team to attract more diverse franchisees and work to ensure the brand's recruiting and hiring practices reach a broad employee base. Wendy's doesn't have data on how many women or people of color are franchisees, but plans to start tracking those numbers in order to measure progress.
An important step in progress, Stallings-Johnson said, was establishing Employee Resource Groups for Black employees, women and others to support company employees and help them voice their needs to corporate.
"Look where I came from. I was raised in the South, where women would not say, 'this is what I want.' You didn't demand," Stallings-Johnson said. "There were also issues from a diversity perspective, and it's not always easy being the first. When you're the first, in whatever capacity it may be, the first woman or minority, you find yourself spending 150 percent of your time trying to prove you are good at what you're doing, and you're not thinking about the next step."
The company released its 2020 Corporate Responsibility Report, and of about 11,000 restaurant crew members at company-owned locations, 57 percent are women and 69 percent are people of color. But, company leadership at the director level is only 30 percent women and 23 percent people of color—a statistic Wendy's didn't shy away from addressing.
"As we look at hiring, it's important to understand the opportunities we have across our platform," Stallings-Johnson said. "One interesting thing we're doing is using our resources within to tap into Wendy's cultural diversity group, Black employees, groups like Women of Wendy's—tapping into those resources in addition to the standard HR realm. We're looking at resources high and wide to reach and make sure we capture and include people already a part of Wendy's."
Another focus for Stallings-Johnson is addressing the "broken rung" of leadership, or the environment in which the biggest obstacle women face on the path to senior positions is at the first step up to manager. For Wendy's, it's restaurant managers moving to district managers.
"Yes, I've experienced that. I don't think there's a woman in this industry at a senior level that hasn't experienced that at some time in her career, but I'm fortunate enough to have had several folks who supported me," Stallings-Johnson said. Mentors are also advocates, she continued, "someone who has a seat at the table, which makes it incredibly important what we're doing at Wendy's."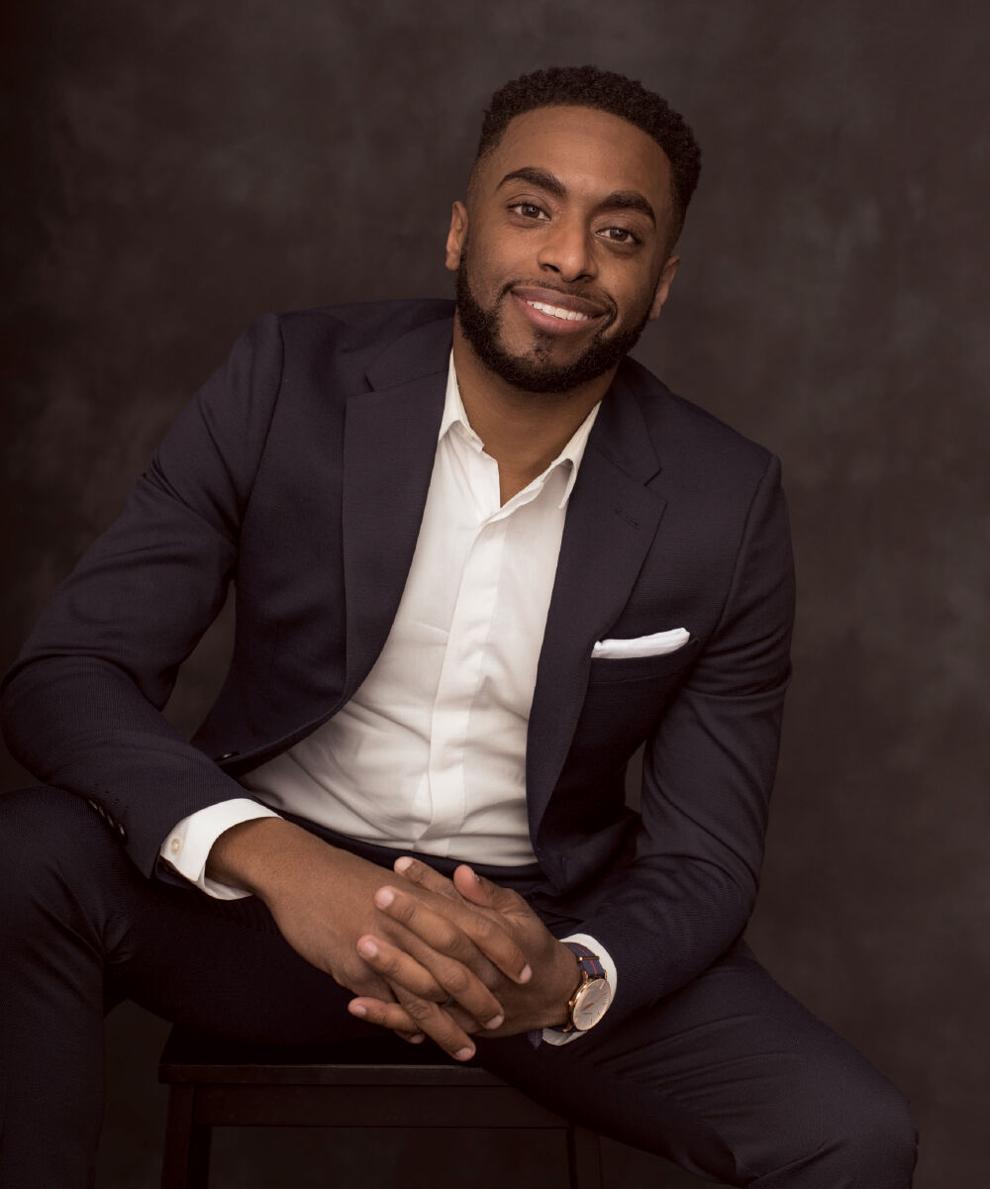 'This isn't a special pet project'
Chequan Lewis' first experience with Pizza Hut occurred as a child through the company's Book It Program, which since 1984 has encouraged reading in schools nationwide.
"I was a Book It kid, that's part of the thing that drew me to this brand—the ways in which Pizza Hut resonated with me as a kid, encouraging me to dive deeply into books so I could go and get a pizza, and the light that turned on for me," said Lewis in an interview not long after he was promoted in August 2020 to the new role of chief equity officer at Pizza Hut. "That still resonates with me in my 30s…It's a reminder of how a brand that thinks seriously and critically about who it is and who it gets to be can really resonate beyond the simple transaction."
Lewis graduated from Harvard Law School in 2012 and joined Baker Botts as a business litigator. He hopped onboard Pizza Hut's legal team in April 2016, mainly focusing on franchise M&A and strategic counsel to C-suiters, then shifted to overseeing the Express division. Now in the chief equity role, he's taking a broad-picture look at the company, from hiring practices to executive decision making. Reached in April, Lewis said his focus was on how Pizza Hut was showing up as an employer, as a franchisor/market actor and as a neighbor.
"I'd describe where we are at as somewhere at the intersection of both progress and dissatisfaction," Lewis said. "Some things are good and pointed in the right direction, but I'm also restless. There's still a ton of wood to chop, and we have enough humility to recognize we have work left to be done."
Yum Brands announced in June 2020 it was investing $100 million to fight inequality through its Unlocking Opportunity Initiative across KFC, Pizza Hut, Taco Bell and The Habit Burger Grill. It also promoted James Fripp to chief equity and inclusion officer for the entire organization, while KFC hired John Mays as its director of equity and inclusion.
Lewis said setting the tone at headquarters and for the franchisee base, even though their employees don't work for corporate, is important. To do that, the brand partnered with Kanarys, a Dallas-based group that helps companies build inclusive cultures, to launch a "belonging" assessment for employees.
The anonymous survey is designed to help Pizza Hut figure out where it needs to grow to help employees feel a sense of belonging and will put some "analytical rigor behind equity, inclusion and belonging," he said, versus being "anecdotal of what we'd react to."
"We have to be honest with ourselves about the need to continue to grow our leadership. It's important our leadership looks at least as diverse as the U.S. Census and reflects the people we serve, our customers and employees," Lewis said. "Lots of organizations, the higher up you get, the less diverse it can become. Don't run from that. Lean into developing high potential talent among underrepresented people of color and women…a surefire way the future looks how we want it to look is building a bench that helps us get there. Then it's developing, mentoring and sponsoring and growing them."
For companies just starting conversations in the workplace around equity, Lewis in the earlier interview said it's vital to listen intently before you start acting.
"The best chance you have to learn something that's been going on while you've been asleep is to listen and ask questions before you start firing, because you want to make sure you're aiming at the right thing," Lewis said. "Listen to people who have lived experiences outside the mainstream or people who haven't been closest to the seats of power. One example is listening to Black and brown voices. What might exist inside those lived experiences that we're missing?"
Lewis noted companies can't be afraid to look to someone several levels their junior at an organization, because "leadership can come from places like that, as well." Then once you listen, act intentionally and don't assume your actions mean you have the solution figured out.
"The elegance of trying to do equity as an enterprise project right now, is that it is the work," Lewis said. "This isn't a special pet project that has an equity bow on it. We're really trying to solve problems like they matter to us and like it's the purpose of what our business is, because it must be part of the purpose of our businesses."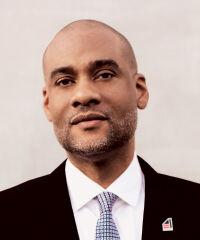 Creating pathways to ownership
In October, the Multicultural Foodservice & Hospitality Alliance, 4thMVMT and PepsiCo announced a collaboration to launch the Pathways to Black Franchise Ownership program. The development training initiative is designed to create 100 Black-owned franchise restaurants by the end of 2022—a lofty goal considering recent data from the National Restaurant Association shows only 8 percent of restaurants are owned by Black people.
"That 8 percent of Black-owned restaurants, a big percentage of that are small operators and food trucks, but when you think of million-dollar restaurants, that number goes way down," said Gerry Fernandez, the MFHA president. "Look at the number of Black franchisees in restaurant companies—no one knows what that number is, because the money hasn't been spent to go survey the industry, and some companies don't want to tell you because their number is so low."
Fernandez, a 40-year industry veteran who worked at General Mills when it was just starting its diversity work, founded the MFHA in Minneapolis in September 1996.
"I got the first group together and said why not us, why not now? We were focused on increasing the representation of Blacks, Hispanics, Asians and Native Americans for the economic benefit of the company, saying this is good for business," Fernandez said. "We focused on minority business development, image building and helping people in communities of color see the industry for what it is—a great opportunity."
Fernandez credited the training he received at General Mills and the inclusive environment then-CEO Steve Sanger created for championing the cause when it wasn't common to do so. MFHA is now celebrating its 25th anniversary.
"That wouldn't have happened if I wouldn't have been at General Mills. White men and women of goodwill who made diversity matter—that's what it takes for this to be successful, people in positions of power saying I'm going to make something happen with you and through you," he said.
One challenge Fernandez had to overcome was changing the perception of a career in hospitality and foodservice in the Black community.
During the Jim Crow era, the only place a Black person could work "was in the back of house at restaurants and hotels, but you couldn't come in front and eat," Fernandez said. That created an "image issue" the industry still suffers with today, he continued, as many "in the Black community, and to a similar degree with Latinos and even Asians, don't want to be in our industry" because their parents sent them to college "so they wouldn't have to work in restaurants."
"There's a lot there we have to do as an industry to do a better job and tell our story to young people and their parents," Fernandez added. "Franchising is a good way to get into business, and the most successful format for business development. No sector has made more minority billionaires than franchising, but we don't tell that story."
When asked what successes have been made in addressing racial equity in the franchising world, Karim Webb, the originator of the Pathways to Black Franchise Ownership program, candidly responded, "there really haven't been. The reality is, I hear chatter about the desire to figure out, how do we make things more equitable, but I haven't seen real programs up until this point."
Webb is the CEO of 4thMVMT, a Los Angeles-based firm that partners with and invests in entrepreneurs largely from communities of color and helps prepare them to own and operate retail businesses, including those in the cannabis industry. Webb also opened a Buffalo Wild Wings franchise in Baldwin Hills, California, in 2011 and is credited with opening the first full-service restaurant in South Los Angeles since the riots in 1992.
With the Pathways program, they're hoping to partner with 10 brands before the end of summer, then connect those opportunities with Black people who have multi-unit experience in the restaurant space but who wouldn't have had the ability to own a franchise. Franchisees will enter into profit-sharing with the general managers of those units to create social equity.
Webb noted a key challenge is getting commitments from brands and capital partners, despite the positive initial responses they've received. At press time, PepsiCo was the founding and sole sponsor of the program, committing $2.5 million over the next five years to build the initiative.
Fernandez echoed a similar sentiment heard when he talks to Black franchisees: The No. 1 barrier to franchising is access to capital.
"Every single one of them has told me stories about not being able to get a loan from the bank, and bankers telling them, if you were in this ZIP code, I could give you money, but if you're going into this, we can't," Fernandez said. "'Stay in your own community, Black or low-income community, we don't think you're good enough to run restaurants in this community.'"
Policies such as the Fair Housing Act and the Voting Rights Act were enacted about 50 years ago to dismantle the aftermath of Jim Crow laws and promote integration and equity, but a Washington Post analysis using census data showed many cities still remain deeply geographically segregated.
More barriers include denying Black entrepreneurs access to capital if they don't have relationships with people at the bank, which affected smaller Black-owned businesses when Paycheck Protection Program loans first came out in the wake of the COVID-19 pandemic, Fernandez said. A survey last year by Global Strategy Group found just 12 percent of Black and Latino business owners who applied for a PPP loan reported receiving what they asked for. The Center For Responsible Lending predicted this issue in April 2020, reporting about 95 percent of Black-owned businesses and 91 percent of Latino-owned businesses "stand close to no chance of receiving a PPP loan through a mainstream bank or credit union."
There's still much work to be done to make franchising a more equitable business structure, and accountability needs to start at the top. Chequan Lewis said brands should seek internal motivation to create equitable change, rather than simply responding or reacting to the news cycle.
"As brands make public statements, they should be thinking long and hard, now that I've said this, what am I going to back it up with? People will judge you if your actions don't match your words," Lewis said. And it shouldn't just be transactional—the general spirit and the identity of the brand should match what's being said, he noted.
"Brands need to make a deep commitment. If this is going to be a part of who you are, it should absolutely influence the way you hire, the way you market, your approach to culinary innovation and how you develop assets," Lewis said. "At Pizza Hut, our challenge is to make sure the equity conversation we're having is not buried in HR or just in my team, or even at the leadership team level.
"It's got to walk and breathe and be what sets the tone of who you are. The ultimate accountability will come from employees who say you are who you said you are or not. When it's true there, consumers see if it's real."
---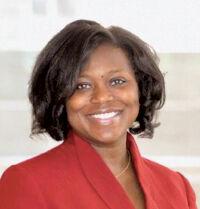 Diversity Institute helps guide IFA
The International Franchise Association established its Diversity Institute in February 2005, designed to build awareness of franchising within minority communities and increase the number of minority franchisees, franchisors and suppliers. The institute launched MinorityFran a year later to help IFA member companies recruit more minority franchisees into their systems. The IFA Foundation commissioned PricewaterhouseCoopers to conduct one of the industry's first comprehensive reports on the racial and gender composition of the franchising sector, and in 2018 its Franchised Business Ownership by Minority and Gender Groups Study reported franchise ownership rates among women and minorities grew by more than 50 percent from 2007 to 2012. The PwC study also found about 31 percent of franchises—of which there are more than 750,000—were owned by women and people of color, compared to about 19 percent of non-franchised businesses.
Realizing there was a need for more data, said Earsa Jackson, chair of the Diversity Institute and an attorney at Clark Hill, the IFA recently undertook a franchise census to collect more statistics on diversity within its member companies.
"It is critical to implement a top-down approach," Jackson said. Leadership must lead in diversity, equity and inclusion, or DE&I, "just like in every other aspect of the company. Progress requires intentional action. We cannot continue to do the same thing and expect different results. DE&I must be top of mind in everything each company does. Recruiting a diverse audience will necessarily require expanding the circles in which companies recruit."
In February the Diversity Institute launched the Black Franchise Leadership Council to create awareness among Black entrepreneurs about franchising opportunities and increase Black franchise representation among IFA's member companies. The council held its first general member meeting in April and plans to meet quarterly. Other discussion groups will provide an avenue for critical conversations among member companies in private settings, Jackson said.
"So many member companies reached out to the institute for guidance on handling inclusion and equity issues and social justice issues within their respective organizations," Jackson said. And franchise companies that want to stay viable must incorporate diversity, equity and inclusion into the fabric of their organizations, she added.
"On the eve of the one-year anniversary of the killing of George Floyd and the largest outcry for social justice this country has ever seen, many companies are discussing lessons learned and challenges around DE&I," Jackson said. "Now more than ever, customers and employees are holding companies to a higher standard of inclusion."