Winner: Duck Donuts
Finalists: Bruster's Real Ice Cream, Handel's Ice Cream, Cinnaholic
Snacks aren't defined by a single daypart. The opportunity to capture consumers throughout the day—and night—is appealing to franchises in the snacks and treats category, and for Justin Butler it's one of the reasons he selected Duck Donuts as his second concept to expand in suburban Minneapolis.
"While it's donuts, we're not a breakfast-only item," said Butler, who opened his Duck Donuts outpost in Woodbury, Minnesota, in late 2018 as part of a three-unit agreement. "Thirty to 40 percent of our sales came in the afternoon in 2019. It really can be considered a treat."
In addition to its made-to-order vanilla cake donuts that are dipped, topped and served warm, the menu at Duck Donuts also includes donut sundaes and donut breakfast sandwiches, plus coffee and espresso. That variety brings customers in throughout the day and, pointed out Butler, helps franchisees diversify their revenue streams by creating custom dessert bars for weddings and via catering for corporate meetings and events. Catering was a fast-growing portion of Butler's business before the COVID-19 pandemic, and he expects it to come back strong as employees return to the office and restrictions on gatherings ease.
Duck Donuts—named for the North Carolina town in which it was founded, not the waterfowl—was CEO Russ DiGilio's solution to a lack of made-to-order donuts available in the state's Outer Banks region. Based in Mechanicsburg, Pennsylvania, and franchising since 2013, the brand has nearly 100 locations and is the winner in the Indulge Me category, which examined snack and treat franchises.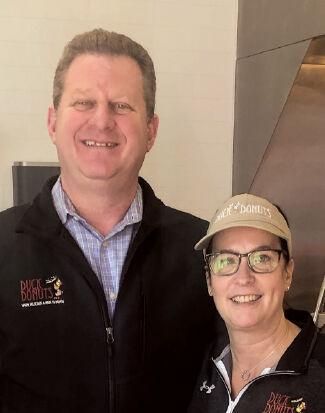 Duck Donuts provided enough solid information in Item 19 of its franchise disclosure document so prospective franchisees can understand their profit potential, our research team found. Average gross sales were $503,976 in 2019, with the average cost of goods running at 28 percent and labor at 27 percent. Duck Donuts also demonstrated a strong track record of openings—25 in 2017, 23 in 2018 and 10 in 2019—along with few closings. The cost to open a location ranges from $353,350 to $573,000.
Butler, who studied accounting at Saint Louis University and has an MBA from Northwestern University's Kellogg School of Management, said it was Duck Donuts' business proposition that stood out after he discovered the brand while visiting friends in Charlotte, North Carolina.
"I'm very much about the numbers and it was the margin," said Butler, who's also a Rita's Italian Ice franchisee. "At the end of the day I thought if I could control my fixed costs, there was a profit to be made."
Real estate costs are higher in the Twin Cities and at almost 2,000 square feet, Butler's store is larger than most, so he focuses intensely on staff training to minimize waste and stays on top of equipment maintenance. He built out a P&L to track all costs "down to I know how much vanilla we go through, and then I can match that up with sales and see, does it make sense," he said.
Butler's plans to open his second store inside the Mall of America were scuttled by COVID and he noted corporate has been flexible with alterations to development plans, even looking at drive-thru or delivery-only formats. That flexibility is the mark of a smart emerging franchise, Butler continued, one that's receptive to feedback and engaged with the operators who are ultimately expanding the brand.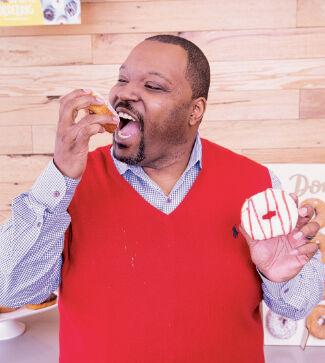 Bonnie Foncello, who opened her Duck Donuts in Mamaroneck, New York, in January 2020, agreed and said working with DiGilio & Co. "seemed like more of a partnership versus other franchises where sometimes you just feel like a number." A longtime corporate marketing executive who said she "fell in love" with Duck Donuts after visiting one in New Jersey, Foncello was impressed with the store experience and thought the "sense of personalization" that comes with customizable donuts would resonate in her community.
Both Foncello and Butler said they knew they were joining an emerging brand and came ready to put in the work. They encouraged prospective franchisees to do the same, have realistic expectations and be prepared for a few growing pains.
"Somebody needs to be in it full time—it's not a side business. You have to be in it 100 percent," said Foncello, who noted introducing the brand in her area required a heavy dose of marketing and she is constantly working to build brand awareness, especially on social media.
"It keeps people engaged … They'll think of us for the next occasion, even if it's not right now," she said.
Another tip from Foncello: Get to know other franchisees. She connected with Veronica Bencivenga, who has two stores on Long Island, and worked there before opening her location. Likewise, Butler said he talks to other franchisees weekly to exchange ideas and talk about ways to improve the system.
"There's some work to do on brand recognition," he said, "and stuff like video training."
Driving down the cost to open a new store is another area where Butler said there's more to learn, such as installing a self-venting fryer for $50,000 versus one with a venting hood for $75,000.
"It's all about ROI. We're in it for the smiles and making people happy, but ultimately we're in it to make a profit," said Butler.
---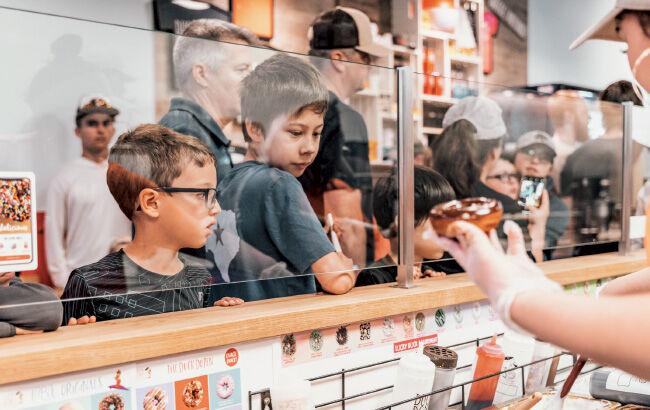 Duck Donuts
POSITIVES
Its menu and brand position make it appealing across all dayparts, not just breakfast.
The close-knit nature of franchisees means operators are willing to share advice and best practices.
USE CAUTION
Still in the emerging brand stage, Duck Donuts needs to optimize its training and support. Franchisees should be prepared to put in the work at their store and take an active role in the brand's development.
Selling made-to-order donuts with hundreds of topping combinations, Mechanicsburg, Pennsylvania-based Duck Donuts fulfills consumers' desire for customization. Franchising since 2013 and with about 100 stores, there's a long runway for growth.
---
'Zor Awards 10 Categories

Indulge Me
Finalists: Bruster's Real Ice Cream, Duck Donuts, Handel's Ice Cream, Cinnaholic

---

Puppy Love
Finalists: Camp Bow Wow, Hounds Town USA, Pet Supplies Plus, Wag N' Wash

---

Guilt-free Eats
Finalists: CoreLife Eatery, Clean Juice, Chop Stop, Tropical Smoothie Cafe

---

Clean Sweep
Finalists: The Cleaning Authority, The Maids, MaidPro, You've Got Maids

Cluck, Cluck
Finalists: Bojangles Famous Chicken 'n Biscuits, Slim Chickens, Wings Over, Wingstop

---

Outside Pride
Finalists: America's Swimming Pool Co., Grounds Guys, Lawn Doctor, U.S. Lawns

---

Spice Is Nice
Finalists: Pancheros Mexican Grill, Rusty Taco, Taco John's, Del Taco

---

Road Warriors
Finalists: Carstar, Tint World, Grease Monkey, Mr. Transmission

Lookin' Good
Finalists: Amazing Lash Studio, Hand & Stone, The Lash Lounge, MassageLuxe

---

Get Caffeinated
Finalists: Scooter's Coffee, PJ's Coffee, Biggby Coffee, Aroma Joe's

---

---

Explore Five Years of Franchise Times Zor Awards Winners

---

How we chose the Zor Awards