Our annual Kitchen Royalty package spotlights the menu masters behind Popeyes, Zaxby's, Another Broken Egg, Fazoli's and Brooklyn Dumpling Shop.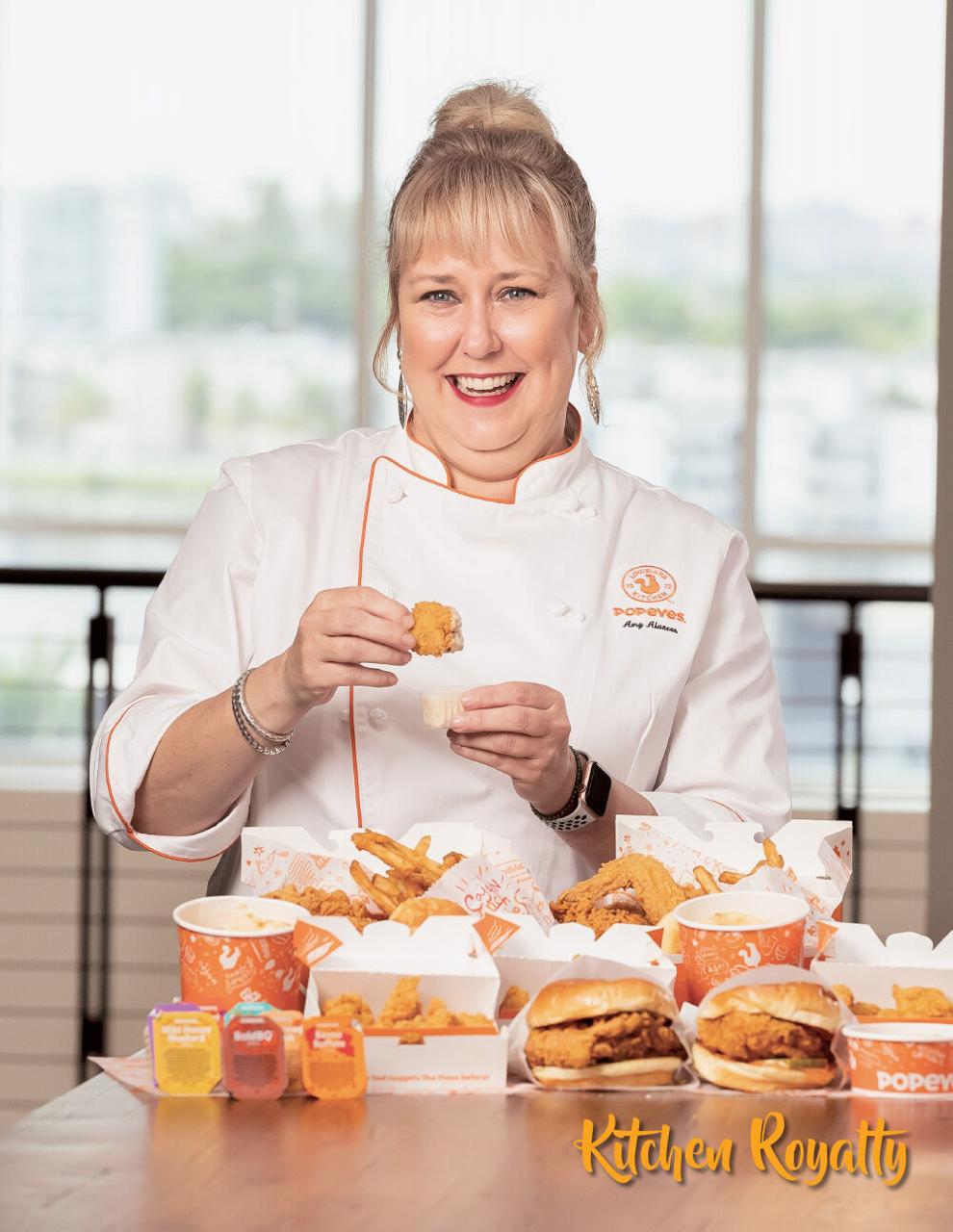 Head Chef Ensures Cajun Roots Are Clear at Popeyes
By Laura Michaels
What's the difference between the Popeyes chicken sandwich released in 2019—you know, the one that sold out in weeks, sparked dozens of competing versions across the QSR landscape and is credited with adding $400,000 in sales to each restaurant on average—and the dozens of others Popeyes put out before it?
To Amy Alarcon, vice president of culinary innovation at Popeyes Louisiana Kitchen, it's the pickles.
"They're the stealth missile of this chicken sandwich," she said while describing the barrel-cured pickles that are the "perfect blend of tart and salt."
Early iterations of the sandwich were topped with lettuce and tomato, but consumer taste panels, along with potential product inconsistency in tomatoes, pointed Popeyes to pickles. A new batter also deserves some credit for the sandwich's success, Alarcon said of the buttermilk version that's akin to a tempura batter and retains its crunch long after it leaves the fryer. That's crucial, she noted, because "so much of our business is consumed off-premise," including 60 percent that comes through the drive-thru.
Testing a menu item's integrity after it leaves the restaurant is a major "'watch out' to anyone in product development," Alarcon continued.
"You can't just give it to the consumer right out of the fryer," she said. Her team's testing process involves letting a product sit "for 30 minutes, sometimes longer, before we give it to the consumer and see their reaction."
Packaging comes into play alongside product development—"The packaging engineer is on my team," Alarcon said of her nine-member culinary innovation team—and in the case of Popeyes' newly released chicken nuggets, those nuggets needed a proprietary paperboard box with side venting holes to keep the crunch.
"We also think about the equipment package," said Alarcon of the various R&D phases between "when the lightbulb goes off to a national rollout."
Alarcon had the opportunity to build those processes and the culinary innovation team after she came to Popeyes in 2007. Her path to the head chef role at the 2,600-unit chain included stints at Arby's, Taco Cabana and Church's Chicken, but when Alarcon first finished culinary school she "had no idea doing this kind of work existed." It was while cooking at a Swissotel property in Atlanta that a headhunter called her about a product development job at America's Favorite Chicken, then the parent of Church's. Later at Popeyes, she quickly moved up from manager to director to now leading culinary innovation for the brand with a focus on problem solving.
"There's a consumer need and we solve for that," she said of the development process. With that chicken sandwich, the need was to have Popeyes' fried chicken in handheld form; with the nuggets it was to create a kid-friendly option. No matter the product, staying true to the brand's Louisiana roots is paramount.
"The No. 1 reason a product gets pushback from Popeyes is it's not flavorful," Alarcon explained of maintaining the brand's Cajun and Creole flavor profiles. But Cajun, she continued "is not hot for hot's sake. It just means it's well-seasoned."
Alarcon and her team embark on "dine-arounds" in various foodie cities to explore different cuisine types and look for ways to incorporate new flavors and spices that help the brand "lean into its sense of place."
Those flavors don't always appear in obvious ways on the menu. Take the Sweet Heat Dipping Sauce, made with Aleppo pepper flakes. "The flavor is amazing without an intense, harsh heat," she said of the sweet, yet tart and spicy pepper named for a city in Syria.
Across the menu, Alarcon can dial the "heat delivery variables" up or down depending on the market. The food at Popeyes restaurants in Hong Kong, Singapore and Vietnam, for example, is "definitely a lot hotter than what you'd get in the U.S.," she said.
The culinary directors for North America and Popeyes' global markets are part of Alarcon's team, and while what works on an international menu doesn't often find its way to U.S. restaurants, Alarcon said during her travels she's always looking for inspiration. "That's my favorite thing, going to a grocery store in another country and seeing what people are eating every day," she said of where she learns the most.
As a product development pro, does she ever miss the mark, I ask.
"Everyone in this business has a wall of shame," Alarcon said. "My biggest love-hate was the Big Easy" chicken sandwich. "First, the name leaves a lot to be desired. But it came on this diamond-shaped piece of bread. Like, what? Why? And now I see pictures and say to myself, what were you thinking?"
---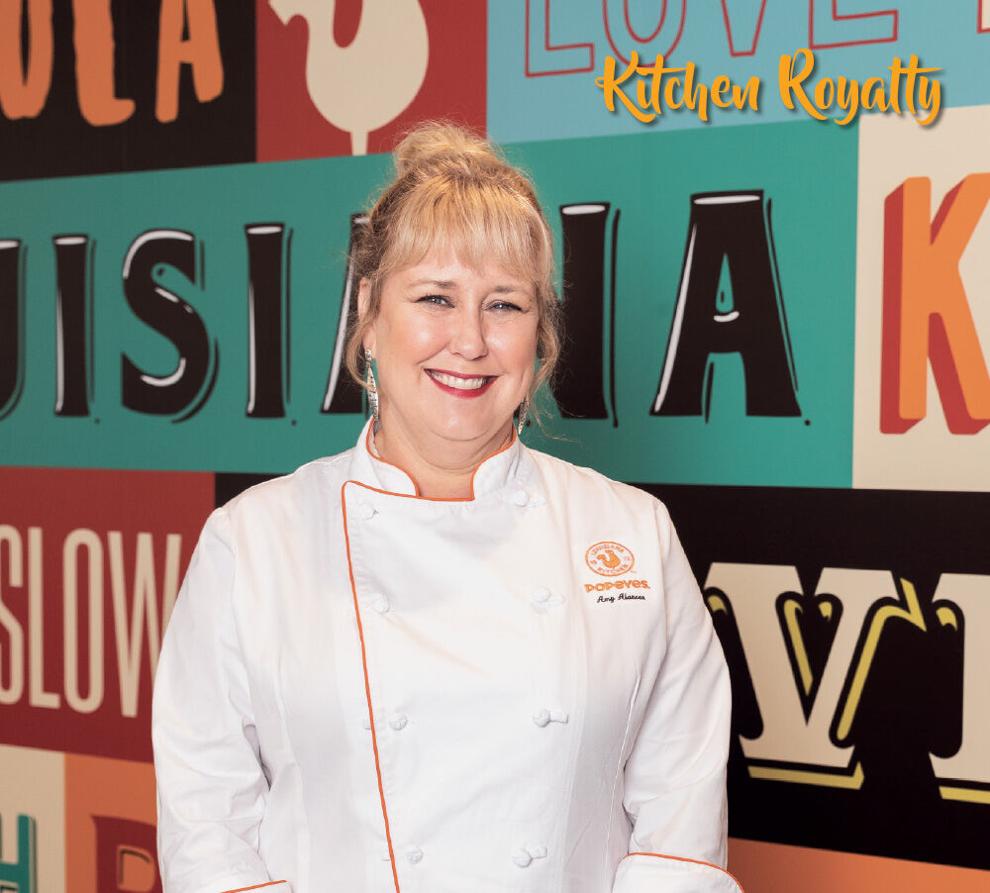 Culinary Q&A with Amy Alarcon
What's the last thing you cooked at home?
Lily's lunch on Saturday. Don't laugh, I have a daughter who's a vegetarian. I made an Asian mixed slaw with a sesame-ginger vinaigrette. I tossed in some sunflower seeds, wonton strips, did a mix of napa cabbage, kale. Then I did a sriracha-soaked tofu—you can actually make tofu taste good—with fresh chopped avocado.
If you could have any restaurant-related superpower, what would it be?
Being able to have the physicality and work in the restaurant like I did in my 20s. Or knife skills, having superhero knife skills.
What's your guilty pleasure food?
Fritos and French onion dip. Or actually, Fritos and, we call it church lady dip. You take a tube of Jimmy Dean sausage, the sage-forward kind, sauté and drain it off. Then it's two bricks of cream cheese and a can of Rotel tomatoes. Throw it all in a crockpot until it's nice and melty.
If you could have any chef cook you dinner, who would it be and what would you want them to prepare?
Probably my favorite dining experience was in Peru. There are several chefs there that I fangirl over, but Gaston Acurio would be my top choice. He's a household name in Peru. I met him at La Mar in Lima. I'd want all of the ceviches.
If you could only eat or drink three things the rest of your life, what would they be?
Definitely coffee. I would give up alcohol before coffee. Then, fresh cherries and house-smoked salmon. Those are the only things I could eat for the rest of my life.