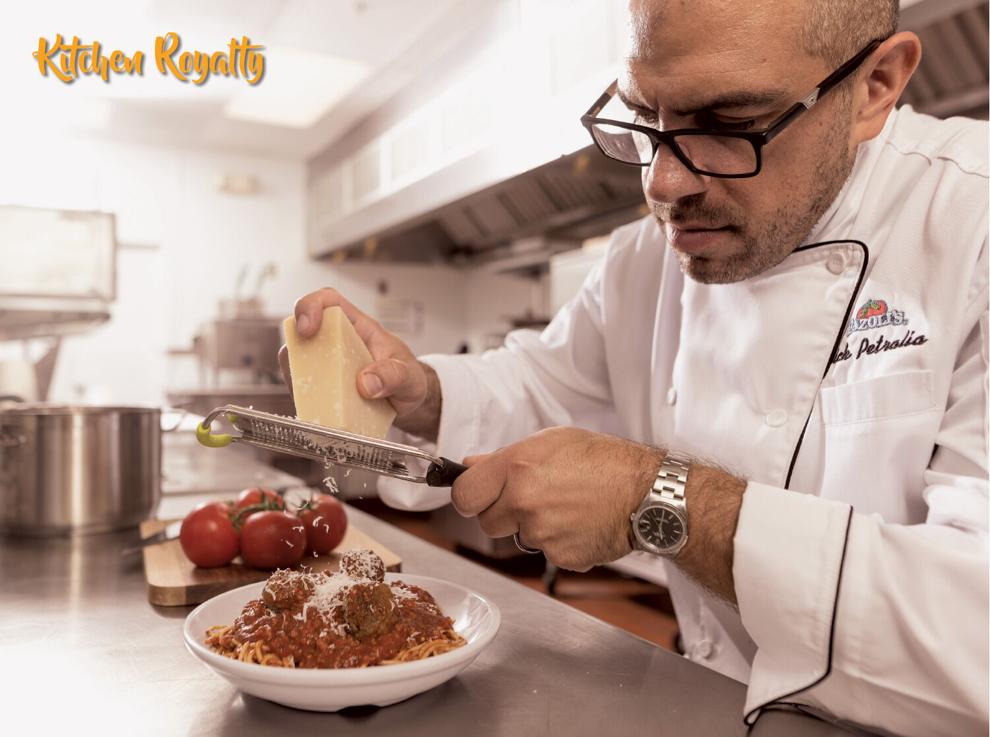 When Rick Petralia first started as director of culinary innovation at Fazoli's seven years ago, the brand had some creative entrees, but it was missing pieces of refinement and elevation, he said. Fazoli's hadn't, for example, offered seafood options for a decade. Petralia then introduced a parmesan-crusted shrimp alfredo dish, which ended up selling "extremely well."
"I think there were some things our brand and leadership team thought were off limits, like seafood," Petralia said. "Right now, we're serving chicken wings at all locations, and we have deep fryers at all locations, which we didn't have in the past. We're pushing the envelope while still understanding what our teams can do each and every day."
The wings are a part of virtual brand Wingville, which Fazoli's launched in September 2020. It's also testing another virtual concept, Macaroniville, which Petralia devised.
For Petralia, using data is crucial to his creative process. Whether it's trend reports, menu concept screening or taking guest surveys in the field, "nothing is on the menu just because Chef Rick thinks it's a good idea or that it tastes great," he said.
That approach works well when considering a wider audience of customers, but if a chef only has one location, the menu can change anytime. "We don't have that option. Our menu is planned out a year in advance for LTOs," Petralia said of the limited-time offer calendar.
Founded in 1988 in Lexington, Kentucky, there are a little more than 200 Fazoli's restaurants, 75 percent of which are franchisee-owned. The Italian fast-casual brand's menu ranges from crowd-pleasers such as pizza, spaghetti and breadsticks to slightly more adventurous options like spicy baked ziti with chicken or sausage and a new gluten-friendly chicken pesto rotini. Franchisees have been requesting healthier options and gluten-free items for a while now.
"I don't want to make it sound like franchisees are dictating the menu per se, but we utilize their feedback every so often," Petralia said. "…For the most part, we address menu gaps that they're identifying, but they don't necessarily do the ideation for menu items that fill that gap. But there have been LTO items directly inspired by franchisee ideas as well."
In January, Fazoli's launched its lifestyle menu, with the aforementioned chicken pesto rotini plus a low-carb pepperoni and bacon flatbread topped with garlic butter and mozzarella. This was inspired by research showing 30 percent of guests were coming in less often than they used to because they were trying to reduce the number of carbs they consumed.
"It quickly became evident that we had to introduce something lower carb, so we introduced the flatbread," Petralia said. "We may have other things coming in the future as well, and I don't want to say it's our most popular item by a longshot, but from day one it's had consistent sales."
Trying to create those low-carb and gluten-free items was a challenge, because he didn't just want to check the box that they offered those options—Petralia also wanted the food to taste good. This involved trying dozens of gluten-free pastas and determining who their target audience was: someone with celiac disease who can't consume gluten, or a customer who is simply trying to limit their consumption of gluten. They decided on the latter.
"Once we got our target and found the product, then it became easier to tackle that challenge. But even with low carb, what is that item? We tried zucchini noodles and tested it at five or six of our restaurants," Petralia said. "It sold pretty well, but it was really difficult to execute, so we said OK, it's too labor intensive, how about a low-carb pizza flatbread type of entrée."
From his research, Petralia thinks health-driven trends will stick around, but for Fazoli's, the majority of the menu "will still be somewhat indulgent.
"I don't think that's going to change," he said.
---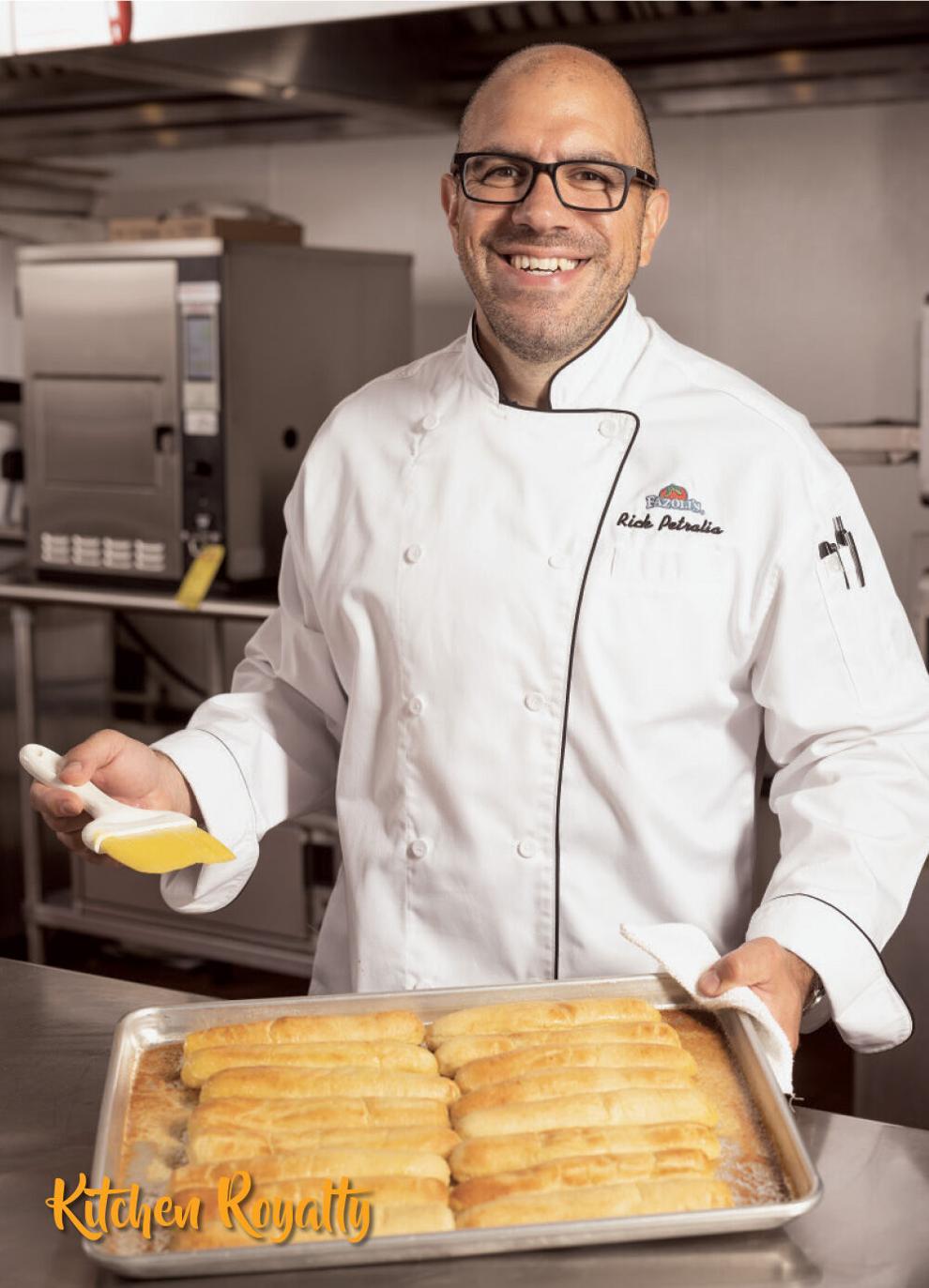 Culinary Q&A with Rick Petralia
What's the last thing you cooked at home?
The absolute last thing was something really simple: stir-fried vegetables last night with cauliflower rice. I've been trying to eat more healthy, especially during the week because I go out to eat on weekends with my family and I'm more indulgent then. The last more refined meal would have been on the Fourth of July. I had several friends over and we had deep-fried goat cheese drizzled with hot honey and prime beef filets with chimichurri butter with veggie skewers.
If you could have any restaurant-related superpower, what would it be?
I would say, to be able to read the minds of our guests. Things like, why did you order what you ordered? What menu items, if they existed, would you love to see on the menu? Or how do you feel about the taste and flavor of certain ingredients? I'd love to be able to read minds, but that might seem too much on the marketing side. For a kitchen-related superpower, to be able to look at something while it's cooking and be able to see what the internal temperature is without using a thermometer.
What's your guilty pleasure food?
I would say anything crunchy, especially potato chips, Cheetos, anything like that. It's cliché, but once I start eating them, I can't stop. I can't even keep them in the house or I'd eat them all. I'm addicted to crunch.
If you could have any chef cook you dinner, who would it be and what would you want them to prepare?
Without a doubt, Heston Blumenthal. He's the chef and owner of a three-Michelin-star restaurant, The Fat Duck (in Bray, Berkshire, England). Everything there. You don't just have steak and potatoes. The ingredients are transformed in a way you never would've thought of using them, using science, and he involves all the senses. A famous one, 'Sound of the Sea,' they use like some sort of foam, it looks like seafood washed up on the beach, literally. Search it on Google Images. It looks like the beach, and the server brings you an iPod to listen to actual sounds of the beach while eating. It's an appetizer, and it's a multi-course deal there. It's just a complete sensory experience. I wouldn't tell him what to make me, I wouldn't even know what to ask for. It would be something creative, without a doubt.
What's the most unique meal you've ever prepared?
What I just described; I've never made anything close to that. The most unique thing is probably less than traditional proteins. Like one time I did make a taco with ostrich meat. There's this store called Jungle Jim's in Cincinnati, an hour and a half from me, that sells anything under the sun. I brought some home and made tacos out of it. My daughter wouldn't touch it. My wife thought it was good. It was more of the uniqueness factor that made it interesting; we probably would've rather had something more traditional anyway, but it was kind of cool that we had that available to us and we tried something different, and it didn't taste bad, per se. I love creating something unique you wouldn't have every day.